News
Ryder Cup 2018 Live Blog: Europe sweeps afternoon matches to take 5-3 lead over U.S.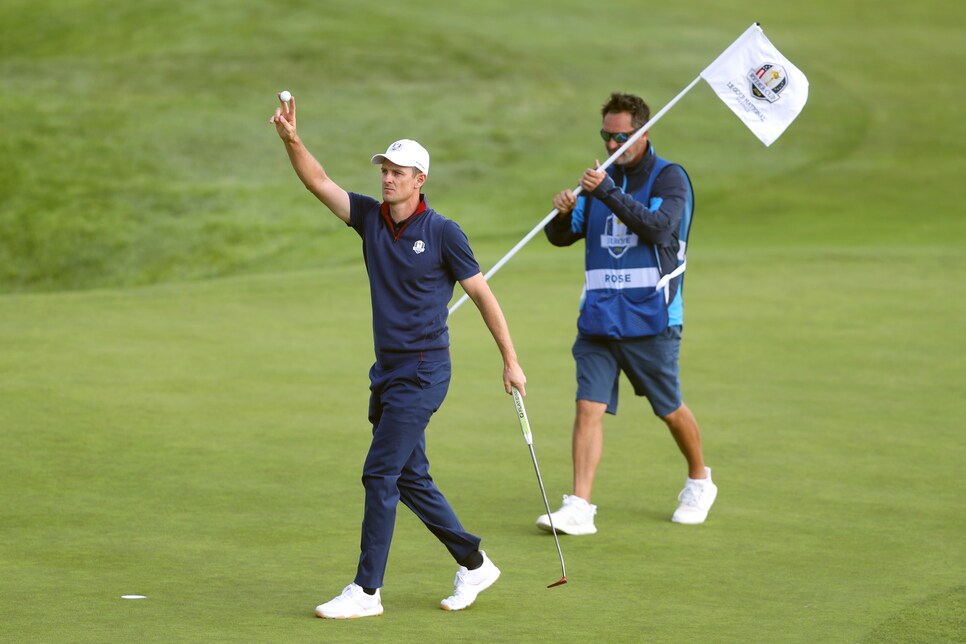 The long wait is over. One of the most anticipated Ryder Cups in the biennial event's history is finally here. It's a moment the Europeans have circled since coming out on the business end of 17-11 smackdown at Hazeltine in 2016, licking their chops at a shot at redemption. For the Americans, it's an opportunity to prove Minnesota was not an aberration but the new normal, boasting arguably their deepest squad in team history. But, while the U.S. enters as strong favorites, it has not won on foreign soil in 25 years, and Le Golf National is a set-up not usually seen on the PGA Tour. Moreover, with a stable of veterans and front-line filled with firepower, Team Europe should prove to be a formidable opponent.
A win delivers not just pride but a sense of relief; a loss brings shame and a set of questions, questions the players will battle for two onerous years. In name, it's a three-day exhibition. But it's an exhibition in name only.
The Golf Digest team will keep you up-to-date on all the live action from France this weekend through our live blog, with the most recent coverage towards the top. (All times local.)
5:40 p.m.: Stop the fight! Actually, it is stopped. For now. Francesco Molinari rolls in one final birdie for Europe on No. 14 to cap a 5-and-4 win over Jordan Spieth and Justin Thomas. It also caps Europe's first-ever sweep in foursomes. After falling behind 3-0 to start, a late morning win plus victories in all four afternoon matches give Europe a 5-3 lead after Day 1. What a remarkable turnaround.
5:30 p.m.: With matching birdies on the par-5 14th, Sergio Garcia and Alex Noren finish off a dominant 5-and-4 win over Phil Mickelson and Bryson DeChambeau. For Noren, a Ryder Cup rookie, it's his first career point. For Garcia, it's his 20th career win to go with 11 losses and 7 ties. And for the Mickelson/DeChambeau combo? Well, there's a good chance that's the last we see of it. Europe leads 4-3 overall and is moments away from increasing that gap.
5:27 p.m.: Another match, another match that ends in a 3-and-2 victory for Europe. This time it's Rory McIlroy and Ian Poulter beating Bubba Watson and Webb Simpson. We are now officially tied at 3. For now.
5:19 p.m.: And there it is, Europe's first win of the afternoon as Justin Rose and Henrik Stenson dispatch of Dustin Johnson and Rickie Fowler, 3 and 2.
That cuts the Americans' overall lead to 3-2, but again, that's about to change a lot more with the wave of blue coming. It would be a pretty big stunner at this point if the U.S. doesn't get swept in these four matches to fall behind 5-3.
5:15 p.m.: Phil Mickelson keeps his match going with a birdie on the 13th hole. He and Bryson DeChambeau just need to win the next five!
5:04 p.m.: Ian Poulter's six-footer for birdie on No. 14 does a 360-lipout to give the Americans some hope. Poulter/McIlroy still have a 3-up lead over Bubba Watson and Webb Simpson, though, with four to play.
4:58 p.m.: After a good tee shot by DeChambeau on No. 12, Mickelson makes a mess out of the second and things get worse from there. First, a failed flop from Bryson and then a bad chip by Mickelson. DeChambeau makes the bogey putt, but it's not enough from going down 6 with 6 holes to play. Meanwhile, Thomas and Spieth make a rare birdie on the par-3 11th to cut their deficit to Fleetwood/Molinari to 3 down. Still the U.S. is 3 down in three matches and 6 down in another. Woof.
4:53 p.m.: Dustin Johnson rolls in another birdie. . . but it's just to halve the hole on the par-5 14th. Johnson and Rickie Fowler remain 3 down with just four holes to play in the lead match.
4:50 p.m.: Ian Poulter puts a halt to the (brief) U.S. momentum by burying a birdie from 15 feet to put Poulter and Rory McIlroy back up 3. What makes this especially disheartening for the U.S. duo is that Poulter hit his tee shot in a hazard, but McIlroy was able to play it and hit a spectacular recovery shot. More bad news for the Americans? Poulter's play seems to have gotten Rory going after a brutal morning.
4:46 p.m.: DeChambeau and Mickelson win their second hole in a row to begin the back nine. Of course, this would mean a lot more if they hadn't lost seven of the nine holes on the front. It's probably too little, too late, but the U.S. still has at least an outside chance of salvaging a (half?) point in the other three matches.
4:39 p.m.: A birdie by Dustin Johnson! A birdie by Bryson DeChambeau! Finally some signs of life for the U.S., but there's still a lot to do to avoid the first 4-0 sweep in a team session since 1989.
4:28 p.m.: We are now approaching record territory as Garcia/Noren take a SEVEN-up (branding opportunity!) lead after the front nine over Phil Mickelson and Bryson DeChambeau. The record for most lopsided 18-hole match in Ryder Cup history (before 1961 there were 36-hole matches) is 7&6, which has been done three times.
4:24 p.m.: It took 12 holes, but Dustin Johnson and Rickie Fowler finally won one. The duo still hasn't made a birdie, and they still trail 4 down in their match, but hey, baby steps.
4:10 p.m.: More of the same as Dustin Johnson and Rickie Fowler bogey the 11th to fall 5 down. Europe now has leads of 5, 3, 2 and 6(!) in the four afternoon matches. If it ends this way, the U.S. will be in a 5-3 hole entering Saturday. Wow.
4:07 p.m.: Bryson bricks another putt while Noren makes to go SIX up thru 8 holes in that third match. "It's a one-way street running down the blue lane," Johnny Miller says. Or, something like that. . .
3:58 p.m.: Fleetwood! Garcia! Rose! Europe is rolling in putts from everywhere at Le Golf National. Meanwhile, the U.S. has gone ice cold. Dustin Johnson misses from inside of four feet on No. 10 and he and Rickie Fowler fall to 4 down. Yikes.
3:53 p.m.: How much have things changed? Europe is now the FAVORITE to win the Ryder Cup, according to DraftKings' live betting. The U.S. began the event as solid -150 (Risk $150 to win $100) favorites, but are no +120 underdogs to Europe (-110). Gotta be honest. We didn't see this turnaround coming a couple hours ago. . .
3:49 p.m.: Dustin Johnson and Rickie Fowler looked like they might win the par-5 ninth, but Fowler's birdie putt lipped out and Justin Rose drained a 10-footer for par. Europe is 3 up as the first match makes the turn.
3:44 p.m.: A wave of blue has taken over the leaderboard at Le Golf National! Rory McIlroy is even brushing in putts left and right as Europe, after losing 3-1 in the first session, now leads in all four afternoon matches. Sacré bleu!
3:42 p.m.: This Phil-Bryson match. . . welp. Needing to make a 10-foot birdie to halve the 6th hole, DeChambeau doesn't come close. That puts this captain's pick combo in a deep 4-down hole.
3:28 p.m.: Justin Thomas hits a poor tee shot on No. 4, but makes up for it by sticking his third to six feet. Partner Jordan Spieth converts the par putt to keep the duo just 1 down. Spieth's putting so far is good news for Team USA after struggling on the greens for most of the season.
3:22 p.m.: Suddenly, the U.S. duo of Johnson and Fowler is free-falling. Three straight ugly holes has them in a 3-down hole to Justin Rose and Henrik Stenson. Thomas Bjorn might be wishing he'd just gone with this established team in the morning.
3:17 p.m.: Rory McIlroy converts a six-footer for birdie on No. 6 and you would have thought he made a 60-footer on the 72nd hole to win the Masters by his reaction. Good for him. It's been a rough day, but maybe that will get him going.
3:11 p.m.: Finally some signs of life from Rory McIlroy as he drives the par-4 6th. Ian Poulter will have a 30-footer for eagle. Meanwhile, Webb Simpson hit a nice drive, but came up short of the green. Simpson and Bubba Watson are 2 up.
3:07 p.m.: And just like that, the U.S. team of Dustin Johnson and Rickie Fowler are 2 down. The duo scrambled for par on the drivable 6th hole, but Henrik Stenson holes a 10-footer for birdie. It's an especially big putt for Stenson, who missed short putts for the win on both 2 and 3.
3:01 p.m.: Alex Noren rolls in a 10-footer for birdie on No. 3 to take a 2-up lead over Mickelson and DeChambeau. Not that he needed it. Following Phil's water ball off the tee, the Americans were going to make at least bogey, but oddly, they didn't concede the hole. Hmm. . .
2:59 p.m.: Excuse the mini-rant here, but can NBC please stop emphasizing that Justin Thomas is a Ryder Cup ROOKIE?! Yes, this is technically true, but the guy already has a win under his belt this morning and he's already won a major championship, a PGA Tour Player of the Year, and ascended to No. 1 in the Official World Golf Ranking. It is not in anyway a surprise if he plays well this week. OK, end of mini-rant.
2:57 p.m.: A hole is finally won in Match No. 1 and it goes in the Euros' favor. After Justin Rose hits a fantastic pitch to save par, Dustin Johnson and Rickie Fowler are unable to get up and down to match.
2:52 p.m.: Many wondered why Jim Furyk would play Phil Mickelson in foursomes instead of four-ball and there are even more people wondering that after what Phil just did on the third hole. Taking an iron off the tee on the par 5, Mickelson yanked his tee shot into a pond. Yep, he laid up and found the water. Wow. It's going to take some serious work to keep from going 2 down.
2:44 p.m.: Europe puts a flag on the board early in the third match as Alex Noren converts a four-footer for par after a nice chip by Sergio Garcia. Bryson DeChambeau went long with his tee shot on the par 3 and Phil Mickelson couldn't quite pull off a flop shot from the rough. The ensuing bogey puts this much-talked-about U.S. pair 1 down.
2:41 p.m.: Webb Simpson gives the U.S. its first lead of the afternoon session, draining a 40-footer for birdie on No. 3. As if Rory McIlroy doesn't have enough things going against him today.
2:35 p.m.: Bryson DeChambeau has a successful first hole of his Ryder Cup career. First, his approach shot safely finds the green and then he cleans up a par after Phil Mickelson leaves his birdie putt well short. The two halve the hole after Sergio Garcia's birdie putt from the fringe lips out.
2:33 p.m.: Dan Hicks and Johnny Miller take over the broadcast for the first time. Get ready for a lot of talk about nerves. And this week, perhaps more than ever, it's warranted.
2:31 p.m.: After holing a nice putt on No. 1, Henrik Stenson has missed short putts for the win on the following two holes. On the par-5 3rd, it's a five-footer for birdie that the 2016 Open champ pulls. And as one of Thomas Bjorn's captain's picks, there will be extra scrutiny on Stenson's play this week.
2:28 p.m.: Rory McIlroy is in full struggle mode, but his partner, Ian Poulter, bails him out on No. 2. After an awful tee shot by Rory on the par 3, Poulter nearly holes a difficult bunker shot. The par keeps the pair all square with Bubba Watson and Webb Simpson.
2:22 p.m.: Match 3 gets underway with Phil Mickelson barely avoiding the water with an iron off the tee. It's Mickelson's 46th career Ryder Cup match, tying him with Nick Faldo for the most ever. Sergio Garcia steps up to the tee and. . . backs away. Wow. Even Ryder Cup veterans get first-tee jitters. After collecting himself, the Spaniard stripes an iron down the middle.
2:18 p.m.: The first foursomes lead comes in the second match, not surprisingly, after Poulter's opening tee shot found the water. McIlroy found the fringe with the pair's third, but Poulter's par chip missed. There was a bit of an awkward moment as Europe didn't concede the U.S.'s tap-in right away, but eventually they did. Hmm. . .
2:13 p.m.: Europe misses a great opportunity to draw first blood in the first match. With Johnson and Fowler already in with bogey, Stenson faced a six-footer for par and the win, but it never has a chance. All square thru two quick holes. Love the pace of play of foursomes.
2:08 p.m.: Ian Poulter, paired with Rory McIlroy to help give the young star a spark, promptly puts his opening tee shot in the water. And for those of you watching, yes, McIlroy still hits the next shot after the drop. Not the best start for Rory, who didn't make a birdie in his morning four-ball loss.
2:03 p.m.: After a spotty chip by Rose, Stenson makes a 10-footer for par to halve the hole. It's usually a stretch to say that a putt on the first hole of the match is truly a "big putt," but considering America's early lead, that certainly felt like one.
1:57 p.m.: The afternoon session is off, with Henrik Stenson and Justin Rose facing Dustin Johnson and Rickie Fowler. In approach, Stenson finds the fringe while Fowler puts it to 20 feet.
1:46 p.m.: The Open champ drops a bomb, disposing of Woods/Reed 3&1. The American duo is sitting out the afternoon session, which is probably for the best, as Tiger's driver was all over the place.
That makes it 3-1 for the Americans after the first session.
1:40 p.m.: Justin Thomas makes a mess of the 18th, but Jordan Spieth bails him out with a par, giving the U.S. its third point of the session. What a statement round by Spieth, who came in with questions regarding his game. If it wasn't for Tommy Fleetwood getting hot, the Europeans would be facing a 4-0 deficit.
1:30 p.m.: The Europeans show signs of life with Tommy Fleetwood dropping a long birdie on the 16th to give he and Molinari a 2 Up advantage with two to play over Tiger Woods and Patrick Reed.
1:20 p.m.: Friday Afternoon matches, which will be foursome (alternate shot):
Match 1: Stenson/Rose vs Johnson/Fowler
Match 2: McIlroy/Poulter vs Watson/Simpson
Match 3: Garcia/Noren vs Mickelson/DeChambeau
Match 4: Molinari/Fleetwood vs Thomas/Spieth
1:15 p.m.: Rose, after shushing fans, proceeds to splash his approach. Rahm, forced to lay up from the rough. Looking like another point for the U.S.
1:00 p.m.: Finau/Koepka and Rose/Rahm reach the 18th. After the Americans both find the fairway, Rahm goes wayyyy right into the deep stuff. Rose bails him out, however, and shushes a few pro-US fans behind the tee box. It's only Friday morning, people.
12:44 p.m.: In case you're wondering where Tiger is, good question. There have been more commercials the last hour than Tiger shots.
12:45 p.m.: On the same par 3, Dustin Johnson sticks it close to put the Europeans out of their misery, 4&2. First point is on the board, and it's for the U.S.
12:30 p.m.: Tony Finau's tee shot on the par-3 16th hits a plank and ends up three feet away from the pin. Rose and Rahm get nowhere near the flagstick. For a match that seemed locked up an hour ago, a halve would go ways for the U.S.
12:20 p.m.: The Euros have a real issue on their hands: Rory McIlroy is officially off the reservation, he and Olesen down 3. Captain Bjorn might need to bench him for the afternoon session.
12:15 p.m.: What a momentum swing by Casey and Hatton, who have won three straight holes to tie the match.
11:56 a.m.: There have been some early reports of crowd issues on both sides. When we talked about fan behavior earlier this year (right after Phoenix and JT incident), with David Feherty, he had this to say about the 2018 Ryder Cup:
"If people think Minnesotans are rude, wait til we get to Paris! They're professional assholes over there.
11:50 a.m.: Casey and Hatton have won the last two holes to cut the Spieth/Thomas lead to 1. Would be a huge swing for the Euros to halve this match.
11:40 a.m.: A long putt from Dustin Johnson gives he and Fowler a 2 Up advantage, while Koepka answers Rose with a long birdie to trim their deficit to 1.
11:30 a.m.: Justin Rose is a man on fire, dropping a chip to move the Rose-Rahm team 2 Up in their match.
11:20 a.m.: "They seem to be catching Rory on an off day." I think we should be concerned that Tiger may have ruined McIlroy.
11:00 a.m.: Justin Rose sinks a testy birdie putt to halve a hole with Koepka, keeping Europe 2 up against the American bombers.
10:30 a.m.: Ball-striking back? Check. Putting back? Check. But how about Spieth's chipping? Yeah, that's back, too, as Spieth makes a 45-foot birdie with his wedge from just off the green on the seventh hole. U.S. now 3 up, the largest lead in any match.
10:22 a.m.: The first two hours here a Le Golf National have been like the early rounds of a boxing match (kids, ask you parents what a prize-fight is), both teams feeling each other out and getting their nerves settled. But we now see the first real emotional outburst when Jon Rahm rolls in a 14-foot birdie putt on the eighth hole to give the Euro's a 2-up lead in the opening match.
10:09 a.m.: Think making healthy putts like this isn't important in a Ryder Cup? Check out Brian Wacker's story about why the U.S. team has been winless on the road in these matches for the last 25 years. Here's the link.
10:01 a.m.: Apparently it's not just Spieth's iron game that's back on point. His putting stroke has made him look like the Spieth of old. On the fifth, he makes a birdie from 25 feet to give he and Thomas a 2-up lead on Casey and Hatton. It's his fourth birdie in six holes.
9:20 a.m.: Don't say we didn't warn you, Frankie! Tiger immediately hits his tee shot on the par-3 second hole to four feet. And when Molinari and Fleetwood find bunkers right of the green and can't save pars, then concede Tiger's birdie, the match back to all square.
9:07 a.m.: Francesco Molinari isn't known for bravado, but check out the expression after he holes this birdie putt to give he and Tommy Fleetwood a quick 1-up lead over Patrick Reed and Tiger Woods in the fourth and final match.
You sure you want to get the ire of P-Reed and Big Cat this early in the match?
8:48 a.m.: Our scouts have been nagging us all week with their talk that Jordan Spieth has been knocking down flags with his irons during practice at Le Golf National. Maybe they weren't exaggerating:
After nearing holing out for eagle, Spieth makes the birdie to give the the U.S. an early lead in Match No. 3.
8:40 a.m.: A bad early omen for the U.S.? In the second match, Dustin Johnson, after hitting his approach shot to two feet, misses the short birdie try to the right. Americans give away what looked like an easy win on the hole after Thorbjorn Olesen was in the water off the tee and Rory McIlroy missed his 18 footer for birdie.
8:27 a.m.: Europe's Jon Rahm and Justin Rose, each having found the fairway, both also hit their approach shots tight. Rose has the honor of making his two-footer for birdie, and when Koepka can't make his birdie from 15 feet, Europe jumps to a quick 1-up lead. (Don't fret American fans … there's a whole lot more golf in store.)
8:10 a.m.: Finally, FINALLY we're ready to begin. Tony Finau, one of America's three rookies, has the honor of hitting the first tee shot in the 42nd Ryder Cup. How pumped is Finau? With an iron he nearly rolls his drive through the fairway, the ball coming to rest a foot before the water. Ryder Cup adrenaline is real.
6:55 a.m.: The sun is still a few minutes from rising, but the crowds are in full throat. OK, so the DJ trying to wake up to crowds sure it. The already famous grandstand behind the first tee is three-quarters full, with loud pop music blaring to keep the fans entertained. It's a spectacle already, and we're still more than an hour away from the official start.