News
Ryder Cup 2018: The first-tee grandstands at Le Golf National have already become legendary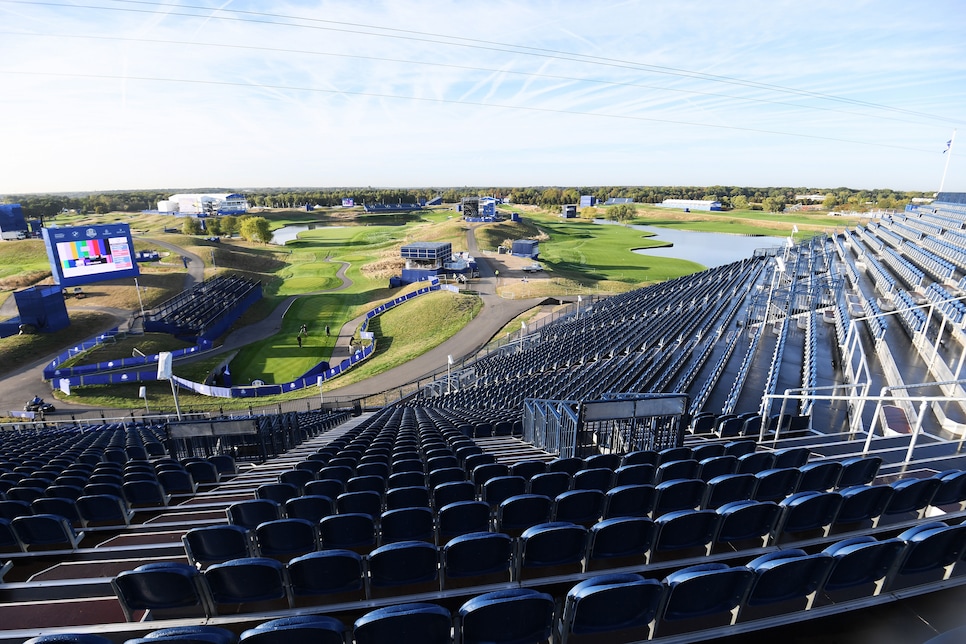 "Where are the grandstands next to the first tee?" —said by nobody at Le Golf National
SAINT-QUENTIN-EN-YVELINES, France—Come Sunday night, the 42nd Ryder Cup are bound to be remembered for something more than "that place where they put all the fannies in the seats." But on Thursday, with the 24 players competing in the latest clash of continents anxiously waiting to get this thing finally started (a sentiment shared by a fair number of journalists, too), the big thing people are talking about is the big thing on the grounds at the Albatros Course.
As the French have given the world cinema, baguettes and hot-air balloons, we can now add "le grandstand super-sized" to their list of accomplishments.
You can't miss it, the monolith being the tallest structure on the property. And if you can't see it, you can certainly hear it. The buzz from the bleachers as the players have teed it up for practice rounds is a different pitch than you usually hear on a golf course.
Ryder Cup organizers at Le Golf National didn't have stats about its size, beyond stating the capacity at "roughly 6,900." I used my Fitbit, then, to get my own metrics. It took 79 steps for me to get from bottom row to the top, and 68 steps to go from the right side, to the left. In total I walked .19 miles. As I was doing this in the gloaming on Wednesday, I had horrible flashbacks to my high school basketball days, when our coaches made us run up and down the bleachers when other messages about passing the ball or playing more disciplined defense didn't sink in. It got me thinking that a lot of coaches would drool to have a set-up like this, if only to intimidate their own players.
How many stories tall the grandstand is would be a guess, but I took this picture from the top down to provide a little perspective.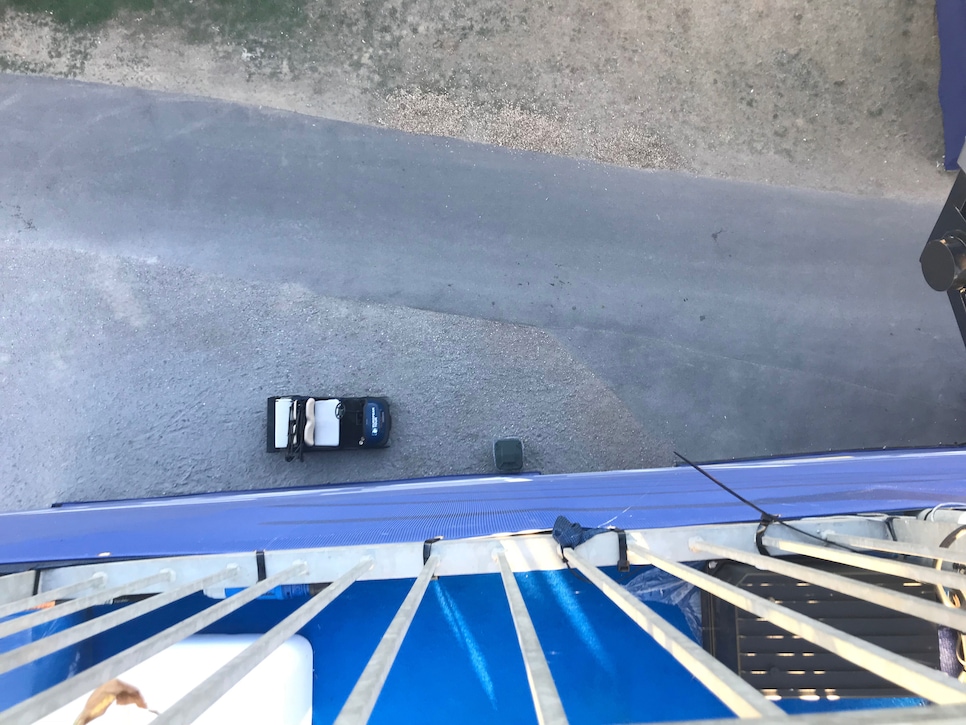 Hope nobody's beret flies off.
Every golfer paraded into the media center this week has been asked to give their impressions of the grandstand. Their answers have all been variations on a theme: "It's freakin' amazing."
"It's like we have three massive buildings around us on the first tee this week," said Justin Thomas.
"It's the most incredible first tee shot I've ever seen for sure," said Justin Rose.
"When I first saw that on the first tee, I looked up and felt like I kept looking up and up and up," said Patrick Reed. "There's going to be so many people that are sitting in there. It's going to be an unbelievable atmosphere."
Of course, the point of the questions wasn't to see how many different ways players could say "yeah, it's big" but rather to try and assess whether the added size compared to past Ryder Cups might translate into more anxiety when it comes time to peg it up on Friday. After all, the volume dial at a Ryder Cup is usually turned up to 11, anyway. But now that the grandstands are also turned to high as well, let's just say we're likely to see a little more jelly in the legs.
"And this year, it's a long iron," Rose noted. "Normally you tee up the driver and hope for the best, but now you might have to hit a good old 3-iron down there. Could be interesting."

What won't we see? In all likelihood Bubba Watson egging on the crowds to yell while he hits his opening drive, a la Medinah in 2012. The eccentric lefty has been warned against doing that this week.
"I've been told that I can't get the crowd to rev up, though, because it's an iron off the tee," Watson said. "It's a lot easier when it's a driver off the tee. … I don't want to get revved up trying to hit a bullet off the tee and fat it 20 yards down the fairway, so I don't want to do that. They told me I can't do it this time."
In person, it's been both impressive and gaudy. The structure is a testament to how far the Ryder Cup (and golf in general) has come, and yet how vainly the sport tries to play itself off as mainstream.

Meanwhile, what's in store for the future? The French have taken this to the next level (pun intended). What might we see at Whistling Straits in 2020? Is this going to become an arms race?
Leave it to Henrik Stenson, he of the Swedish bent for sardonic humor, to offer up his prediction for the future: Floating stands in the sky.
OK, so we're a ways away from that. But it's good that everybody is thinking big.