News
Ryder Cup 2018: The U.S. hasn't won on the road in 25 years, but here's why the streak could end in France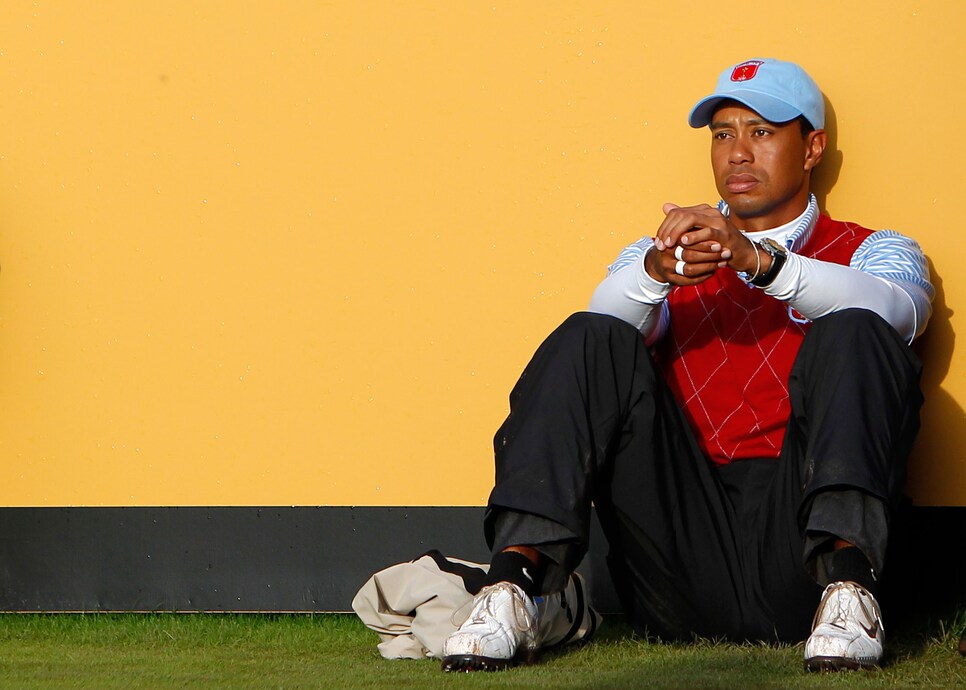 SAINT-QUENTIN-EN-YVELINES, France—Nick Faldo was the top-ranked player in the world. Jordan Spieth was just 2 months old. Bill Clinton was in the White House. The year was 1993, and it was the last time the United States won a Ryder Cup on foreign soil. Mon dieu!
Not that Jim Furyk needs any reminding.
"It's not anything I need to mention in the team room," said the American captain, who was still a couple months shy of graduating from PGA Tour Q school when a 51-year-old Ray Floyd went 3-1 for the week and secured the winning point to lead the U.S. to a 15-13 victory over Europe at The Belfry. "There's not a big '25' sitting in there anywhere. They are well aware of it, and they are well aware of how difficult it is to win in Europe, and you know, that's the battle we fight this week."
Indeed, and it's not lost on the players, either.
"I feel like it's a huge one," said Patrick Reed. "Because the young guys don't want to have to go through what the old guys did every 25 years. We want to go out and play some really good golf and get more competitive overseas."
There are myriad reasons why the U.S. has failed to win any of the five competitions played overseas in the last quarter century, from strength of teams, to coaching, to continuity and camaraderie.
"I think playing on the road is increasingly becoming more difficult," noted Rory McIlroy, "with how partisan the crowds are and how the crowds get behind their teams. And then we do have a little more control of the golf course."
Tiger Woods had another theory.
"The teams we've been a part of in the Presidents Cup wins, at least that I've been a part of, we've handled the 18th hole well," he said. "In the Ryder Cup, we haven't."
That's assuming a match gets that far, something that is by no means a guarantee in match play. At Gleneagles in 2014, the last Ryder Cup played in Europe, only 11 of the 28 matches made it to the home hole. To Woods' point, the U.S. won four, lost five and halved two, en route to a 16½-11½ drubbing.
Often, though, each case is different.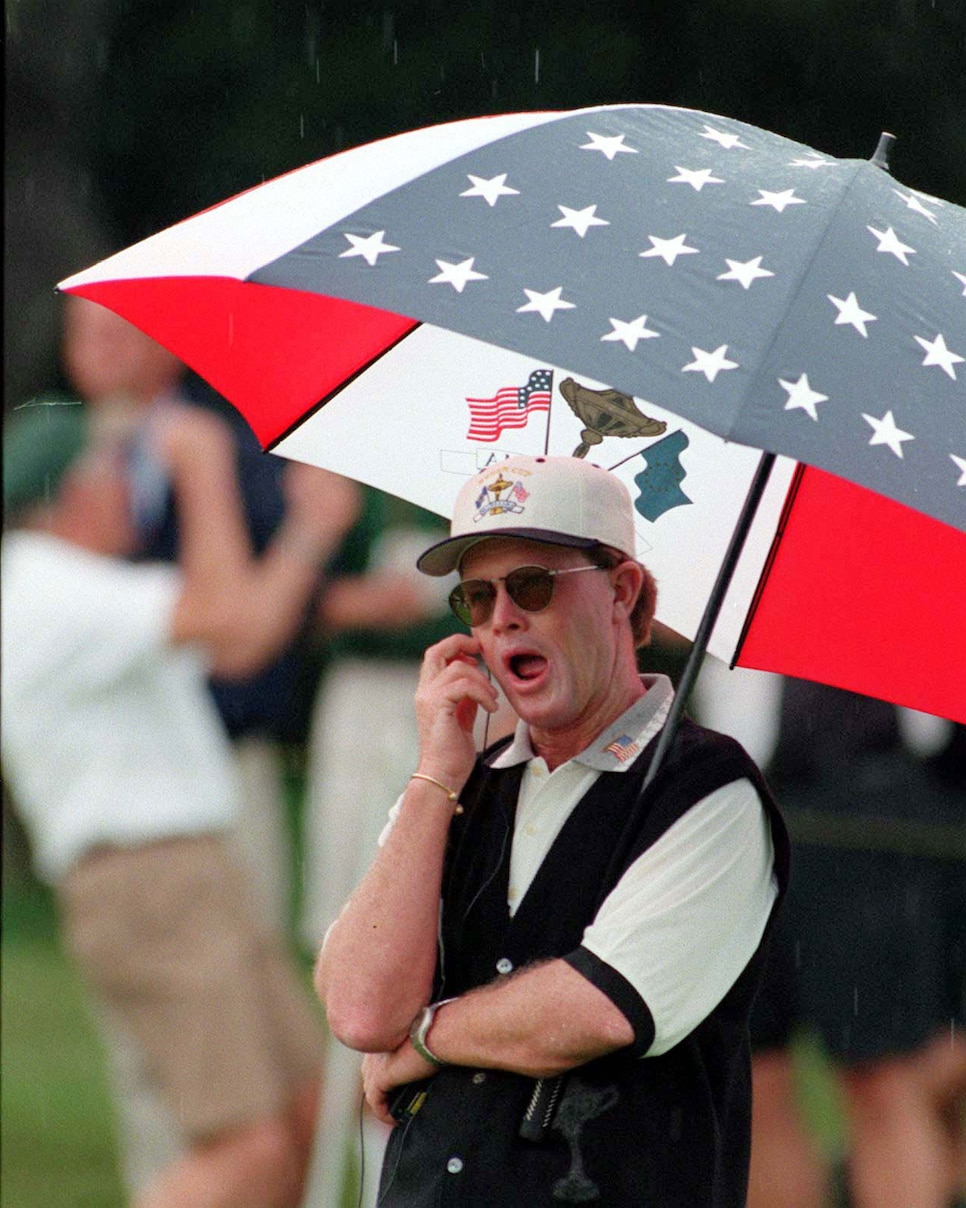 Rebecca Naden - PA Images
• In 1997 at Valderrama, it was all Seve, all the time, whether it was saying he had a dozen players who could beat the rising young superstar Woods, flipping the format so the four-ball matches were played before the foursomes, or tweaking the course setup with pinched-in fairways at 280 yards and patches of rough across the middle to disarm the long-hitting Americans. Woods, a rookie, went 1-3-1, while Phil Mickelson, playing in his second Ryder Cup, was barely better 1-1-2. At least they scored a point. Davis Love III was blanked in four sessions. "He was our father," Spain's Ignacio Garrido said at the time of Ballesteros. "We may have held the clubs, but Seve hit the shots." The U.S. had to win seven of the 12 singles matches just to lose by five. "They just made a ton of putts," Tom Lehman said after Saturday's play. "And we didn't make squat."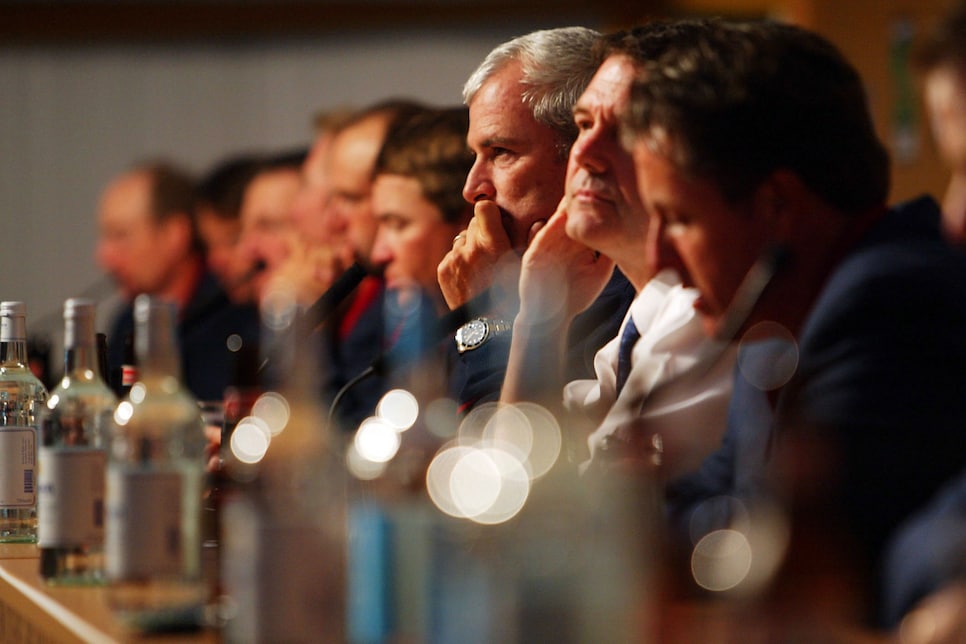 • In 2001, there was no Ryder Cup because of the terrorist attacks on the World Trade Center on Sept. 11. The matches were pushed back a year but the end result the same, with Sam Torrance's gamble of front-loading his Sunday singles lineup paying off in a big way. Tied at 8, Torrance sent out Colin Montgomerie, Sergio Garcia, Darren Clarke, Bernhard Langer, Padraig Harrington, Thomas Bjorn and Lee Westwood in the first seven matches and Europe won four of them, halved another and lost just two. Curtis Strange, meanwhile, backloaded his lineup with Paul Azinger, Furyk, Love, Mickelson and Woods going off in the final five matches and the deficit proved too much to overcome as Europe halved four of them and won one on its way to a three-point victory.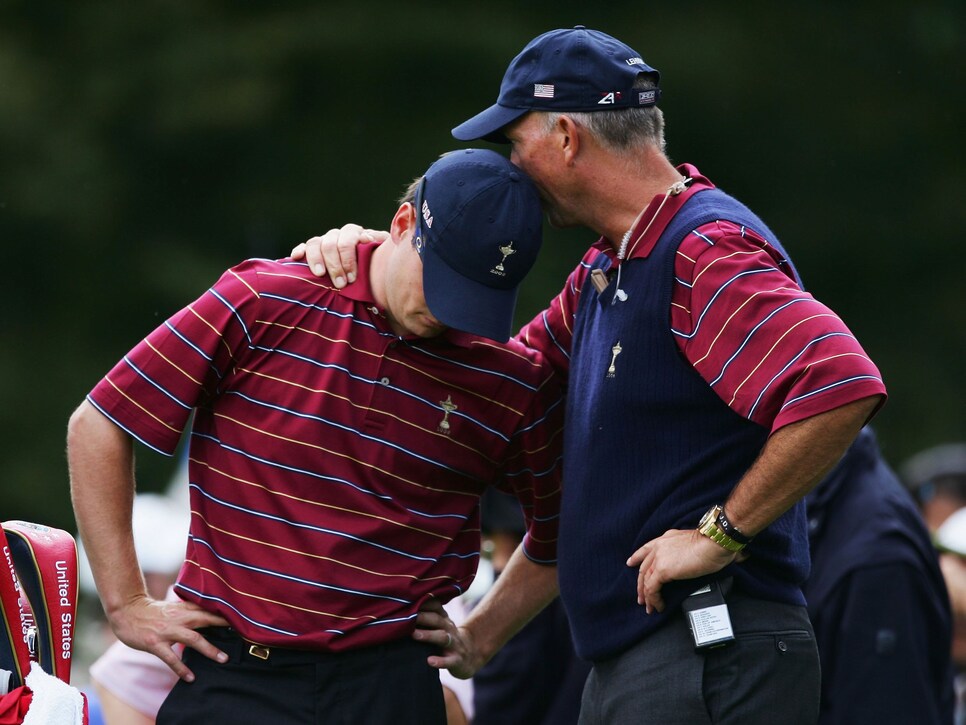 • Four years later at The K Club in Ireland, the U.S. was simply outclassed. The Americans had the top three players in the world—Woods, Mickelson and Furyk—but also featured a lineup that included three players 60th or worse in the world rankings in Vaughn Taylor, J.J. Henry and Brett Wetterich. A balanced and much deeper European team drubbed the U.S. by nine points to match the biggest blowout between the two sides in the event's history.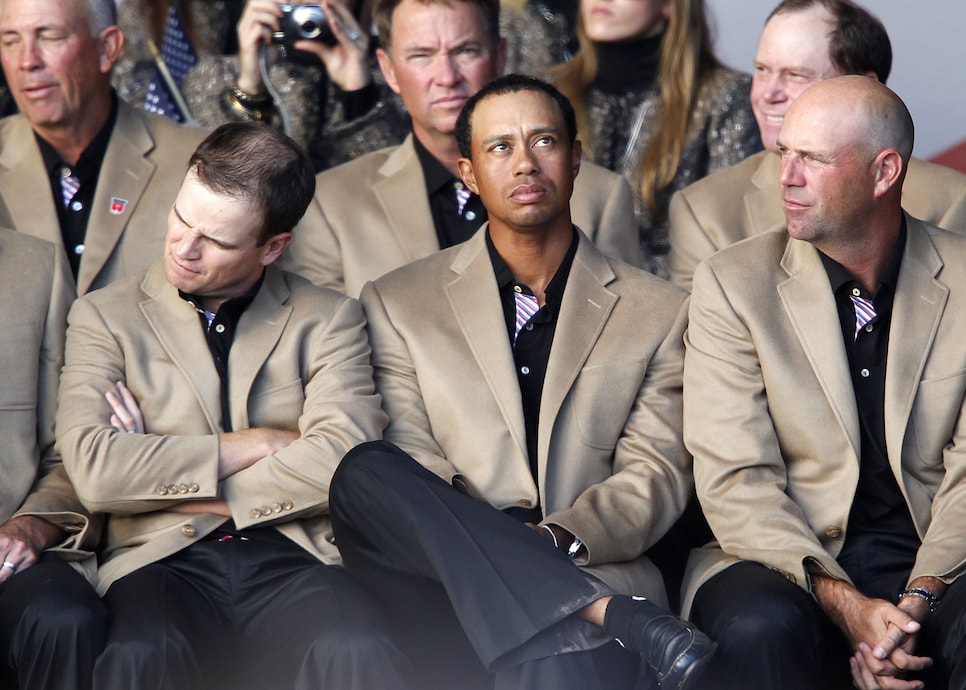 • In 2010, weather plagued the event through the weekend and the matches were forced to conclude on Monday. The U.S. led after each of the first two sessions, which included six matches in foursomes play in order to fit the intended number of matches into the condensed schedule, but the third session, played over two days because of torrential rains, was dominated by Europe, which won 5½ of a possible 6 points to take a three-point lead into singles. The Americans rallied behind late wins by Woods, Mickelson, Zach Johnson and a halve by Rickie Fowler to force the outcome to the final match between Hunter Mahan and Graeme McDowell. Because the U.S. had won at Valhalla in 2008, all it needed was a tie to retain the Cup. Mahan was 2 down with a chance to cut the deficit to 1 down on the par-3 17th when he chunked his chip shot then missed a par putt. McDowell went on to win, 3 and 1, giving Europe a one-point victory.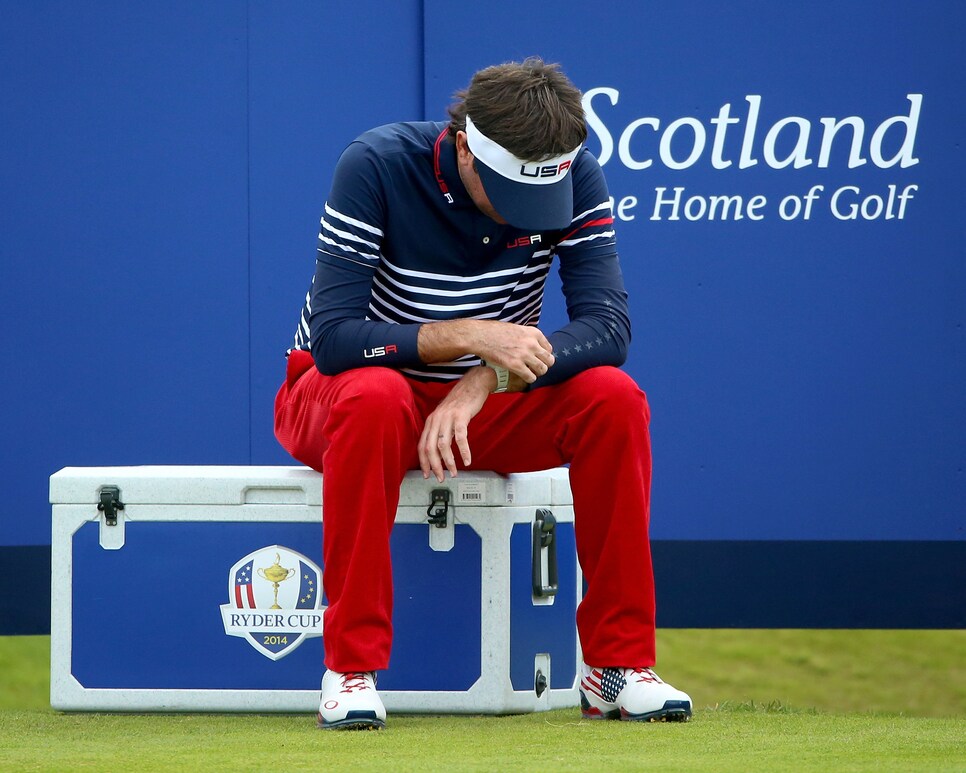 • Then came 2014 at Gleneagles. With an out-of-touch Tom Watson as captain and an underperforming team, the U.S. trailed by four going into singles and never recovered, losing by five.
The defeat proved to be a watershed moment, however, as the Americans overhauled their approach to the matches. It didn't hurt, either, a new set of stars had begun to emerge, notably Jordan Spieth, Brooks Koepka and Reed, all of whom joined Dustin Johnson and Rickie Fowler to form what looks like will be the backbone of U.S. teams for years to come. This year's squad also includes Justin Thomas, who is making his Ryder Cup debut but has already racked up nine career wins, including a major by age 25.
Along with that arrival has come a level of continuity not just in team members but its leadership—Furyk served as an assistant captain in the Presidents Cup and Ryder Cup before taking the helm this year. Just as important is a familiarity and comfort amongst the players he's leading.
"You've seen Jordan and Rickie and J.T., and those guys they hang out together," McIlroy noted. "They spend a lot of time together, and it seems like the togetherness is just a little bit more there than maybe it used to be back in the '90s and early 2000s."
What will it take to end the drought for the Americans on the road?
Spieth perhaps summed it up best when explaining Europe's success at home and the Americans' lack of it overseas.
"I would put it simply that they won more holes," he said. "They made more putts. I mean, seriously."