News
Ryder Cup 2018: Watch the opening tee shot of the Ryder Cup (you know, in case you were still sleeping)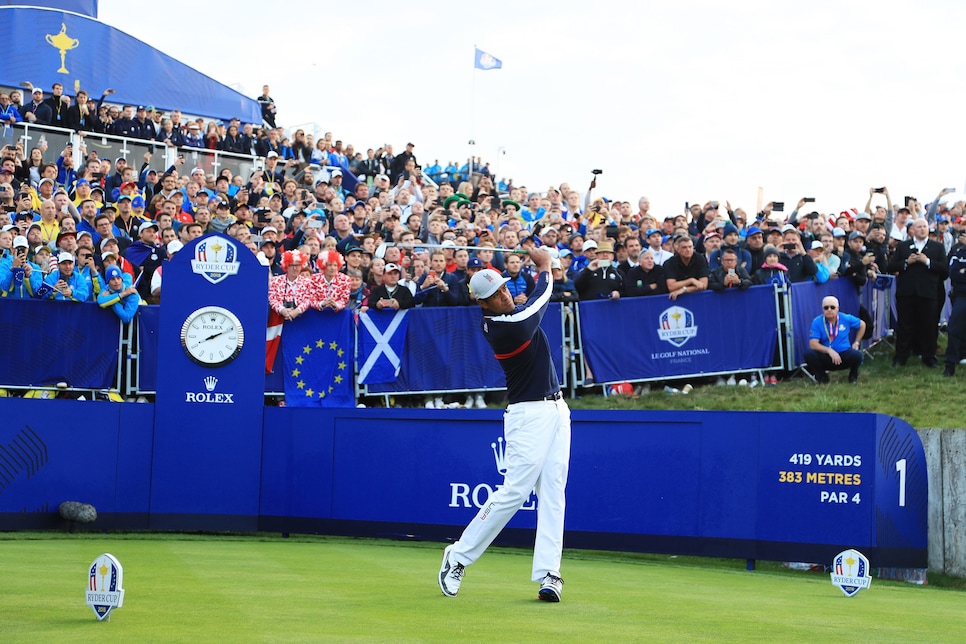 SAINT-QUENTIN-EN-YVELINES, France—Finally, FINALLY the opening session of the 42nd Ryder Cup has arrived. And the super-charged atmosphere surrounding the first-tee grandstand provided a pretty amazing setting as the opening four-ball matches began. For those watching in America, in case you decided not to set that alarm for the early AM wake up call (Shame on you! You call yourself a golf fan!!), Tony Finau had the honor of being the first off the tee. But don't worry, we're here to catch you up on what you missed at dawn's early light in France.
First, here was the setting as Finau, paired with Brooks Koepka and playing against Justin Rose and Jon Rahm, got set to kick things off.
And then Finau, playing his first Ryder Cup, had the honor.
There were some other entertaining moments as another rookie, Jon Rahm, gets his first taste of real Ryder Cup play
Even veterans aren't immune to first-tee jitters, but Rory McIlory looked pretty poised.
And then there was the marquee player that many were waiting for. Here's Tiger Woods playing his first Ryder Cup shot in six years.