The Loop
Ryder Cup 2018: Phil Mickelson's belly is Team USA's new good-luck charm, and we're not sure what to make of it
Things are getting out of hand in France for the American Ryder Cup team. The Europeans continued their dominance in Saturday's fourballs session, taking three of the first four matches—making it seven straight points for Europe.
Justin Thomas and Jordan Spieth prevented a second straight sweep by the Europeans by winning the final match of the morning, and it appears things have gotten so desperate for Team USA, we're now rubbing bellys. Phil Mickelson is sitting out both Saturday sessions, so he's putting himself to use by being a human Buddha. He was spotted not only walking with the groups Saturday morning, but Phil also let his stomach be used as a good-luck charm by Spieth and Thomas. Hey, that's a team player right there!
Hey, you gotta put all those Krispy Kremes and In-N-Out burgers to use somehow, right?
This might be genius, actually. Thomas and Spieth got their point, so it's working apparently. Now Phil needs to spread the love around and walk around with every American foursomes group. Before you take a swing, make sure you grab some Phil belly. It might end up being the good-luck charm the Americans never knew they needed.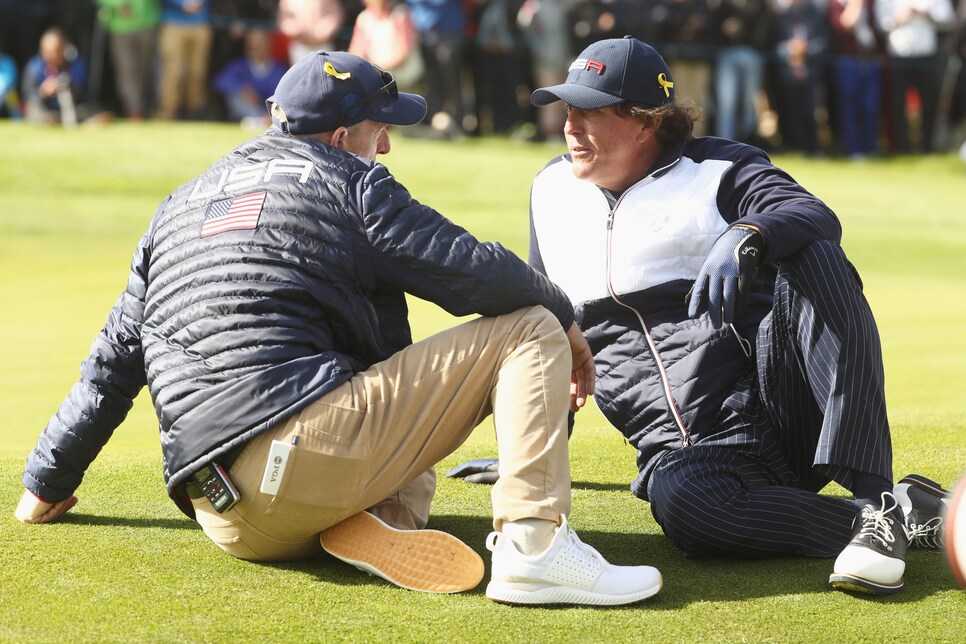 Getty Images/Jamie Squire
(Phil discussing his belly-rubbing strategy with U.S. captain Jim Furyk, most likely.)