News
Ryder Cup 2018 Live Blog: U.S. faces 10-6 deficit heading into Sunday singles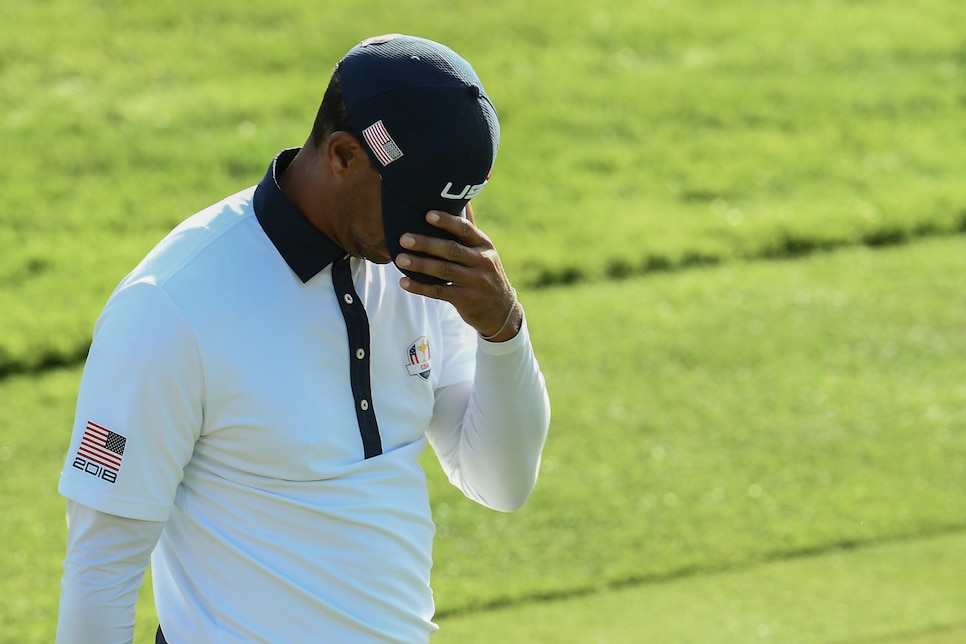 The U.S. team enjoyed a flourishing start to the 2018 Ryder Cup, mounting a 3-1 lead in the morning session. The afternoon, however, was not as prosperous. Actually, it was downright disastrous, as the Europeans swept the Americans in foursomes for the first time in the biennial event's history. And how, with the Europeans winning in blowout fashion in every match. Despite only facing a 5-3 deficit, the Americans, according to DataGolf, now own just a 33 percent chance of winning the cup (albeit 42 percent chance at retaining).
Conversely, as Friday proved, fortune is a fickle thing at the Ryder Cup. To steer things back in their corner, Captain Jim Furyk will send out the same morning wave as Friday, hoping to replicate their magic. European leader Thomas Bjorn will counter with his dynamic duo of Tommy Fleetwood and Frankie Molinari (who went 2-0 on Friday), Ian Poulter and Jon Rahm, Paul Casey and Tyrrell Hatton and Sergio Garcia and Rory McIlroy. Can the Americans cobble together a comeback, or will the Europeans make Sunday a celebratory stroll?
Golf Digest will be detailing all the action from Le Golf National this weekend, with the most recent updates towards the top.
12:03 p.m.: Poulter poured in a birdie to keep their hopes alive, but Spieth answered with a birdie of his own, and then channeled his inner Poulter with a chest pump right in the Englishman's face. Don't tell him the U.S. is losing big!
That's a wrap on day 2 of the Ryder Cup. The U.S. faces that all-too familiar 10-6 deficit heading into Sunday singles. Will it be a miracle comeback a la Europe at Medinah in 2012 or the U.S. at Brookline in 1999, or will Europe waltz to victory? Will be fun to find out tomorrow. First match goes off a 6 a.m. ET. Check back at golfdigest.com for Sunday singles tee times.
11:48 a.m.: Looking to end the match, Spieth makes a bomb for birdie at the 14th, but Poulter answers. This one's all but over, as JT and Spieth lead 4 up with four to go. Looks like we are headed for that familiar 10-6 score in a Ryder Cup.
11:45 a.m.: About that potential disaster .. Webb bangs in the birdie! He and Bubba take the match 3 and 2 to get a point on the board. 10-5, Europe.
11:44 a.m.: DJ's wayward drive proves costly at the par-4 17th, as he and Koepka go on to bogey after Stenson drained a clutch par putt. Another point for Europe. They now lead 10-4. Bloodbath.
Meanwhile, at the 16th, Bubba and Webb are threatening with disaster. A match they had in the bag is still dormie with three to go, but Alex Noren just hit his tee shot to tap-in birdie range, while Watson's came to rest about 20 feet away. If Simpson misses, they'll be 2 up with two to go. Still in a good spot, but the crowd is rallying around Garcia and Noren. Thomas and Spieth once again appear to be the only sure point, as they lead 4 up with five to go.
11:37 a.m.: The pain and suffering is over. Molinari makes another putt, this one to end the match with Tiger and Bryson at the 14th hole. Moliwood goes 4-0 in the 2018 Ryder Cup. What a week.
11:27 a.m.: Stenson's tee shot at the par-3 16th found a greenside bunker, opening the door for Koepka and DJ to potentially square the match, but Rose came up huge, splashing one out to four feet. Stenson converted from there to halve the hole and stay 1 up with two to play. What a dagger it would be if they could close it out on the 17th.
11:22 a.m.: Back at no. 13, Tiger pulls off a miracle shot after Bryson's drive found the rough. Fleetwood's approach went well through the green, and it looked like Tiger and Bryson had another chance to get one back. How about .. nope! Molinari cozies one up near the hole and Fleetwood cleans up the par to halve. Team Moliwood now 4 up with five to go, and Tiger Woods is in danger of losing his eighth consecutive team match. That's right folks, EIGHTH! And there's not even a halved match in that streak. Yikes.
11:17 a.m.: Rose misses, and now he and Stenson lead just 1 up with three to play. Enormous swing there for Koepka and DJ. Taking a half a point from this match would be a small victory for the U.S.
11:12 a.m.: At the 15th, Brooks Koepka appeared to flip the momentum in he and DJ's favor, stuffing one to tap-in range. A win would cut their deficit in half, but Henrik Stenson answered, knocking his approach inside 10 feet. Koepka and DJ's putt will likely be conceded, forcing Justin Rose to have to make to halve the hole. Crucial moment in this match coming up.
11:06 a.m.: Just as Tiger and Bryson were creeping up on Moliwood, Fleetwood applies the dagger at the par-4 12th, burying a birdie putt set up by Molinari's approach. They are now 4 up with six to play. A 4-0 record would make them the first European duo to ever go 4-0 in a Ryder Cup. Seems like they may have locked it up, cementing instant legend status.
10:57 a.m.: We officially have a new Captain America. Our lips to Dan Hicks' ears ... Justin Thomas rolled in a 25-footer on the par-3 11th hole to extend his and Spieth's lead to 3 against Rory McIlroy and Ian Poulter.
JT and Spieth look to be in control in this match, and if they can lock in a full point, it'll be their third point of the Ryder Cup for the American side. Oh, if USA could only clone Thomas. He's been the most vocal of any American player, igniting the Euro fans on multiple occasions after holed putts. He has been key to keeping the U.S. in this. But let's get one thing straight: We're not calling Thomas a Ryder Cup rookie. He's no stranger to these kind of atmospheres.
10:50 a.m.: After a birdie from Dustin johnson and Brooks Koepka had trimmed the match to a one-hole lead for Justin Rose and Henrik Stenson, Rose holes a birdie putt on the 13th hole to put the deficit back to 2 holes with 5 to play.
Meanwhile, Tiger and Bryson have won two straight holes to trim that deficit to a 3-up lead for MOLI-WOOD.
10:41 a.m.: Tiger Woods rolls in a 15-footer for birdie at the 10th hole for the first birdie from him and DeChambeau. It only took them 10 holes to card a red number. Tommy Fleetwood's attempt to match just misses, so we have a victorious hole for the U.S. side. Still a comfortable 4-up lead for Europe after 10 holes.
10:39 a.m.: Justin Thomas misses a 2 and a 1/2 footer for a birdie at No. 9 that would've extended the lead of Thomas/Spieth to 3-up over McIlroy/Poulter. That match goes to the inward nine with a 2-up lead from the U.S. side.
10:29 a.m.: Tommy Fleetwood and Francesco Molinari are on their way to earning as many points as the entire American team have earned thus far through Saturday. The MOLI-WOOD side convert their birdie at the ninth hole after Tiger missed about a 9-footer. We've seen Tiger Woods miss a number of makeable putts on Saturday afternoon, as he did here at the ninth hole after a great third shot from Bryson DeChambeau.
Fleetwood and Molinari are now 5-up through 9 over Tiger and Bryson. Wow ... poor Bryson. He's getting trounced for a second straight day in foursomes. This one might not last many more holes.
10:20 a.m.: Jordan Spieth and Justin Thomas capitalize on a missed 5-footer for par by Rory McIlroy to make a par of their own and take a 2-up lead on the Euro side through 8 holes. That momentum is building in their direction—after going down by two early in their match. They've already earned 2 of the 4 points for the Americans thus far.
10:07 a.m.: About that: DJ misses a short par putt, allowing Stenson/Rose to go 2 Up after 10. With Woods and BDC getting roasted, Americans absolutely need a comeback.
9:56 a.m.: Ian Poulter misses a five-footer for par on the sixth hole to give Thomas/Spieth a 1 Up lead. Meanwhile, Bubba and Webb go 3 Up in their match thru seven holes. If Koepka and DJ can turn their match, the US might be in business.
9:50 a.m.: Even the American broadcast has come off the rails, with Peter Jacobsen claiming this weekend is a "coming out party" for Molinari. Apparently beating Tiger Woods to win golf's oldest major doesn't mean what it used to.
9:45 a.m.: Spieth drains the putt, and Poulter misses from off the green. The final match of the day is all square.
9:43 a.m.: Tiger hasn't received much help this weekend. Hasn't done much himself either. Woods misjudges a flop shot, likely putting he and BDC down three in their match against Frankie and Tommy.
9:40 a.m.: Signs of life in the Thomas/Spieth pairing, as Thomas puts his approach to 20 feet. With McIlroy/Poulter in the bunker, a chance to get things square in the match.
9:34 a.m.: Not been the best day for Brooks Koepka, who misses a nine footer to go down 1 to Rose/Stenson. Just one red flag on the board at the moment.
9:25 a.m.: Bubba and Webb immediately gave one back, making bogey at the fifth and allowing Noren and Garcia to win with par. They're lead is now just 1 up
9:13 a.m.: At the par-4 fourth, Webb Simpson's beautiful approach shot nearly found the cup, rolling a few feet by and setting up a makable birdie putt for Bubba. He converted, giving them a 2 up lead over Sergio and Noren.
Bubba and Webb are the only bright spot for the U.S. at the moment. Just ahead of them, DJ and Koepka remain all square through six with Rose and Stenson, while the duos of Tiger and Bryson and JT and Spieth are both 2 down in their matches. Not great, Bob.
8:53 a.m.: DJ and Koepka conceded the fourth hole, squaring the match with Stenson and Rose in the process. Soon after, Ian Poulter and Rory McIlroy won the first and third holes to go 2 up on Jordan Spieth and Justin Thomas. Just like that, there's two blue flags on the board and just one red. Lot of golf, but not looking great for the U.S. at the moment.
8:39 a.m.: The U.S. still leads 1 up in the first two matches, somewhat miraculously for Bubba and Webb Simpson, who halved the par-3 second against Sergio Garcia and Alex Noren with ... wait for it ... TRIPLE bogeys. Johnny Miller had a field day, calling it "something you see in the C Flight club championship." SHRED them Johnny!
In the third match, Tiger continues to struggle with Molinari and Fleetwood, who lead 1 up on Woods on DeChambeau.
8:18 a.m.: Very encouraging start for the Americans in the afternoon session, as each of the first two teams off take the first hole to go 1 up. Need a whole lot of red on that board to feel good about their chances on Sunday.
7:50 a.m.: JT was the only player of the group to hit the fairway at the 17th, and he took advantage by hitting his shot about 10 feet past the hole. He went on to make the birdie putt to beat Rahm's par and seal the match. Big point, but it's still a commanding, 8-4 lead for the Europeans heading into afternoon foursomes. Speaking of which, the pairings are out, and it looks like Phil Mickelson won't be teeing it up today. Here are the foursomes matches:
Match 1: Johnson/Koepka vs Stenson/Rose
Match 2: Watson/Simpson vs Garcia/Noren
Match 3: Woods/DeChambeau vs Molinari/Fleetwood
Match 4: Spieth/Thomas vs McIlroy/Poulter
7:35 a.m.: After Rahm made his up and down, Spieth putted first and did not even give it a chance. Poulter promptly poured his in, pumped his chest and got the crowd on its feet. JT had to make, and his putt just caught the left edge and rolled in. Huge sigh of relief for he and Spieth, who lead 1 up with two to play. Two more halves is all they need, but they could could make their lives a lot easier by ending it on 17 and avoiding the tricky 18th hole.
7:29 a.m.: Ian Poulter stuck one close at the 16th, and suddenly it felt like something terrible was about to happen for the U.S. If Poulter and Rahm could square the match with two to play, they'd have a very good chance to steal a whole point.
But JT and Spieth seemed to determine to save the day, both of them hitting their tee shots within 10 feet. Still have to make the putts, but those were two crucial shots.
7:23 a.m.: With just one match left on the course, things have gotten a bit quiet. Didn't help that the group halved with a pair of lifeless pars. JT and Spieth take their 1 up lead to the par 3 16th.
7:08 a.m.: Make that 8-3 Europe, as Moliwood puts Tiger and Reed away on the 15th green. JT and Spieth are the U.S. team's last hope, and it's not exactly a lay up considering they lead just 1 up heading to the difficult closing stretch. Safe to say it's a do or die point. Could it provide similar momentum to the lone point Molinari and Fleetwood picked up in yesterday's morning session? Certainly doesn't feel that way with how the U.S. is looking.
7:01 a.m.: The U.S. just avoided disaster back at the par-5 14th, where Jon Rahm holed a birdie putt and unleashed a fiery celebration. It forced Justin Thomas to have to make his just to halve the hole, which he did, immediately putting his hand to his ear to egg the crowd on. Uhh, it's about to be 8-4 JT, and that's best-case scenario. He and Spieth lead 1 up with four to play.
Meanwhile, Paul Casey and Tyrrell Hatton ended their match with DJ and Fowler at the 16th hole to give Europe a 7-3 lead.
6:48 a.m.: Well, that was a dagger. Sergio drops a 25-footer for birdie, and Koepka can't answer. That's a 2 Up victory for Sergio and Rory, putting the Europeans up 6 to 3, with the score trending to 8 to 4.
6:43 a.m.: DJ holes a chip to keep his match going, albeit 3 down with three holes to go. Koepka, meanwhile, puts his approach on the 17th to 20 feet, but it's the closest approach in the group.
6:35 a.m.: Hey now, Tony Finau with a BIG birdie to cut the deficit to one. As bad as things look for the U.S., managing a half in this match could swing the entire proceedings.
6:33 a.m.: What. A. Dagger.
6:30 a.m.: Fowler watched a brutal lip-out, and now he and D.J. are three down with four to go. Not been a good 24 hours for those two.
6:27 a.m.: Woods and Reed both find water on the 13th; Moliwood is now 3 Up with five to go.
6:20 a.m.: Both Garcia and McIlroy drop their approaches in the water at the 15th, and now their lead is down to 2 with three to go. This would be the collapse of all collapses .
6:12 a.m.: Thomas puts his approach inside six feet at the 12th to give the U.S. a chance to go 2 Up.
6:02 a.m.: Spieth drops a birdie on the 11th to give the U.S. its first lead of the day. Granted, it comes as Molinari moves his match to 2 Up over Tiger and Reed...but it's a start.
6:00 a.m.: Dustin Johnson nearly dunks his approach on 13. The Euros also have a look for bird, but DJ and Rick are making them earn it.
5:56 a.m.: Woods has to lay up on the 12th, his drive so buried in the rough. Fleetwood sticks it, because of course he does, while Reed misses the green. Getting late early for the U.S.
5:50 a.m.: By the way, the crowd just shushed Reed. Game recognize game there.
5:40 a.m.: That is how you respond: Molinari nearly aces the par-3 11th, leaving a short birdie try. With Woods 30 feet away and Reed off the green, another match could swing the Euros' way.
And Woods misses while Molinari makes, with Frankie and Golf Jesus 1 Up.
5:32 a.m.: However, both Fleetwood and Molinari miss while Woods converts, making it all square. And Dustin Johnson and Rickie Fowler are now down just 2 with seven holes to go. Perhaps all is not lost.
5:25 a.m.: Tiger sticks his approach on the 10th, but Molinari answers with a stout second shot of his own. Between that and Tommy Fleetwood during into Golf Jesus, Netflix needs to greenlight a "Tommy and Frankie" mini-series.
5:15 a.m.: Jordan Spieth and Justin Thomas square things up with Poulter and Rahm. Oh and Reed makes a putt and promptly shushes the crowd, forgetting that the U.S. might lose eight matches in the row. Back, baby!
5:10 a.m.: Sergio sinks a 15-footer for birdie while Finau misses one from seven feet. El Nino is back.
5:00 a.m.: Quick snapshot:
Match 1: McIlroy/Garcia 3 Up thru 11 vs. Koepka/Finau Match 2: Casey/Hatton 3 Up thru 9 vs. Johnson/Fowler Match 3: Molinari/Fleetwood 1 Up thru 8 vs. Woods/Reed Match 4: Poulter/Rahm 1 Up thru 7 vs. Thomas/Spieth
4:50 a.m.: We have signs of life, courtesy of Tiger Woods. With Reed out of another hole, tossing his drive way O.B., Woods drains this to cut the deficit to one.
4:42 a.m.: The coverage has been cut for a Martin Hall/Ray Floyd infomercial. Probably for the best.
4:37 a.m.: Listen, the booing is getting over the top. No question, crossing the line. But for a guy who says he relishes shutting people up, Patrick Reed has been effectively taken out by a crowd. A crowd every other sport boasts, mind you. Both an indictment on them and Reed.
4:28 a.m.: Ian Poulter has pulled off his share of magic tricks at the Ryder Cup. Bringing Rory McIlroy back from the day yesterday afternoon might be at the top.
4:22 a.m.: Make that 4 Up through eight, as Rory drains a bomb for birdie and Finau misses from 10 feet. Elsewhere, Frankie and Tommy are gutting Tiger and Reed. Is this 2006? It feels like 2006.
4:16 a.m.: We're only two hours in, and the Europeans are already up three in the early matches, with the other currently tied five holes in. Of note is Sergio Garcia and Rory McIlroy putting a hurting on Brooks Koepka and Tony Finau, 3 Up through seven. In short, not what the Americans needed.