News
Ryder Cup 2018 pairings: Tiger Woods to pair with Bryson DeChambeau, while Phil Mickelson benched for Saturday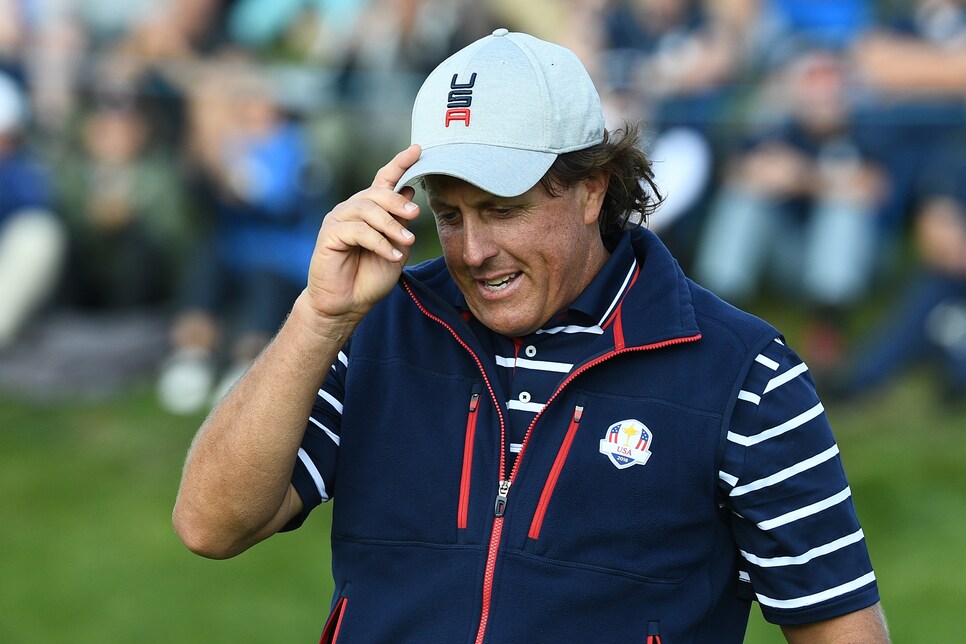 Following a Friday afternoon thumping at the Ryder Cup, the United States needed a strong response Saturday morning. The response was strong, but not in the intended connotation. The first three matches went Team Europe's way, highlighted by the dynamic duo of Tommy Fleetwood and Francesco Molinari winning their third consecutive match of the weekend.
As of writing, Jordan Spieth and Justin Thomas are 1 Up against Ian Poulter and Jon Rahm heading into the 18th hole, but it's late early for the red, white and blue. If the Americans intend to make Sunday interesting, they will need to go 3-1, or perhaps even sweep, the afternoon.
To do that they will turn to bash brothers Dustin Johnson and Brooks Koepka in the opening slot, facing Henrik Stenson and Justin Rose, both who sat in the morning session. The second match features Bubba Watson, who is 1-7 on foreign soil in the Ryder Cup and under the weather, and Webb Simpson taking on Sergio Garcia and Alex Noren. Tiger Woods will look at Bryson DeChambeau to help notch his first point of the weekend. The two will be pitted against Molinari and Fleetwood, who may have scored another point by the time this sentence is complete. Jordan Spieth and Justin Thomas, the lone bright spot for the Americans, will anchor against Rory McIlroy and Ian Poulter.
Of note is the benching of Phil Mickelson for all of Saturday, as well as Patrick Reed, who played one of the worst rounds in recent Ryder Cup memory Saturday morning with Woods. Tony Finau and Rickie Fowler will also be sidelined for the Americans. Rahm, Paul Casey, Tyrrell Hatton and Thorbjorn Olesen are out for the Europeans.
Match 1: Johnson/Koepka vs Stenson/Rose
Match 2: Watson/Simpson vs Garcia/Noren
Match 3: Woods/DeChambeau vs Molinari/Fleetwood
Match 4: Spieth/Thomas vs McIlroy/Poulter