News
Ryder Cup 2018: Phil Mickelson with the wrong kind of splash makes his cup future suddenly murky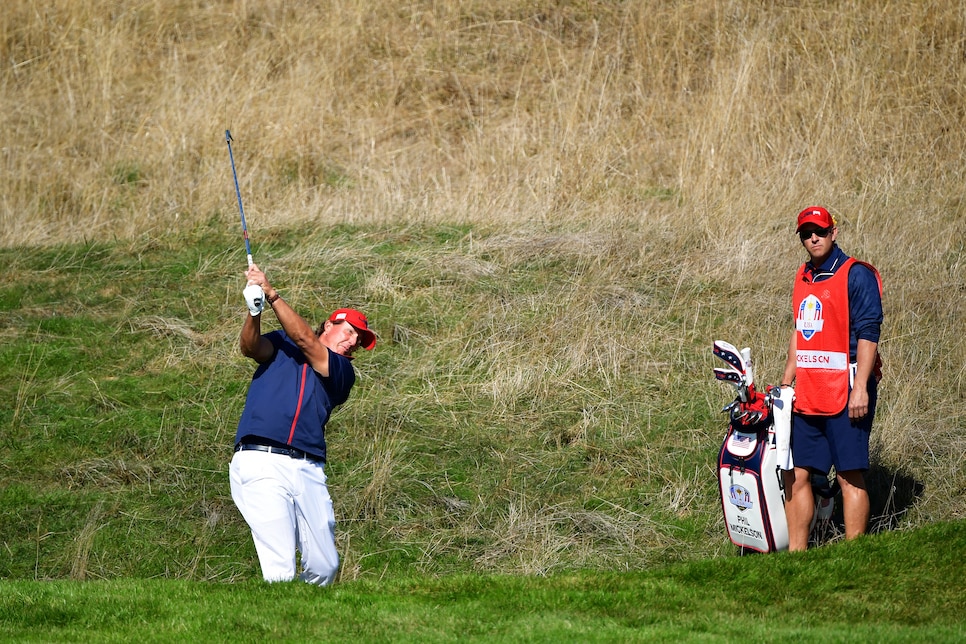 Photo By: Stuart Franklin
"Oh, I'll play in 2020, that's a certainty. I'll be on the team for Paris and for Whistling Straits. That WILL happen." --Phil Mickelson, October of 2016 discussing his Ryder Cup future.
"Realistically, this could be my last Ryder Cup." --Mickelson, Sunday after Europe's victory in the 2018 matches.
It was almost fitting that Europe officially took back the Ryder Cup on Sunday when Phil Mickelson's last swing of the weekend produced a water-ball tee shot at Le Golf National's 16th hole.
As soon as he saw the splash, Mickelson, glove still on his hand, walked over to congratulate Francesco Molinari on his 4-and-2 singles victory. At that moment, the celebration that Americans have witnessed up close all too often in Europe in the last 25 years broke out.
For both Molinari and Mickelson, that moment was the quintessential summation of their weekends: Molinari was a perfectly brilliant 5-0, winning four matches while partnering with Tommy Fleetwood the first two days; Mickelson was a perfectly awful 0-2, benched all day Saturday by his captain and good friend Jim Furyk after he and Bryson DeChambeau were hammered 5 and 4 in Friday afternoon foursomes by Sergio Garcia and Alex Noren.
Even more than Tiger Woods, Mickelson has been the lightning rod, the hero and the fall guy for the U.S. in the last dozen Ryder Cups. The Americans are 3-9 with Mickelson on the team dating to 1995 and his personal record is now 18-22-7.
But it isn't Mickelson's record that has made him the center of attention—after all his new BFF, Woods, is now 13-21-3 after his 0-4 weekend.
It started, for Mickelson when Lanny Wadkins didn't tell him he'd be sitting out Friday morning in 1995 at Oak Hill when he was a Ryder Cup rookie. Captains, Mickelson believed, should include players in their decision making. That feeling grew when he and Woods were paired together by captain Hal Sutton on the first day at Oakland Hills in 2004 and proceeded to lose twice while barely speaking to one another.
Twelve years later, Mickelson would throw Sutton under the bus for that decision, saying that he and Woods should have been given more warning that they might play together. Mickelson also claimed the biggest problem he had with the pairing was that he couldn't get accustomed to playing Woods' golf ball in foursomes. He didn't explain the reason for the loss in four-ball play.
And then came the infamous Gleneagles press conference where Mickelson pinned much of the blame for the Americans' 16 1/2 to 11 1/2 loss on captain Tom Watson. Mickelson was angry that Watson (as Furyk would do four years later) benched him all day on Saturday. It was more than that though: Mickelson and Watson simply didn't get along and Mickelson had made it clear to anyone who would listen—and many who wouldn't—that Watson was a bad choice long before the matches began.
Gleneagles led to the Ryder Cup Task Force, an idea that came—ironically—from then-PGA of America president Ted Bishop, the same man who had selected Watson to be the captain in 2014.
Davis Love III was named captain for 2016 and Woods, not playing at the time because he was hurt, signed on as a vice-captain. Mickelson went 2-1-1 at Hazeltine, halving an absolutely brilliant singles match with longtime nemesis, Sergio Garcia.
Although Patrick Reed was hailed as "Captain America," after the U.S. won 17-11, Hazeltine was Mickelson's Ryder Cup. He had opened himself up to massive criticism had the Americans lost and became a hero when they won.
"He's our Papa Bear," Zach Johnson said. "Everyone in that team room looks up to him."
Which is one reason why those who will now second-guess Furyk taking him as a captain's pick for Paris are completely out of line. It's worth noting that Thomas Bjorn chose Sergio Garcia after he'd had an awful year for many of the same reasons Furyk picked Mickelson: experience; his presence in the team room and because Garcia makes the Americans a little bit crazy and has done so dating to his debut in 1999 as a teenager.
Mickelson isn't exactly beloved by the Europeans. They think he's much too cocky, given his and his team's Ryder Cup record. Another reason why Furyk wanted him in his team room.
What's more, Mickelson was 10th on the points list—two spots from being an automatic qualifier. He won a tournament in March and had played in 11 straight Ryder Cups—not to mention all 12 Presidents Cups.
In 2015, when he finished 30th on the Presidents Cup points list there was never any doubt that Jay Haas would make him a captain's pick. He went 3-0-1 in Korea as the U.S. won—barely. He was also a captain's pick in 2017 and again went 3-0-1 as the U.S. won easily.
Mickelson actually came closer to being an automatic qualifier for Paris than for the last two Presidents Cups. Plus, he's Papa Bear. You can bet that if Mickelson doesn't make the Presidents' Cup team on points next year, Captain Woods will pick him as long as Mickelson can walk. He isn't going to be the one to break Mickelson's string of national team appearances.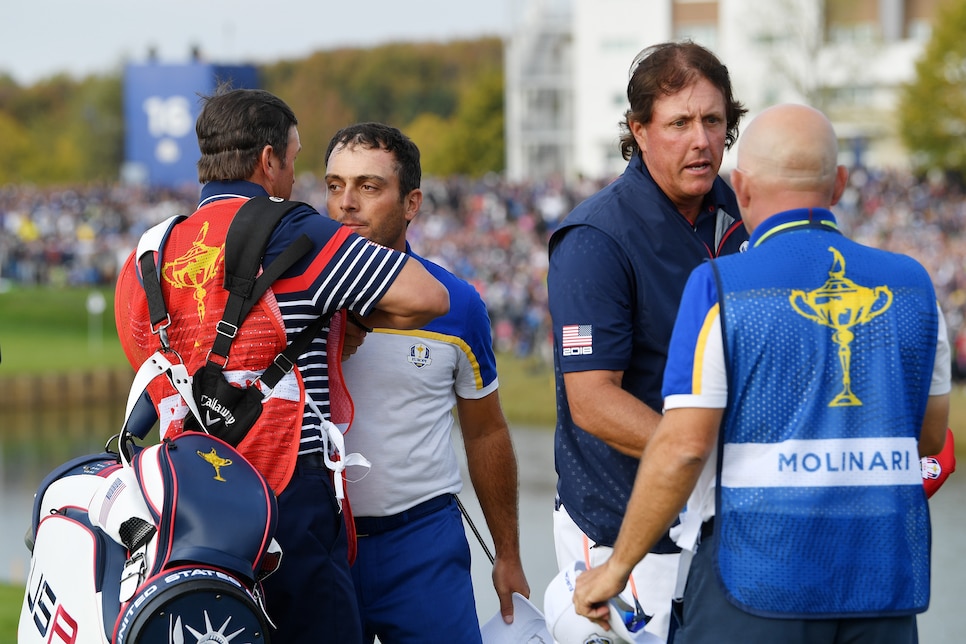 Which leaves 2020—the year the streak would reach 25 at Whistling Straits. The way things are supposed to work, Steve Stricker will captain in his home state and Mickelson will make a triumphant farewell appearance as a player. Then he will be a vice-captain (probably to Matt Kuchar) in 2022 and captain in 2024 in New York.
But, after Paris, there are cracks showing in the veneer. Everyone knew the golf course was going to be a tough out for the Americans in general, but specifically for Mickelson. Love had the fairways so wide at Hazeltine they seemed to stretch into North Dakota.
Even then, Mickelson's ability to find fairways was a question mark. During the American team's practice day at Hazeltine 11 days prior to the start of the matches, Mickelson took a hybrid off the sixth tee. Mickelson had proudly pointed out to his playing partners that he had found fairways with his driver on the first two holes.
When Brandt Snedeker asked why Mickelson was hitting a hybrid on a long par five, Mickelson said, "Just making sure I find another fairway."
His tee shot found the rough. "How's that finding the fairway thing working out for you?" Snedeker teased.
Mickelson was able to find enough fairways to play well at wide-open Hazeltine. Not so in Paris.
Mickelson will be 50 when the first ball goes in the air at Whistling Straits. He would not be the oldest player in Ryder Cup history—Raymond Floyd was 51 at the Belfry in 1993 and Jay Haas was about six months older than Mickelson will be when he played at Oakland Hills in 2004.
What's now clear though is that Mickelson won't be an automatic pick for Stricker, not as Papa Bear; not as a guy going for 25 straight appearances on U.S. teams; not as someone who doesn't want to leave the Ryder Cup stage with the bitter taste of Paris in his mouth.
Mickelson will be on the team only if he deserves it. Woods can afford to put him on his team regardless because, well, it's The Presidents Cup and the U.S. is 10-1-1 and likely to win, even in Australia, the site of its only loss.
But losing the Ryder Cup at home a year later isn't an option for the Americans. They are now 5-11-1 dating to 1985; 1-7-1 in Europe and 4-4 at home.
The golf course will no doubt be set up to suit Mickelson and his American teammates.
It's worth rembering that a number of the Europeans, notably Justin Rose, expressed dismay with how easily Hazeltine was set up. "It's called home-course advantage," Mickelson said during the same conversation in which he said he WOULD be on the U.S. team in 2020.
The Americans will need every bit of that advantage at Whistling Straits. And they will need the 12 best players they can find—Papa Bear or no Papa Bear.