News
Ryder Cup: How the Europeans came together for their resounding win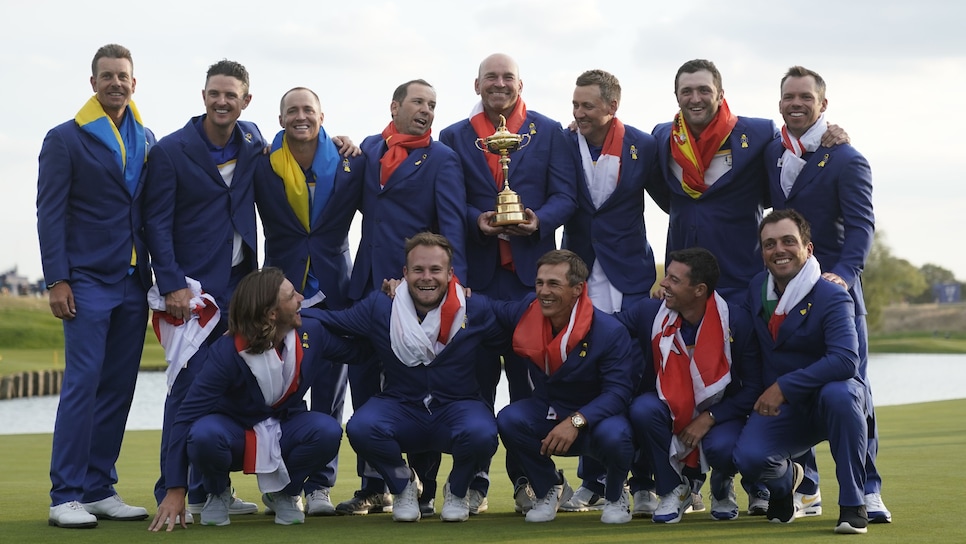 SAINT-QUENTIN-EN-YVELINES, France—They did it without ever using the words "Task" or "Force." For the ninth time in the last 12 contests, Europe claimed the biennial bragging rights by seeing off the American side to win the 42nd Ryder Cup matches 17½-10½. Such a convincing victory was not what many had predicted coming in. Imbued by their own comfortable win at Hazeltine in 2016—and further buoyed by a record-breaking trouncing of the International squad in last year's Presidents Cup—the U.S team arrived in Paris full of joie de vivre.
On paper though, the teams had never before appeared more closely matched. Where once the European squads were obviously top heavy—or at least "bottom light"—this time the lowest-ranked member, Thorbjorn Olesen, was ranked inside the top 50 players on the planet. This was a side owning a depth of talent never before enjoyed by the Old World.
"The hardest thing about the captaincy this week was that there was so many guys playing well," said captain Thomas Bjorn. "I wanted to get everybody on the golf course, but I couldn't. As for today's performance (the Europeans won the singles 7½-4½) there was a little moment in the middle of it all where I was getting a little bit worried. But then everybody stood up and did their bit. I can't describe how I feel about these 12. They have been amazing from Day 1, and I'm just so proud of them."
Still, that closing verdict was in sharp contrast to the prevailing sentiments being expressed outside team room. Perhaps the only edge given to the home side in the run-up to the matches was their collective familiarity with the Albatros Course at Le Golf National, the annual home of European Tour's French Open. Indeed, the last two winners of that famous old event, Tommy Fleetwood and Alex Noren, were both members of Bjorn's team. This was home advantage with a winning edge.
What went largely unmentioned by anyone, however, was the setup of the course. Yes, the narrowness of the fairways drew comment, as did the thickness of the rough. But no one really thought either would make a significant difference to the sides. Apart from Bjorn. The Dane had a plan, one designed to take the driver out of the hands of the generally longer-hitting—and generally wilder—Americans. Or, even better, consign them to hacking, slashing and gouging their ways out of trouble. And, in the process, play to the straighter-driving strength of his side.
And it worked. As American skipper Jim Furyk was quick to acknowledge at the post-match press conference, "Thomas was a better captain, and we were outplayed."
One other prominent American agreed. Speaking on Sky Sports, swing coach Butch Harmon paid a fulcrums tribute to the European squad.
"They were definitely a team," he said. "Twelve guys worked together. They destroyed the Americans as a team. And they handled everything with class and style."
As ever though, the winning side contained one or two especially notable contributors. For the first time, a European pair, Francesco Molinari and Tommy Fleetwood, went 4-0 in their matches together. Fleetwood was the first European rookie to achieve such a feat, with Molinari going on to win all five matches.
And that wasn't the end of the record-breaking. A controversial captain's pick given the paucity of success he has enjoyed this season, Sergio Garcia made himself the highest-points scorer in the history of the Ryder Cup. The Spaniard's 2-and-1 victory over Rickie Fowler took him to 25½ points in his ninth appearance, half a point more than Nick Faldo.
That last bit was obviously pleasing to Garcia. For a reason. A couple of years ago Faldo had publicly criticized the former Masters champion for his performance under the Englishman's captaincy at Valhalla in 2008. This was Garcia's chance to retaliate.
"This means a lot to me," he said. "I have passed some of my heroes today—and Nick Faldo."
Just one last point scored.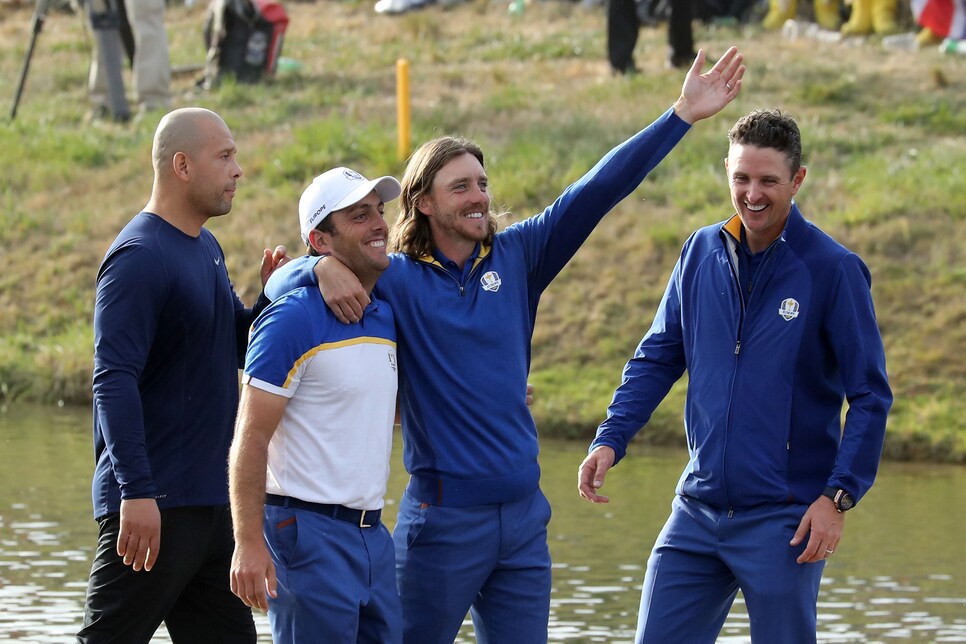 The real star of the European show was Molinari. The 35-year-old, Turin-born, London-resident capped a season in which he has won the biggest event on the European Tour (BMW PGA Championship), a PGA Tour event (Quicken Loans National) and the Open Championship at Carnoustie. All achieved from something of a standing start. After missing the cut in the Players Championship back in May, Molinari was close to despair.
"He wasn't playing well," says his swing coach, Denis Pugh. "He wasn't swinging well. He wasn't thinking well. So the team got together and the message was, keep doing the same things but do them better. Then he won the next week [laughs].
"After that, it has all been about momentum. He came in here tired after the FedEx Cup. But as soon as he got here his energy levels returned. Then again, he was flat as a pancake today. But still he played well. He and Tommy had given so much."
The biggest difference in Molinari's play has come on the greens. Courtesy of putting coach Phil Kenyon, he has holed out much more consistently, especially from short range.
"Francesco was struggling with a few things, primarily starting the ball on line," Kenyon says. "We changed his grip, his set-up, his concept of how to stroke the ball, his green-reading. To be fair, he was like a blank canvas. He just wanted to get better. He is very process driven. It was 'tell me what to do and I'll do it.' And he has."
The last few days, as Molinari himself was more than once at pains to point out during a banter-filled post-match press conference, have been about the team more than any individual. Which is a fair point. Every one of the 12 scored at least a point for the side. And it is there that the difference—if there is a difference—between the European and American teams can be found. Justin Rose, inserting a few moments of sanity between impersonations of Garcia's giggle and the revelation that Captain Bjorn will soon be the proud owner of a commemorative tattoo on an unnamed part of his anatomy, put it best.
"I think what Thomas did, and the backroom staff did, for the team is what you don't see along this line right now," said the Olympic champion. "You see a bunch of guys who are elated and you see a bunch of guys enjoying the situation and you see a bunch of guys having drinks to celebrate. But what this team did not do was drop their guard until this moment right here. This team was relentless in its pursuit of excellence. We ticked every box we could control all week long, whether it be recovery, nutrition, practice rounds. Our focus was unbelievable this week.
"Thomas didn't fill our week with pointless team meetings. He trusted us to be 12 players that would come together, and today trusted us to be 12 individuals. But 12 individuals working towards the same common goal. We didn't drop our guard all week long. We stayed on point as a group and the discipline we showed got us to this point. Now we can let our hair down and really drop our guard hard."
It should be quite a party. But the last word must go to Garcia. Asked how this side ranks amongst the nine teams on which he has served, he did not hesitate.
"I have been on some great teams," he said. "But this one has to be the best."