News
Ryder Cup 2018: Tiger Woods goes 0 for 4 in another forgettable appearance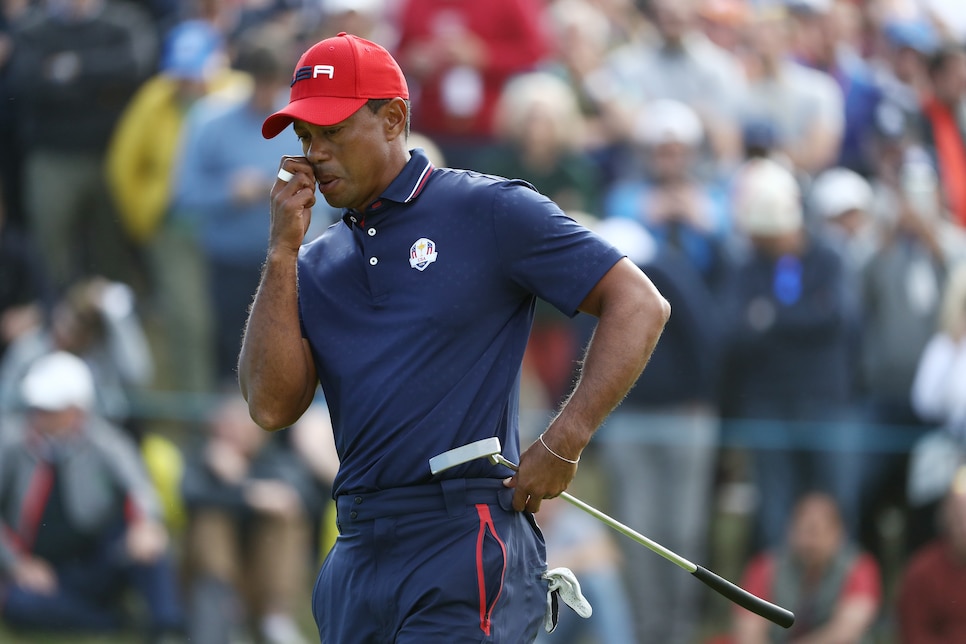 SAINT-QUENTIN-EN-YVELINES, France — Tiger Woods, second all time with 14 major championships, and now second in the all-time loss column at the Ryder Cup.
Stroke play and match play, different beasts they are. It's no more apparent than looking at Woods' record in the biennial event, which dipped to 13-21-3 all time after Sunday's 2-up defeat at the hands of Jon Rahm on Sunday at Le Golf National.
For the week, Woods was a woeful 0-4, losing two four-ball matches alongside Patrick Reed before getting beat in foursomes with Bryson DeChambeau on Saturday afternoon. His inability to contribute a single point was just one of the many reasons the U.S. fell to Europe, 17 1/2/ to 10 1/2, and continued its 25-plus year drought overseas.
"Obviously very disappointing," Woods said. "Those are four points that aren't going towards our side. It's going towards their side.
"To have a Ryder Cup end that way, for me personally, it doesn't feel very good because I didn't help my teammates earn any points. At the end of the day, we came here as a team and we win or lose, and unfortunately we lost this one."
Woods was as much to blame as anyone, though Reed certainly didn't help much, struggling to keep himself in the hole on several occasions and contributing just one birdie in their Saturday morning four-balls match, a 4 and 3 loss to Francesco Molinari and Tommy Fleetwood. Three times Molinari and Fleetwood teamed up to beat a Woods-headlined duo.
It also didn't help that Woods was on the back end of his busiest year in five years, his 18 starts leading into the Ryder Cup the most he had made since 2013 when he had 19. It was also more than he played the past three years combined after having undergone four back surgeries, including one to fuse his spine.
Before the Ryder Cup, the 42-year-old Woods played seven tournaments in nine weeks. He found himself in contention on a few occasions and won for the first time in five years at the Tour Championship the week before the Ryder Cup.
It proved draining enough that U.S. captain Jim Furyk sat Woods on Friday afternoon because he was tired.
"All of those are big events, starting with the Open Championship," Woods said of the stretch. "You've got a World Golf Championship, you've got another major championship, you've got the [FedEx Cup] playoffs and then you have the Ryder Cup on the back side.
"So a lot of big events, and a lot of focus, a lot of energy goes into it. I was fortunate enough to have won one, and we were all coming here on a high and feeling great about our games, about what we were doing, and excited about playing this week."
In the end, though, Woods simply looked gassed for much of the week.
And on Sunday he trailed right from the start, losing the first hole to Rahm after the Spaniard stuck his approach to a few feet to set up an easy birdie.
The two matched scores for the next five holes before Rahm extended the lead with a par on the seventh after Woods missed the fairway off the tee.
Woods bounced back with an eagle at the par-5 ninth and pulled all square with another birdie on the 12th but that's where the good fortune ended. He bogeyed the next two holes to fall two back again and Rahm eventually closed out the match with a birdie on the 17th.
"For me, it's been a lot of golf for a short period of time," Woods said. "I'll have a better understanding of what my training needs to be for next year so that I certainly can endure the entire season because this year was very much up in the air of how much I would play or if I would play at all."
From that standpoint, the season was a success for Woods. His Ryder Cup record, though, remains another story.