News
Ryder Cup 2018: Justin Thomas wins "heavyweight pillow fight" after Rory McIlroy meltdown on final hole
When it came to drama, the opening Sunday singles match of the 2018 Ryder Cup pitting Justin Thomas and Rory McIlroy certainly delivered. It just didn't give golf fans a very satisfying finish.
After Thomas tied the match with a birdie on the par-5 14th, the two stars halved the next three holes to head to the difficult 18th. They wound up not even having to walk to the green. Thomas hit the fairway with driver, but McIlroy found a bunker with a 3-wood. And drew this brutal lie: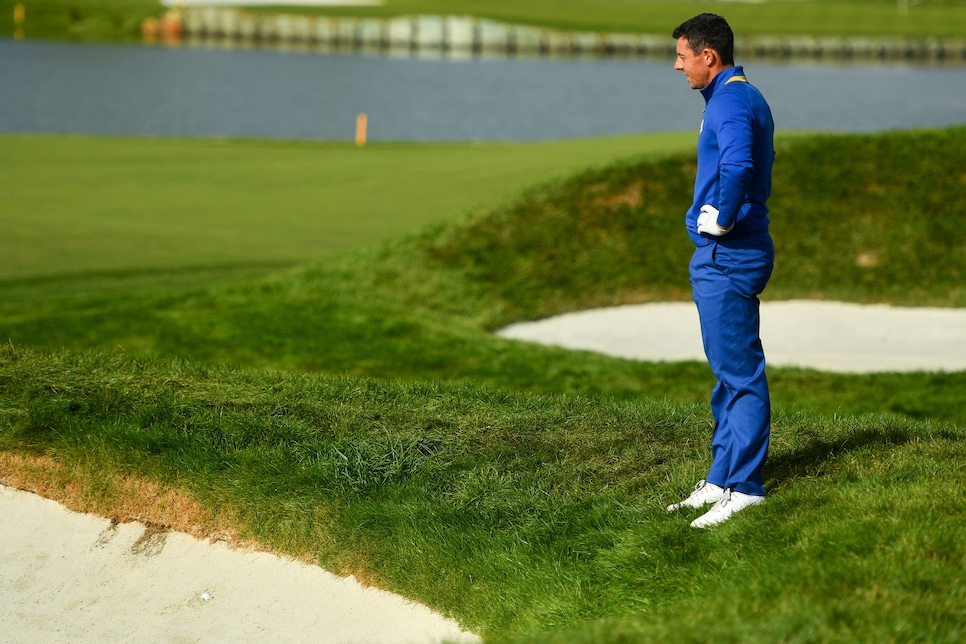 From there, he hacked a shot that rolled back into the bunker. Then, clipped the lip of the bunker on his third shot and rolled into the water. Thomas hit a superb approach shot and after McIlroy dropped and couldn't hole out from the fairway, he called his opponent over and conceded the match.
"It was a heavyweight pillow fight, if you will," Thomas told NBC/Golf Channel's Steve Sands after. "It was weird, we didn't get off to great starts, I certainly didn't, but man, we really both hit some quality shots on this back nine and hit some unbelievable putts, but we just couldn't get the ball to go in the hole."
McIlroy, in particular, couldn't get birdie putts to drop down the stretch, a familiar refrain for him during what has been a difficult season. He did roll in a clutch six-footer for par on 17, but never got an opportunity with the putter on 18.
As a result, the U.S. won the first point of the day to cut Europe's lead to 10-7. The Americans are trying to match the largest Sunday comeback in Ryder Cup history, accomplished by the U.S. at Brookline in 1999 and Europe at Medinah in 2012.