News
Ryder Cup 2018: Here's why Jim Furyk and Thomas Bjorn paired their teams the way they did for Friday morning four-ball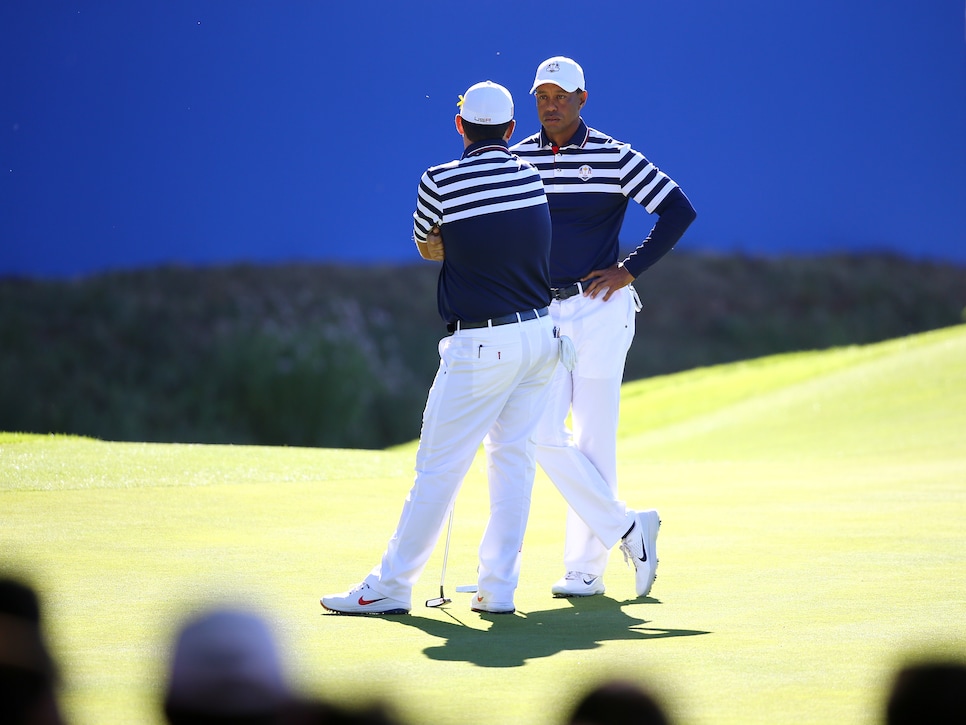 Photo By: Gareth Fuller - PA Images
SAINT-QUENTIN-EN-YVELINES, France—At long last, there's something to talk about. Really talk about, that is. That was the consensus between U.S. captain Jim Furyk and European captain Thomas Bjorn as the two men who spent the past three days politely answering every question imaginable from the media got to discuss something they felt was meaningful: namely the decision-making process they employed in putting together their four-ball pairings for the opening session of the 42nd Ryder Cup. Here's a look at the thinking of both captains as they are only hours away from getting play started on Friday.
Jim Furyk said he can recall seeing plenty of "Oh, sh--" faces on the American side in prior playings of the Ryder Cup. "I'm sure I've had a couple myself," he confessed.
He doesn't, however, expect his U.S. team to convey any such weaknesses when the competition commences at 8:10 a.m. local time at Le Golf National's Albatros Course. Rather, Furyk is confident he is sending out the core strength of the U.S. team in four-ball play.
Furyk unveiled few surprises when he rolled out his pairings, matching power games and personalities to secure a solid start for the U.S. in its quest to end a losing streak abroad that began in 1997, which coincidentally is the last time the matches were staged in continental Europe. Basically, common sense seemed to prevail across the spectrum.
The lead-off pairing of Brooks Koepka, winner of two majors this year, with rookie Tony Finau represents an explosive team capable of hitting moon balls and posting red numbers. They ranked eighth and 11th, respectively, on the PGA Tour in birdie average this season, making them a good counter to Justin Rose and Jon Rahm, who were second and third, respectively, in that category.
Rickie Fowler and Dustin Johnson, whose team experience together dates to the 2007 Walker Cup, have similar laid-back personalities and often hang out back home in Jupiter, Fla. It is a comfortable pairing for both, one that perhaps should have been formulated before this year.
The break-up of Jordan Spieth and Patrick Reed isn't so surprising now that Justin Thomas is on the U.S. team. As Spieth points out, he and Thomas are close friends who have been playing together since their early days in junior golf.
"It's going to be really exciting to be able to look at him on the first tee and kind of remember where we've come from, and we're both here," said Spieth, who was 4-1-2 with Reed in the previous two Ryder Cups but clearly got physically worn down by playing with the American firebrand, which showed in his weak singles efforts in the Ryder Cup and Presidents Cup.
It sounds odd, but Tiger Woods absorbing Reed into his orbit for the anchor match might benefit the seven-time Ryder Cupper greatly as he returns as a player for the first time since 2012.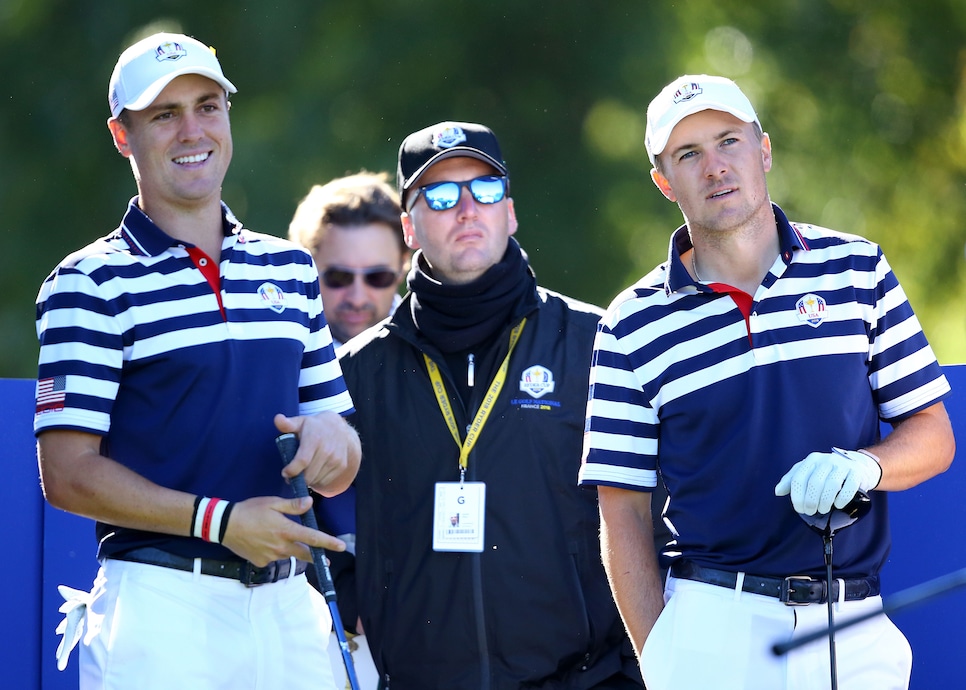 Gareth Fuller - PA Images
Reed, who will be Woods' 13th partner, elicited boos when he was introduced during the opening ceremony and seemed to relish it, just as he did at the start of his Thursday practice round by shushing the crowd, playfully reprising his 2014 gesture at Gleneagles on the way to beating Henrik Stenson. Playing alongside Reed, whom Woods mentored during the 2016 Ryder Cup and 2017 Presidents Cup when he was a vice captain, actually takes pressure off the 14-time major champion because he won't be the sole focus of the duo as he has in past Ryder Cups.
On the sidelines sit Phil Mickelson, Bryson DeChambeau, Webb Simpson and Bubba Watson. Furyk wouldn't tip his hand as to whether the four will see action in afternoon foursomes, but it seems likely when he avers that all 12 of his players are rounding into form.
So, no, Furyk will not be wearing a furrowed brow when he shows up Friday morning. That's not to say he is overconfident, but he likes how his team is coalescing, how they are matched up.
"If I showed up in the morning and guys had a look on their face, that would make me nervous," Furyk said. "I don't usually see that with this group. I usually see them screwing around and playing jokes on each other and having fun. I would expect to see that. What would make me nervous? If they showed up with a different frame of mind. I don't expect that to happen." —D.S.
Breaking up, so they say, is hard to do. But European skipper Thomas Bjorn, in something or a surprise move, had no problem dispensing with the previously successful pairing of Henrik Stenson and Justin Rose when he announced his pairings for Friday's opening four-ball matches. Of the two, only Rose survived. The Olympic champion will team with Spanish rookie Jon Rahm in the top match—two JRs together—against Brooks Koepka and Tony Finau.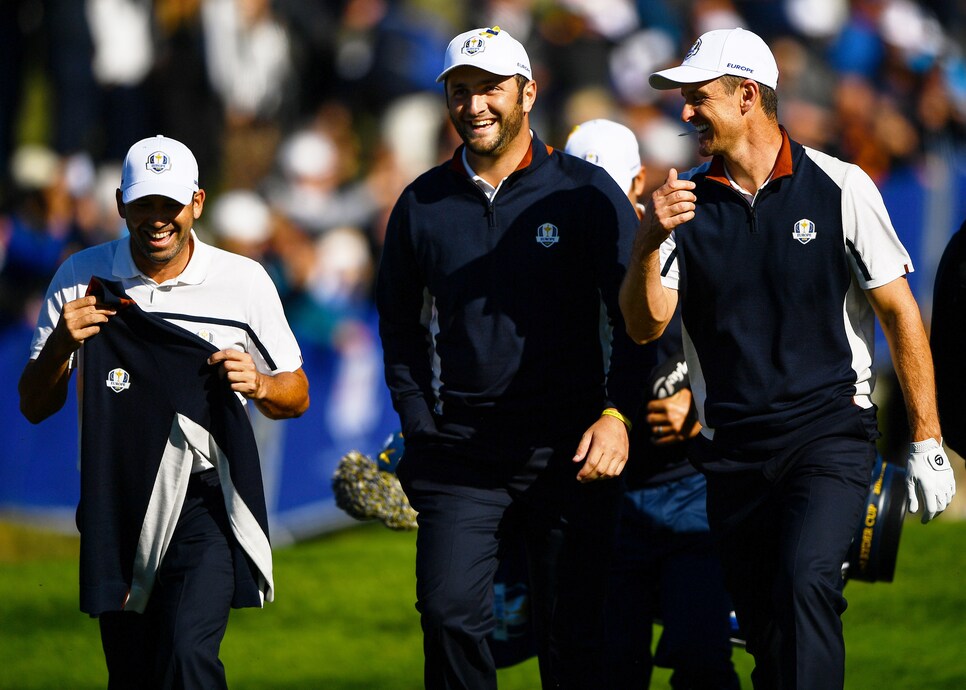 That will surely be the Old World headline in tomorrow's newspapers. But Bjorn's overall strategy is clearly identifiable. All four of his pairings feature one experienced Ryder Cup player alongside a first-timer. In the second match, Rory McIlroy will partner Thorbjorn Olesen. Paul Casey, in a repeat of their successful teaming in the EurAsia Cup earlier this year, has been charged with shepherding the potentially volatile Tyrrell Hatton. And, bringing up the rear, Open champion Francesco Molinari will play alongside Tommy Fleetwood.
"The obvious guys are out there in the sense that they are the people you would all expect to be there," Bjorn said. "And then there's a new guy in every group. They have been just itching to go, especially Thorbjorn and Jon and Tyrrell. They are just really desperate to get out on that golf course. I wanted to get them out there.
"Tommy is a different guy in the way that he has won around here [the 2017 French Open]. He's very calm and relaxed. He and Francesco are not going to give a lot away with emotion. But they are great together and they feel really comfortable and good."
With only Casey and Hatton having any history together, it can quickly be concluded that these pairings have been arrived at through a mixture of statistical analysis, current form and the various personalities within the European squad.
"I sit with five extremely experienced vice captains and we have a conversation," Bjorn said. "I make the decisions in the end, but we don't just come up with it for fun. We go with what we see and what we feel and what we think is right for this team."
Science and art then. The latter is, of course, a less predictable and more subjective path to follow. But past Ryder Cups also tell us that—despite Bjorn's protestations to the contrary—few if any sides over the years have not contained at least one player patently off-form. Who that is within Europe's ranks can only be guessed. But Stenson arrived in France nursing a long-term elbow injury that has seen him struggle for most of this season.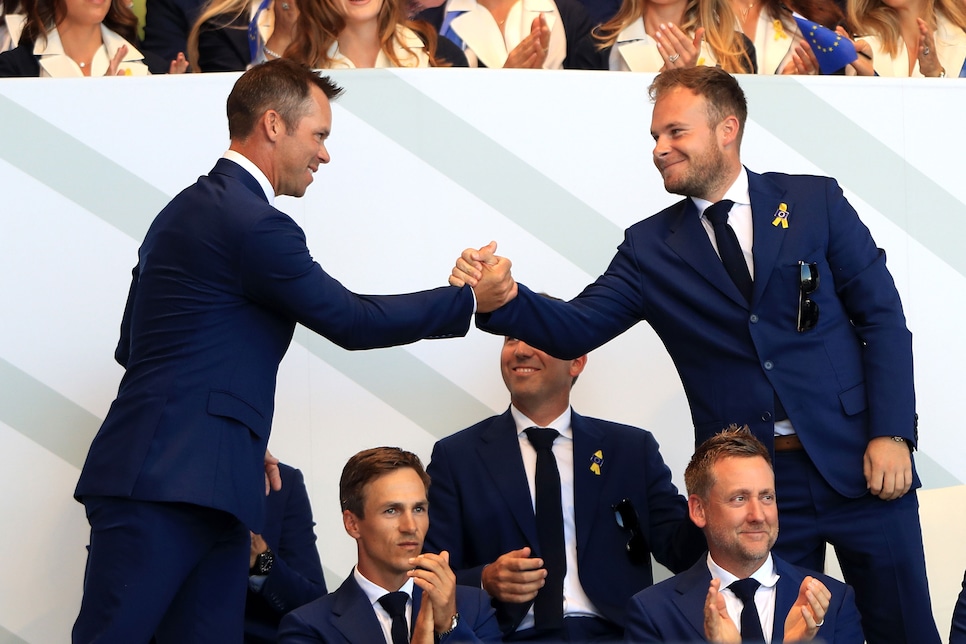 Andrew Redington/Getty Images
All in all though, Bjorn's initial selections make up a significant departure from what might have been expected. No one, for example, was predicting the McIlroy/Olesen pairing. But two years ago at Hazeltine, McIlroy and another rookie, Thomas Pieters, won all three of their matches despite never playing together in practice. So you never know what will work, especially in 18-hole match-play sprints. Conversely, the ball-striking machines that are Molinari and Fleetwood, on paper at least, make more sense together in the foursomes format that places so much of a premium on tee-to-green play.
As ever, almost as interesting as the initial pairings are the identities of those who have been left out. Sergio Garcia, Alex Noren, Ian Poulter and Stenson are sitting down, three of the four being Bjorn's personal picks for the team. But looking ahead to the afternoon, it would be surprising if all four did not appear post-lunch. Garcia owns a particularly strong record in foursomes. Noren, this year's French Open champion, is a steady player who typically thrives in golf's most awkward format. While the extensive Ryder Cup experience that Poulter and Stenson own, both men are "pickable" anywhere, any time.
Thus, the early indications are that Bjorn is likely to blood all 12 of his men on the opening day. If that comes to pass it will be just about the only aspect of the Dane's strategy that could be remotely described as orthodox. —J.H.