News
Ryder Cup 2018: Have Tiger Woods and teammates run out of gas? It sometimes seemed that way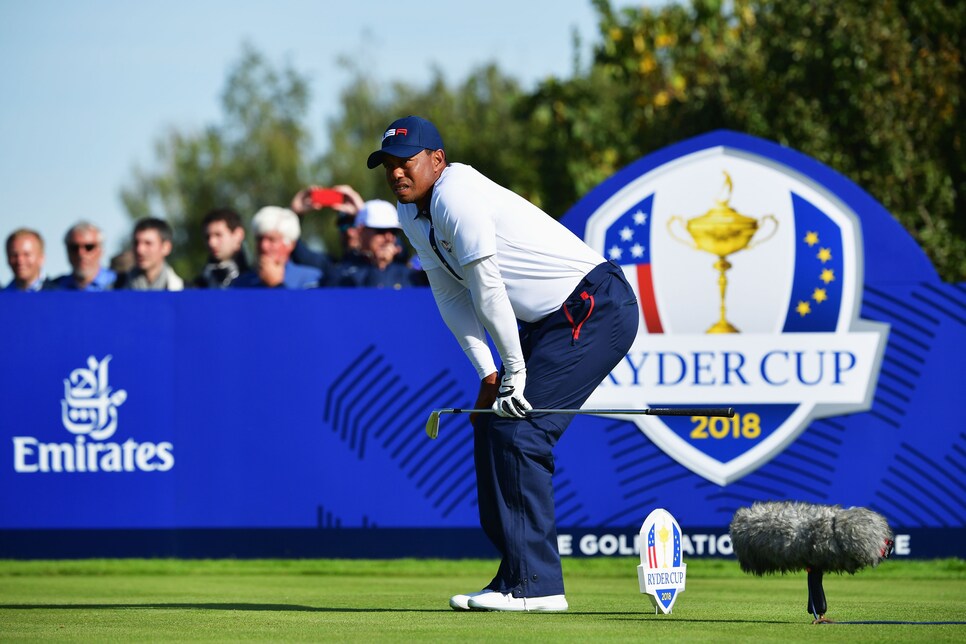 SAINT-QUENTIN-EN-YVELINES, France — The PGA Tour season ended last week. The next one begins next week. In between is golf's greatest pressure cooker and most mentally and physically exhausting event, the Ryder Cup.
If it seems like a recipe for disaster for the U.S. it certainly seems to be playing out that way for captain Jim Furyk and his band of weary and well-traveled Americans.
Don't take my word for it, though. Ask Furyk's counterpart.
"These days are tough," European captain Thomas Bjorn said. "They're long. They put a lot of strain on the players, and all of them, if you're playing or not playing, because they are still long days. There's a lot of emotion and a lot of thought that goes into the day."
And that's from the guy whose team is winning by four freakin' points.
Not that anyone on the U.S. side would ever blame it on being wiped out. But the evidence suggests, at least in part, otherwise.
For starters, the back end of the PGA Tour schedule featured two majors, a World Golf Championship event and four FedEx Cup playoff events crammed into a short time frame of just over two months.
And of the 24 players at the Ryder Cup, 17 of them came straight from East Lake, site of last week's season-ending Tour Championship in Atlanta. Eleven of them are on the U.S. team, including Tiger Woods, who sounded like he was in the middle of an REM sleep cycle during his post-match television interview on Saturday night.
"In the three matches we played they never missed a putt inside 10, 12 feet," he mumbled about opponents Francesco Molinari and Tommy Fleetwood. It didn't help that Woods, who also sounded equal parts annoyed, had to drag Patrick Reed's 205 pounds around for two of those matches. His third partner, Bryson DeChambeau, wasn't much help, either.
"That's hard to do," he added about their opponents' putting prowess.
Know what else is hard to do? Climb Mount Everest, which is what the Americans will be facing on Sunday.
The U.S., trails 10-6 going into singles play at Le Golf National, which means they are basically le cooked. Only twice has a team come back from that large a deficit going into the last day, in 1999 when the Americans rallied at Brookline and 2012 when the Europeans did at Medinah.
But in neither of those comebacks had the season concluded the week before. There was still gas left in the tank. This U.S. team looks utterly gassed, and they've played like it. Never mind that the bomb-and-gouge roster is an ill-fitting one for a course that requires a more precise approach.
Stick a fork in them. They're more fried than croque monsieur.
That's why the 42-year-old Woods needed Friday afternoon off before playing two matches on Saturday. The winner of last week's Tour Championship was running on E.
Who could blame him? Woods has played more golf this year than his last three combined and his 18 starts are his most since 2013.
"You have to think emotionally what he put into his comeback this season, the amount of golf he played leading up, trying to make the Ryder Cup team, trying to almost win the FedEx Cup," Furyk noted. "To rest him Friday was a good [decision]. I think he was tired. It allowed him to maybe get some energy back, watch his teammates play a little bit, provide a spark as a veteran leader."
How'd that work out? In three matches Woods has accounted for zero points.
Few others mounted any kind of charge, either. Six players contributed just one point in team play this week. Another four, including 48-year-old Phil Mickelson, who played just once, zero points.
It looks like the U.S. charter rain out of gas somewhere over the English Channel.
Not everyone, though. Justin Thomas and Jordan Spieth are responsible for half the U.S. total, racking up three points together, including one in the final match on Saturday to provide a glimmer of hope.
Both are just 25 years old. Spieth also didn't qualify for the Tour Championship, so he had an extra week off. Good timing.
Of course Europe had a handful of players who were at East Lake, too. It didn't seem to bother them. Molinari played last week and in playing alongside Fleetwood the two ham-and-egged their way to a sterling 4-0 mark.
At least a schedule change by the PGA Tour beginning next year should help alleviate the problem. Of course that doesn't help this year.
But don't let it get you down U.S. fans. A new season starts next week.