Equipment Effects
Ryder Cup 2021: The golf ball conundrum is not as severe as it once was, but still impacts player strategy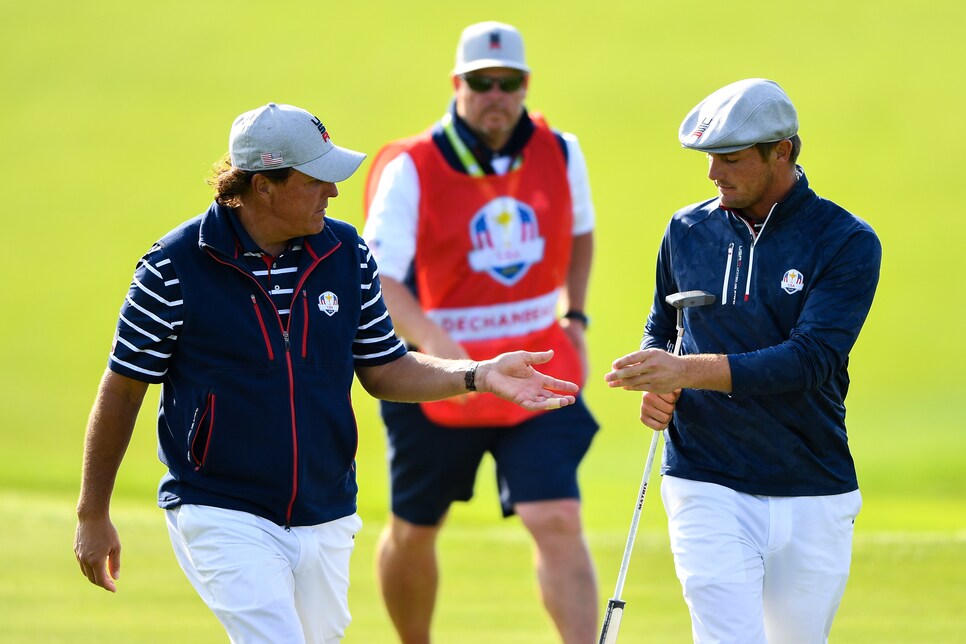 Phil Mickelson and Bryson DeChambeau walk off the 10th green during their a foursome match at the 2018 Ryder Cup.
Ramsey Cardy
Equipment usually always finds a way to sneak into the conversation at the Ryder Cup. Often in the past, it has focused on what golf ball team members would use when paired together in foursomes, given that the alternate-shot format required some golfers to use a brand or model that's different from what they normally play.
In recent years, however, there has been less chatter about the impact of using differing models of balls or the strategy regarding who to pair to make sure their balls are compatible. A look at the transcripts from the 2018 Ryder Cup reveals the topic was barely broached by team captains Jim Furyk and Thomas Bjorn, with Furyk merely hinting that the golf ball played a minor role in the decision to pair Dustin Johnson and Rickie Fowler.
A rules change in 2006 explains the reduced angst. Instead of having to play one make and model of ball the entire match, teammates now can switch golf balls on each hole, yielding a different kind of strategy.
In 2008 at Valhalla, Phil Mickelson summed up the players' approach given the opportunity to play a different ball on each hole. "I tee off with their ball and they tee off with my ball," Mickelson said. "Off the tee it's not going to make too much of a difference. It's the distance control and how it comes off the irons and the trajectory and so forth [that is important]. And we will be hitting our own balls with our iron approach shots."
The strategy of setting up the ball used off the tee so the player with the approach shot plays their own ball is solid thinking. Tour pros tend to get out of their comfort zone when the trajectory of their approach shots is off, so hitting their own ball into the greens makes sense. As Mickelson said, the adjustment off the tee is smaller than on the scoring shots where, for example, the ball may climb up the face more if a player is using a firmer ball than he's used to.
At the time of the rule change, the PGA of America said the move was designed to avoid potential rules violations where a player might use an incorrect ball. Perhaps the most noteworthy occurrence came during a 1991 foursomes match at Kiawah when Paul Azinger and Chip Beck played a different compression ball, which Europe's Seve Ballesteros flagged on the seventh green. That resulted in the now famous exchange where Azinger claimed it was a mistake but not an attempt to cheat. Ballesteros replied, "It has nothing to do with cheating. Cheating and breaking the rules are two different things."
The change also came after one of the more infamous golf ball issues for a Ryder Cup foursomes team.
In 2004 at Oakland Hills, Tiger Woods and Phil Mickelson were paired in the opening session. At the time, Woods used the Nike One TW and Mickelson had just changed to the Callaway HX Tour. U.S. captain Hal Sutton, however, ended any discussion as to what ball they would play.
"I gave Phil two sleeves of Tiger's balls and said, 'You might go out there and get ready to use this ball,'" Sutton said. When pressed as to why he made Mickelson use Woods' ball, Sutton said, "Phil switches in one week and you're going to ask [Woods] to switch balls? I didn't think that was quite fair."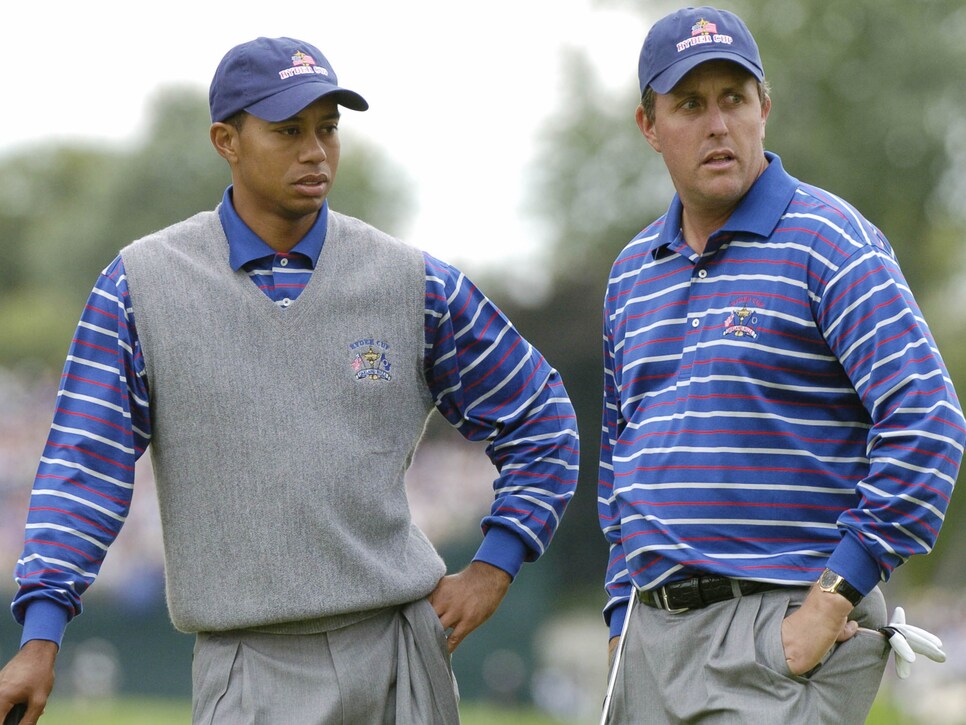 Still, the rule hasn't completely alleviated the issue for players. After all, these are golfers who notice the slightest of differences. Take Woods, who during testing of golf balls checks the trajectory on chip shots.
"We have so many damned different devices that can check golf balls and how they fly that you can figure out how the golf ball is flying, what are the distances and all these different things, and make those adjustments," Woods said at the 2018 Ryder Cup. "Some of the golf balls spin more than others. I play a very spinny golf ball, whereas others play a ball that doesn't spin as much. There are some adjustments to be made."
Because of that, some players do homework, notably Bryson DeChambeau. "A lot of the players on the team have started hitting other balls and started experimenting with what they can and can't do," DeChambeau said at the 2018 Ryder Cup. "This ball is not going to work with me, or I can play with this ball. For compatibility reasons, it's one of the most important things in regards to alternate shot. It is the most important."
Sometimes using another player's ball in Ryder Cup play can lead to a more permanent switch. After Fowler played Johnson's TaylorMade ball at the 2018 Ryder Cup, a few months later he signed with the company to play its ball.
"I got a little bit of time with the golf ball during the season and did some initial testing to see if it was a road worth going down," Fowler told Golf Digest. "Then I played with DJ at the Ryder Cup and I played his ball some in foursomes, so I got to see it in tournament conditions and I was impressed."
Leading to an equipment conversation of a different kind.