Takeaways
'I'm four under and I feel like I'm shooting 80' perfectly sums up Thursday at the RSM Classic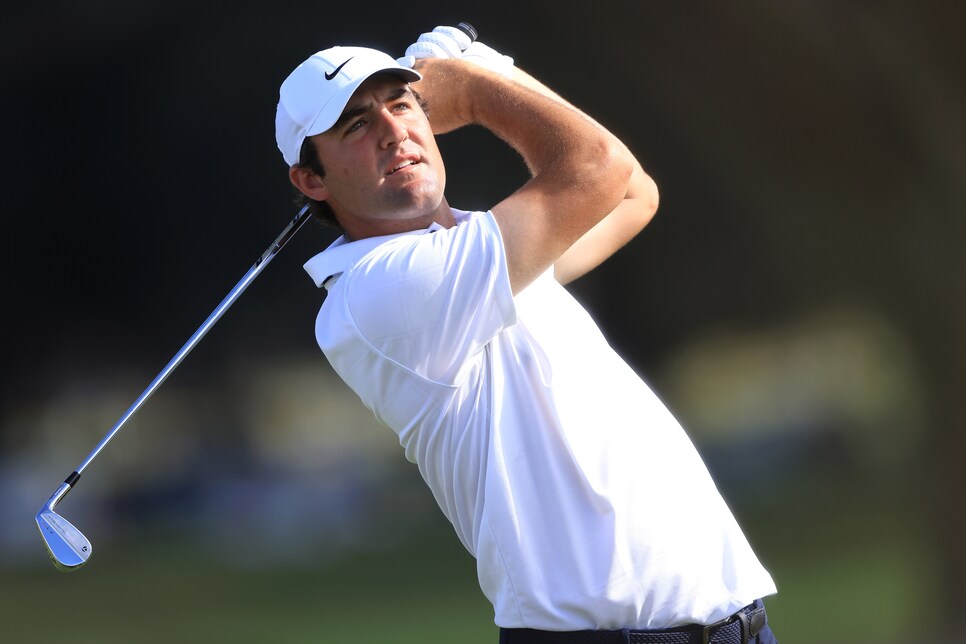 Sea Island is an idyllic enclave, a place where families gather to coast through a stress-free weekend by the sea—and where PGA Tour pros gather to coast through one 65 after another.
Granted, you're never going to see a fall event play like a U.S. Open, but even by autumnal standards things ventured toward silly territory on Thursday at the RSM Classic. Consider the plight of Brendon Todd, who made four birdies and nary a bogey as he cruised to a four-under 66 on the resort's Seaside course. (The first two rounds are contested at the Seaside, a par 70, and the Plantation, a par 72, with the weekend coming at the Seaside). You might think Todd would be pleased with a blemish-free scorecard. His leader board position would suggest otherwise, for Todd was in a tie for 54th and right on the projected cutline heading into tomorrow. If you made a few pars in a row on Thursday, you were slipping. With a cold front coming through that is bringing a winder forecast for Friday and the weekend, Sea Island might not play this easy the rest of the tournament but it's likely to continue to produce low scores in the tour's 2021 finale.
'I'm four under and I feel like I'm shooting 80'
This gem came from William McGirt—now there's a throwback name—who was another poor soul that only managed a four-under round. Just 12 players shot over par on the day, and the 66.308 scoring average on the Seaside was the second-lowest scoring average on a single course in a single round in PGA Tour history. The lowest, 66.28, came on a day when only 32 players teed it up. There were 78 on the Seaside Thursday. The Plantation's scoring average was considerably higher, but that's mainly because it's a par 72; there are just as many (PL)s near the top of the leaderboard as there are (SS)s. When a course is built for wind and none comes, it's defenseless. It's precisely what happened on Thursday, and it's somewhat surprising that, given how many guys flirted with it, no one posted anything in the 50s.
Sebastian Munoz came closest with a 10-under 60 on the Seaside that included zero 5s, though it wasn't one of those "disappointing" 60s since he birdied the last. There were four guys at nine under and four more at eight, a bunch more at seven and even more than that at six.
"I've never seen it this calm," is how Russell Henley, who shot eight under, put it. We'll take his word for it.
The record for lowest 36-hole cut to par, seven under, was set at last year's Shriners Hospitals for Children Open. It is absolutely in danger should the wind decide it doesn't have the attention span for one last PGA Tour event in 2021.
Corey Conners, the latest beneficiary of the baby bump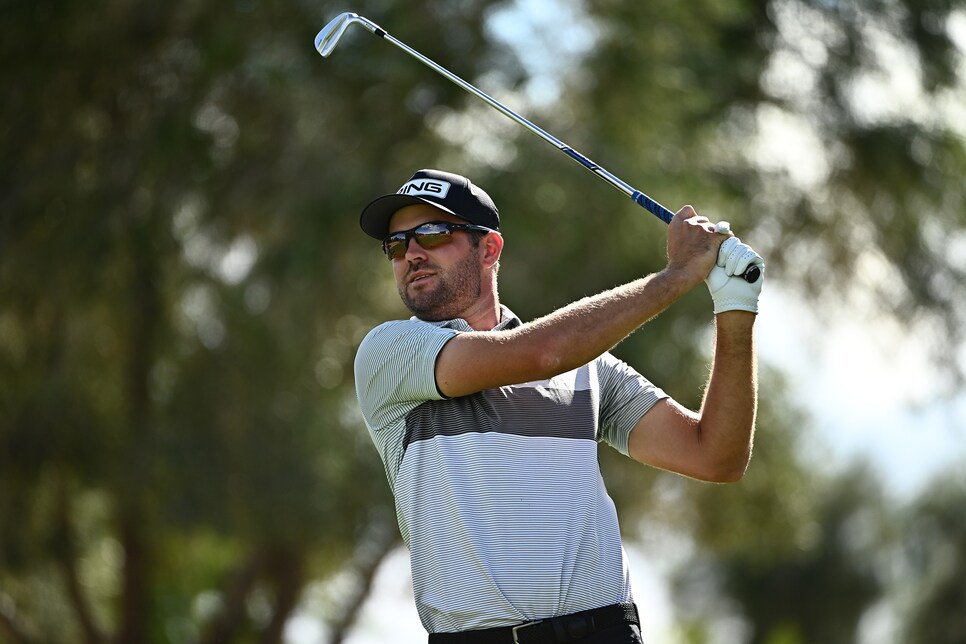 We can't quite remember if having a baby is thought to be good for a PGA Tour player's game or bad. Let's go with good. Corey Conners would certainly endorse the choice after his eight-under 62, which comes after he and his wife, Malory, welcomed their first child, a baby girl named Reis.
"Kind of a last-minute addition to come up here, so I feel like it's a bonus to be here," Conners said after the round. "My wife's doing really well. She has some family at home helping her out, and she's a saint for letting me come up here and play and I'm looking forward to having a fun rest of the week and then being a dad for a little while."
Conners has developed a well-earned reputation as an absolutely elite ballstriker—he finished in the top 10 in both strokes gained off the tee and strokes gained approach last season—but sometimes struggles with the putter. A good game plan, then, is to simply leave yourself very short putts. The Canadian birdied six holes in a row, Nos. 5-10 on the Seaside, and all six came via putts that were under five feet. He gained 4.43 shots on the field with his approach play alone on Thursday. Talk about dialed in.
A well-known caddie picks up the bag of a well-known player
While this is the last PGA Tour event of the calendar year, it's actually the beginning of a promising new relationship: that of Scottie Scheffler, perhaps the best player in the world without a PGA Tour victory (he was close last week) and Ted Scott, who caddied for Bubba Watson for 15 years and was on the bag for both Masters victories.
Watson and Scott mutually decided to part ways at the end of September, and Scott considered not returning to tour life. But then Scheffler, he who slayed the Rahm Dragon at the Ryder Cup, came calling. Scott answered. Scheffler posted a seven-under 63 in his first round with his new bagman and the early returns on this experiment are positive.
"It's great," Scheffler said after the round. "Teddy's a real positive influence. We were in a good mood all day. He did a good job helping me stay patient, not overthink things out there.
"I really just think the world of him as a person, so for me that was why I was attracted to him just being a potential good partner for me out on the course. We'll just see how things go right now. Today was a lot of fun and go from there."
It never ceases how conversations about a new caddie and conversations about a new love interest sound exactly the same.