News
RSM Classic co-leader Matt Wallace had some priceless exchanges with his emergency caddie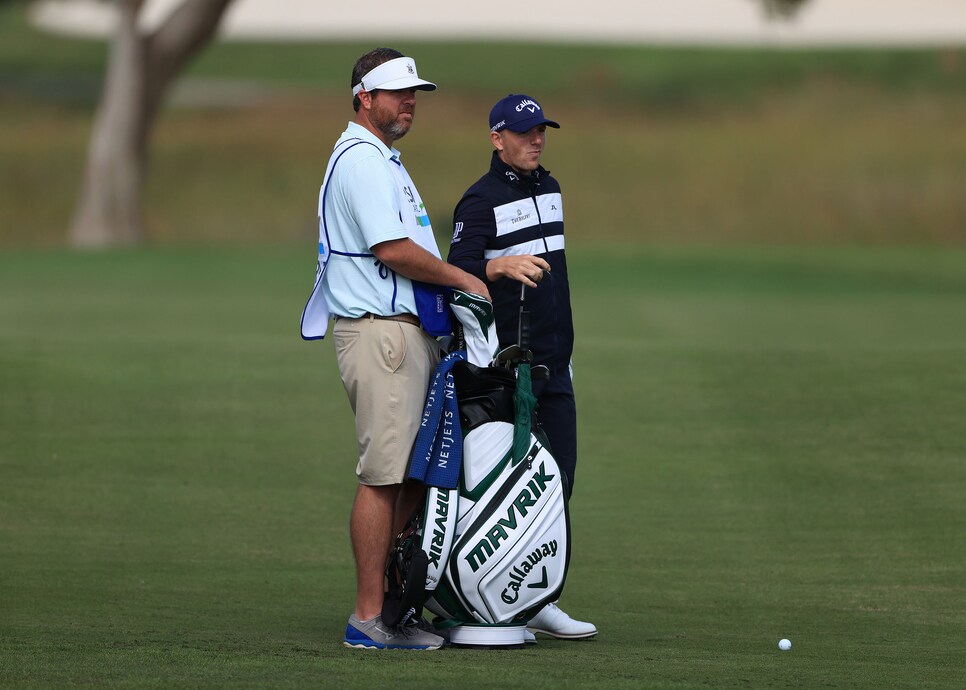 Matt Wallace tamed a windy Sea Island, shooting a 64 to grab a share of the lead, with emergency caddie Jeffrey Cammon on the bag.
Sam Greenwood
ST. SIMONS ISLAND, Ga. — On a slightly gray, very windy day at Sea Island Golf Course, England's Matt Wallace battled his way to a tie for first with an opening-round 64 at the RSM Classic. His partner in crime was Jeffrey Cammon, a club fitter who was conscripted for caddie duty when Dave McNeilly, Wallace's usual looper, tested positive for COVID-19 on Monday. On paper, playing in a foreign country with a new caddie in rough weather is an obvious recipe for failure, so it goes without saying that Wallace turned in what is arguably the best round of his PGA Tour career.
How much credit Cammon deserves … well, future historians may differ. When the week began, Wallace contacted Justin Parsons, a Northern Irishman and instructor at Sea Island who he had met on the European Tour, looking for a new caddie. Parson directed Wallace to Cammon, and after the two were introduced, Cammon asked his temporary boss both how much and when he should talk during the week.
"I was like, 'Listen, mate, I don't need anything,' " Wallace said. "'I'll ask you a question and you answer it just with pure facts of what you think.'"
True to that dictum, Wallace's descriptions of their interactions Thursday on Sea Island's Seaside course were not particularly cinematic, including this verbatim exchange:
"Is the wind more out of the left than it is helping?"
That said, Cammon's calm presence settled Wallace, and the surrogate caddie managed to give a perfect read on the fifth hole, where Wallace holed a 21-footer for birdie. After that, Wallace told him to quit while he was ahead.
"I said, 'Don't read anymore putts because you're 100 percent,'" Wallace joked. "But no, he's been great. He's really chill."
The round comes at a good time for Wallace, who has been working on sharpening his putting game and has Ryder Cup dreams. A four-time winner in Europe, he's yet to be victorious on the PGA Tour, and when asked about the infamous Azinger-Fleetwood tiff, in which Azinger seemed to downplay success on the European Tour if it wasn't matched by American success, the 30-year-old Wallace acknowledged that to win here would be a special badge of honor.
"One hundred percent," he said. "Not just this week, every week that we want to do that. What I would say is I feel the depth over here … I did that long stretch after COVID when we started at Colonial, was it? So I did six weeks and I just thought the cuts were just unbelievable, they were so low."
Of course, he's still European, so he made sure to note that Azinger's comment was "nonsense" and that Fleetwood was "going to win, he's going to win big and he's going to win a lot."
Wallace's quest to do the same was aided by the roughly 140 feet of putts he rolled in on Thursday, courtesy of a new Atlanta putter from Callaway with the sightline removed. His English upbringing may have helped too, particularly on a windy stretch on the back nine where the course runs along the water and the palm trees sway precariously as the wind whips in from St. Simons Sound. ("It's like links golf in good weather," Justin Rose said, though you wouldn't call it particularly "good" on Thursday.)
At one point, Wallace hit a 5-iron approach from just 150 yards, which is only typical if you've spent your formative years playing links golf. After bogeying the 14th, he stiffed his approach on 15, and dropped a 15-footer on 17 to reach six under. He seemed poised to drop into a large group at -5 on the final hole after an errant drive led to a penalty, but saved himself with a 30-foot bomb for a surprise par.
When Wallace found out his caddie tested positive on Monday, he thought for sure he was next, since they had spent plenty of time together at Augusta. But he dodged that bullet, and now he's in the mix among a crowded leader board, at a tournament that could reward his combative instincts. And if he gets too wound up in the windy fights to come, he'll have Cammon by his side; a chill presence, with more than just a little local wisdom.