News
The RSM Classic is the perfect spot for tour pros to start to decompress from a chaotic 2020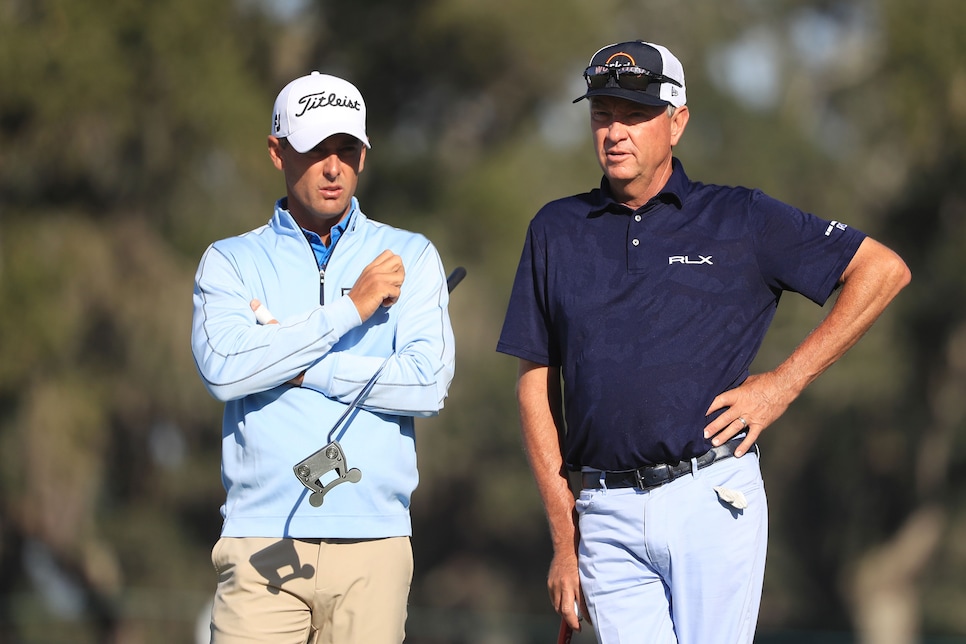 Davis Love III, shown playing with Charles Howell III in 2019, isn't competing this week due to injury, allowing him to take on more duties as tournament host.
Streeter Lecka
ST. SIMONS ISLAND, Ga. — In a normal year—remember normal years?—the Masters is followed by the RBC Heritage in Hilton Head. That tournament is renowned for its laid-back atmosphere, a place where you're most likely to find players in a good mood … even the ones who are not famous for their good moods. It's a perfect comedown from the high tension and restricted atmosphere of Augusta.
On the surface, this year's accidental post-Masters event, the RSM Classic, bears some resemblance to the Heritage. It's held on St. Simons Island, a southern coastal town just like Hilton Head. As befits the ocean-side setting, there's a lot of wind. To some extent, it also shares DNA as a vacation destination. The difference between the two—aside from the extensive live oaks draped with Spanish moss that define this week's visual landscape—comes down to intimacy.
"[The Heritage] feels more like everyone's there on vacation and they're excited to see the golfers, but they're also going to the beach and it's part of a big vacation for people," Stewart Cink, who won at Hilton Head in 2004, said on Wednesday. "Here it feels more like the people who come out to the tournament mostly live here, they spend a lot of time here, maybe they have a second home here. They love the island, they feel like they're welcoming you here. To me the fans at RBC Heritage feel like they're only there for the week just like we are."
In that sense, Georgia's barrier islands might be an even more relaxing locale for post-Masters decompression, since they feel less like a resort hub and more like entering a secluded haven. As usual, Davis Love III hosts the event, though he's now even more thoroughly a host since neck and back pain will keep him from playing. Of course, these are strange times for hosting, since a dinner at the new Love home or even a gathering at a restaurant are out of the question. Even that role is more limited, and constrained to tasks like sending Graeme McDowell to a restaurant called Crabdaddy's and—this is not a joke—making snack mix with his wife because the volunteer who usually took on that duty can't get across the Canadian border.
"I've already gotten guys dinner reservations and just got some guys some barbecue sauce from Southern Soul that were desperate because it's closed today," Love said. "So I'm doing the big things to get this tournament moving."
But even if the scope of his influence is limited, the relaxing effect is still felt, and players who sat for the remote press conferences on Tuesday and Wednesday were full of praise for Love and the island.
"I just feel at ease on weeks like this, a little bit more than normal," Webb Simpson said. "I just love this area. … I tell people who have never been, I say you've got to come, it's one of the best weeks of the year in terms of the area."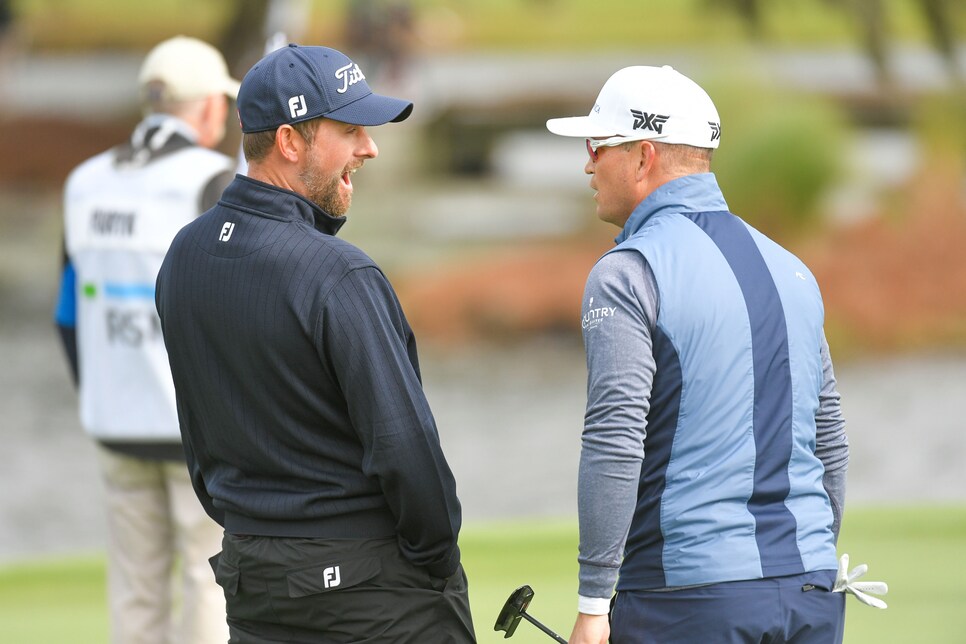 The laid-back vibe at the RSM Classic makes it easy for tour pros to joke around, while still competing for a PGA Tour title.
Ben Jared
Hudson Swafford and Harris English are two players who need no convincing. Both have chosen to live here and are among the many—including Matt Kuchar, Zach Johnson and Brian Harman—who make this the most popular hometown on the PGA Tour. Swafford and English have known each other since they were youngsters on the Southeastern Junior Golf Tour, roomed together at the University of Georgia, and then chose the barrier islands as home.
"It's nice to have an event here and show off how special this place is," English said. He's particularly happy at the strength of this year's field, which has benefited from following the Masters and includes big European names such as McDowell, Tommy Fleetwood, Matthew Fitzpatrick, Ian Poulter, Shane Lowry and Justin Rose.
A good chunk of the field, like Simpson, will likely be playing their final event of the year, and they'll be playing it at one of the tour's most serene and congenial stops.
"This is an amazing place," Swafford said. "The community welcomes the golfers with open arms."
He went on to list his favorite restaurants, and—you'll be relieved to know—Crabdaddy's was among them.