When Davis Love III's father moved his family to St. Simons Island in 1969, he had no idea it would become a haven for PGA Tour professionals for decades to come. But this tiny island community - and neighboring Sea Island -- is now home to approximately a dozen PGA Tour players, including Matt Kuchar, Zach Johnson, Harris English, and Brian Harman.
A confluence of factors brings players here. First, there's "Uncle Davis," as many of the younger golfers call Love. Then there is Sea Island Golf Club, which features three 18-hole courses and the King and Prince Golf Course with another 18 holes. There's also the mild weather and miles of unspoiled beaches. And there's camaraderie among the players.
"There's a sense of community here, which is really big for these guys," explained Brannen Veal, Sea Island's Director of Golf. "Most of them are family folks. If you take Davis [Love III], Zach [Johnson], Matt [Kuchar] -- they all have young children and families. Davis, of course, is a grandfather.
"It is such a perfect place to base out of. It's fairly easy to travel out of and the amenities of Sea Island are unmatched," Harman said. "My game has certainly improved since calling St. Simons my home."
"Those guys can come off a tour week and really work hard and then go five minutes and be with their family and relax and be in a different atmosphere."
Veal says he sees the families all being friends, with the kids going to school together and wives becoming friends. He credits the St. Simons and Sea Island communities with making it a welcoming environment.
"It's a very secure environment here," Veal said. "It's safe and people are genuine and real and they're not hounding the guys to do things for them. They respect their time and space."
The support goes beyond the home front and onto the golf course. Veal says playing together is part of what elevates this group among their peers on tour.
"I think Patton [Kizzire] would tell you living here has helped him get to the next level. It pushes him each day to watch Davis or Zach or Harris, or to play with Hudson or Brian," Veal said. "These guys can see where their games are at, and it makes them get better each day. That's huge."
Kizzire says he does indeed play with guys like Love III, Johnson, Kuchar, English, Swafford, Harman and Trey Mullinax while he's home.
"It's a great place to grow as a player and a person," Kizzire said.
Veal credits the veterans with taking on a sense of responsibility when it comes to the younger players.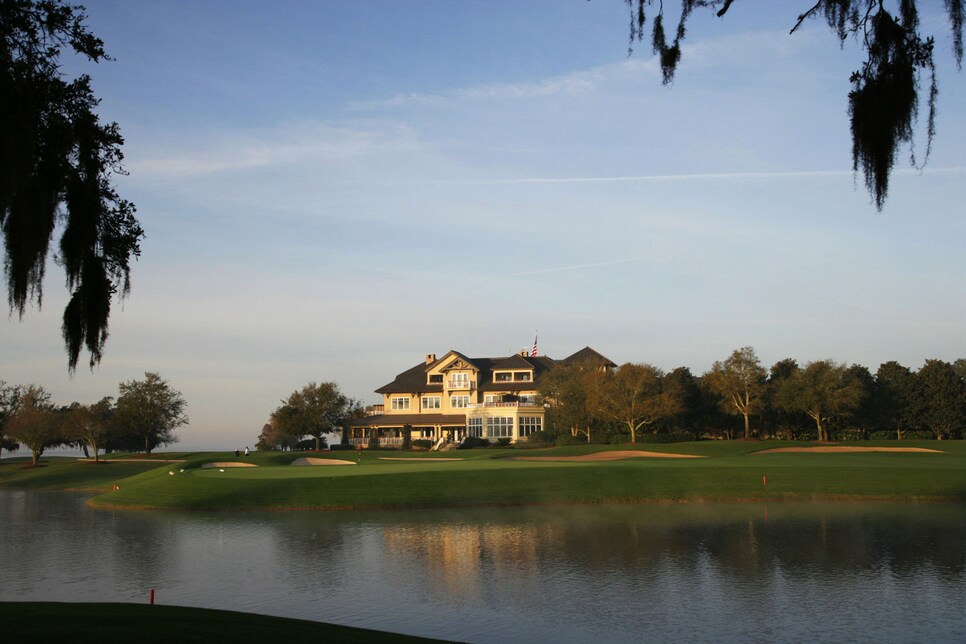 "Davis really started it as the patriarch and really gave back to the younger guys, and now Jonathan [Byrd] and Matt and Zachhave taken on that role and really give back and foster the younger guys along," he said.
Veal says when a new player starts on tour for the first time –- like Kizzire this year -- they have the benefit of already knowing what to do. The more experienced locals on tour will help them do things like make their travel plans so they're not going into the situation blind.
Veal says Sea Island doesn't recruit players to come live here -- many of them play there when they're younger and then return after graduation.
Harman, Swafford and English all played at the University of Georgia together, and now they all live on St. Simons Island and practice together.
Harman visited St. Simons for the first time when he was 11 in search of the best instruction he could find. Jack Lumpkin, Sea Island's Senior Director of Instruction, has been his instructor ever since.
Love's father, Davis Love, Jr., had the vision for the first permanent golf instruction site in the country at Sea Island in in the 1980s, and less than two years ago a massive renovation to the Golf Performance Center was completed that nearly doubled its size.
In addition to Lumpkin, other top instructors such as Todd Anderson and Mike Shannon call Sea Island Golf Club's Golf Performance Center their home. Even PGA Tour pros who don't live locally train at the center, like Brandt Snedeker and Scott Stallings.
"A couple of agents live here now that are bringing their folks in," explained Veal. "Between that and hosting the SEC [Men's Golf Championship] every year, most of the players in the Southeast know Sea Island. We're not going out and trying to recruit players to move here, it's just happening. It's really a neat thing. "
When asked what he likes most about living in the area, Harman can't say enough about the place he calls home.
"It is such a perfect place to base out of. It's fairly easy to travel out of and the amenities of Sea Island are unmatched," he said. "My game has certainly improved since calling St. Simons my home."
Kizzire echoes his sentiments, calling it a great place to raise a family. If you're visiting, though, he adds that you can't go wrong with a trip to a couple of local restaurants after you play a round. So next time you're on the island, head to Southern Soul Barbeque or Bubba Garcia's and tell them Patton sent you.