News
Rory McIlroy's solid return to golf upstaged by playing partner Tommy Fleetwood in Abu Dhabi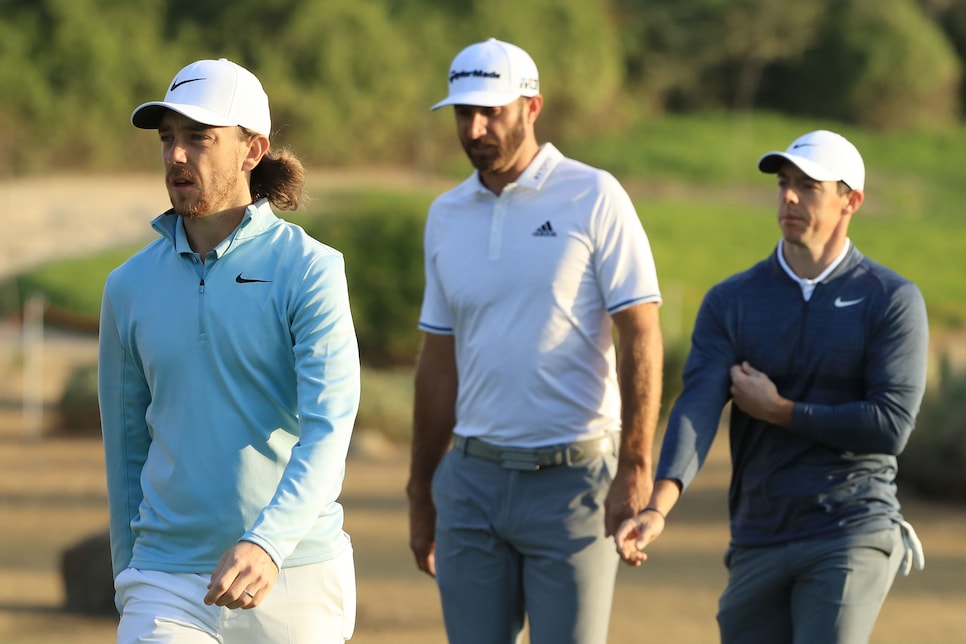 ABU DHABI — Golf has never been the most predictable of games, but sometimes what goes on out on the links does actually make perfect sense. Take the opening round of the Abu Dhabi HSBC Championship, in particular the star three-ball of World No. 1 Dustin Johnson, four-time major winner Rory McIlroy and defending champion Tommy Fleetwood.
Not-so fresh off the plane from the United States, Johnson—just as he did in the first round of this event last year—played like a man half asleep during a even-par 72 that leaves him with much work to do over the next three days if he is to better his eventual second-place finish in 2017. In other words, the jet lag got him, just as it did compatriot Matt Kuchar. Last year's Open Championship runner-up, who recently accepted affiliate membership on the European Tour, made three bogeys over his last seven holes en route to his own 72.
McIlroy, in what was his first competitive round since the Dunhill Links Championship last October, shot a bogey-free 69 that could and perhaps should have been at least four shots better. In other words, despite missing only one green in regulation, he played like a man who hasn't played much lately.
And Fleetwood, having just taken receipt of the Seve Ballesteros Award as the "Player's Player of the Year" on the European Tour for 2017, continued pretty much exactly where he left off last season. Hitting all 18 greens at the Abu Dhabi Golf Club and matching McIlroy's lack of dropped shots, the 27-year-old Englishman nipped round in 66, the best round of day, to take the early lead. In other words, normal service was quickly resumed.
"It was very stress-free," Fleetwood said. "I played really well from start-to-finish. I had control of my ball really from the get-go. It felt like I did what you need to do well around this course. I drove it well. I hit a lot of good irons without getting too greedy. And my pace putting was really good."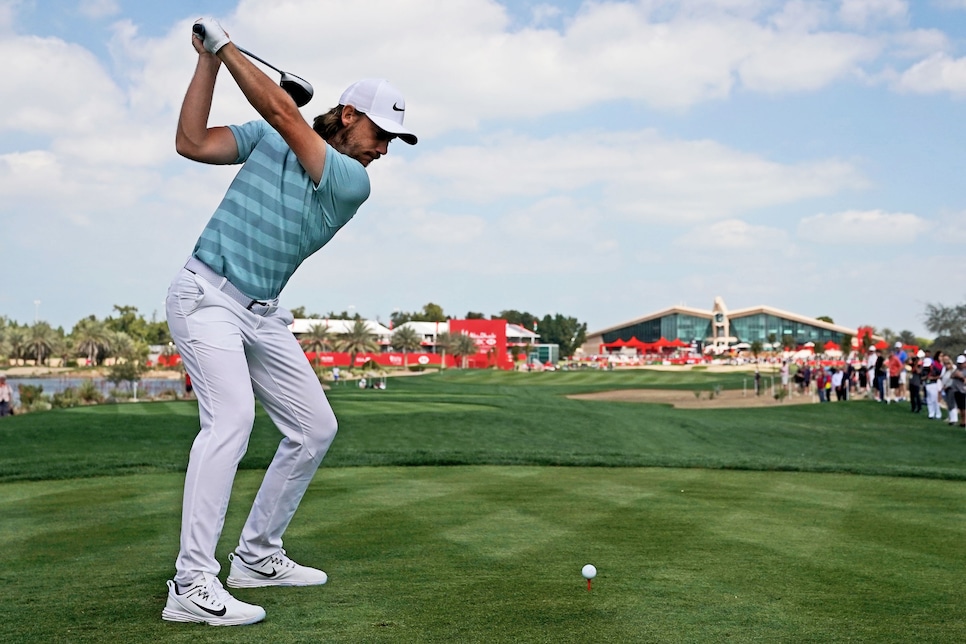 Indeed, that summation of Fleetwood's is accurate in every respect. The consistency of his play tee-to-green—such a feature of his game last year—was evident to all. And on the odd occasion when his accuracy was less than perfect (he pulled badly his tee shots at both short holes on the front nine), his putting from long distance was dead weight on both occasions. Such was the quality of his first putt on the seventh green, even McIlroy was moved to briefly applaud.
As for the Irishman, McIlroy was clearly content with his overall performance on a course where his nine previous appearances have bequeathed a remarkable seven top-five finishes. Four times he has finished second. But not once has he won.
"I sort of knew what to expect out there, but at the same time, you never really know," he said after narrowly missing from 10 feet on his final green. "I was a little nervous on the first tee. This was my first competitive round in over 100 days, so it was a little bit different. But I did well. I felt like my swing was under control and I was able to hit every shot that I needed to. And I stayed patient. I gave myself loads of chances and started the day with 11 straight pars. So it was nice to birdie three of the last seven and get in under 70."
And Johnson? His verdict on his play and score must remain a mystery. The 2016 U.S. Open champion had nothing to say at the close. In other words, tired but not emotional.