'Needs to happen'
Rory McIlroy says it's time for the PGA Tour and LIV Golf to talk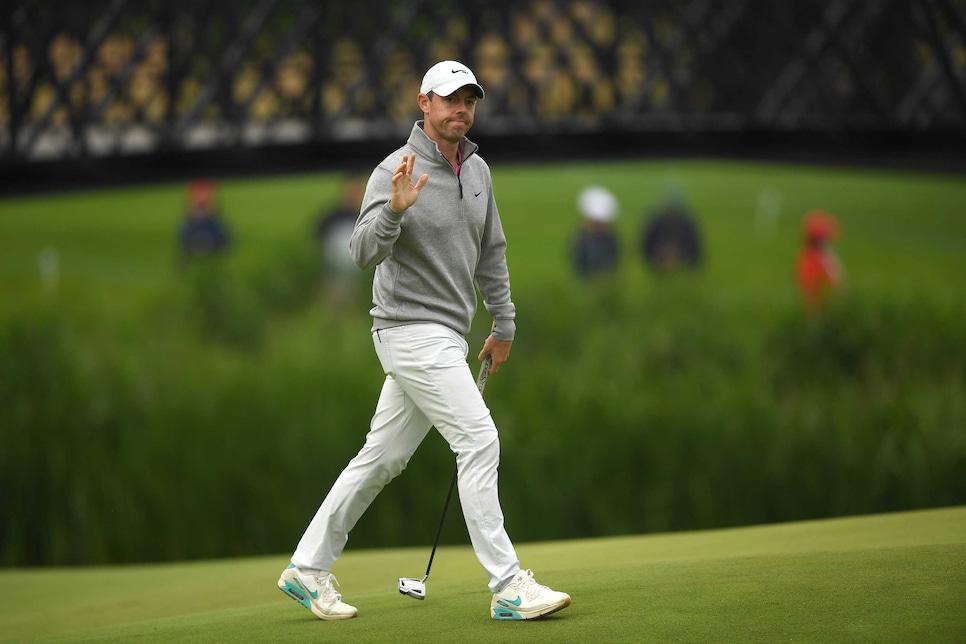 Rory McIlroy walks onto the 18th green at the 2022 JP McManus Pro-Am.
Eóin Noonan
In Rory McIlroy, the PGA Tour and commissioner Jay Monahan have had no more staunch an ally. The 32-year-old four-time major winner has come to the defense of both the organization and Monahan himself during the emergence of the renegade LIV Golf series, repeatedly claiming that the PGA Tour is the best place in the world to compete.
But in an interview with the BBC this week regarding the stalemate between the PGA Tour and LIV that's become the dominant story in golf, McIlroy took a decidedly more conciliatory tone and even suggested an alternative that up to this point has been a non-starter for Monahan and tour officials.
Asked after playing in the JP McManus Pro-Am in Ireland if there should be "peace talks" between the tour and LIV, McIlroy said, "I think so. I think that needs to happen."
Over the course of the interview, McIlroy noted the obvious: That things have gotten "messy" with LIV Golf hosting two big-money events to date and signing a handful of top-ranked players to contracts with more players rumored to be coming later in the summer. LIV Golf officials revealed last week that they were speeding up the timetable for launching their 14-event league to 2023.
"It's unfortunate, it's messy, I wish it hadn't have gotten that messy and in hindsight, I think there were probably steps that were missed that wouldn't have made it that messy," McIlroy said, suggesting there was a way for LIV Golf—and specifically the Saudi investors backing the effort—to have moved forward, but also co-exist inside pro golf's current structure rather than attempting to circumvent it.
McIlroy pointed to how in the women's game, the Saudi-backed Aramco Ladies Series has been launched and is played in addition to events on the Ladies European Tour and LPGA Tour.
"I understand people's reservations with [the Saudi money] but at the same time, if these people are serious about investing billions of dollars into golf, I think ultimately that's a good thing, but it has to be done the right way," McIlroy said. "I think if they were to invest, having it be invested inside the existing structures. That's the thing I've tried to advocate for over the last few months."
While things are different than when McIlroy professed LIV Golf to be "dead in the water" in February, he still believes that something good can come out of what has been a highly acrimonious affair. But in order for that to happen, the hardline stances of the two groups might need to come down.
"Everyone has to pivot and change and try to be better and hopefully get to that stage but as you said now it's messy and all the narrative isn't good; it's splitting the game instead of everyone coming together," he said.
"I think everyone needs to come together a little bit more."