News
Rory McIlroy loving the tough setup, Tiger's woes on greens and other Friday takeaways from BMW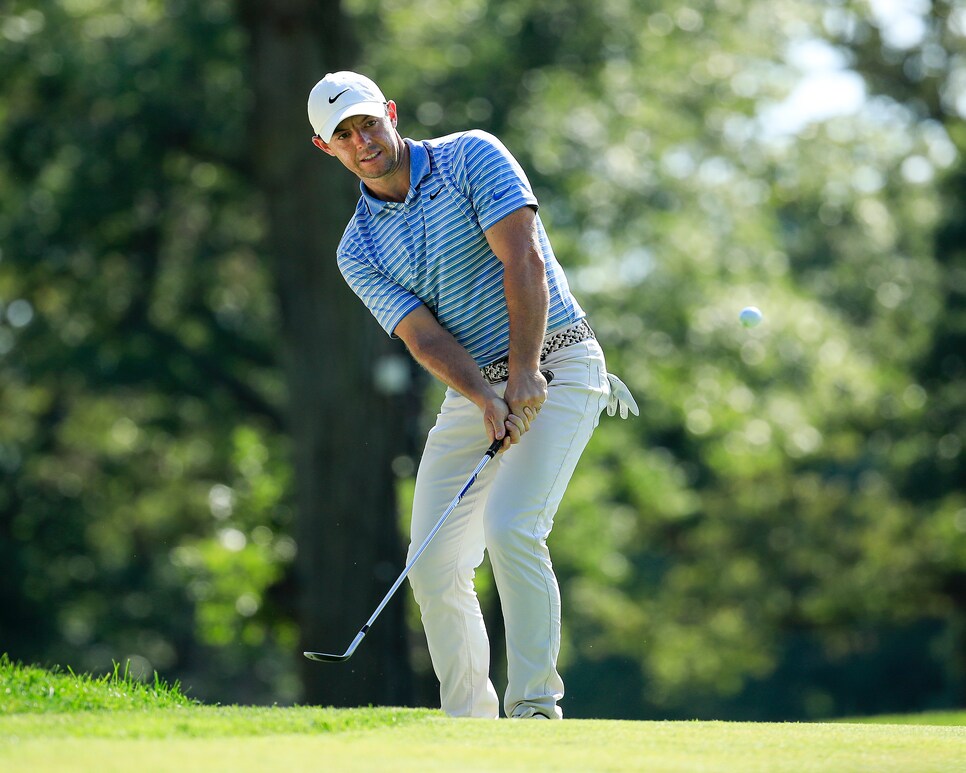 Rory McIlroy hits a chip on the fifth hole during the second round of the BMW Championship.
Andy Lyons
"I think the test is what's helped me focus and concentrate because if you lose focus out there for one second," McIlroy said Friday at the BMW Championship, where he shares the lead at one under with Patrick Cantlay. "Just one lapse in concentration can really cost you around here."
Here's more on McIlroy and three other takeaways from Day 2 at the BMW.
Rory rising and with a new, old putter
Just look at the leader board.
The top of it is littered with big names, with McIlroy and Cantlay on top, followed by other notables including Hideki Matsuyama, Adam Scott, the red-hot Brendon Todd, Louis Oosthuizen, Tony Finau and Dustin Johnson.
As for McIlroy, he made a putter change Friday, going back to a TaylorMade Spider X mallet-style putter he'd used earlier in the year after using a blade-style putter in the opening round. It seemed to help, at least a little bit, with McIlroy on the plus-side of strokes gained/putting after being negative-0.532 the day before.
"I yipped one on 13 [Thursday] so that was basically it," he said, explaining the swap. "Sometimes with the blade I get a little indecisive or a little unsure of my aim.
"I just didn't feel comfortable, so going back to something that I've putted well with … I just thought after [Thursday] and how dicey the greens are, something where you're just a little more sure over it is better."
To that point, McIlroy made a nine-footer for birdie on his second hole of the day, the par-4 11th, another from six feet two holes later and a 40-foot bomb from the fringe on the par-3 16th. He wasn't spectacular with the flat stick—he missed from five feet on 14 and made bogey—but he didn't need to be and avoided any disastrous numbers on another tough day of scoring.
Tiger's tough day putting
Was this the worst day Tiger Woods has ever had with the putter? That depends on your definition, but an argument could be made.
Consider: He rammed a 30-footer 4 feet by on the third, missed a six-footer for par on the fifth, came up five feet short from 23 feet on the sixth, was four feet short on an 11-footer at seven and made the turn with 17 putts over his first nine holes.
The back nine wasn't much better.
On the 12th, Woods missed an eight-footer and made bogey, came up three feet short on a 15-footer on the 14th, rammed a 60-footer too long by 10 feet on 15, and rolled a 35-footer eight feet past the hole on 16.
So naturally, he made a 37-footer for par on the last.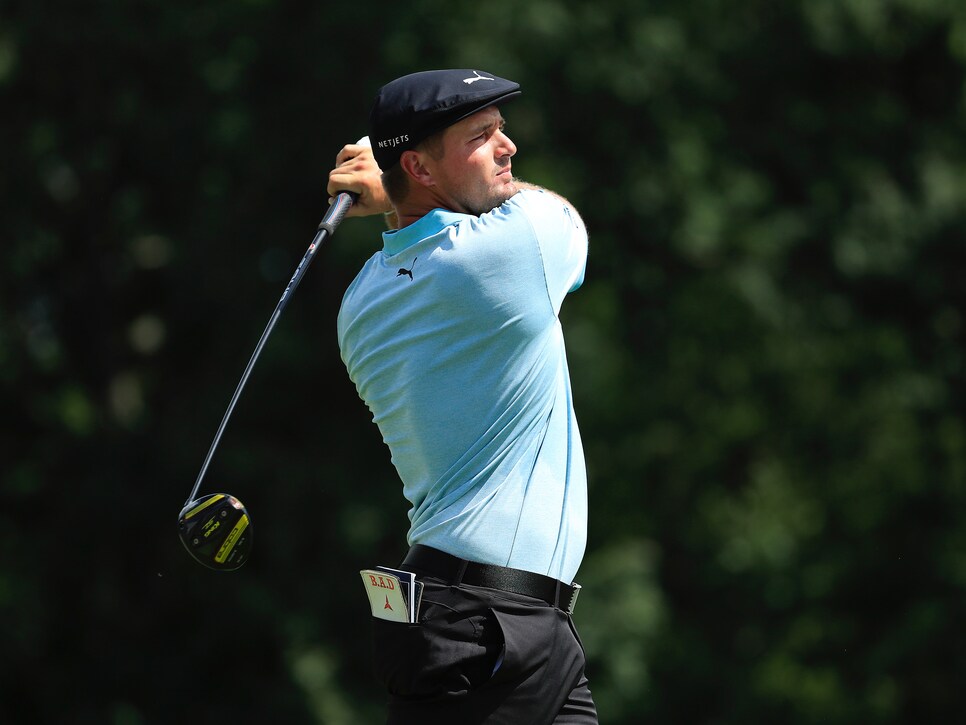 Bryson DeChambeau hit only three fairways in the second round after reaching only one in the first of the BMW Championship.
Andy Lyons
On Wednesday, Bryson DeChambeau nearly drove the 444-yard 10th hole. Since the tournament started, things have gone a little differently.
DeChambeau hit just three fairways on Friday, which is actually an improvement on finding only one on Thursday. That means he's last in the field when it comes to driving accuracy.
Still, it hasn't been deadly to the 26-year-old. He's three over for the week after a second-round even-par 70 on Friday and tied for 13th just four strokes off the lead.
What's saved him? Putting, of course, with DeChambeau putting up a 2.497 mark in strokes gained/putting.
"I've been putting it really well and I feel like I'm hitting it well," he said. "There's some weird spin-rate things going on right now and, yeah, starting out that way I felt like I could go pretty deep and unfortunately it's not happening, but maybe this weekend. You never know."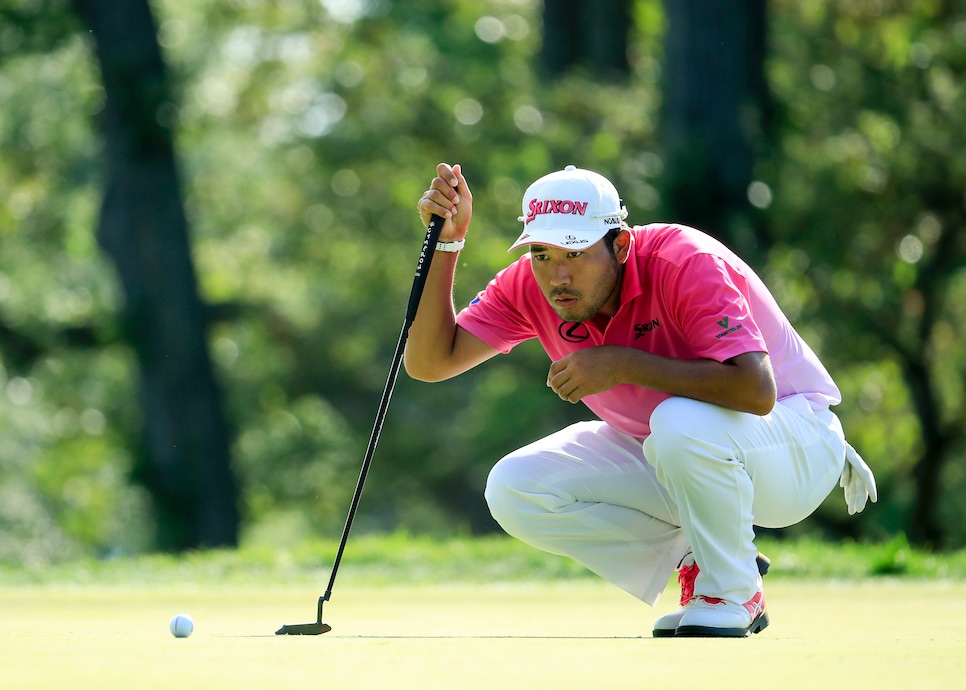 Hideki Matsuyama was hot with the putter on Thursday but cooled off in the second round.
Andy Lyons
On Thursday, Hideki Matsuyama made 147 feet of putts on his way to six birdies and an opening-round 67. A day later? The 28-year-old Japanese star made all of 45 feet, 4 inches of putts. So it was little wonder that he had just one birdie and shot three-over 73 to fall into a tie for third.
It wasn't just that he missed. But his misses were costly. There was a seven-foot par putt on the ninth, a six-footer for par on 10, a nine-footer on 15.
Putting has always been Matsuyama's weak point, by far, a fact made more striking when you consider that in each of the last two seasons he's ranked third on tour in strokes gained/tee-to-green, behind only Justin Thomas and Rory McIlroy.