News
Olympia Fields is playing like a beast, and the scores are showing it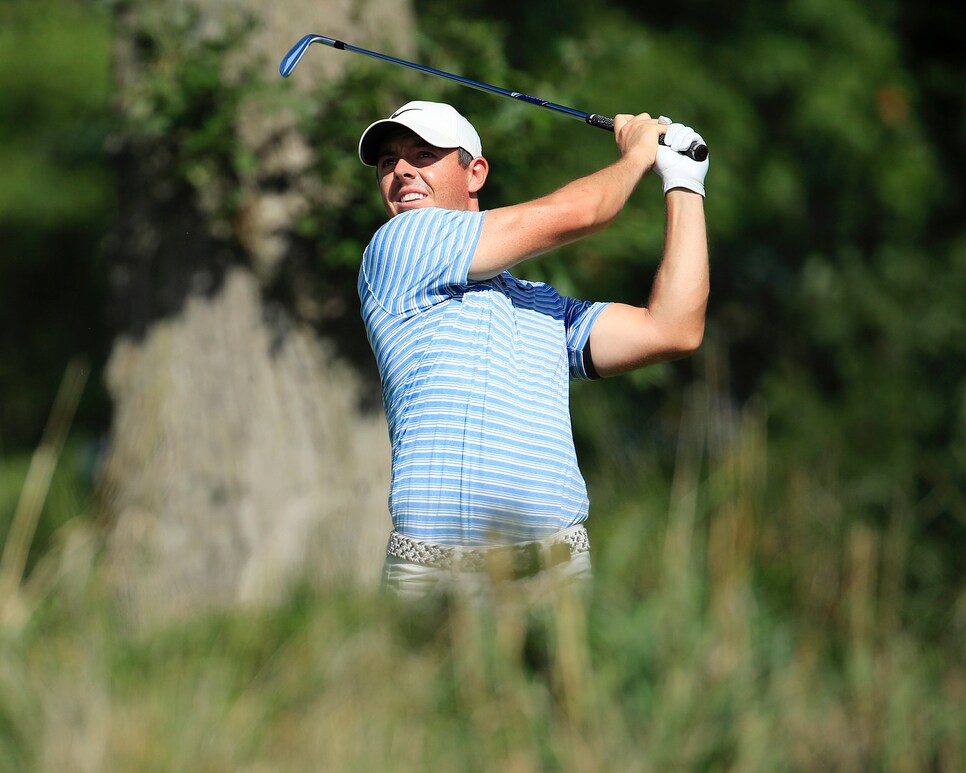 Rory McIlroy plays his shot from the sixth tee during the second round of the BMW Championship.
Andy Lyons
OLYMPIA FIELDS, Ill. — Rory McIlroy said it's playing six shots harder per round than last week. Brendon Todd said his two-under round on Friday was as good as a 63 at TPC Boston. Billy Horschel thinks one or two over is going to win it.
A week after Dustin Johnson did whatever he wanted with his ball and 10 under wasn't even good enough for a top 25, golf is once again looking more like the fickle beast we're familiar with.
Olympia Fields has everything to do with it. It's firm. It's fast. It's fiery. It's exacting, and it's penal, and the extreme heat and persistent winds aren't helping matters.
Last week, if you were one under after two days, you missed the cut by two. This week, if you're one under after two days, you're leading the golf tournament.
At the halfway point of the BMW Championship, which features the top 69 players this season on the PGA Tour, there are just two players under par. Two. One is McIlroy, who went back to his TaylorMade Spider mallet for Friday's round after playing with a blade-style putter on Thursday. "I yipped one on 13 yesterday," he said of the decision, "so that was basically it." The other is Patrick Cantlay, who holed a 42-footer on 18 for 68, matching the best round of the day.
"The closest thing to a U.S. Open I've played in a while," Cantlay said.
The best part: Hardly anyone has had a negative thing to say.
"This is very fair," said Billy Horschel, never one to hide his feelings. "This is a very fair golf course, and it's set up very fair by our tournament staff, and I think they've done a really good job."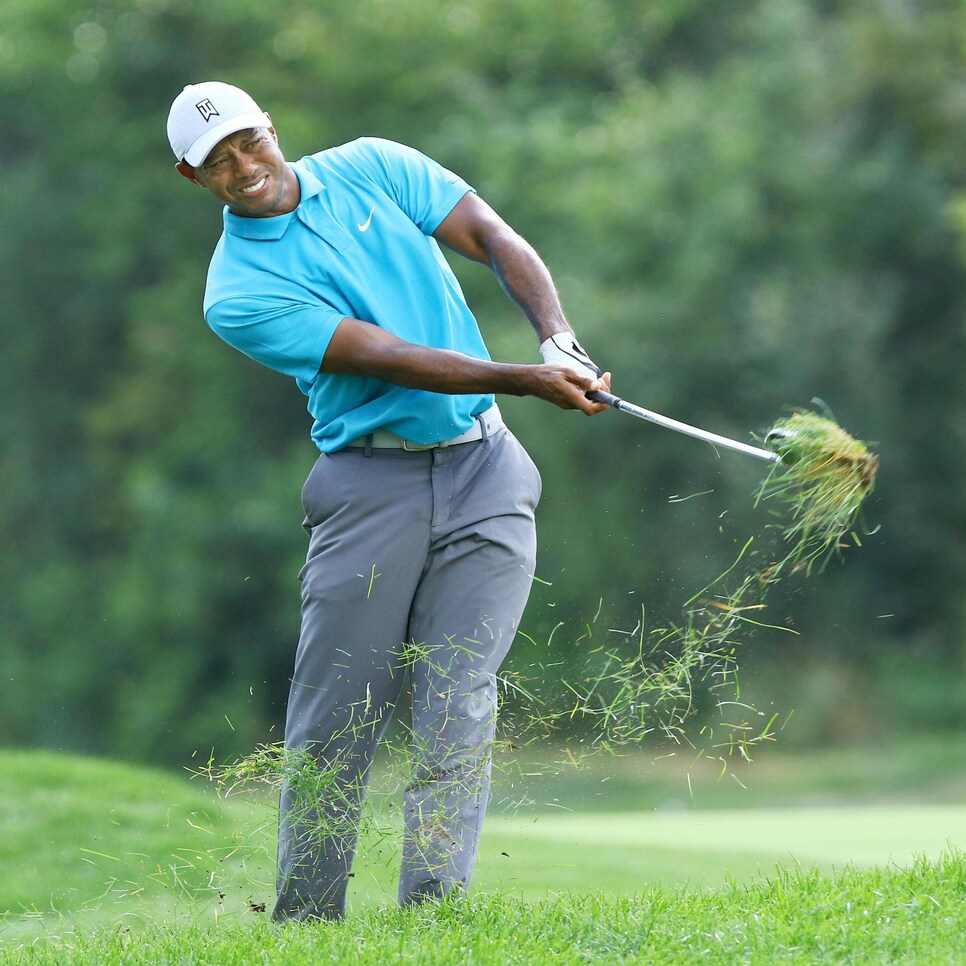 Tiger Woods hits his second shot out of the rough on the first hole during the first round of the BMW Championship at Olympia Fields Country Club.
Kyodo News
It may feel like the stark contrast between this week's scoring and last's—DJ's winning total: 30 under—is leading to exaggerated description of just how tough this beast is playing. Nah. It's shaping up to be one of the hardest non-majors in PGA Tour history. If Horschel is right and something over par wins, it will be the first time that's happened in a non-major since 1995., There hasn't been an even-par winner at a non-major since 1981.
Time will tell. What we do know is this is the first time one under is leading a non-major after 36 holes since 2014 in Doral. Patrick Reed finished at four under to win that week, suggesting that course softened at least a bit on the weekend. There's some rain in the forecast at Olympia Fields for Friday night—not much—but barring a biblical downpour, this ain't gonna get much easier.
"I don't know if any rain will matter, really," Kisner said. "There's no grass, so it's not going to hold anything."
It's the type of golf course that will expose anyone even semi-struggling with their game. Justin Thomas and Jon Rahm are six over. Scottie Scheffler, who shot 59 last week, is seven over. Tiger Woods is eight over. Collin Morikawa is nine over. Jason Day is 10 over. Marc Leishman, the No. 20 player in the world, is 17 over.
For McIlroy, it's been exactly what he needed. This course demands every ounce of your attention and punishes lapses in judgement. For a player who, by his own admission, has been struggling to find a "spark" in the third month of fan-less golf, having to concentrate over every single shot has jolted his game into gear.
"The test is what's helped me focus and concentrate," he said. "Because if you lose focus out there for one second … one lapse in concentration can really cost you around here."
Perhaps this shouldn't be much of a surprise. Olympia Fields has a pedigree. Two U.S. Opens, two PGA Championships, a U.S. Senior Open, a women's PGA Championship and a U.S. Amateur. But we've never seen it play like this. The scoring average on Thursday was 72.82, higher than the 72.68 average for Thursday of the 2003 U.S. Open. The scoring average on Friday was also higher than Friday of that U.S. Open, which was won by Jim Furyk, whose eight-under winning score suddenly looks pretty damn impressive.
The BMW will leave Olympia Fields next year for Caves Valley, a picturesque venue outside of Baltimore. If this was a one-off audition­, Olympia Fields could not be showing better. Perhaps the tour will return here again, and that time it won't just feel like a major. The USGA hasn't quite found a fitting Midwest to join its semi-rota. Catch our drift?
Rory McIlroy does: "This would be a wonderful test for a U.S. Open."