PGA Tour vs. LIV Golf
Rory McIlroy is convinced that speculation about Jon Rahm leaving for LIV isn't legit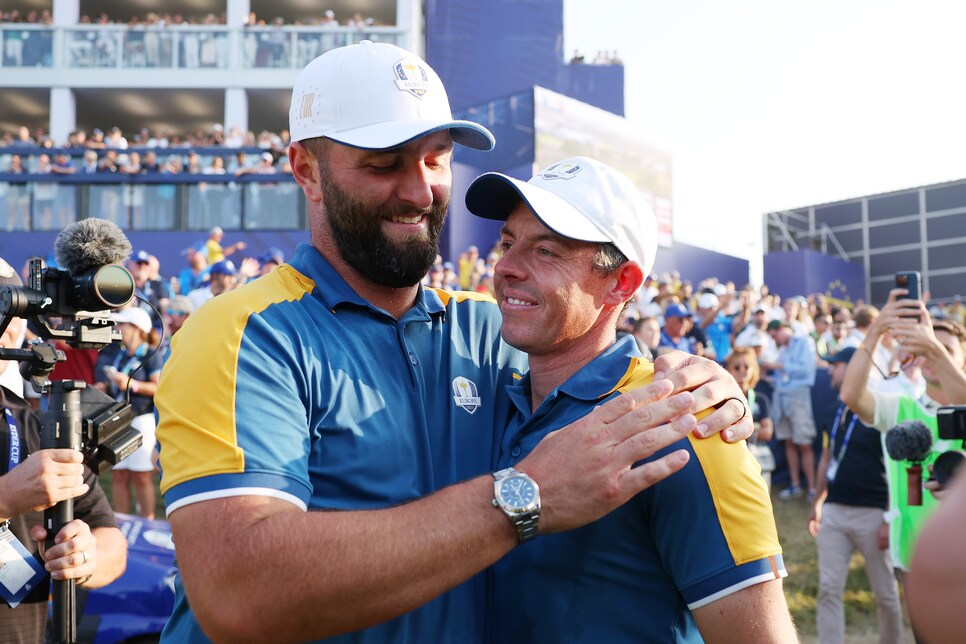 Rory McIlroy and Jon Rahm celebate at the 2023 Ryder Cup.
Patrick Smith
If Rory McIlroy has inside knowledge into what Jon Rahm is thinking on a variety of subjects—and he know doubt does—it sounds unlikely that the Spaniard will be making the leap to LIV Golf anytime soon.
There was speculation on that front last week when Rahm announced he would not participate in the new TGL enterprise formed by McIlroy and Tiger Woods that features teams competing in a golf simulator format. Rahm was originally among the 24 players who agreed to play.
On Monday, McIlroy made an appearance at a press conference for his TGL team, Boston Common, and told reporters he is convinced that Rahm, a two-time major winner and reigning Masters champion, has no interest in going to LIV.
"I spoke to Jon a couple days ago and would be very, very surprised if that were to happen," McIlroy said. "I'm pretty confident Jon is a PGA Tour player."
Rahm has yet to dispel the rumors about any potential departure to the Saudi Arabia-funded league since his TGL announcement last Thursday, when he wrote on social media: "I am sad to confirm that I will not be participating in the first TGL season. While I still think it's a great opportunity, right now it would require a level of commitment that I can't offer. Best of luck to everyone [involved] and may the best team win!"
The TGL responded with a statement, saying they "understand that players have to balance a lot of different facets of their professional and personal lives and respect Jon's choice and wish him well."
Rahm, an 11-time PGA Tour winner, has professed his devotion to the U.S.-based circuit a number of times since LIV Golf was formed.