News & Tours
Jon Rahm abruptly pulls out of participating in Tiger and Rory's upstart TGL venture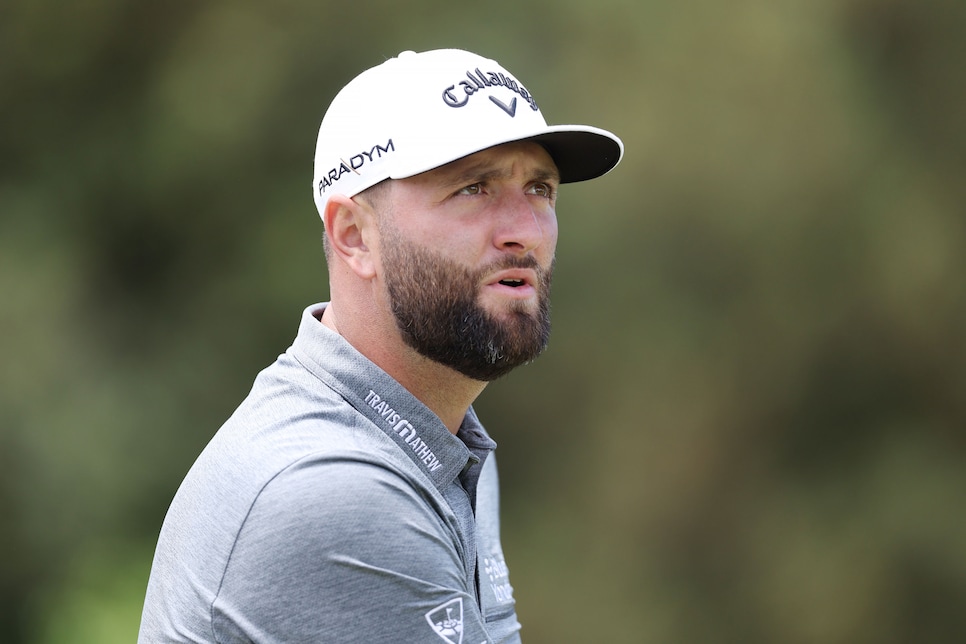 TGL's inaugural season suffered its first hiccup with Masters champion Jon Rahm no longer affiliated with the fledgling tech golf league launched by Tiger Woods' and Rory McIlroy's TMRW Sports. Rahm's name and any mention of his affiliation with TGL have been removed from its website as of Thursday morning.
"Jon is one of the most talented players in the game and we will miss him during the inaugural TGL season," TGL officials said in a statement. "We understand that players have to balance a lot of different facets of their professional and personal lives and respect Jon's choice and wish him well."
A TGL spokesman confirmed to Golf Digest that Rahm, the No. 3 player in the world, left of his own volition. Rahm put out a statement on social media on Thursday morning.
Rahm, 28, who threw out the first pitch prior to Game 4 of the World Series on Tuesday night in Phoenix while wearing his green jacket, was one of the first players to sign up for the new league, which debuts in prime time on Jan. 9. It was almost a year ago, on Nov. 29, 2022, when Rahm and Justin Thomas were introduced as the first players to sign up for the new league launched in partnership with the PGA Tour.
Of course, the revelation of Rahm's removal from the TGL website has fueled speculation across the internet that the two-time major winner might be contemplating a move to the LIV Golf League. Rahm reportedly turned down a hefty nine-figure offer from LIV, and as recently as August, Rahm had reiterated his decision to rebuff any overtures from LIV while appearing on a Spanish-language podcast.
"I laugh when people rumor me with LIV Golf," Rahm said on the podcast, Golf Sin Etiquetas. "I never liked the format. And I always have a good time with Phil Mickelson and Sergio Garcia in the practice rounds of majors.
"Phil respects my decision, and I respect his [choice]," added Rahm, who like Mickelson, went to Arizona State in college and is represented by SportFive. "Mickelson has told me that I have no reason to go play for LIV, and he has told me that multiple times."
A TGL spokesman said the league will name a replacement soon to fill the 24th spot on the roster. Just two days ago TGL released its competition format for its 15-match season, which launches on ESPN Jan. 9 following the College Football Playoff National Championship. All matches will air live in prime time on ESPN, ESPN2 and streaming on ESPN+.
TGL is to be comprised of six teams of four players each, a lineup that includes founders Woods and McIlroy. The six teams represent six cities, with five officially named: Boston, Atlanta, San Francisco, Los Angeles and New York. On Thursday, the Boston Common Golf team announced its roster of McIlroy, Keegan Bradley, Adam Scott and Tyrrell Hatton. Previously, Justin Thomas and Collin Morikawa joined Atlanta and Los Angeles, respectively.