Voices
Get ready for the most 'personal' year pro golf has ever seen
The divide in the men's game will make it ripe for more one-on-one duels fueled by antagonism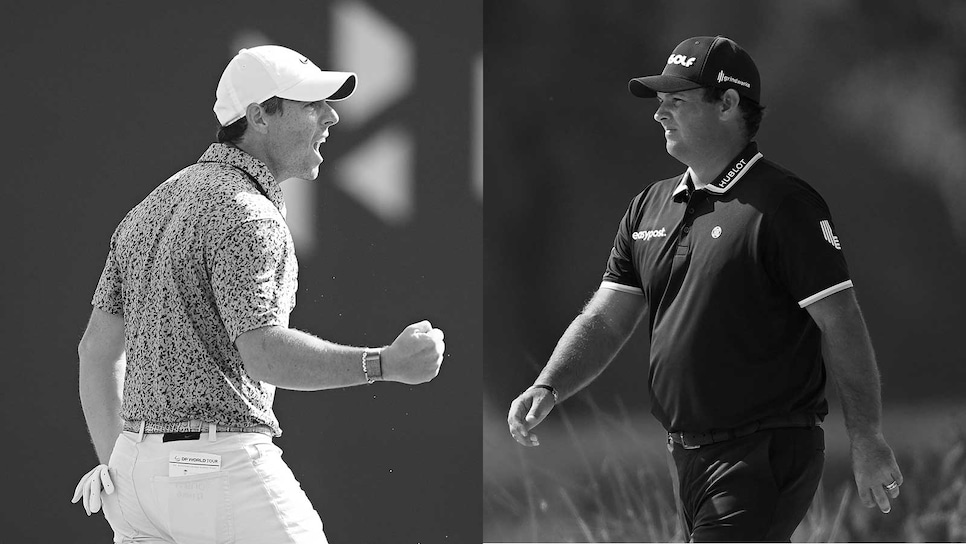 The phrase "it's personal" has been around for a while now, but it may have been the cheesy tagline from the movie Jaws: Revenge—"this time, it's personal"—that brought it into the Western linguistic consciousness. More recently, another hungry pop-culture icon, Michael Jordan, popularized the notion with his now memed-out catch phrase from The Last Dance: "and I took that personally."
Do we love it? Oh, we love it, folks. The erosion of clinical distance is when things get good. And if you're into human drama (and who isn't?), sports in particular is at its best when things get personal, the heat of competition giving us what we want in that regard.
Golf, however, relative to football and basketball and tennis and all the extremely personal games, has mostly existed outside that framework. It's a sport that is rarely a one-on-one affair; you can't play defense or even offense on your opponent. To the extent that golf is personal, it's inwardly personal, pitting the physical human player against his or her own brain.
Which made this past weekend at the DP World Tour's Hero Dubai Desert Classic so astonishing. Not only did we get a very (melo?)dramatic moment early in the week when Rory McIlroy showed absolutely no interest in engaging pleasantries with Patrick Reed, and Reed responded by doing something, uhh ... symbolic? ... with a tee, and not only did we get yet another controversy on Saturday with Reed's tree troubles, but then the two protagonists were actually together on top of the leaderboard late in the final round! Outside of match play, golf is notoriously stingy when it comes to gifting us the dream match-ups (see: the number of times Tiger Woods dueled Phil Mickelson at the end of a major in three decades). In the rare moments when it actually happens, it's so shocking that we almost need to bring back the fainting couch.
"Mentally it was very tough today," McIlroy said after making a 15-foot birdie on the last hole to beat Reed by a stroke. "I felt like I could have let my emotions get in the way. ... I expended a lot of mental energy today trying to focus on myself and focus on shooting a score and trying to reach a number. ... I had to work really hard to forget about who was up there."
In other words, he was trying like hell to not make it personal.
Whether he succeeded in the short term or not, what we saw in Dubai can be viewed as a bellwether, a harbinger and maybe even an omen. The schism in professional golf is here, it's real, and while a future in which the two sides never meet is indisputably bad for the game (just ask boxing, or IndyCar), we're existing in a shadow zone where the two sides can face off, both on the DP World Tour and in the major tournaments.
A U.K. arbitration case set to run from Feb. 6-10 could either make permanent the state of affairs in Europe—with LIV golfers free to play the former European Tour if they're previously eligible—or greenlight a ban of the rebels. A decision might takes weeks after the three-person panel hears the respective arguments, with some close to the DP World Tour bracing for the worst.
"I think that when you have characters in the game, when you have controversy in the game, I think it creates a lot more excitement, a lot more awareness," Phil Mickelson said on Tuesday ahead of this week's Saudi International in King Abdullah Economic City. "There's a very good chance that you'll have more showdowns, more head-to-head competitions like you saw last week in Dubai, and I think that would be a really good thing for the game."
As far as being "good for the game," that's a big maybe, but the first part of Phil's statement is undeniable. Moreover, the showdowns aren't relegated to foreign lands—the drama is coming to our shores starting in April at Augusta National. And if you thought Rory vs. Cam Smith last year at St. Andrews during the Open Championship felt personal, remember that both players are broadly liked (or were at the time, anyway), and despite a buzzing that felt like inevitability, Smith had not yet joined LIV. Now, the battle lines are drawn, and there are three chances this spring and summer, in America alone, for the boiling water to escape the pot. You can dream up your own scenarios: Reed vs. Rory, the Augusta reprise; Max Homa vs. Brooks Koepka at LACC for the U.S. Open title; Sergio Garcia and Jon Rahm at Oak Hill for the PGA Championship?
The specifics are in the ether, for now, but it's a near-guarantee that something will happen. The game that is designed to test a player against himself has expanded, the schism has wrought a dreaded polarization, and now LIV Golf's dream has come true in at least one sense: We have teams. Two of them, as a matter of fact, and they seem to be transitioning with some speed from "grudgingly cordial" to "unfriendly" to "downright antagonistic." This year has the makings of being the most combative year in pro golf history, and to describe it with any honesty, we need to reverse the old Michael Corleone quote, from just before he went to meet a couple guys at an Italian restaurant: It's not business ... it's strictly personal.