News
Rory McIlroy one off the lead in Abu Dhabi yet he looks like the man to beat on Sunday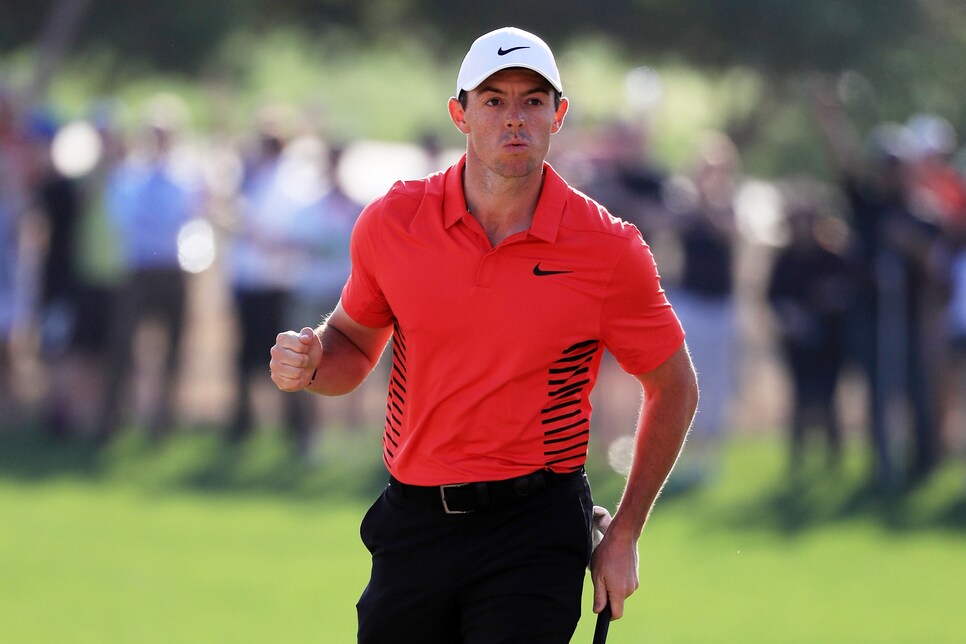 ABU DHABI — It took 51 holes, but it finally happened: Rory McIlroy dropped a stroke in the 2018 Abu Dhabi HSBC Championship. And a "good" bogey it was, too. After taking two shots to escape the bunker beyond the flag on the 177-yard par 3, the Irishman holed from the fringe for a 4 that at least minimized the damage. And three holes after that, the former World No. 1 was round in 65, 16 under par for the week and one shot behind pace-setters Thomas Pieters and Ross Fisher.
More are involved, however. With 18 holes to play on a course set-up for low scoring—only seven players shot over par on Saturday—as many as 10 men are within five shots of the leaders. One of those is Dustin Johnson. Round in 68—four-under par on the card but only even-par in reality—the current World No. 1 is one of those five back and will need to go much lower in the final round if he is to go one better than the runner-up position he achieved here 12 months ago.
Indeed, despite the fact that his name is not atop the leader board, the strong feeling is that McIlroy is the man to beat. In his first tournament appearance in more than three months, the four-time major champion has made steady progress. On Thursday, he shot 69 and looked understandably rusty, especially on the greens. A day later his 66 was a sure indication of his increased comfort level. And his eight-birdie effort on Saturday at Abu Dhabi Golf Club was marked by a tighter short game; more than once McIlroy got up-and-down for par to maintain his hard-earned momentum.
Most ominously for his competition, the four-time runner-up in this event is making positive noises about the quality of his ball flight and his ability to control distance, especially with the short irons.
"I'm sort of surprised at how sharp my game is," McIlroy admitted. "I felt like I could have scored better the first day. I felt like I got into it yesterday. And then even more so today. I didn't hit many fairways, I missed a few greens, but I got it up‑and‑down. I took advantage of the chances I gave myself. In the end it was just a really solid round of golf, well constructed. I stayed patient. It was really, really good."
Some of the credit for that elevated level of confidence must go to the work McIlroy has put in over the last three months or so. A lot of time has been spent on Trackman, playing around with a variety of distances and numbers.
"I have a 60-80 game and I have a wedge-test game, which is like 25 shots," he explained. "I've got sort of a short mid‑iron game, which is 150-200 and a mid-long‑iron one from 200-250. It's random distances for 25 shots, where I'm just trying to land each shot a certain distance. I do that quite a bit.
"It makes practice fun. I'm not just there hitting balls. There's a purpose to it all, and I know walking off the range whether or not I've had a really good session."
And it is paying dividends. On the 14th, for example, where McIlroy hit a "little 8-iron" from 9-iron distance and professed himself "comfortable" doing so. All of which is in marked contrast to his well-chronicled problems inside 125 yards or so last year.
Even the dropped shot received a positive spin.
"I wouldn't say it felt nice to bogey the 15th," he said with a smile. "But least I have the bogey now. I've got it out of the way, and I'm not thinking about it anymore."
The highlight of the day, however, came on the par-5 18th. Somewhere around 230 yards from the green and between a 3-iron and 2-iron in the left-to-right breeze, McIlroy carved a beautiful shot with the longer club into the middle of the distant putting surface. It was the swing of a man playing with a lot of belief in his ability.
So the script is in place for the final round. Now all he has to do is execute.