Circle the Wagons
PGA Championship 2023: Rory McIlroy and Josh Allen are the budding bromance golf needs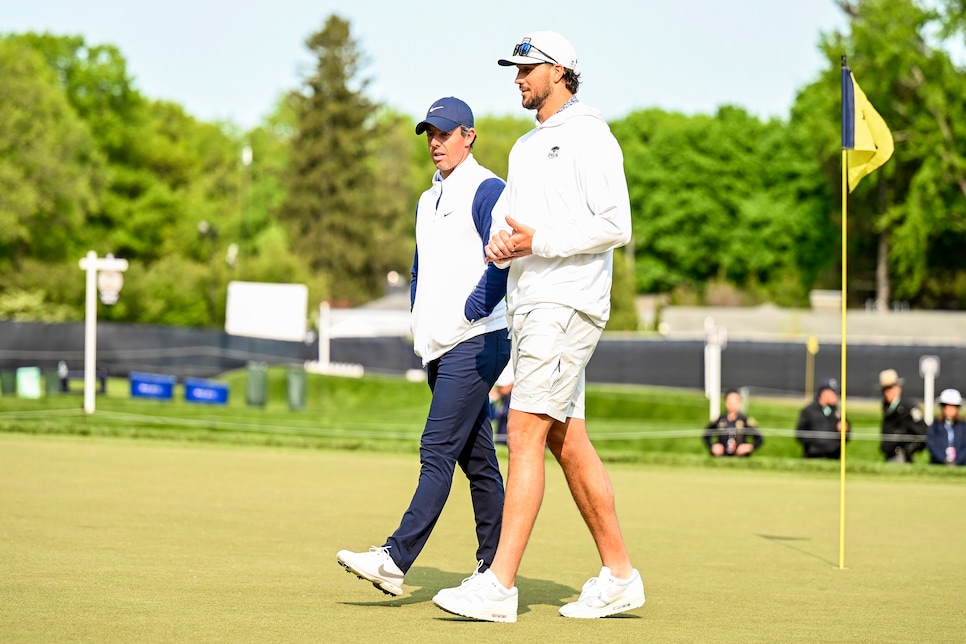 A magical thing is happening at Oak Hill this week. A special, wonderful, beautiful thing. It's not just the flowers blooming as spring comes to Rochester, New York, but friendship. Not just any friendship, though. The rarest and most elusive kind—a bromance—between one of the sports world's most likable (and unlikely) duos. Ladies and gentlemen, it is our distinct honor to introduce Josh and Rory, now, officially, bros.
But it goes deeper than a simple meet and greet. This isn't just talking shop. The pair are even gushing about each other to other people. They're shouting it from the mountaintops.
You already know it's coming, so here you go.
There is nothing in the world like the Honeydude Period. McIlroy, whose wife Erica is from the Rochester area, is flying up the ranks of Bills Mafia at record speed. He's putting down roots. The Northern Irishman is getting a crash course in Western New York culture and he's getting it from the sitting president of everything west of Syracuse and north of Binghamton. You can't ask for a better guide than that.
At this rate the pair, who both happen to be members at Oak Hill Country Club, will be splitting a garbage plate and a basket of Buffalo wings by Sunday. Oh to be a fly on the wall of that dive bar…