*sniffles*
Rory McIlroy goes above and beyond to help Make-A-Wish dream come true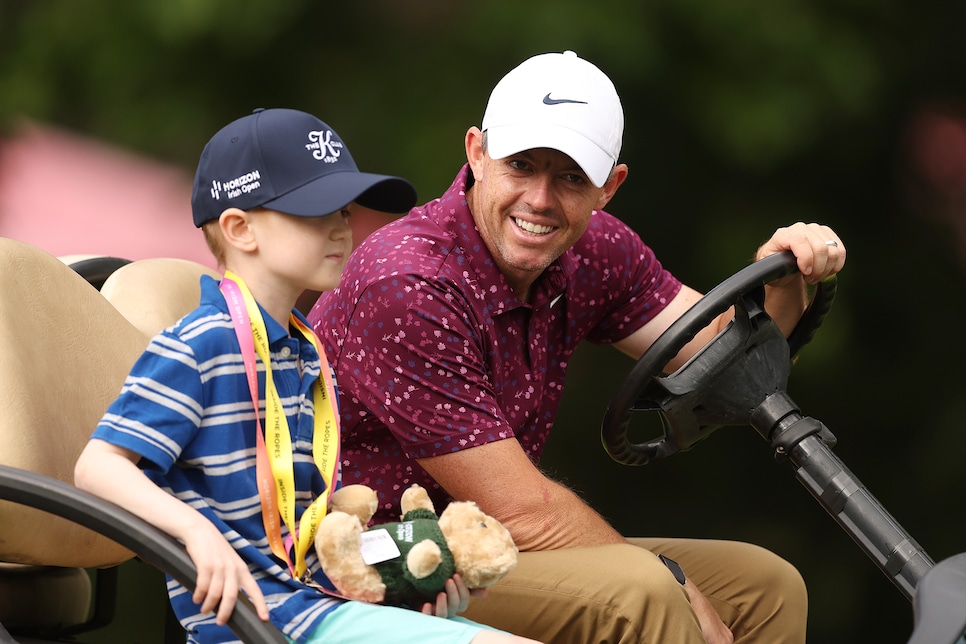 The only thing seven-year-old Michael Horgan wanted from his Make-A-Wish Ireland dream was a video message from his hero Rory McIlroy. He may not have gotten the video, but he did get quite a bit more.
Horgan, who has been battling a brain tumor for some time, got to be a caddie and playing partner for McIlroy on the ninth hole at the Horizon Irish Open Pro-Am. The two drove around The K Club, looked over yardages together and tested their mettle on the green.
"I've done a few different things over the years with Make-A-Wish and with different children's charities, and it's always been very fulfilling to be able to do it," McIlroy told the Belfast Telegraph.
"I feel very fortunate that we have a healthy little girl who's very happy," he continued. "There's a lot of people in the world who would give up everything to have what we have in terms of a healthy child. It puts a lot of things in perspective, and just makes you very grateful for what you have."
Horgan went on to meet former Ryder Cup captain Padraig Harrington and Horgan's father stated that playing with McIlroy is a "thrill he'll never forget."
Make-A-Wish Ireland is an official charity partner with the Horizon Irish Open and the two have combined for a fundraising goal of €250,000. This Saturday, Horizon will donate €1 for every person who wears green at The K Club; they are also planning to donate €150 per birdie, €300 per eagle and €5,000 per albatross on No. 18 for the entire event to the Birdies for Wishes campaign.