News
Rory McIlroy and Justin Thomas couldn't have gotten off to more opposite starts in Abu Dhabi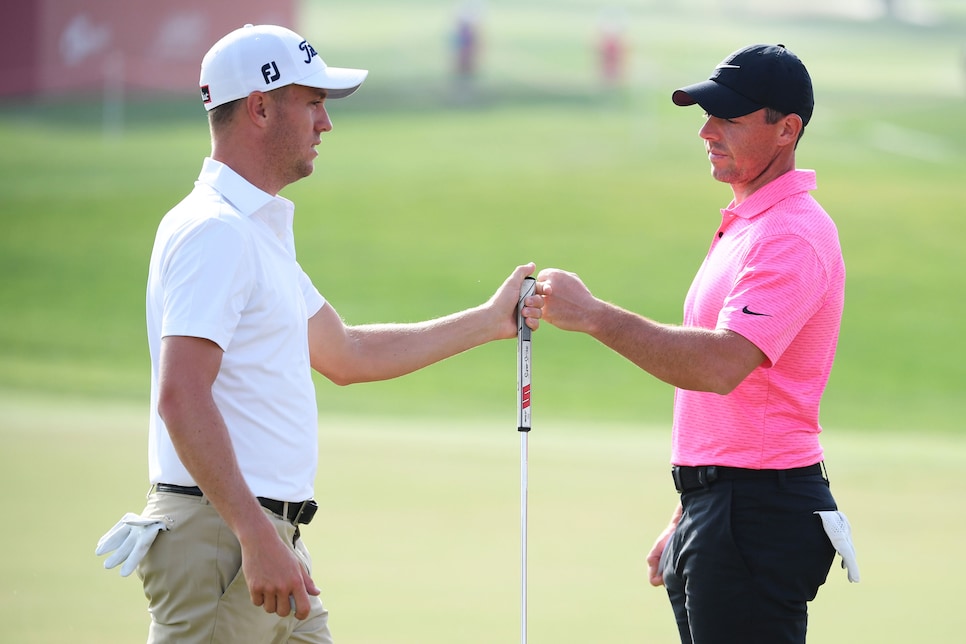 Justin Thomas and Rory McIlroy exchanged fist bumps on the final hole after wrapping up their first rounds at the Abu Dhabi HSBC Championship on Thursday. Thomas shot a 73 to McIlroy's 64.
Ross Kinnaird
It was one of those mornings where one man made golf look easy and the other made it look difficult. In every aspect of the game Rory McIlroy outshone Justin Thomas, the difference between the pair nine shots—64 to 73—by the close of their opening rounds in the Abu Dhabi HSBC Championship. Eight birdies (and no bogeys) highlighted McIlroy's card; Thomas' three dips under par were outnumbered by his four dropped shots.
Generally, however, scoring was low in the morning wave that teed-off in the wake of a three-hour delay because of thick fog in the United Arab Emirate. Tyrrell Hatton's 65 was the next best thing to McIlroy's eight-under-par effort and as many as 29 men broke par in the first round of the first event of the European Tour's 2021 season. All of which only served to darken Thomas' mood already dimmed by the continued fallout from his unfortunate comments earlier this month. By the end of proceedings, the former PGA champion was a forlorn figure.
In contrast, at the end of what was his lowest round ever in an event in which he has recorded eight top-five finishes without winning at Abu Dhabi Golf Club, McIlroy was, unsurprisingly, in fine fettle. Nine weeks on from his last competitive start at the Masters, the 31-year-old Northern Irishman could find little fault in his play other than a couple of "squirrely" drives.
"It feels good," said McIlroy, who remained in the lead when play was called Thursday for darkness with 66 players still needing to complete their opening round. "I actually thought to myself after I turned in four under that 65 is the best I've shot here, and I've shot it a few times. So I thought, Let's try to go one better on the next nine and I was able to do that. I actually played slightly better on our front nine [McIlroy, Thomas and defending champion Lee Westwood started on the 10th tee], but I holed some really nice putts coming in for birdies. It was obviously a lovely way to start the year."
OK, let's talk specifics.
"I felt like I drove the ball well for the most part," McIlroy said. "My distance control was really good. I started off really well, hitting a lot of nice iron shots. But, honestly, today was probably the best I've ever putted these greens in my whole career. I've shot some really good scores here but I've always struggled to read the greens. But this morning I got my eye in early and kept it going."
Indeed, in contrast with much of his play during the second half of 2020, McIlroy's score included only 25 putts. After living almost constantly in contention before COVID-19 caused the PGA Tour to pause last March, the World No. 6's performances post-lockdown were, in comparison, desultory. Only in his ninth tournament did he eventually manage a top-10 finish.
Still, towards the end of that disappointing run, there were positive signs. For example, no one—not even eventual champion Dustin Johnson—outscored McIlroy over the last 54 holes of the Masters.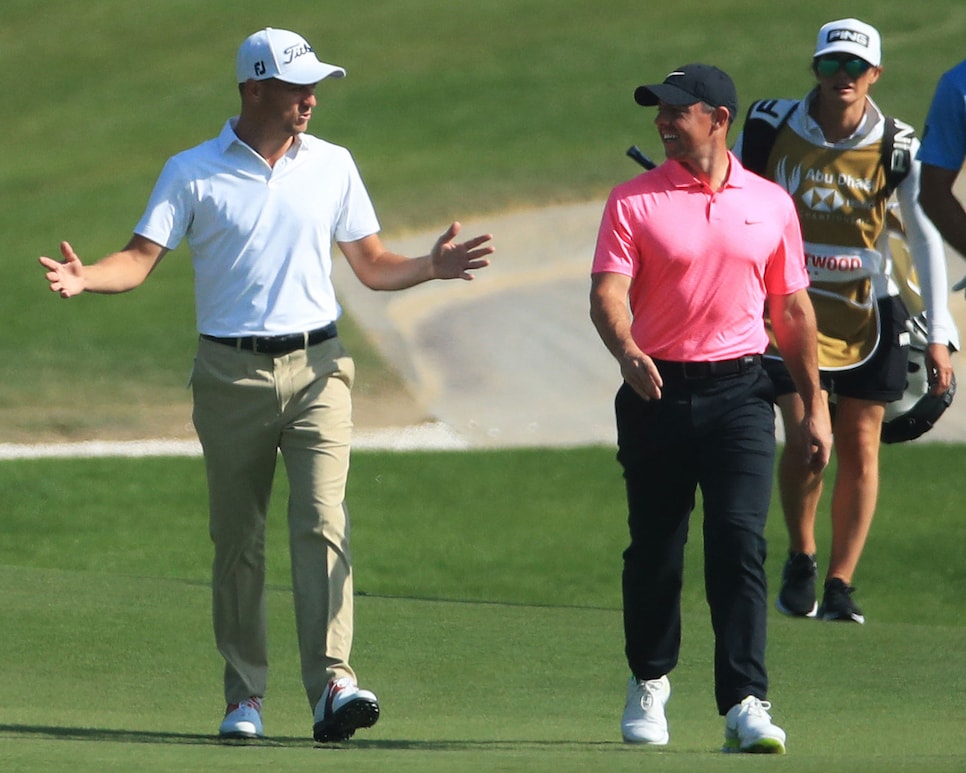 Thomas and McIlroy walk together after their opening tee shots of the first round at Abu Dhabi Golf Club.
Andrew Redington
"One of the first breakthroughs I made came at the BMW Championship at Olympia Fields," McIlroy said. "I played well there and felt like I sort of found something. Our daughter was born the next week before I went to the Tour Championship and ended up playing pretty well. Again, I played pretty well at the U.S. Open with a couple of not-so-great rounds. And then I played OK at the Masters, apart from a bad nine holes. So I was getting better as the year went on. It was actually disappointing that it finished when it did. I felt like I was getting right back into it, which is why I didn't really take much time off after Augusta. I sat at home for only three or four days before getting out there to keep things going. As a result, I feel as sharp as I've ever done coming into the start of the season."
Much credit for that fact must go to McIlroy's long-time coach, Michael Bannon. But another pair of learned eyes have also been keeping watch on the four-time major champion's swing. Through the occasional text message or video link, Butch Harmon has added his vast experience to the McIlroy mix.
"I haven't been able to see Michael that much over the last few months so I thought I would take advantage of being in Vegas and see Butch," McIlroy said. "The one thing I love about him is he's worked with so many players. If you're trying to explain to him, look, I'm trying to do this or I'm trying to create that feeling, the database of players that he's worked with over the years is immense. He could say, well, Freddie Couples felt this, or Tiger did this, or DJ felt that. It's always nice to have that reference.
"But Michael is here this week, and he worked with me the week before Christmas. So we have started to see a lot more of each other. Michael knows my swing better than anyone. So it's great to have him here and it's great that things are slowly getting back to normal. I'll be able to see him more regularly this year, which will really help."