News
As Justin Thomas addresses the continued fallout from his homophobic slur, Rory McIlroy stands by him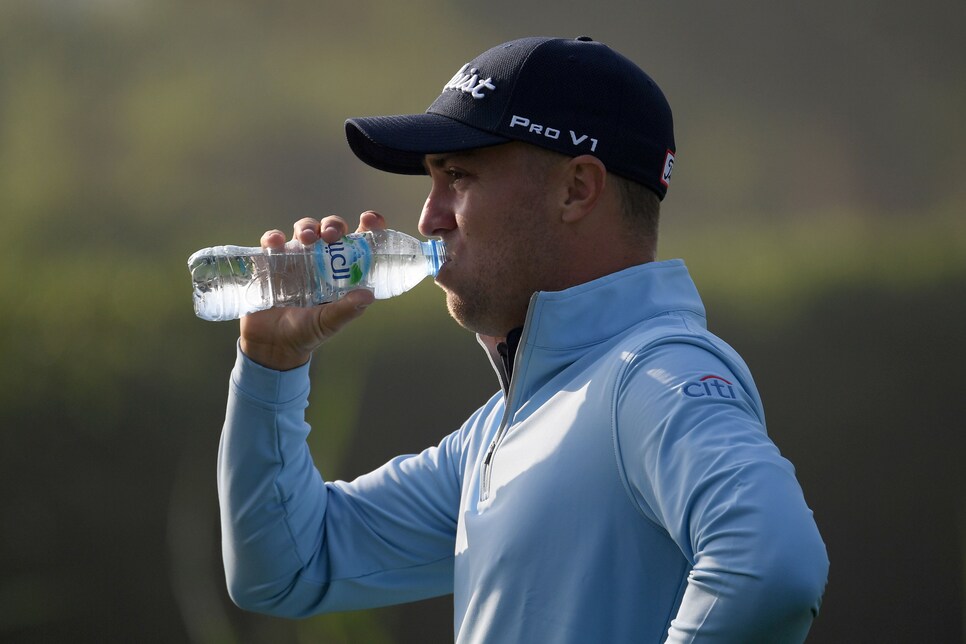 Justin Thomas takes a break during the pro-am event prior to the 2021 Abu Dhabi HSBC Championship.
Ross Kinnaird
This time, Justin Thomas, was saying all the right things. And already he has come a long way. Two weeks on from his unfortunate use of a homophobic slur during the Sentry Tournament of Champions in Hawaii, the World No. 3 is 8,764 miles and 14 time zones away in the United Arab Emirates, where he will play the first two rounds of the Abu Dhabi HSBC Championship alongside Rory McIlroy and defending champion, Lee Westwood.
Despite the efforts of a media official to shift matters back to the first event of the European Tour's 2021 season, the main topic of conversation during Thomas' pre-tournament press conference inevitably was the fallout from his comments. Asked if he was disappointed at the decision last week by clothing brand Ralph Lauren to discontinue its long-standing sponsorship with him, the former PGA champion was quick to come up with his own definition of what is surely a significant blow to his bottom line.
"I think disappointed is the wrong word," he said. "Obviously I was upset. But at the end of the day, they have that right. They had to make the decision that they had to make. They are a huge, huge global brand, and I have to respect their decision. I put them in a terrible position. I just was more upset. I had a great relationship with a lot of people there. But I totally respect their decision, and I've moved on from it. This is an opportunity for me to grow, although I felt like it was something we could have done together and gone through that process. They just felt like they needed to move on. That's exactly what I'm doing as well."
Pressed on how his other sponsors have reacted, Thomas claimed to have had "great communication" with all of them.
"It was obviously not calls or e-mails I was hoping or planning to make, but I needed to because I have some great long-lasting partnerships with all my sponsors," Thomas said. "They know that's not the person that I am. They know that's not how I act and although they are far from brushing it to the side, just like I am, they understand that this is an opportunity for me to educate myself, grow, become a better person. I know that I'll become a better man and a better person because of it. And they are going to kind of help me along that process."
And there was more. It was put to Thomas that many people unfamiliar with his character will imagine his lapse was not a one-off and whether that was a concern.
"It's very easy to say that, but that's unfortunately just what comes with it in terms of people not knowing who I am and the consequences of what I said," he said. "I'm clearly not proud of what I said. It's humiliating. It's embarrassing. It's not me. It's not a word that I use, but for some reason, it was in there. And that's what I'm trying to figure out as to why it was in there, and just like I said, it's going to be a part of this process and training program or whatever I need to do, not only to prove to myself but prove to my sponsors and prove to those people that don't know who I am that that is indeed not the person I am."
One person who does know Thomas well is McIlroy. The pair are close friends, and the Northern Irishman was not slow in offering support to his pal.
"I think Justin has already responded really, really well," said the four-time major champion. "I think he realized he made a big mistake as soon as it was brought to him. He completely owned up to it. He said he messed up and that he's going to try to be better. And Justin is true to his word. He will be.
"I've gotten to know Justin really well, and he is as good a guy as they come," McIlroy continued. "He's got a lot of integrity, a lot of character. Obviously it doesn't make what he said any better, but you know, I think in this day and age, it's hard because it seems like you're not allowed to make a mistake anymore. Any mistake gets jumped on. Look, he made a mistake; he owned up to it, and he'll be better because of it. He'll maybe not be as ignorant to things that will, I'm trying to think of the right word here, offend people, I guess. What he said was obviously offensive to a large portion of the population. But, again, he'll be better for it. He'll learn and he'll move on. And he'll be just as good a golfer as he's always been. If anything, it will probably just make him a better person than he already is, which is hard because he's already a great guy."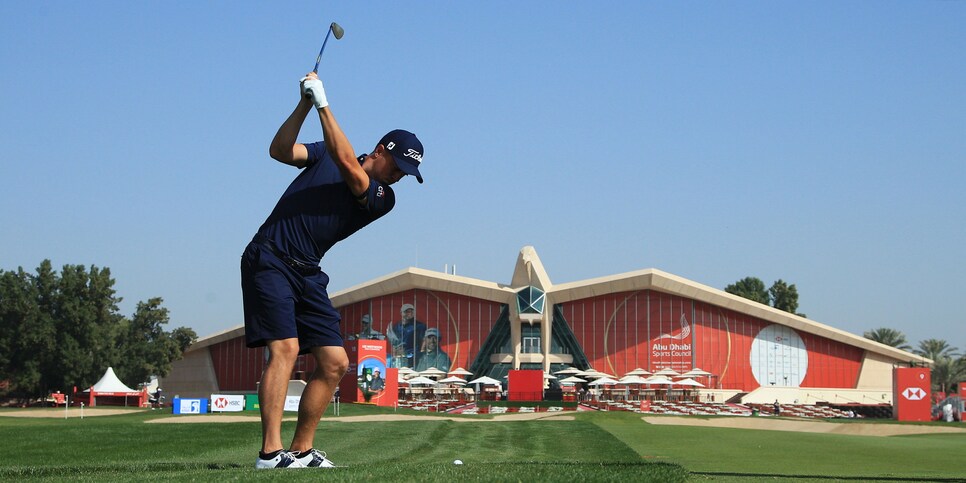 Thomas will play with Rory McIlroy and Lee Westwood during the first two rounds of the European Tour opener in Abu Dhabi.
Andrew Redington
There was one final question. Asked for specifics on how he is going to address this issue going forward, Thomas preferred to keep that aspect of his future private.
"Although the mistake wasn't a personal level, what I'm doing for myself is personal," he explained. "Obviously people are going to be part of that process, but what I'm doing I'd like to keep internally and just go through the appropriate steps to get where I need and want to be, to where people understand that's not the person I am, not the character I like to portray. But, like I said, that's stuff that I feel I'd like to keep it at a personal level and go through the necessary steps."
Anything else? Oh yes, Thomas is "very excited" to be in Abu Dhabi playing in an event he has "watched a bunch of times on TV." The food has been "great" and it's been "very enjoyable so far." Which are the sort of things you would expect a good guy Justin Thomas to say. Finally.