News
Rory McIlroy hopes to begin his 2021 season by accomplishing this career first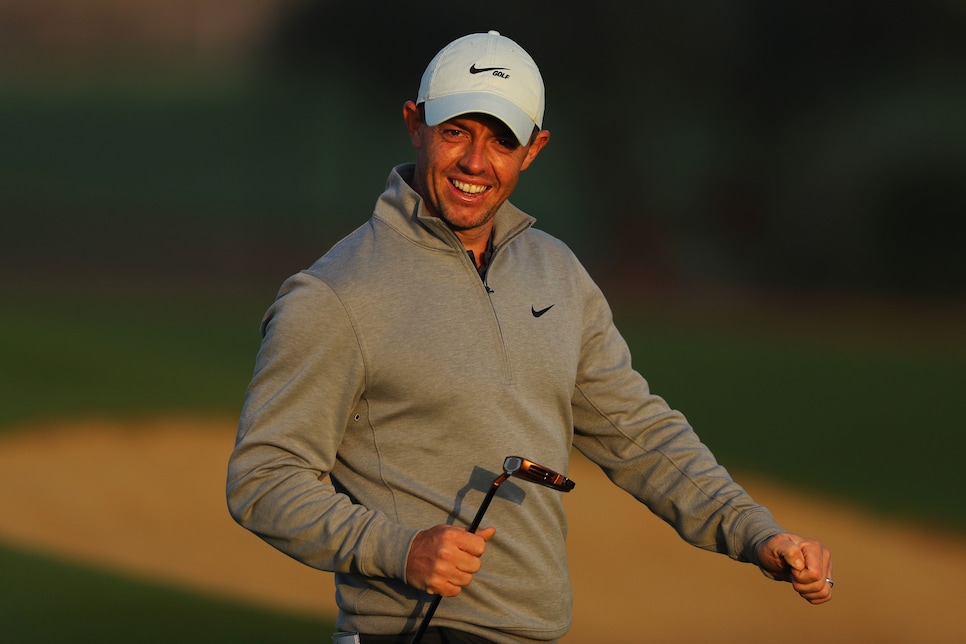 In 10 starts at the Abu Dhabi HSBC Championship, Rory McIlroy has eight top-five finishes, but no wins.
Warren Little
If Rory McIlroy subscribes to Albert Einstein's presumably tongue-in-cheek definition of insanity—"doing the same thing over and over and expecting a different result"—then the Northern Irishman must surely by now have been driven mad by the Abu Dhabi HSBC Championship. In 10 previous visits to the largest of the United Arab Emirates, McIlroy has accumulated an astonishing record of consistency. Four times he has been second. Three times he has been third. Once he has finished fifth. His worst finish, other than an inexplicable missed cut in 2013, is T-11 in his tournament debut in 2008.
But he hasn't won. Not yet.
"I enjoy playing in the desert and this style of golf," said McIlroy, whose maiden victory as a professional came "next door" at the 2009 Dubai Desert Classic. "So yes, I'm really excited to be back. It's a golf course I've done well at and played well on. I've done everything but win here and yeah, I'll try again to see if I can finally get the job done. A win would be a great way to start the year. I actually saw something the other day. Of the 13 times I've played a first tournament of a season in my pro career, I've had 11 top-fives. The fact that there is no win in there is a little surprising I guess. I feel like every year is a fresh start, and I like that feeling."
Still, it's been a while since McIlroy has won anywhere, never mind Abu Dhabi. His most recent victory came in November 2019, at the WGC-HSBC Champions event in China. And two months removed from the November Masters that was his last competitive start, McIlroy is clearly aware of that ticking clock.
"The win in China does feel like a long time ago," he acknowledged with a smile. "I'm trying not to be impatient. I try to stay as patient as possible, but what I will say is that last win does feel like quite a long time ago at this point."
Moving right along, McIlroy's agile mind soon enough shifted to other matters. The World No. 6's press conferences are routinely wide-ranging, and Tiger's latest back surgery was first on this particular hit list.
"I've known for a while," McIlroy said. "It happened on the 23rd of December. In his words, it was a small procedure. He was back on his feet the next day, so I don't think we can read too much into it. I think they were just trying to clean up a couple of little bits. Obviously he won't be playing for the next couple of months, but he should be back for the Masters, if not before that. I think he'll be just fine."
Looking ahead from a personal point of view, the now 31-year-old McIlroy wished to revise a much earlier estimate of how long we can expect him to compete at the highest level. Inspired by the recent victories of 40-somethings Tiger, Phil Mickelson and Lee Westwood, he sees himself hanging around for at least a decade and a half.
"I first came here to Abu Dhabi and this tournament as an 18-year-old," he said. "That was my first year on the European Tour. Back then, I really couldn't see myself playing past the age of 40. Now I'm 31 and I'm like, 'geez, that doesn't seem like it is too far away.' I still feel like I have a good 15 years left in me. If I'm competitive and can still play, I can see myself doing what the likes of Lee and Tiger and Phil have done over the past couple of years."
Having taken care of the longer term, McIlroy turned to more immediate matters. A perusal of his 2020 statistics has persuaded him that a few things need to change if he is to return to the winner's circle any time soon.
"A couple of stats stood out last year, ones that I need to be a little bit better at," he said. "One of the things was approach play out of the rough, which is sort of random. I hit 60 percent of fairways, so that means 40 percent of the time I'm hitting out of the rough, which is quite a lot. And my performance out of the rough last year was way down on what it was the previous year.
"Then there was my putting between four and eight feet. Again, that wasn't quite as good as it was the previous year. So I want to get those better. If they do, my game will become better."
And, you never know, that elusive victory in Abu Dhabi might just become a reality. At last.