Seen on tour
Rory McIlroy sees improvement with putter change and LPGA winner Nelly Korda replaces her driver with a (very) relatable option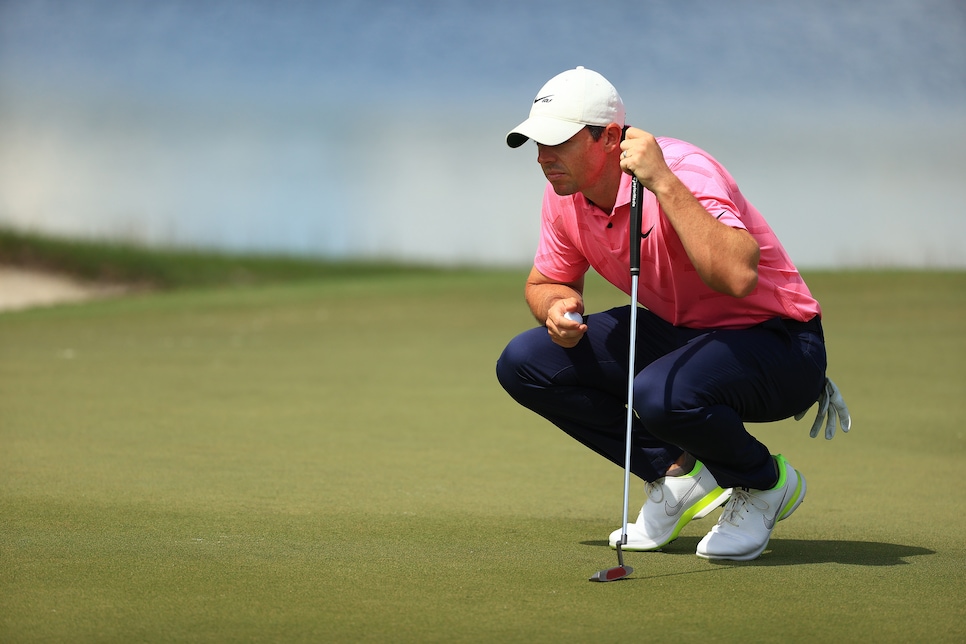 Week in and week out, the equipment scene shifts on the PGA and LPGA Tours. At the WGC-Workday Championship in Florida, that meant a putter change for Rory McIlroy and driver changes for two other major champions, Justin Rose and Louis Oosthuizen. At the LPGA's Gainbridge event, the Korda sisters each made a driver switch with immediate results.
McIlroy benches his mallet
It's difficult to say Rory McIlroy's performance of late has been a disappointment, but when you own four major titles, not visiting the winner's circle since the 2019 WGC-HSBC Champions has to be a tad frustrating. Add in that McIlroy missed the cut in his last start at the Genesis Invitational—his first time not playing the weekend since the 2019 Open Championship—and something was bound to give. As it turns out, it was his TaylorMade Spider X mallet putter, replaced at the WGC-Workday Championship with a blade-style TaylorMade TP Juno. McIlroy came into the week at The Concession ranked 114th in strokes gained/putting but improved upon that mark, ranking 23rd for the week, picking up 2.5 strokes on the field while finishing T-6.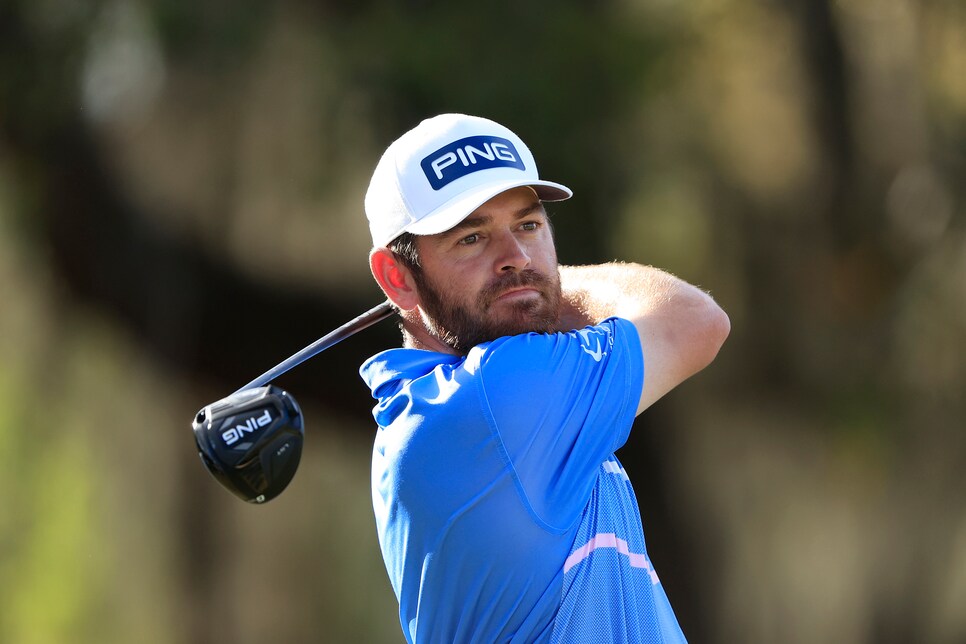 Louis Oosthuizen has one of the best swings in golf and is one the better drivers in the game, making his switch to Ping's G425 LST driver noteworthy. The move seems to be a logical progression for Oosthuizen, who had the company's G400 LST model in his last start at the Waste Management Phoenix Open. The low-spin G425 LST is a slightly more compact model than the G425 Max at 445 cubic centimeters but still features a hefty adjustable weight of 17 grams, with a center of gravity both lower and farther back compared to previous LST models. That difference produces 500-700 rpm less spin vs. the G425 Max.
Oosthuizen started testing early the week of Waste Management and liked the feel but was getting lower launch with too much spin. Ping suggested he try some higher lofted heads (a 10.5-degree set at 9.75 degrees) with the company's proprietary ALTA CB Slate 55 S flex shaft as Oosthuizen wanted something softer. He loved the sound of those drivers, and compared to his gamer, the G425 LST launched higher but with less spin, and he felt it was easier to hit a cut with. The final build was 45 inches in length with a D4 swingweight. Oosthuizen finished T-6 at The Concession, ranking 18th in strokes gained/off-the-tee.
Find the right club for your game with our new Hot List interactive:
Rose opts for Titleist driver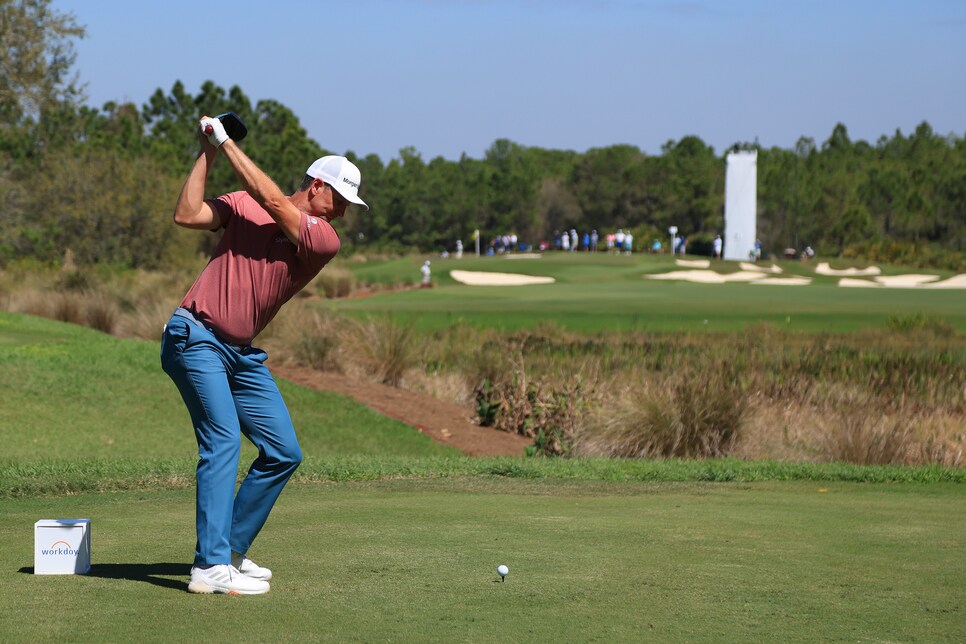 Justin Rose is one of a number of prominent players preferring to remain an equipment free agent, and he used that freedom to change into a 8-degree Titleist TSi3 driver with a Mitsubishi Tensei AV Orange 75 TX shaft at the WGC-Workday Championship. "He had been hearing a lot of good things about TSi and had been touch with [Titleist European tour rep] Liam McDougall, but given all the restrictions in Europe hadn't been able to get in a real testing session with him," said Titleist rour rep J.J. VanWezenbeeck. "We did a little work on Tuesday and found his gamer may have been enhancing his misses because of its off-center CG properties. We put him in the TSi3 with a much more neutral setting which resulted in more consistent performance along with the additional speed and distance." Rose ranked T-25 in driving distance at 298.3 yards.
Korda sisters make successful driver switches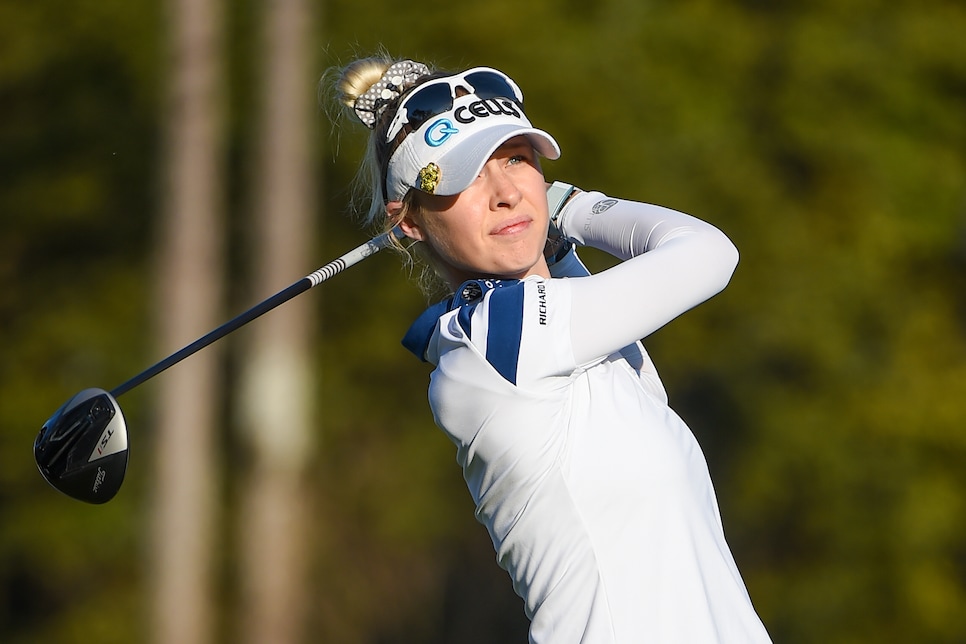 The Korda sisters had a pretty good week at the LPGA's Gainbridge event, with Nelly taking her fourth LPGA Tour title and Jessica playing well before fading with a final-round 76 to finish T-31. Both did so with new Titleist drivers in the bag—the result of work done at the Titleist Performance Institute last month after the Diamond Resorts Tournament of Champions.
Nelly Korda switched to a 10-degree Titleist TSi1 with a Graphite Design Tour AD IZ shaft, making her the first player on any tour to put the lightweight TSi1 model in play. "She loved the shape of the TSi1 and was swinging it with a lot confidence," said Titleist tour rep J.J. VanWezenbeeck. "Initially, we were very close with TSi2 and she was gaining up to 5 mph additional ball speed. But she has a slight tendency to miss on the heel and Stephanie Luttrell [Titleist's director of metalwood product development] suggested the TSi1 head. [That clubhead] has CG properties closer to face center [which] could help improve strike location and provide the extra forgiveness she needed on those swings." Korda has the adjustable hosel set in the B-1 position, which promotes a slight fade.
Jessica, meanwhile, changed to a 10-degree Titleist TSi4 with a Fujikura Ventus Blue 6S shaft. "She is very particular to the traditional head shape and was very happy with the performance of her [original] TS4, so it was an easy transition," VanWezenbeeck said. "With TSi4 she was immediately gaining 1 to 2 mph ball speed with added forgiveness and we were able to dial in her flight and spin using the SureFit hosel [adjusting it for slightly more height] for maximum distance."