Takeaways
Players 2021: McIlroy struggles, Westwood's revival and Hovland misses cut thanks to mom's called-in penalty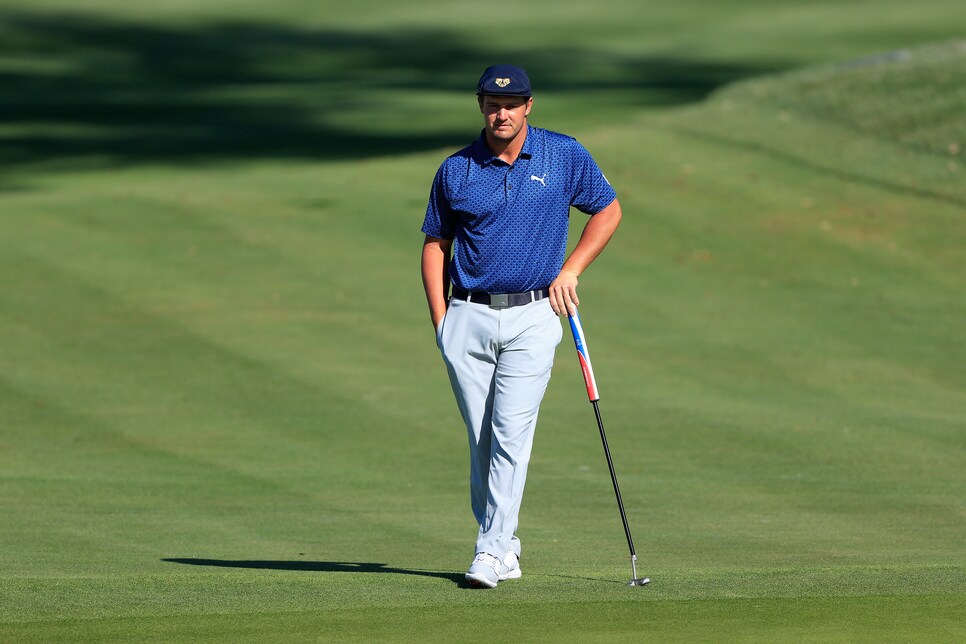 One of the sneaky best parts of a big-time tournament is Friday evening. Save for the rare Tiger-at-Pebble-in-2000 boat race, it feels like two dozen things are possible over the next two days, and most of those things are scintillating. So while play, at times, seemed sleepy at TPC Sawgrass through two rounds, we are blessed with an abundance of storylines heading into Players Saturday.
Let's start with the rejuvenation of Lee Westwood, who apparently snuck into Doc Brown's DeLorean and returned with a pair of turn-the-clock-back rounds. A lights-out putting show and strong, steady work with his irons has the Englishman leading this rodeo with a nine-under total. It's a performance not totally out of left field, as he finished just a stroke behind Bryson DeChambeau at Bay Hill last week. Conversely, Westwood is 47 and hasn't won in America in a decade.
"The nice thing for me about this week is not letting last week affect me in a negative way," Westwood said. "I've regrouped. I've still got the memories of last week, of playing well and hitting good shots when I needed to, but there's no hangover from last week. It's a feel-good experience for me this week, and I've carried that into the first two rounds."
A stroke behind is Matthew Fitzpatrick, who continues to excel at tough venues. Fitzpatrick is still looking for his first PGA Tour win but his ability to keep the big number at bay makes him a formidable choice over the final 36. "I've got to give myself chances and the experiences to hopefully knock one off," Fitzpatrick said. "Statistically, all being well, I'll keep knocking at the door and one of them will open."
Sergio Garcia, in spite of five bogeys and a missed one-footer, is just two back, as is Chris Kirk, whose battles against alcohol and depression make him an easy guy to pull for. A pack at six under includes fledgling superstar Sungjae Im, Denny McCarthy, Doug Ghim and a certain beefy golfer. Jon Rahm and Paul Casey are in shouting distance.
There's a chance, more of a high probability, that most of these names go south. Last we checked, they only hand out one trophy. But through 36 holes we have no idea how the next 36 will play out, and that is a beautiful thing.
Four more takeaways from Day 2 at TPC Sawgrass.
Bryson's powering through Players sans driver
Got to feel for DeChambeau. Despite winning at Bay Hill last weekend the reigning U.S. Open champ has been lost at Sawgrass. Big man lost strokes to the field off the tee and on the greens in Round 2, a performance that left him slamming his trunk on Friday aftern …
Excuse us. DeChambeau lost strokes to the field off the tee and on the greens in Round 2, a performance that left him with a three-under 69 that keeps him in the Players mix heading into the weekend.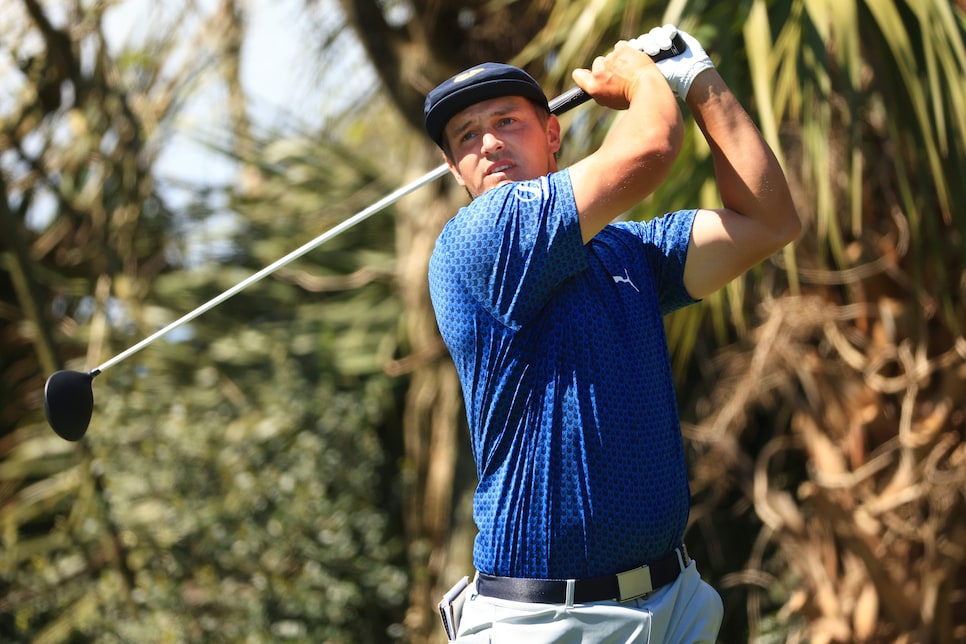 "I'm happy with the fact that I've still been able to keep myself in it and score well," DeChambeau said after Round 2. "I've been pretty lucky for the most part. I don't think that'll happen this weekend. I've got to make sure that my game is good off the tee, so I don't have those issues occurring and I don't have to rely on luck … I was in places where I could get it up and down, rely on my short game around the greens. I don't want to continue to do so."
Friday wasn't an aberration, as DeChambeau—who leads the tour in SG/off-the-tee—was not exactly a first-shot maestro on Thursday either. This is not a surprise; with numerous doglegs and trouble blanketing the property, Sawgrass is a proper counter to Bryson's bomb-and-gouge ways. However, though we usually consume DeChambeau's power through the prism of his driver, his strength manifests in other facets of his game.
So far this week the strength is seen in his iron play. DeChambeau is first in the field in SG/approach, gaining nearly six shots over his competitors. He's been able to muscle out from a rough that, while not thick, can produce its share of squirrly, uncontrollable heaters, and his newfound speed has produced more spin on his approaches that have allowed DeChambeau to hold Sawgrass' firm greens. And forgive us for stating the obvious, but that brawn turns the long irons for most into mid-to-short pulls for Bryson. (Case in point: DeChambeau hit a 7-iron at the 213-yard par-3 eighth inside 10 feet.) For all the belief that Sawgrass does not reward a particular skill set, if you're not a shotmaker, it's best you save yourself the frustration and spend the weekend at the beach.
Through two rounds, DeChambeau can keep the umbrella, bathing suit and shades at home. He'll need to get right, or at least better, with his drives. But any notions that Bryson doesn't have the game to compete at Sawgrass can be thrown off the Island Green.
The 17th was angry on Thursday, my friends. She boasted a 3.32 scoring average, making it the second-toughest behind the 18th. There were 35 balls in the water, 21 double bogeys or worse. For all we know Ben An (who made an 11 on Thursday) is still out there trying to hit the green.
What spurred this wrath? The 17th was overhauled last summer to improve the green's drainage, theoretically making the new ground less receptive than other putting surfaces. A deep pin also led to a number of balls tumbling off the back into the blue abyss. But really, the green was merely a tad firmer and drier than the rest, according to players, and you don't have to squint to see the entertainment value is why that was.
However, despite another deep pin on Friday, the green lost its Round 1 bite. Shots that ricochet Thursday were checking on Friday, and maybe a few more guys took a conservative route after yesterday's nightmare. With 142 players through the 17th on Friday, scoring dropped to 3.10. There were still 11 doubles or worse but 82 percent of the field made birdie or par. Special shoutout to Adam Scott, who put his approach on the 17th inside three feet on both days.
There's a chance the Island Green recaptures its fury over the weekend, but the amount of eyebrows it raised from the locker room on Thursday likely means we've already seen it as its worst/best. And because we have nothing else to add, here is our annual pitch to install a charity dunk tank at the 17th, with every shot that holds the green sending a fan plunging into the lake with the proceeds going to charity. If only for the 8 percent chance that Harry Higgs would find his way onto the contraption at some point during the week.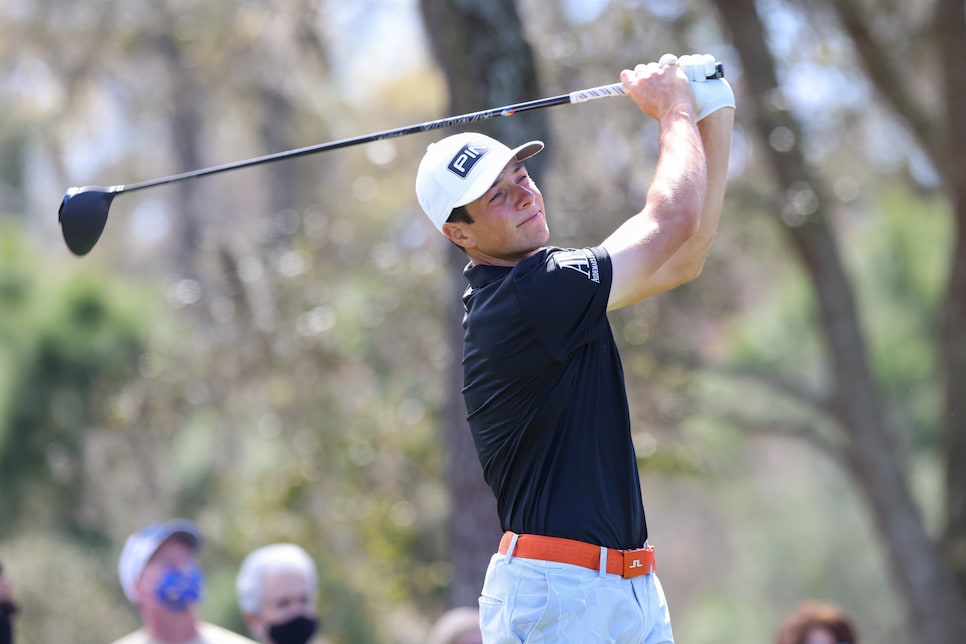 Hovland misses cut … thanks to his mom
To all you kids out there thinking mom doesn't know what she's talking about when she makes you clean your room or eat your vegetables, heed these words. One, she's making you do that because she cares. Two, that's nothing compared to the autocratic power wielded by other moms, as poor Viktor Hovland can attest.
Hovland, as you may recall, signed for a two-under 70 on Thursday at the Players Championship. Unfortunately, it was not the right score, as the tour announced hours later Hovland had been docked two strokes under Rule 14.7 for playing a ball from the wrong place. At the par-4 15th Hovland had moved his ball mark out of a competitor's putting line, and it was determined that Hovland failed to replace the mark in its proper spot. Who did the determining? Hovland's mother.
Hovland was heading to his car when his mom, who was watching the Players from her home in Norway, asked Viktor by phone if he was going to get penalized for what happened at the 15th. Hovland didn't know what she was talking about, at which point his mom dropped some tough love on her boy.
"[Viktor] and his caddie reached out to our committee and asked if we had any video of it, because he had no recollection of doing it," said rules official Gary Young to PGATour.com.
Video did confirm that Hovland failed to put the mark in its precise spot, thus leading to the penalty. "He had left the property," Young said to PGATour.com. "I sent him a clip of the video, and he's very comfortable with the result, that he's getting the penalty. He understands the rule. He didn't know he did it."
Here comes the brutal part: Hovland ended up with a two-day total of two-over 146. Meaning the penalty cost him the cut. Given the prize money payout at stake at TPC Sawgrass, that is a brutal, brutal lesson for Hovland. However, golf is a game of honor, and Hovland can take solace that he told the truth. So in that vein ... mothers, they always know best.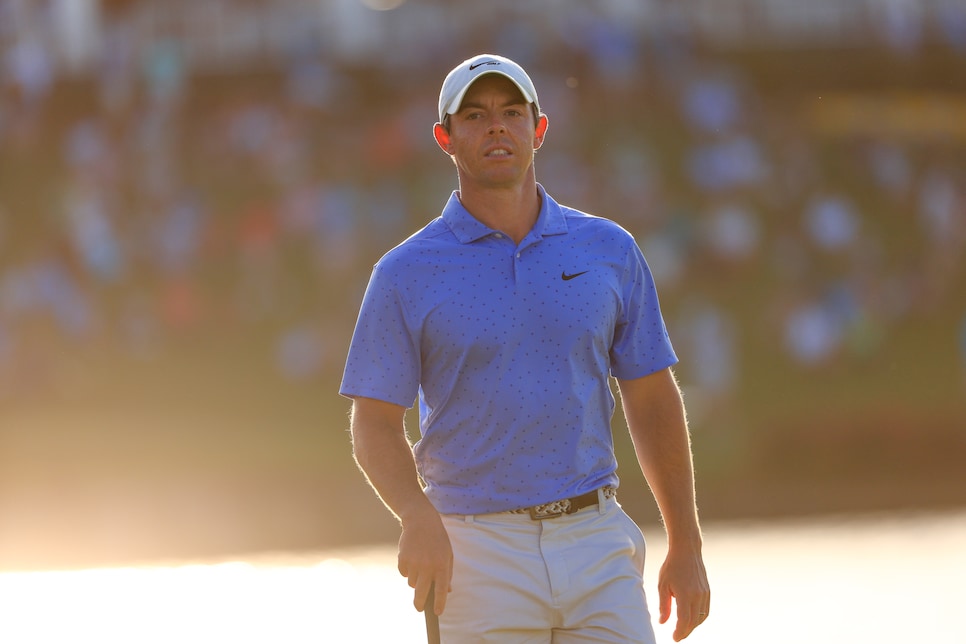 Hovland was far from the only superstar sent packing. Hideki Matsuyama, Tommy Fleetwood, Gary Woodland, Webb Simpson and Max Homa just missed the weekend. Tony Finau, Xander Schauffele and Patrick Cantlay were ejected hard. Rickie Fowler's woes continued to the tune of 77-73. Tyrrell Hatton turned in a three-under 69 but missed the cut by one. That's a tough swallow for Hatton because it's the fourth missed cut in his last 18 starts. The missed cuts: PGA Championship, U.S. Open, Masters and now the Players. Hatton is too good to be struggling with his big-game hunting.
Then there is Rory McIlroy, who came out on the business end of Sawgrass with a 79-75. Afterwards, McIlroy conceded his swing has fallen victim to chasing distance. "Where it all stems from, probably like October last year, doing a little bit of speed training, started getting sucked into that stuff, swing got flat, long, and too rotational," McIlroy said. "Obviously I added some speed and am hitting the ball longer, but what that did to my swing as a whole probably wasn't a good thing, so I'm sort of fighting to get back out of that. That's what I'm frustrated with."
McIlroy would later add that DeChambeau's win at Winged Foot—or more precisely, how he won—was the catalyst for his chase, and added "it'll take a bit of time" to get his swing back.
Now, McIlroy hasn't been the stone-cold assassin we've seen in the past. He also hasn't been lost in the wilderness either, with four top-10s and eight top-25s in his previous nine starts before Players. Ranking third in SG/off-the-tee and 14th in SG/total cement that belief. Perhaps McIlroy is correct in that we won't see his best self for a bit, but let's hold off on the McIlroy eulogies.