Ride or Die
No one was more hyped about the Atlanta Braves clinching the NLDS than Ronald Acuna Jr.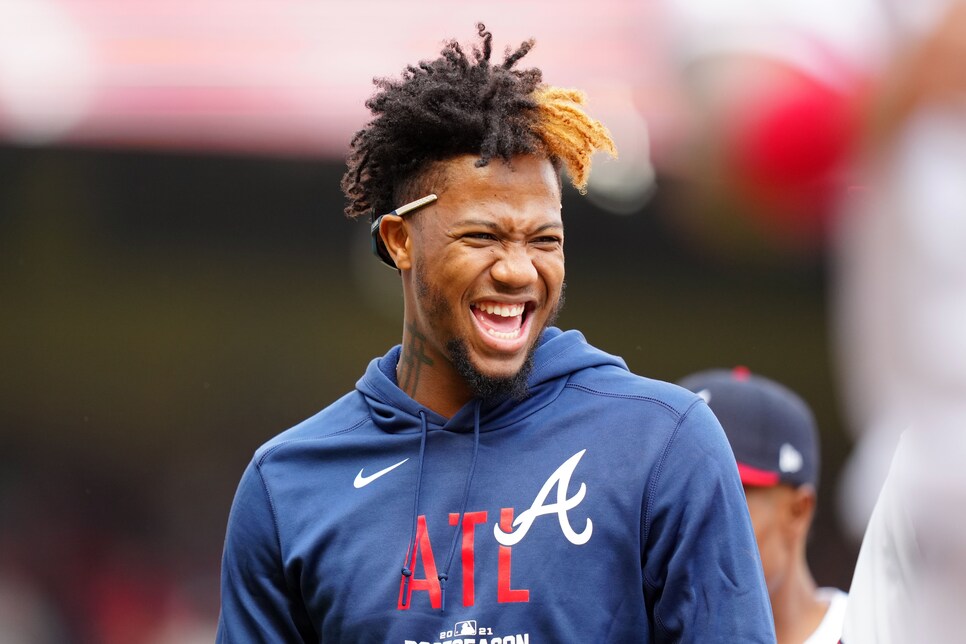 Probably the bummer of the MLB season is that we only got to watch Ronald Acuna Jr. play 82 games of it. On July 10th, Acuna Jr. went up in an attempt to field a line drive off the bat of the Marlins' Jazz Chisholm and when he came down he suffered a complete tear of his right ACL. Chisholm rounded the bases for an inside-the-park home run and the game was delayed 10 minutes as Acuna Jr. was carted off. It was grim scene for Braves faithful and baseball fans in general, but it didn't dampen Acuna Jr.'s spirits—vowing to return better than ever—or his Braves fandom, as this video of him celebrating Atlanta's NLDS-clinching win over the Brewers on Tuesday proves.
You just can't manufacture that sort of hype. Acuna Jr. has been sidelined for over three months. He could be chilling on a beach somewhere. He could have a tee time. He could be sipping hot cider in a cabin an hour from the nearest internet connection. Instead he's posted up in front of the TV, hanging on every pitch like he's part of the Braves taxi squad. That says a lot.
As for what's actually being said, well, that's pretty good too.
Prayers up for the Brew Crew, who just got owned by a guy on crutches. As for Acuna Jr. and the Braves, the former is still out for a while. Opening Day is about nine months out from his injury. That's probably the target ... but it's also probably a pipe dream. As for the latter? Well, they have more pressing concerns, namely one of the two best teams in baseball—including, quite possibly, the one that sent them packing last year—waiting for them in the NLCS. First things first. We're sure Acuna Jr. would agree.