On a more difficult golf course, a first-round one-over 72 is something that can be overcome. At TPC Summerlin, it puts you in a tie for 124th, effectively ending the week before it even started.
That's the current situation for Rickie Fowler, who was in dire need of a fresh start to the 2021-22 PGA Tour season after coming off what was by far his worst as a pro in 2020-21. Through it all, Fowler admirably stuck to the process, insisting there were better days ahead. In typical Fowler fashion, he also answered every tough question about the state of his game with class.
Unfortunately, those questions will only persist if days like Thursday at the Shriners Children's Open continue in the new season. Fowler's first round was a carbon copy of many from a season ago. There was some good, like four birdies, including three on his final six holes, but much more bad, like five bogeys, all but one of them coming after he missed the fairway off the tee.
This is, of course, a rather large season for Fowler, who missed both the Masters and the U.S. Open for the first time in more than a decade last year. He's managed just one top-10 in his last 36 starts (PGA Championship at Kiawah), falling to 125th in the world in the process. Fortunately, he remains exempt on tour through the 2022-23 season, giving him the time to take his time to find his way again.
This all sounds a little somber after just one round, but the reality is Fowler's attempts to play out of this rut have reached that somber level. Players just as good, and some better, than Fowler has similarly fallen off a cliff before, and Fowler is the last one anyone wants that to happen to. Here's hoping those better days he talks about are still ahead, because the game is better when he's in the mix on a regular basis.
Hovland's biggest weakness shows up at worst possible time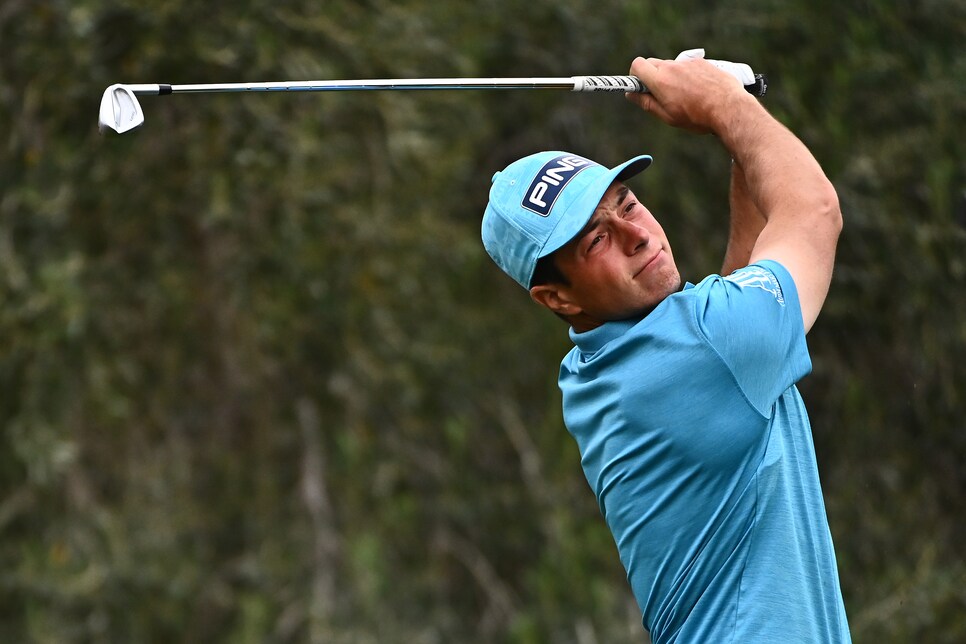 Coming off a breakout season that was capped off by an impressive Ryder Cup performance as a rookie two weeks ago, big things are expected out of Viktor Hovland in 2021-22. The one key missing ingredient in his game that would allow him to make that leap? A better short game. Not a good or even great one, just a better one. A season ago, he ranked 124th on the PGA Tour in strokes gained/around-the-green, a mark he should, theoretically, be able to improve upon with ease this coming season.
But the young Norwegian is not off to the most flying of starts in the short-game department, his biggest weakness rearing its proverbial ugly head at the worst possible time on Thursday in Las Vegas. Through 16 holes, Hovland had reached six under, with only the par-3 eighth and the par-5 ninth left. After finding a greenside bunker with his tee shot at No. 8, Hovland left one in the sand before blasting out his third shot to 10 feet. He went on to miss the putt, settling for a disastrous end-of-round double bogey that spoiled what was otherwise a solid day (he finished at four under). He did make one other bogey, again at a par 3—the 14th hole, where he missed the green and failed to get up and down from just 42 feet away.
"Just a momentum killer on No. 8 with the double bogey there," said Hovland after signing for a four-under 67, six off the lead of Sung Kang. "And three-putt on the last. So I felt like I played way better."
To his credit, the always upbeat 24-year-old remained optimistic after the momentum-robbing finish. "I just need to keep doing what I'm doing," he said. "I just need to get sharper around the greens, which I feel like I'm already showing promise there. Sometimes it goes your way and sometimes it doesn't.
"But I feel like if I just keep working on what I'm doing over the course of a year, if we could just get a little bit better there that's going to be huge."
When and if he does get a little better with a wedge in his hand, he'll be tough to beat (he already is tough to beat, which is the scary part).
Charley Hoffman ain't here for no paycheck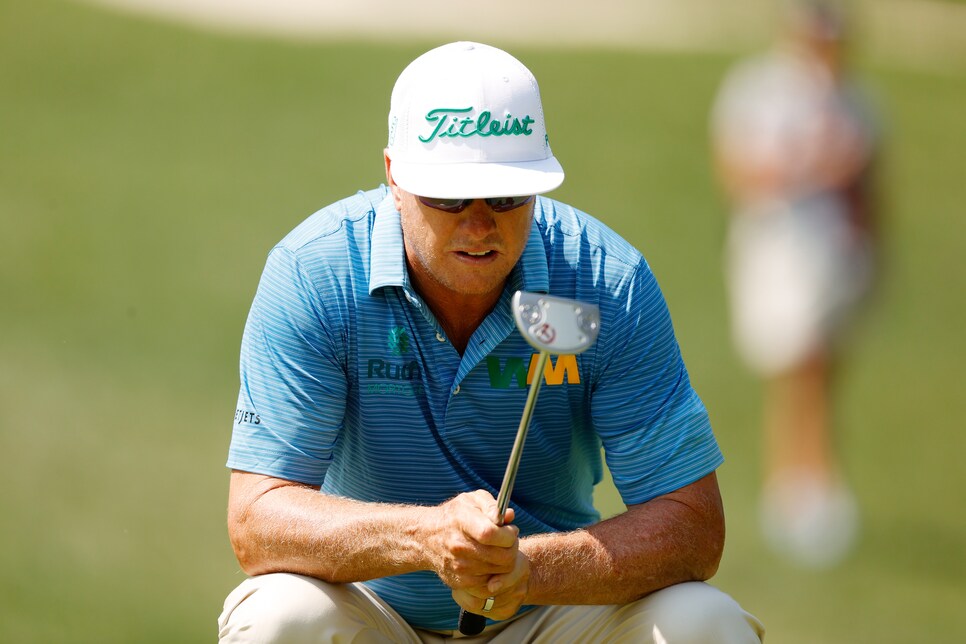 During one of his best years on the PGA Tour in 2017, Charley Hoffman delivered an all-time quote down the stretch of the WGC-Bridgestone Invitational. Trailing by three shots with three holes to go, his caddie attempted to tell Hoffman to play smart and lay up. Hoffman, already having finished runner-up a number of times that year, said "I'm trying to win a golf tournament here. I'm tired of finishing second."
Even after a handful of lean seasons since, Hoffman still hasn't lost that desire. After opening with an eight-under 63, Hoffman, a four-time winner on tour who failed to reach the Tour Championship last year, was asked about his goals for the year. He didn't hold back.
"Obviously winning golf tournaments is the major goal," said Hoffman, who is two off the lead of Kang. "I'm not here to make cuts and make paycheck, I want to win."
Hoffman's last win came more than five years ago at the Valero Texas Open, a tournament he's historically been great in. Another one, to a lesser degree, is the Shriners, where Hoffman owns five top-18 finishes in his career. It makes sense given his history in Vegas, where he went to college at UNLV and lived for 20 years before moving to San Diego. This one, like the Valero, is one he knows he can get given the home-field advantage, and he wants it badly after such a strong start.
"I come here to win golf tournaments and that's why we show up," he added. "It's not just to like I said collect another paycheck. So I was thinking win early on, but obviously shooting the first round that I did is a great start to that process to get there, but until the back nine on Sunday in that last putt on 18 goes on the 72nd hole, it's never over."
Word of advice to Hoffman's caddie—all gas, no brakes for his boss these next three days. Man is trying to win a golf tournament.
The heavy hitters came to play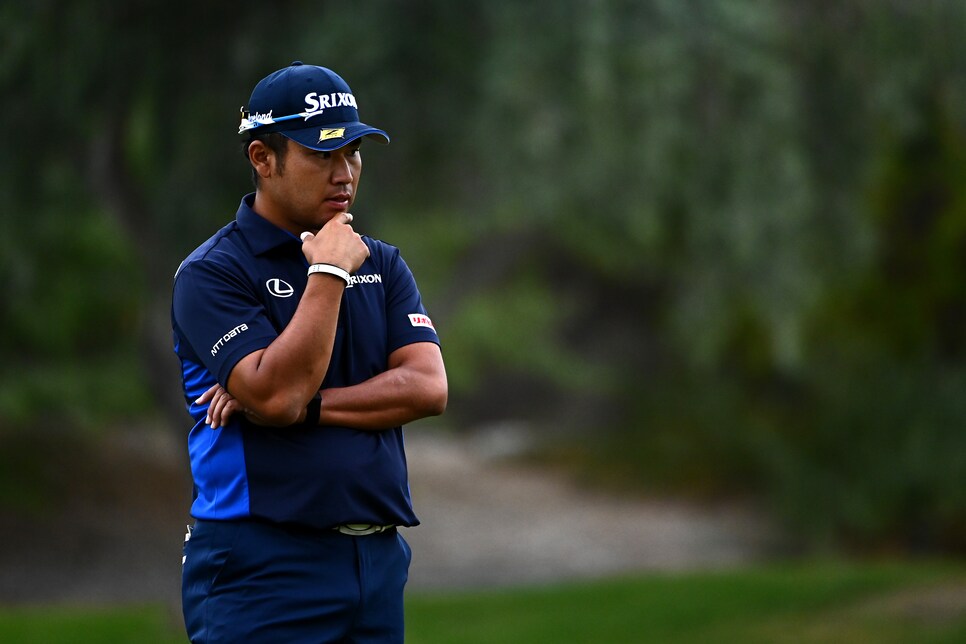 With the CJ Cup, a smaller, higher-profile event looming in Las Vegas next week, it was easy for some of the name brand players to kick off their season with two weeks in Sin City. The hard part, though, was getting them to hang around for the weekend at the Shriners. So far, so good, with Masters champion Hideki Matsuyama opening with a six-under 65, a score matched by majors runner-up king Louis Oosthuizen. Sungjae Im took it even deeper, posting an eight-under 63 to pull within two of the lead. Matthew Wolff may have brought his A-game, too, shooting a seven-under 64, meaning he's now played his last three rounds on tour in 18 under dating back to last weekend at Sanderson. As for ol' Brooksy, Koepka's three-under 68 didn't break any records, but it puts him another solid round away from making the cut and potentially torching the place on the weekend. Lots to like about this leader board, so far.