Ryder Cup
Here's what Phil Mickelson learned at Whistling Straits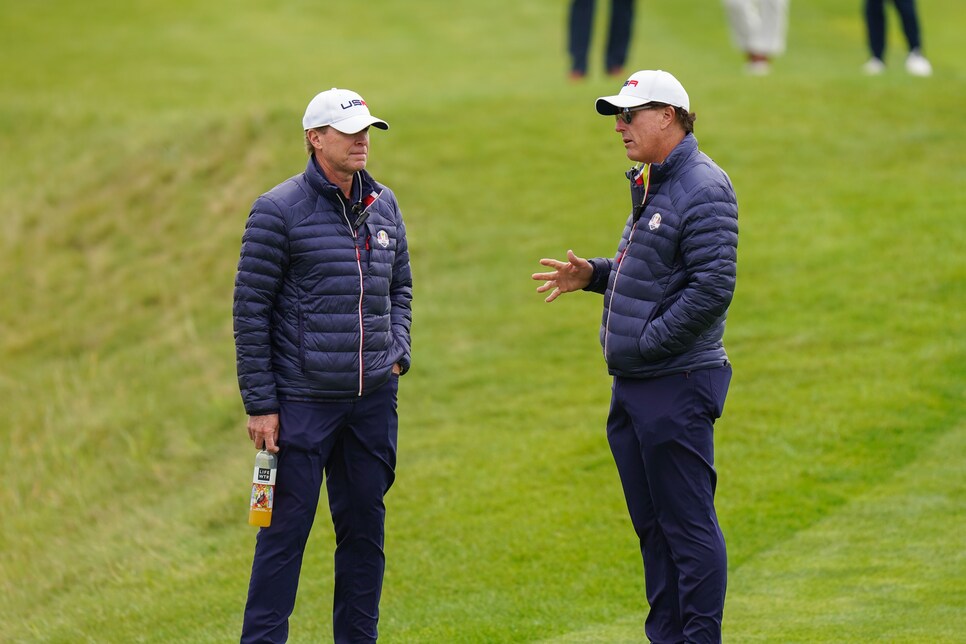 Montana Pritchard/PGA of America
Phil Mickelson doesn't sound ready to close the door on the possibility of playing for Team USA again just yet, but in the meantime, he was paying close attention to how to run a team at the 2021 Ryder Cup.
Despite winning a major championship earlier this year, Mickelson assumed the role of assistant captain for the first time after playing in a record 12 consecutive Ryder Cups. And he clearly enjoyed his time at the biennial event, even if he wasn't walking around Whistling Straits with his golf clubs.
Of course, it helps when you're on the right side of a historic rout, as the Americans won 19-9.
"I had a blast not having the pressure and the anxiety that you have as a player," Mickelson told reporters on Wednesday as he prepared to play in this week's Constellation Energy Furyk & Friends. "I really enjoyed the week. Obviously we had a really strong team, and the guys played really well and it was fun to be a part of that and see it from a different view than what I've been used to."
Now as he switches back into player mode for this week's PGA Tour Champions event, Mickelson revealed some of what he learned—and the fellow major champ he hopes to get to play for again.
"I learned a lot from Davis and being around him," Mickelson said of assistant Davis Love III, a two-time Ryder Cup captain who will lead Team USA at the 2022 Presidents Cup at Quail Hollow. "I really enjoy being around him and the times I've had a chance to play for him in the Ryder Cup and I would love an opportunity to play for him in the Presidents Cup, but I have to play at a higher level. You saw how great those guys are, right? There were six guys on the European team that I was higher in the ranking, I think, in the world ranking, but there were five or six guys that were still ahead of me on the American list, right? So we have such depth that it's going to be a big challenge for me to do that. But if I was able to, I would love to play for him. Those moments have been very special to me."
Of course, it never hurts to butter up the guy who will be making those captain's picks next year … we kid, we kid. But seriously, while Mickelson was impressed by captain Love, captain Steve Stricker and the team's other two assistants, Jim Furyk and Zach Johnson, it did seem like he was taking notes from Love the most.
"Well, in the captain's room, the way he would—he knew what to say, when to say it, when not to say it," Mickelson told reporters ahead of this week's Constellation Energy, which is being hosted by Furyk for the first time. "He brought kind of an angle as to how to look at things whether it's pairings, whether it's format, who goes when, a lot of little things that he's fallen back on. He just has a lot of knowledge in this area. He's very good at bringing guys together and creating kind of a unifying or unity and getting guys to buy in to the reasoning and why they're playing, why they're playing with who, why they're teeing off on what hole and why they're not playing this second match and why it's better for the team if we do this. He just has a way of communicating that brings people together to buy in, and Stricker obviously as the captain was the leader in that, but I'm sure he learned a lot from Davis as I did."
Mickelson could be in line to captain the team in Italy in 2023, but many have suggested he will assume the reins at Bethpage Black in 2025. Either way, it sounds like he picked up some pointers for whenever it happens.
For now, though, he's focused on another first: competing in a PGA Tour Champions event as a defending major champion. Well, the enjoyment of being able to say that, at least.
"I think that when you are in the middle or early part of your career and you win a big tournament, your mindset is, all right, let's go do it again, let go do it again, and you're more focused on what's coming up next," Mickelson said. "I don't know if you've seen my social media, I tend to not do that this time around."