The Grind
Dustin Johnson's all-time quote, Team USA's surprising motivation and the Ryder Cup hug seen 'round the world
Welcome to another edition of The Grind, where we are sorry we ever doubted Carson Daly as a motivational speaker. The TV personality was mercilessly mocked by Golf Twitter after learning he was giving a pep talk to Team USA, but things quickly went from, "What the heck can Carson Daly say to these guys?" to "What the heck did he say to light a fire under these guys?!"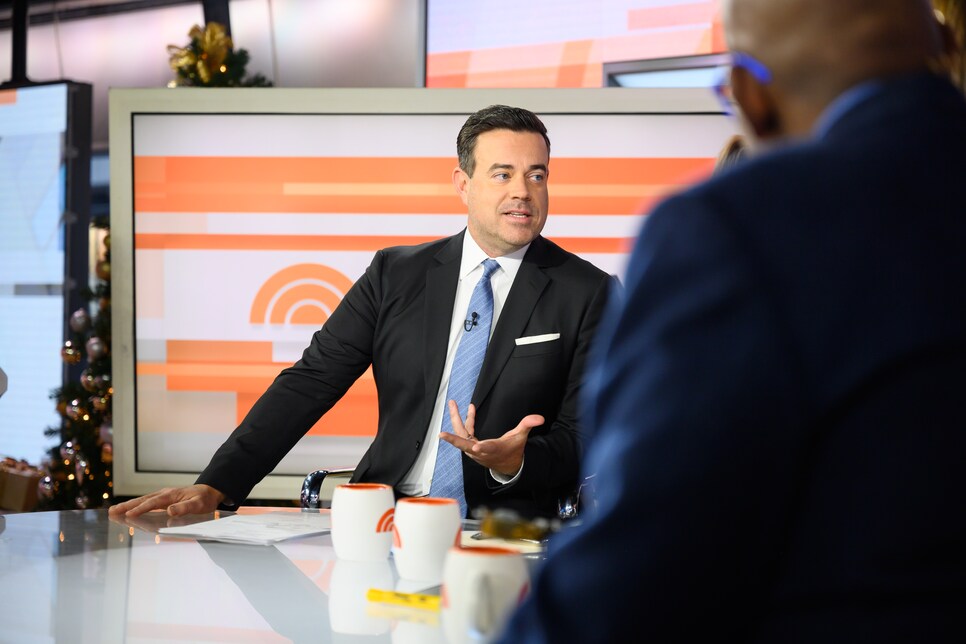 Of course, Tiger Woods texting the team to "step on their necks" didn't hurt. The only bigger question following the Americans' historic Ryder Cup rout is what to call it? Is it The Whooping at Whistling? The Killing in Kohler? The Kohler Flushing? Regardless, what a performance by Team USA. In Steve Stricker we trust. Oh, and Carson Daly. Here's what else has us talking following a fun week.
Dustin Johnson: Remember him? The guy who was World No. 1 before Jon Rahm? Yeah, he's back. Rahm was awesome in a losing effort, but DJ dominated from start to finish at Whistling Straits, becoming just the fifth player to earn five points in a single Ryder Cup, and the first American to pull it off since Larry Nelson in 1979.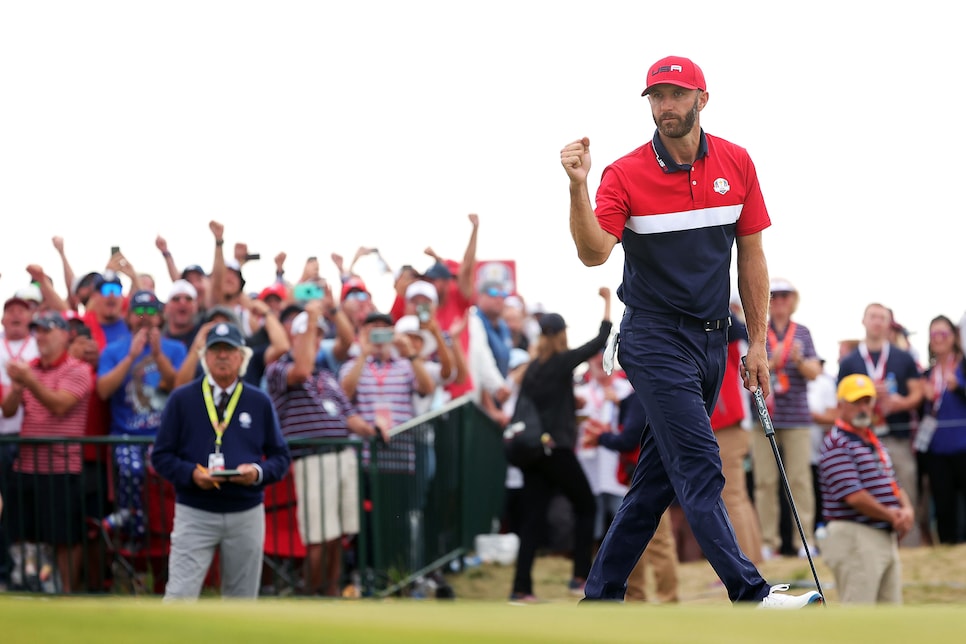 Just walking that many rounds at Whistling Straits is an accomplishment, but as we've learned many times throughout the years, the guy is in great shape. And it was nice to see him get (a little) redemption at a course where he saw a major slip away in such heartbreaking fashion. Oh, and he earned some individual hardware as well by winning the inaugural Jack Nicklaus-Tony Jacklin award because he was a good sport while kicking everyone's ass. Hopefully he had someone watch that trophy, though, because, well, things got a little hazy after …
Collin Morikawa: All Morikawa has done in the past 13 months is win two major championships and gone undefeated in his first Ryder Cup while earning the clinching point. No big deal.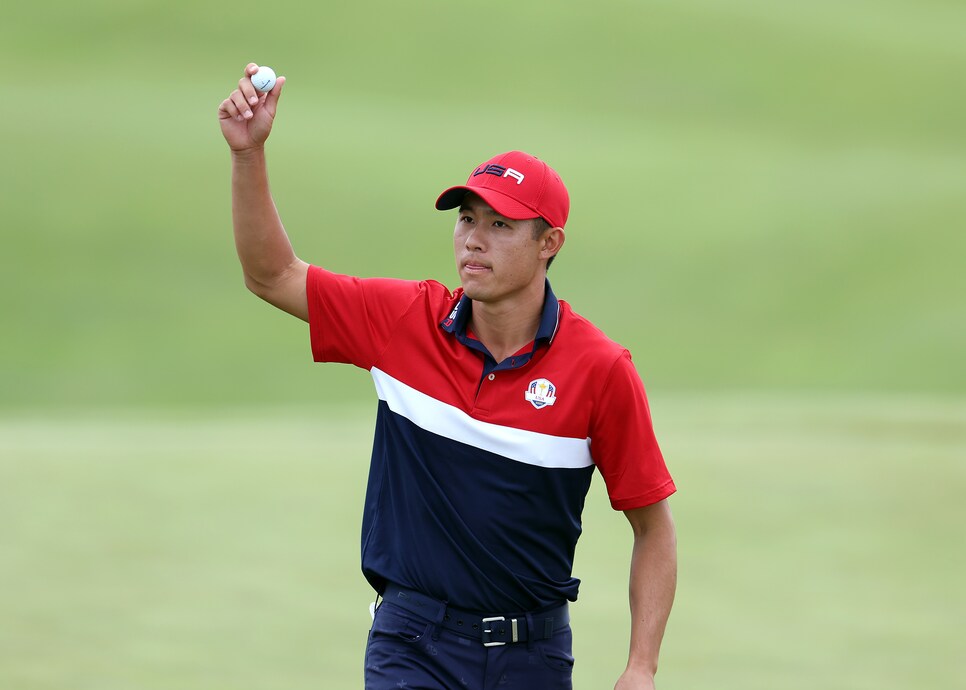 What an absolute stud. And that Collin-DJ pairing is going to give European captains nightmares for the next decade.
Hatless Pat: Move over, Hatless Rory. Patrick Cantlay is the new no-hat wonder. Like Morikawa, Cantlay also went undefeated in his Ryder Cup debut, carrying over that hot putting that won him the FedEx Cup. And boy, did he seem a lot more fired up to win for his country than in winning that $15 million: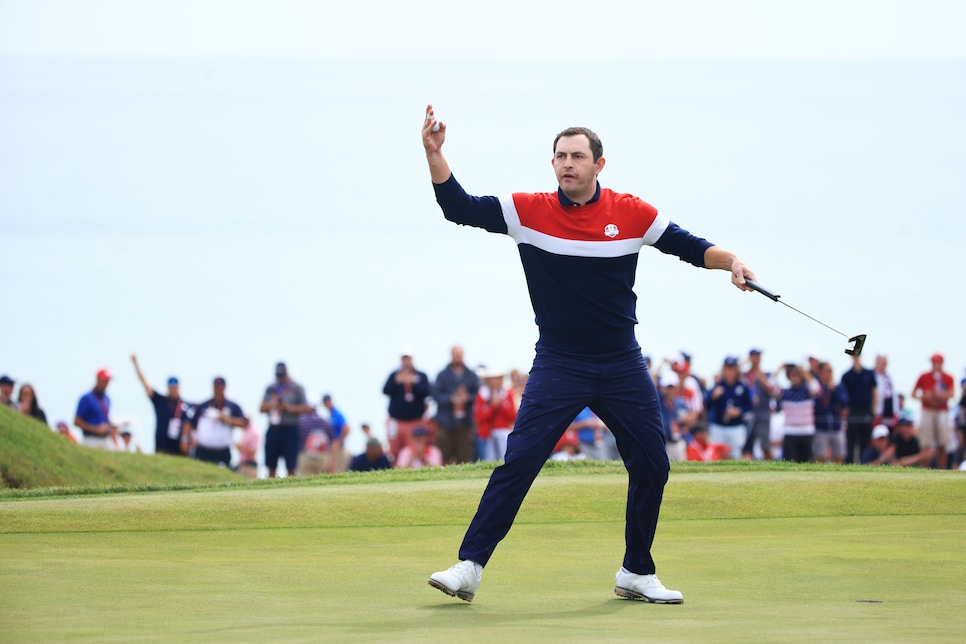 The Ryder Cup is pretty awesome, huh?
Baseball cap Bryson: I know Bryson DeChambeau has carved his own little niche wearing the Hogan cap, but didn't he look better/cooler with a regular golf hat?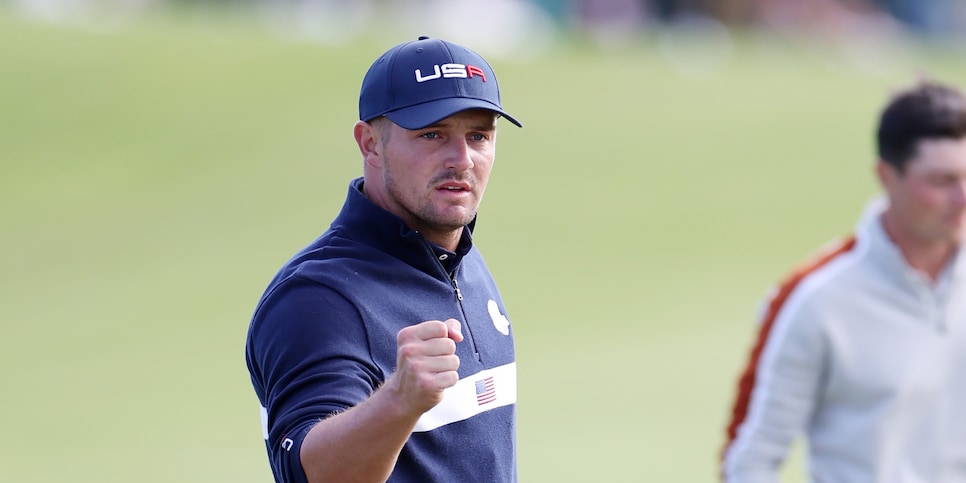 It certainly didn't hurt his play as he went 2-0-1 in his three matches and provided arguably the two biggest highlights of the week: A 417-yard drive on an absurd line that set up a pitch-shot approach on a par 5 and an easy eagle on Friday, and a 370-yard blast to drive the first green on Sunday that led to another eagle.
In addition to his stellar play, he also played to the crowd on a level that would make Phil Mickelson proud.
The only disappointing part of the week was he didn't recreate the Rickie Fowler bachelor photo from 2016.
The Brooks-Bryson feud DISTRACTION: This was just one of many #narratives to get destroyed this week. Remember when this rift was supposedly something that was going to hold Team USA back? Instead, it seemed to become a joke the team rallied around. Just look at these awesome shirts they had made!
Let's keep this in mind the next time there's some NASTY RIVALRY between two Ryder Cup teammates, shall we?
English golfers: This includes players with the last name English at the Ryder Cup (Sorry, Harris), but it more directed at the country. Take a look at this stat:
Obviously, Rory had a rough week as well, but yikes. God save the Queen.
The PGA Tour resumes the 2021-22 season with the Sanderson Farms Championship, AKA that one that gives out a rooster trophy. Sergio Garcia is the only player from either Ryder Cup squad playing, and that's because he felt obligated to do so as the defending champion. Meanwhile, the European Tour's Alfred Dunhill Links Championship will take place at St. Andrews and there's actually a member of the victorious Team USA in the field!
Random tournament fact: Sanderson Farms dates all the way back to 1968 as the Magnolia Classic, but it only became an official PGA Tour event in 1994 when Brian Henninger, one of the main golfers covered in John Feinstein's classic book, A Good Walk Spoiled, won for the first of two times. The more you know.
RANDOM PROP BETS OF THE WEEK
—Dustin Johnson knew he matched Larry Nelson in 1979: 1 MILLION-to-1 odds
—Sergio Garcia will successfully defend his title in Mississippi: 20-to-1 odds
—Team USA's bar tab was higher than three years ago in Paris: LOCK
Look at the reaction to the hug heard seen 'round the world!
What an incredible photo. Are these guys best friends now?
Kudos to former Golf Digest colleague Luke Kerr-Dineen for asking the question that got the best reaction from DJ ever:
And kudos to DJ for being able to keep up with the kids. As someone who has experienced being 37, that's honestly more impressive than anything he did on the golf course.
VIRAL VIDEO OF THE WEEK (CRYING DIVISION)
Again, what an awesome event.
VIRAL VIDEO OF THE WEEK (DANCING DIVISION)
There are few things that can bring fierce competitors together. The Ryder Cup—and "Jump Around"—are two of those things.
THIS WEEK IN CELEBRITIES PLAYING GOLF
Um, so this was pretty scary. Tom Felton of "Harry Potter" fame had to be carted off the course during the Ryder Cup's Celebrity Match on Thursday due to a medical emergency: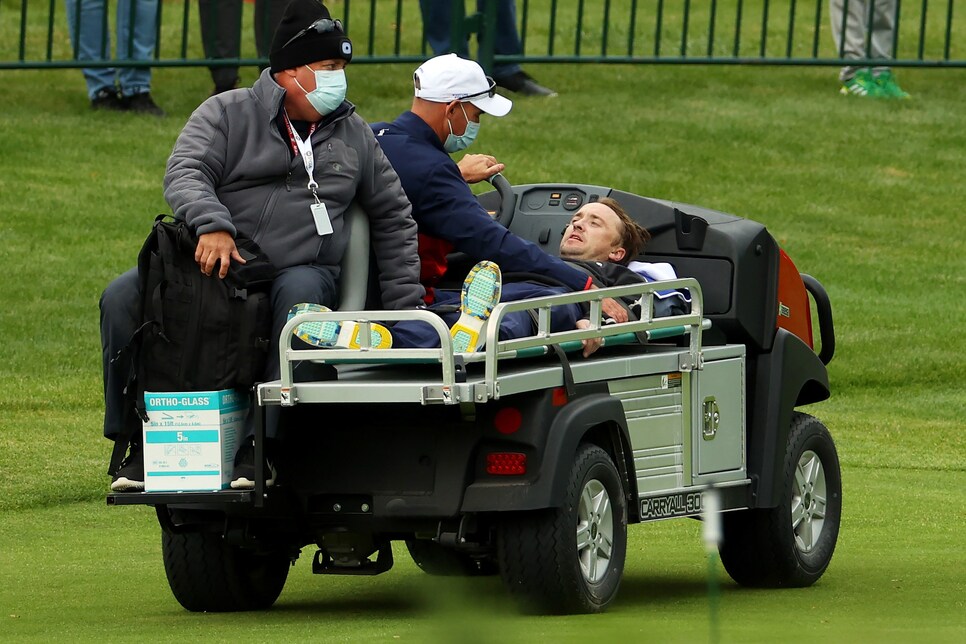 But thankfully, he was feeling much better by Sunday:
Yeah, it was a really rough week for Europe.
THIS WEEK IN PUBLIC DISPLAYS OF AFFECTION
Where do we even begin? Already the biggest WAG celebration on the golf calendar, Team USA's significant others had an especially good time with the boys in red, white and blue winning so easily. Our Coleman Bentley already did a nice job with a more thorough round-up, but here we go. From established veterans like Paulina: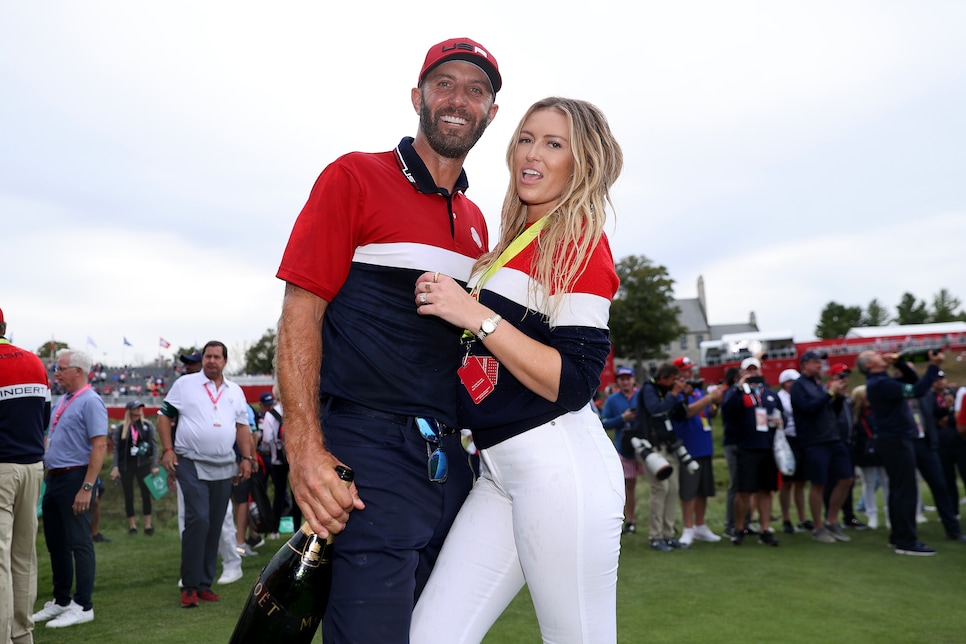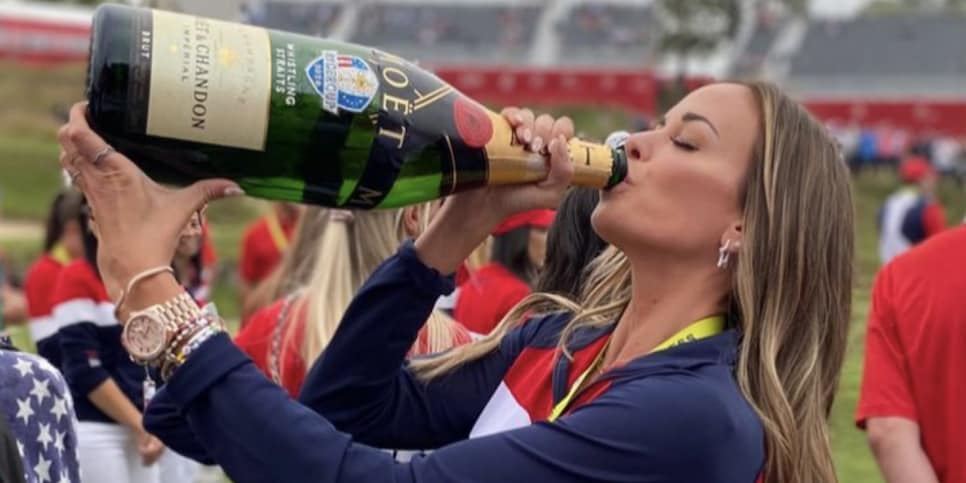 To Ryder Cup rookies like Katherine Zhu: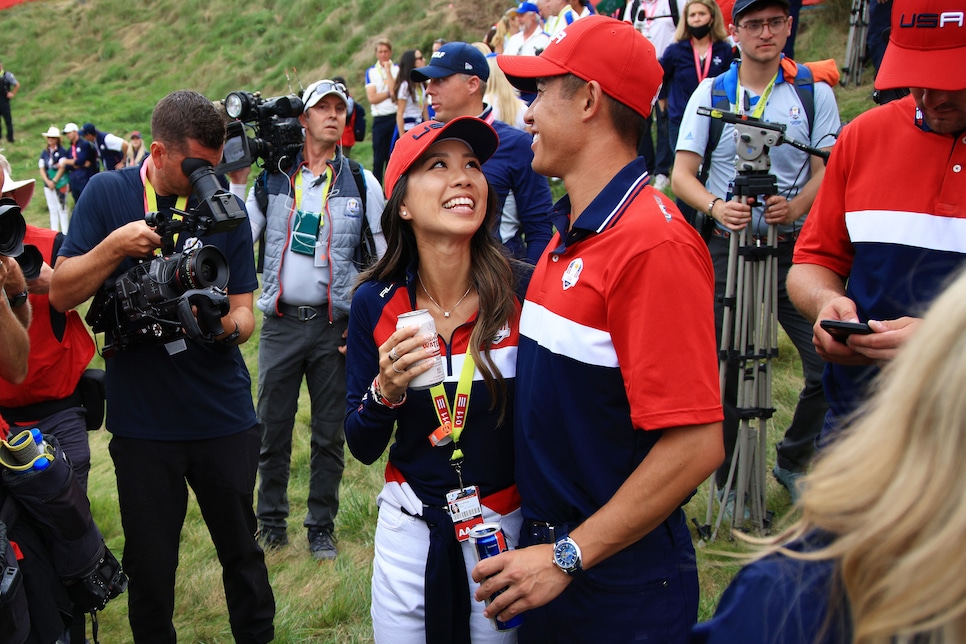 Maddie Meyer/PGA of America
No offense to Wisconsin, but imagine how excited these women will be if their guys make the team bound for Italy in two years?
THIS WEEK IN PHIL BEING PHIL
It was a certainly a successful first stint as a vice captain for Phil Mickelson. Five years after witnessing firsthand—and even getting sprayed—when Mickelson showed Jordan Spieth how to properly wield a bottle of champagne, Spieth was able to return the favor:
They grow up so fast, don't they?
Damn it, Steve. Now we're crying, too.
OK, there was other golf being played and I wanted to give a special shout-out to Nasa Hataoka for winning her fifth career LPGA Tour title and for making TWO holes-in-one during the tournament. That's just not fair. … Props to K.J. Choi as well for winning for the first time on the PGA Tour Champions one week after losing a playoff. And at Pebble Beach. Now that's a bounceback. … Bernhard Langer finished two shots back of Choi and now has four runner-ups since his last win 18 months ago. (Gulp) Is this ageless wonder finally slowing down? … And finally, it looks like the U.S. had a nice ping-pong setup at Whistling Straits:
A Ryder Cup tradition unlike any other.
RANDOM QUESTIONS TO PONDER
Who led Team USA in ping-pong points for the week?
Will Steve Stricker go to Italy with Team USA in two years?
Can Carson Daly come too?