Diversifying
The SB2K crew are all grown up … and possibly becoming owners of an English soccer team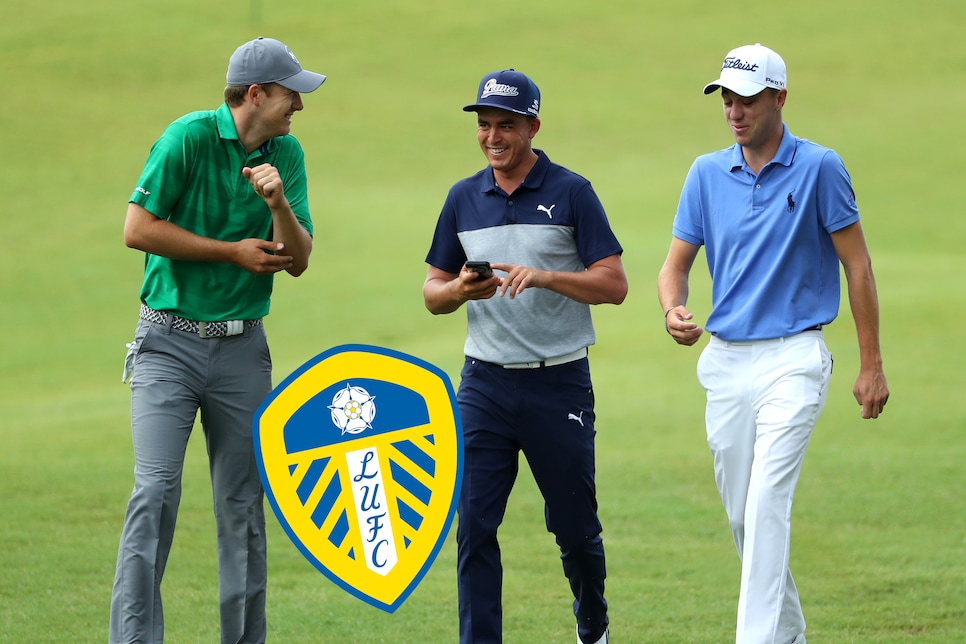 Before firing a 62 in the first round of the U.S. Open at the Los Angeles Country Club, tied for the lowest round in tournament history, Rickie Fowler told Sky Sports that he and his best mates, Justin Thomas and Jordan Spieth, are looking into becoming investors in Leeds United, an English football club.
Leeds United, who were relegated from the Premier League into the EFL Championship last month, were formerly owned by Italian businessman Andrea Radrizzani. On June 9, The Athletic reported that Radrizzani agreed to sell his majority stake in the club to 49ers Enterprises, the investment arm of the storied NFL franchise from San Francisco.
49ers Enterprises is looking to pool together a group of wealthy individuals and venture capital firms to finance the reported $209 million sale, according to The Athletic. That figure is down $300 million from where it could have been if Leeds were able to remain in the Premier League.
The most notable Leeds supporter on the PGA Tour is Billy Foster, caddie for 2022 U.S. Open champ Matt Fitzpatrick. It appears Foster created a community of fans on the tour, including the Spring Break boys. (Could we see Smylie become the on-pitch reporter for Leeds next season?)
"It's cool to have those opportunities," Fowler told Sky Sports following his Wednesday practice round. "It would be fun if we get to be a part of it. If not, we will continue to root for Leeds to see if we can help out Billy."
It's fitting for three of America's brightest golf stars to want to join the investment group, as the club already has a strong American presence. The Leeds midfield is anchored by a trio of young Americans – Tyler Adams, Weston McKennie and Brenden Aaronson – that led the United States Men's National Team into the knockout stage of last year's World Cup in Qatar.
Rickie, JT and Spieth aren't the only celebrities who have ventured across the pond. In 2020, actors Ryan Reynolds and Rob McElhenney teamed up to purchase Wrexham A.F.C., the world's third-oldest football club that was desperate for new ownership and an influx of cash. Reynolds and McElhenney got to see their club promoted after winning the National League and earning a spot in League Two, slowly climbing the ranks of English football.
Should these guys join 49ers Enterprises, they'll hope to see Leeds get promoted back into the Premier League. For now, Rickie is focused on capturing his elusive first major at LACC.