THE INCREDIBLES
The most unforgettable holes Rick Reilly has ever played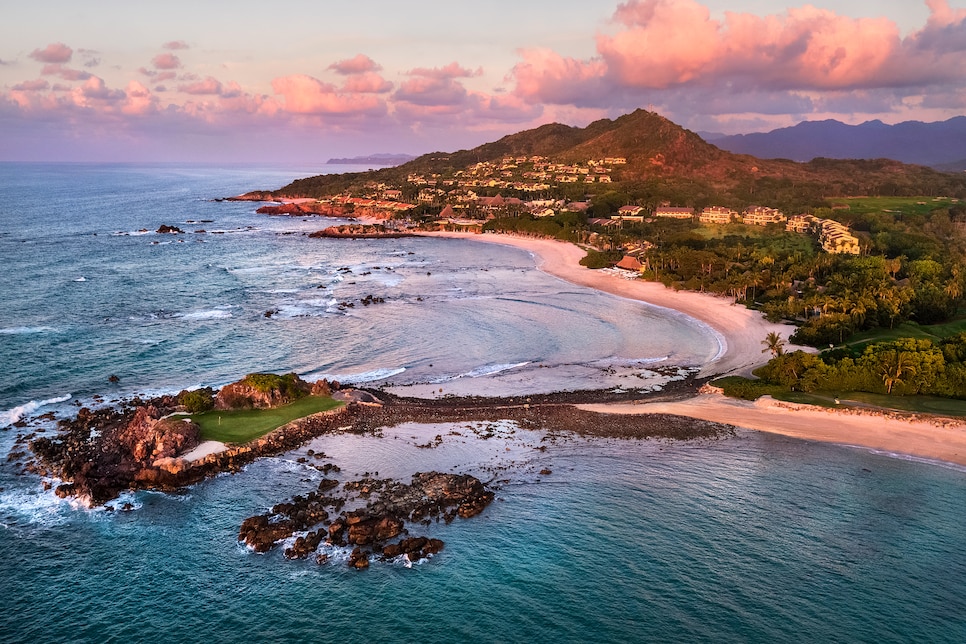 I'm a travel freak and a golf freak, so in 1990, I had this idea to combine them for Sports Illustrated. I told them I'd like to go play the 18 most unforgettable holes in the world. Not just that, I'd play them in order—the most unforgettable first hole, the most unforgettable second, etc., and by the end, I'd have a score for playing the whole unforgettable enchilada.
I went around the world in three weeks, doing nothing but playing golf. Starting in Denver and— note to Flat Earthers—always flying east, I went to New York, Ireland, Scotland, South Africa, Dubai, Thailand, Indonesia, Japan, Australia, Hawaii, Los Angeles and back to Denver. At every stop, they couldn't wait to show me the hole they thought was unforgettable-worthy.
"Ah, but maybe I should probably play them all, just in case, right?" I'd say.
God, was that fun. But every time I'd try to carve out time to write it, my editors gave me something else to write first. Then I'd hear about some other piece of unforgettableness and have to go play it. I was there for 16 more years, and I never got to write it—until now. Keep in mind, it has been more than 30 years since I played some of these holes, so stuff might have changed or gotten jiggled around, some of it in my brain.
1
HANDARA BALI, INDONESIA
You might play Handara for the Tarzan beauty of a course carved out of an extinct volcano crater, an engineering marvel built by hundreds of villagers moving the earth out of the jungle in baskets. You might play Handara for the shimmering lakes or the mountain peaks wearing clouds as hats or the women groundskeepers walking with shovels balanced on their heads. You might even play Handara for its sheer remoteness. I remember checking into the elegant hotel late in the afternoon before my round and calling the front desk.
Me: "What time's dinner?"
Operator: "What time would you like it?"
Operator: "Sir, you're the only guest in the rooms."
I play Handara for the monkeys, most especially the monyet monkeys on the par-5 first that are famous for hopping down out of the trees and stealing your ball. Well, I was told they would, but it didn't happen when I played it the first time, on my way to making a par.
Since I was staying there, I went back later in the day and hit another approach shot to the green. No monkey. Third time—yes! A cute little thief pounced on it and scampered back up the banana tree with it. Nobody has ever figured out what they do with all those balls. I've spent an inordinate amount of time fantasizing about it. My hope is that one day some fat tycoon is putting on that green when, suddenly, every monkey starts firing balls at his head, knocking him out cold.
OK, this is really The Unforgettable 19, as you can see, because of The Hole Jack Nicklaus Forgot to Build. He'd built the course the first time through and was happy with it, but when he came back to play in the grand opening, he came to the third hole and slapped his forehead. He'd completely whiffed on the best hole of all.
"It was just sitting there," Nicklaus told me. "It was a perfect par 3, and I never saw it." He built it anyway, a one-in-a-million hole, 180 yards to a perfect island, just stuck out in the sea, an island, and you have to hit it. After your tee shot, you climb into a six-wheel amphibious vehicle. Most times, it's a boat, except at low tide, when it's a kind of mudcat Jeep. Sometimes you can walk.
Unlike the floating, mechanical par-3 green at Coeur d'Alene in Idaho, this island is all natural, only a few rocks off the back of the green were built to keep people from taking 90 minutes to finish. By the way, if you ace 3B, tradition dictates you have to swim to the green. I made a lovely birdie 2 there, a 3B2, if you will.
4
LAHINCH

COUNTY CLARE, IRELAND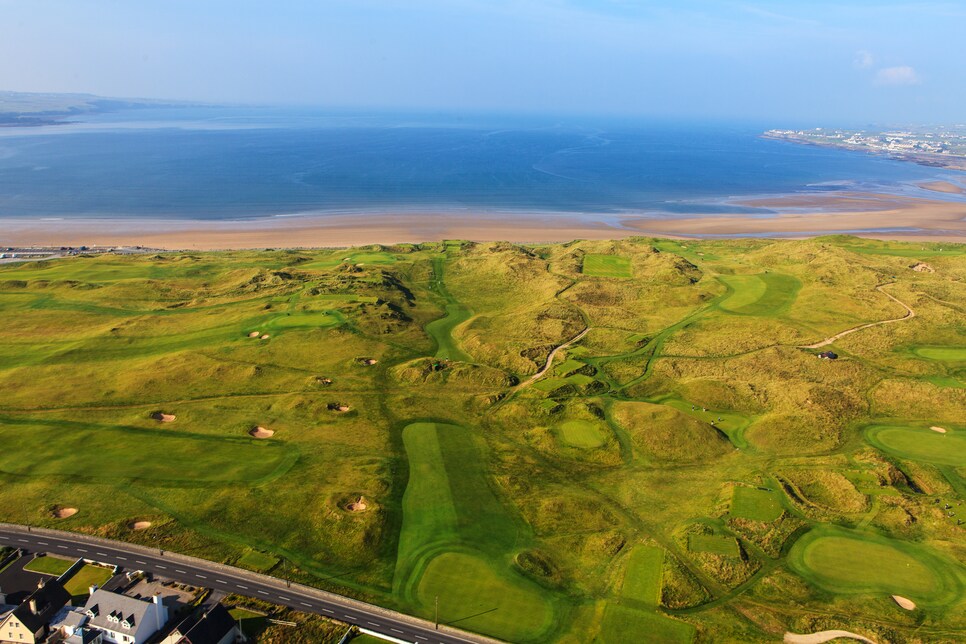 This stunning par 5 has goats, views of Liscannor Bay and an unusual blind approach.
I played this Alister MacKenzie gem— a blind par 5—only once, and it's hard to say which part of the day I loved more. Was it the goat that followed us all 18 holes? Turns out that's not unusual at Lahinch. There's a statue of a goat outside the clubhouse. Was it that we played the fourth in freezing sideways rain, yet when we looked behind us, there were a few hundred surfers in the water—in Ireland? My buddy Skybox was amazed and said to the caddie, "There's gotta be 200 surfers back there!" To which the caddie said matter-of-factly, "Ah, 'tis a nice day for it."
Was it that our approach to the green was not only blind and not only over a towering dune but required us to wait until a little man came out from a little hovel and waved a green flag? It's true. In squalls like this one, he scrambles out of a small shelter dug into the far side of the dune, waves a red flag, and scurries back in. Then, when the green is clear, he crawls out again and waves a green one. The members call him "George the Fourth." Or was it that after we tipped our caddie, we saw him inside the clubhouse, drinking at the bar? Turns out the caddies are all members. Hell, maybe the goats are, too?
5
TEETH OF THE DOG

CASA DE CAMPO, DOMINICAN REPUBLIC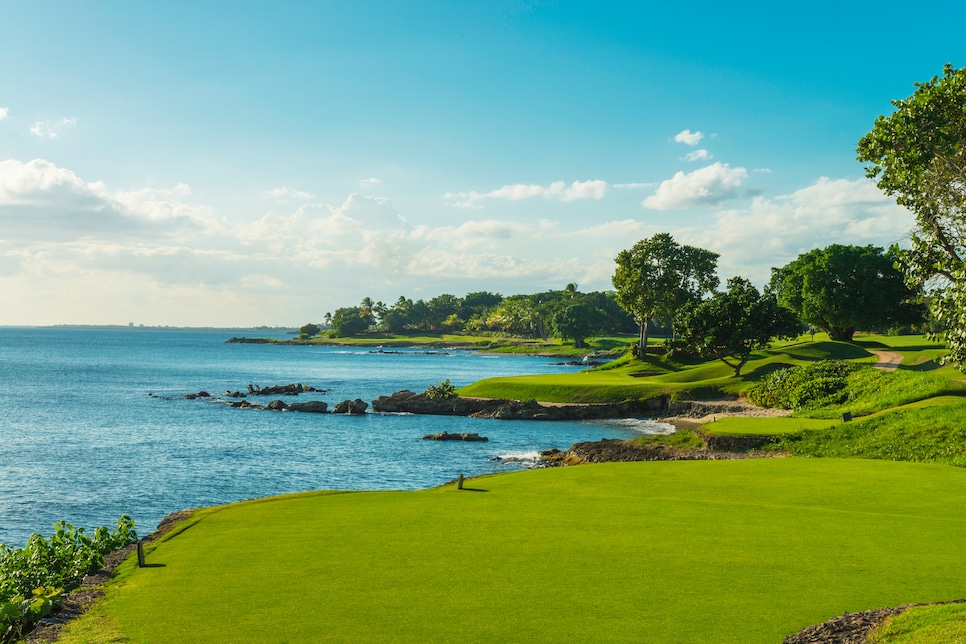 A spit of land pretends to be a tee box with a kitchen-table sized green poking out of the jungle. Photograph courtesy of Case De Campo Resort & Villas
LC Lambrecht
Near the tee box of this par 3, a little guy was selling used balls out of a basket. There was another, even littler guy. He spoke to us in English. "You want ball?" the guy said.
He pointed to the guy with the basket and said, "He sell. You buy. You hit. He find. He sell. You buy." He couldn't hide the shadow of a grin on his face. Some racket.
It was such an honest pitch, I bought some balls. Then I got up to look at the hole and figured out why these guys had such a good business. It might be the only golf hole with no land. It's a par 3 that's 98 percent water. There's a little spit of land that pretends to be a tee box and a little kitchen-table-sized green that barely pokes its head out of the jungle. The rest is all bay and fish and the sound of your knees knocking. Somehow, I hit a good one. It wound up 15 feet from the hole, which I'd two-putt for a par. I looked over at the two little guys. They seemed disappointed.
7
POLE CREEK

WINTER PARK, COLO.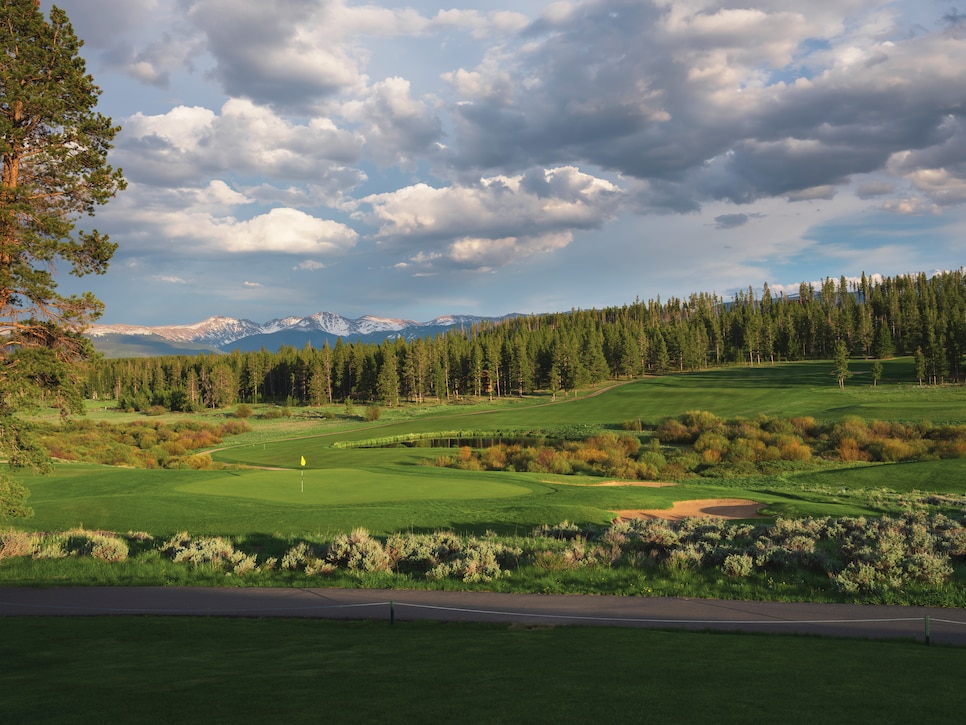 "It's the only 180-degree U-turn hole I've ever heard of," says Reilly of the par 5. Photograph by Chris Wheeler
"You either love seven," says Pole Creek's manager, Mary Moynihan, "or you hate it." I love it. It's the only 180-degree U-turn hole I've ever heard of. It's also the only par 5 I've ever heard of where you can drive the green. To do that, though, you have to turn sideways and hit it over towering lodgepole pines. I've never been able to do it, and I've never seen anybody do it.
"I used to know a guy who could do it," says Dale Freeman, a Pole Creeker. "You gotta hit it about 380 though." Of course, you're at the Continental Divide, so you're 8,700 feet up, which means the ball will travel 13 percent farther, so . . . maybe. But if you hit a tree, you're dead, because you'll hear it ricochet off trees for about 30 seconds, and you'll never find it. Even going into those woods to look isn't a great idea because this course is the stomping grounds of moose. One Sunday morning as he walked to church, the ex-mayor of nearby Grand Lake got stomped to death by a moose. Even if you are able to fly the trees, if you miss the green left, then you're back on the sixth hole—the hole you just played— and it's O.B., Local Rule. They did that because guys like my friend Kevin Cartin figured out you could just hit an iron backward onto six and then an iron onto seven and make a birdie and lots of enemies in the group behind you.
I took the conventional way—a draw over the far edge of the trees down to the front of the lake. From there, a midiron to a small island (I said the hole is crazy) and then an iron straight uphill to the smallest green on the course for a two-putt par. This thing is like a stew my mom used to make. They've thrown everything in the kitchen into it, and it turned out delicious.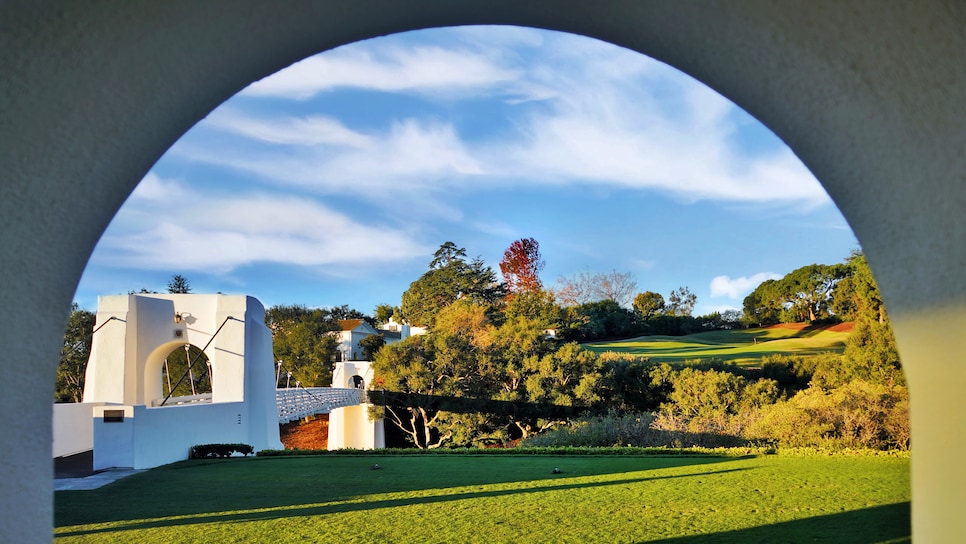 After emerging from an elevator, golfers face a 220- yard hole over a yawning barranca before crossing an elegant bridge. Photograph courtesy of Bel-Air Country Club
The late Jim Murray, sports columnist for The Los Angeles Times, had nothing but trouble with this famous swinging-bridge par 3. It's 220 yards, and the carry over the yawning barranca in front is at least 175. Jim was the best sportswriter who ever lived, but he might have been the worst golfer. He'd had two childhood diseases and had only one good eye, and even the bad eye could see that for him to hit it over the barranca would be a miracle.
So before he hit, Jim would take an old ball out of his bag and heave it into the chasm. Then he'd turn to his befuddled playing partners and say, "An appeasement to the gods." When you play it the first time—I made a bogey—and cross the elegant bridge, you're charmed by the sheer lightness of it, as though you're crossing into Brigadoon.
12
OLD HEAD

KINSALE, IRELAND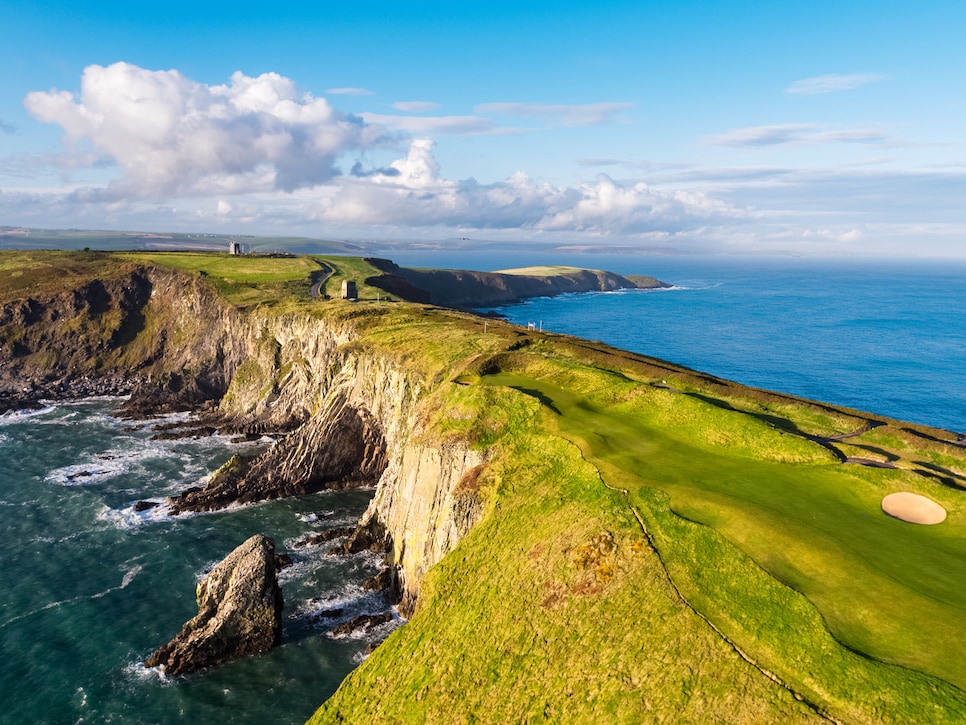 A sign near the green of this heart-racing par 5 reads: "Do Not Pass. Five Feet Farther and You're Dead."
This hole will make your heart race like police lights in your rearview mirror. It's the only green I've ever played that takes up an entire peninsula, so that each side of it falls off 250 feet to the thundering waves below. The land under you is so narrow there are actual tunnels through it, carved by wind and water, so that you can watch a bird fly under you on one side and come out on the other. There's a sign: "Do Not Pass. Five Feet Farther and You're Dead."
It's a par 5 not far from a section the caddies call Haulie's Leap, for the bulldozer driver who was helping shape the tee when his dozer started leaning, causing Haulie to leap out, and the dozer to tumble all the way down to the pitiless rocks. It's still down there. As you get ready to hit your terrifying drive, it's hard to forget that Old Head is accustomed to disaster. This is the last land the passengers of the Titanic might have seen before it sank in 1912. It's also not far from where the Germans sank the Lusitania in 1915. So you hit and hope, and it's all so fun the caddies let you hit a provisional, just because. I was delighted with my par. By the way, as you turn toward the 13th tee, you'll see the still working lighthouse off 18.
14
ROYAL MELBOURNE (COMPOSITE)

AUSTRALIA
Alister MacKenzie designed three masterpieces: Augusta, Cypress Point and Royal Melbourne, a top-10 course in the world with beauty, intrigue, and, most of all, beautiful bunkers. Ben Crenshaw came here and took 300 pictures of the bunkers. They're huge and interlocking and have lips big enough to make Mick Jagger jealous. If you're going, practice your bunker shots for about a month and then do it for three more months, and you'll be ready.
This par 5 is such a blast you feel like you're doing something illegal. Even the plants on it are fun to say: eggs-and-bacon daisy, spike wattle, kangaroo grass and chocolate lily. The tee box is under a gum tree. Standing on it, all you see are the three huge bunkers on the hill you must carry with your blind drive. Then the hole changes its mind and doglegs quickly to the right and downhill. Finally, you'll have to deal with nine bunkers around the green, the one on the left being the approximate size of the Rose Bowl. Maybe the Aussie I was playing with knew how much I loved it because he gave me a while to soak it all in and then said, "Good hole this, right?"
18
OLD COURSE

ST. ANDREWS, SCOTLAND
The only reason we play 18 holes is because St. Andrews is 18 holes, and St. Andrews is 18 holes because the 18th green is where the old town of St. Andrews begins. There was no more room. That's what makes 18 so wonderful. You go from the brutal Road Hole to the homeward-bound, open-armed 18th, a short par 4 that's as welcoming as homemade haggis.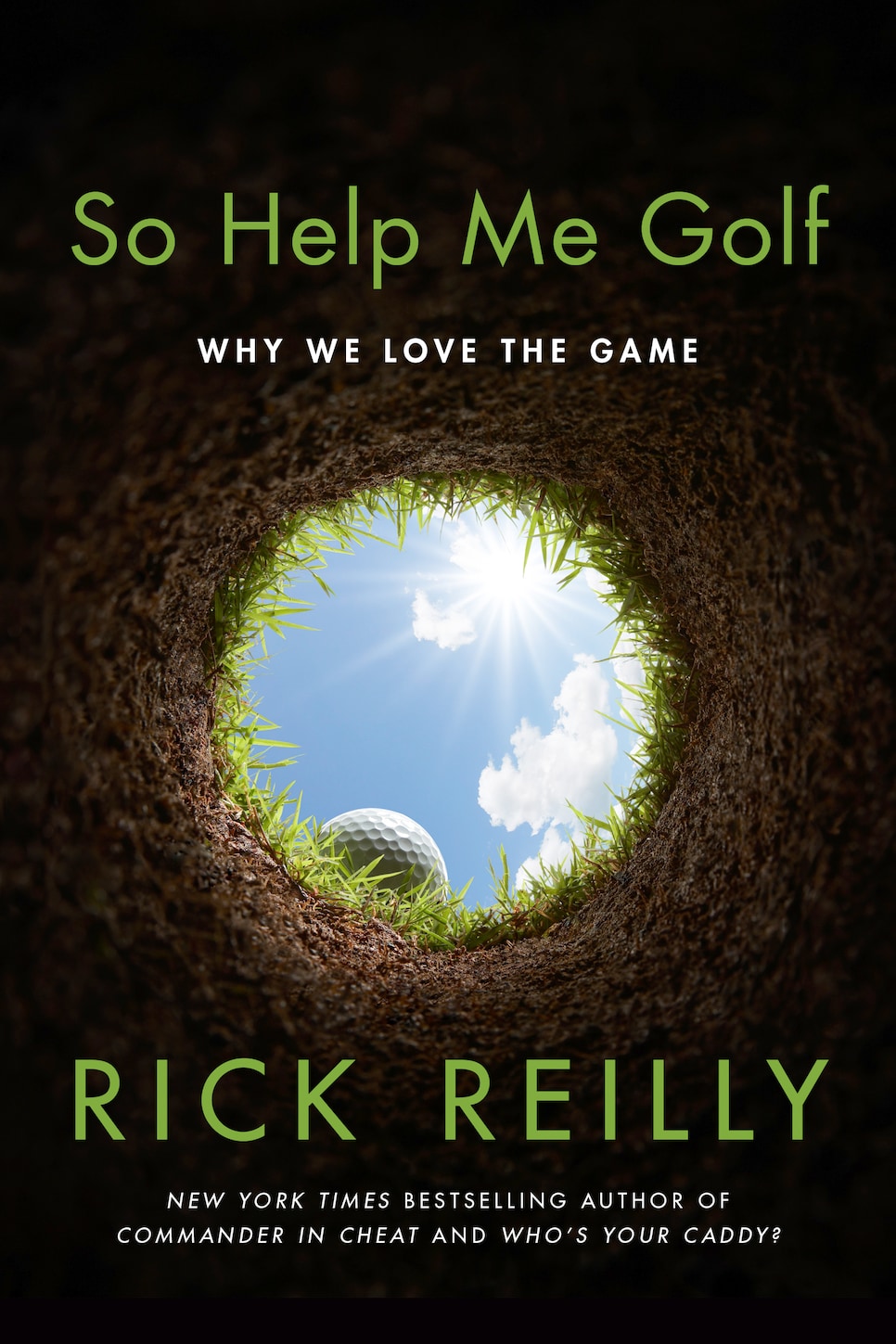 From So Help Me Golf: Why We Love the Game by Rick Reilly, © 2022. Available from Hachette Books, an imprint of Hachette Book Group Inc.
The entire left side is the first hole. It's a double-wide fairway all the way to the first tee. By the way, when the starter says, "Gentlemen, you're on the first tee," he means the first tee. The entire right side is the town itself, including the old and handsome Rusacks Hotel. One time, a few of us writers rented a little house that literally touched the 18th fairway. I'd have my morning coffee watching people tee off on 1 and my afternoon tea watching them come down 18. You hit your drive as far left as you want, then cross the most famous bridge in golf—the 700-year-old Swilcan—then try to hit the green without winding up in the diabolical Valley of Sin in front. It's a ball swallower, with humps and hollows that only old caddies can see. The first time I played it, I was lining up a six-footer for birdie when I looked up to see at least 100 people leaning on the railing surrounding the green, watching me. One guy hollered, "Get it good and close, lad!" Another yelled, "Steady now!"
Sadly, my putt took an unseen hump, and I missed it. From the rail, I heard sympathetic groaning. Coming off the green, I said to my Scottish playing partner: "That's so cool. They were rooting for me. This really is the home of golf." "Nae," he said. "They hang on that rail all the day, betting each other on the putts. You probably cost somebody five pounds."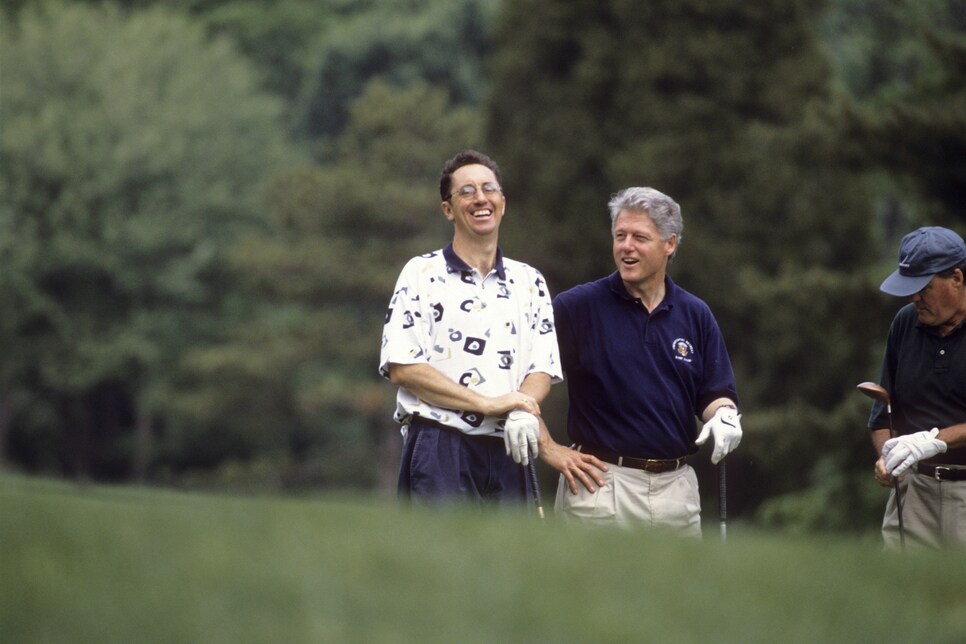 1. Handara Bali, Indonesia, par 5
2. The National Cape Schanck, Australia, par 3
3A. Mauna Kea the Big Island, Hawaii, par 3
3B. Punta Mita Mexico, par 3
4. Lahinch County Clare, Ireland, par 5
5. Teeth of the Dog Casa de Campo, Dominican Republic, par 3
6. Navatanee Bangkock, Thailand, par 4
7. Pole Creek Winter Park, Colo., par 5
8. Pebble Beach Calif., par 4
9. Ailsa Turnberry, Scotland, par 3
10. Bel-Air Los Angeles, par 3
11. Pine Valley Pine Valley, N.J., par 4
12. Old Head Kinsale, Ireland, par 5
13. Lost City Sun City, South Africa, par 3
14. Royal Melbourne (composite) Australia, par 5
15. Augusta National Augusta, Ga., par 5
16. Cypress Point Pebble Beach, par 3
17. Cabot Saint Lucia the Caribbean, par 3
18. Old Course St. Andrews, Scotland, par 4