The View from Pebble Beach
Jim Nantz on the evolution of Nick Faldo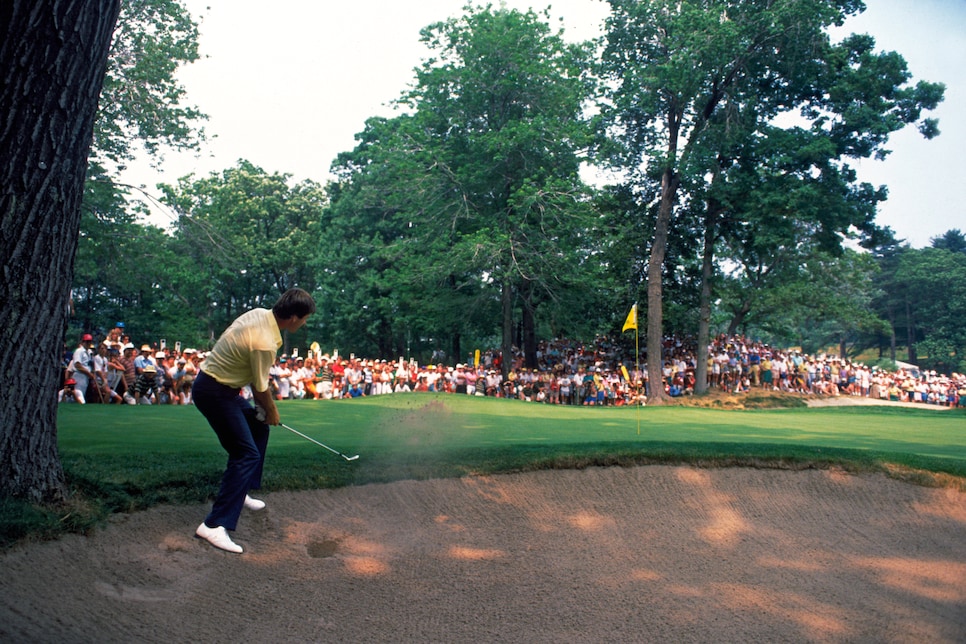 BUNKER MENTALITY The steely Faldo during the 1988 U.S. Open at The Country Club.
Simon Bruty
On Thursday of the Masters this spring, I experienced a flashback to a time that connects powerfully to the upcoming U.S. Open at The Country Club, the storied course in the Boston suburb of Brookline, Mass. I had dropped into Butler Cabin for rehearsals of ESPN's early-round coverage, and there, seated a few feet apart, were Curtis Strange and Nick Faldo, two great champions who today direct their laser focus on excellent commentary to the Masters and other important TV golf productions.
Seeing them together, my mind flashed back to the 1988 U.S. Open at The Country Club and the classic 18-hole playoff duel in which Curtis prevailed but put on display the competitive intensity of the two World Golf Hall of Famers: a Yank and a Brit, yet so different yet so much alike in the heat of battle. Both were no-nonsense, classically trained shotmakers who under pressure spoke little and smiled about as often as they made holes-in-one. Sometimes even an ace wasn't enough. In recalling that famous 1988 duel, I thought of Curtis' remarkable hole-in-one at the par-3 12th hole at the Masters earlier that same year. What did Curtis do upon retrieving his ball from the cup? Out of contention, he ruefully threw the ball in Rae's Creek. For the record, Curtis' ace remains the last hole-in-one surrendered at the 12th during the Masters.
Curtis arrived at the 1988 U.S. Open on a roll, having recently won at Houston and the Memorial. Nick came in as the reigning Open Championship winner, his only major championship to that point. His Open Championship triumph made him European royalty, but he was hardly a star in America. Nick and I had come close to being teammates on the University of Houston golf team, but his time in Texas had ended after one semester. Though our paths crossed sparingly back in the 1980s, I made several attempts to engage Nick in small talk, always trying to glean a nugget or two for CBS telecasts. He had little time for that. It was all business with Nick, and business was usually pretty good. His stoic demeanor bordered on intimidation at times, and when Nick was near the lead, he outsmarted the competition, wearing foes down with his genius for patience, execution and course management. His six major titles speak to that. I had great regard for Nick Faldo the champion golfer, but Nick Faldo the person, I can't say I knew.
Nick was hired by CBS as an analyst and commentator in 2007, and our on-air partnership is now in its 16th year. I've spent the equivalent of four months of my waking life in his presence and have witnessed over time a profound shift in his personality. Perhaps I should have paid more attention to some early visual cues during the green-jacket ceremonies after his three Masters wins in 1989, '90 and '96. On all three occasions tears welled up in his eyes, and there were voice cracks of emotion. It was stunning to see this up close, for we knew only the clinical persona he displayed in winning majors with machine-like regularity from 1987 to 1996.
Nick is indeed warmer now and even downright empathetic to other players while on air. On a typical Sunday afternoon when a tournament's outcome rests on the final hole, I see up close his nervousness for those competing in the cauldron. I've often wondered, for all of the noticeable angst he exhibits while broadcasting in pressure moments, how did he cover up all that anxiety as a player?
Five years ago, to showcase the real Nick to an American television audience, we produced a Masters documentary explaining his life story. Together, we went back to his hometown of Welwyn Garden City, England, and visited the most important places of his youth. We even knocked on the door— unannounced—of his childhood home, where the current homeowners allowed us in, with cameras rolling. Nick reminisced about his life there, the only child of Joyce and George Faldo. Upstairs was a tiny room, maybe eight by 10 feet. It was not only his boyhood bedroom, it was the room he was born in. Later that day we stopped by a beautiful house he had built for his mum. I conducted an interview with Mrs. Faldo in her perfect English garden. It was easy to see where the "fastidious Faldo" came from when it came to golf and fashion. At one point I asked her how proud she was to have raised a son who would one day be knighted by the Queen of England. "I'm indeed proud of Nicholas, and I love him," she said in her charming lilt.
At that moment, off to the side I caught a quick glimpse of the man now known as Sir Nick. Much like the golfer I saw all those years ago in Butler Cabin, Nick was wiping away tears. That's the Nick Faldo I know today. I look forward to watching the upcoming U.S. Open and will smile at the memory of 1988 and the two good human beings that came out of golf's most stern and demanding test.