'A Win for the Ages'
Jim Nantz reflects on his call of Tiger's monumental 1997 Masters victory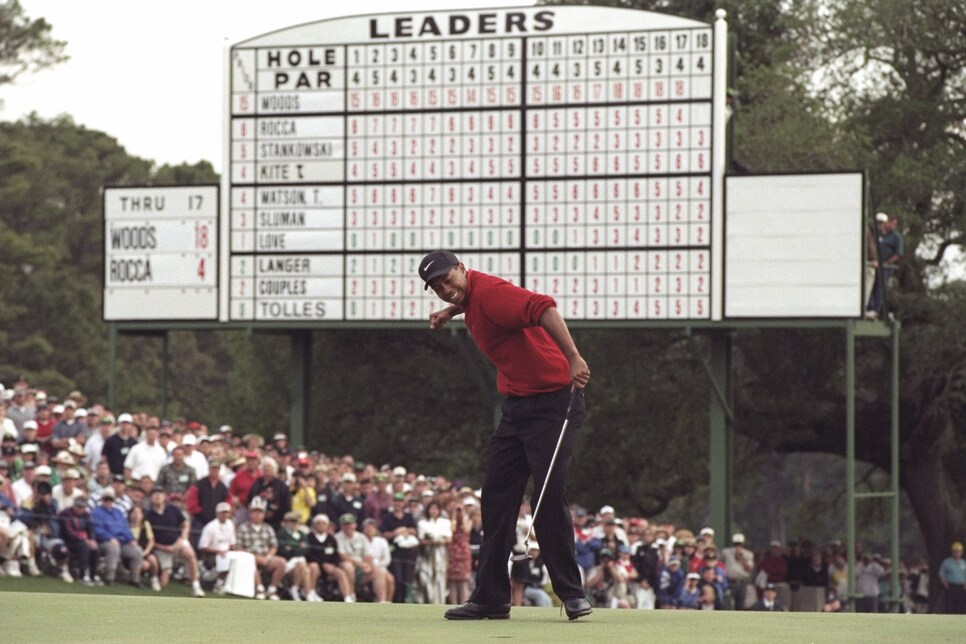 MASTERFUL MOMENT Tiger Woods celebrates his seismic 1997 Masters victory.
Stephen Munday
There's a new day about to dawn at the most magical setting in golf... That day was Sunday, April 13, 1997. The day Tiger Woods changed the game of golf forever. For the 300 of us at CBS who had the honor of broadcasting the tournament, it was one of the biggest assignments of our careers.
A place where legends are made, where dreams have been realized... These were my words for the opening of the show, known in TV parlance as a "tease." I narrated the script against the grand yet reflective musical strains of "The World of the Heart", the title track of the movie, "DragonHeart." It complemented the epic story that was about to unfold. There had been another tease in the can for that Sunday. Producer Chris Svendsen and I had dubbed it "Triumph and Tragedy," and it outlined the many heartbreaking losses at the Masters, like Greg Norman's loss the previous year. But after the third round in 1997, we decided to ditch that concept. "Svennie" disappeared into the CBS compound and at 4 a.m., emerged with his show-opening masterpiece.
Where the royalty of the game have driven Magnolia Lane to find their golf kingdom… The 1997 telecast was the first Masters production without the guiding hand of legendary CBS producer and director, Frank Chirkinian. Frank's four-decade career had ended at the Presidents Cup the previous fall, and his longtime understudy, Lance Barrow, was now sitting in the producer's chair. Steve Milton, a director Frank had groomed for a larger role, was making his Masters debut cutting the show. It also marked the first Masters for CBS Sports president Sean McManus. His father, Jim McKay had been one of Frank's first golf anchors, even calling the Masters through 1961.
Men like Ben Hogan, Byron Nelson, Sam Snead... Perspective was an important part of our storytelling that week. On Friday, when Tiger holed an eagle putt at the par-5 13th hole, I said, "Let the record show, a little after 5:30 on this Friday, April the 11th, Tiger takes the lead for the first time ever at the Masters." Just had a feeling the moment should be marked.
Where Arnold Palmer first stepped into the world to embrace his Army... I arrived in Augusta after a thrilling Monday night NCAA men's basketball national championship game in Indianapolis, where Arizona had upset Kentucky in overtime. My vocal cords were raspy and stretched from trying to cut through crowd noise. A few days later, after inhaling a high dose of the spring pollen that blanketed the air, my voice was shot. Chirkinian, who lived in Augusta, sent me to his doctor, who gave me a steroid shot in my backside and a suggestion to stay indoors for 24 hours. Saturday's third round was the first "remote" broadcast of my career. I never saw a shot in person, calling all the action off a monitor from inside Butler Cabin as Ken Venturi sat alone in the 18th tower.
Where in 1965 Jack Nicklaus' performance was so singular, he won by nine… By Saturday night Tiger had a nine-shot lead. From the Augusta Westlake home of Frank and Eleanor Barbee that CBS had rented for me and my colleagues Tom Spencer and Brandt Packer, we sat around the kitchen table discussing storylines. Tommy had uncovered a copy of a touching thank-you letter Tiger had written to the club two years earlier when he had competed as an amateur. There was the story of Tiger in his youth posting all of Nicklaus' major-championship conquests above his bedpost. There was the symmetry of Tiger's performance coming two days before the 50-year anniversary of Jackie Robinson breaking baseball's color barrier. All of these would be told the next day.
In 1976, Ray Floyd ran away from the field. He had an eight-shot lead through three rounds, a margin many thought would never be matched... On Sunday morning, Barrow assembled the announcing team in his office at the CBS compound. The crew consisted of Peter Kostis, Bobby Clampett, Jerry Pate, David Feherty, Sean McDonough, Peter Oosterhuis and, of course, Venturi. The great Verne Lundquist was working for Turner Sports at the time and was not a part of the broadcast.
But little did they know, four months earlier a golf prodigy was born... The show began at 3 p.m. To start the broadcast I was in our makeshift studio on the lower level of Butler Cabin. As I was setting up Tiger's second shot on the fifth hole, one of our spotters in the cabin began waving his hands to get my attention. For a second, I thought I had misspoke or, worse, my fly might be open. My concentration broken, I looked up to see what he had scribbled on a large notecard. It read, "HUGE GALLERIES." That one I could have done without.
While Seve was winning his first green jacket, 4-year-old Eldrick Woods was beginning a journey to one day be a champion golfer… As Tiger and Costantino Rocca made their way from the ninth green to the 10th tee, I scurried with my head down from Butler Cabin to the 18th tower. Suddenly I was stopped by an old friend. It was Lee Elder standing near the 10th tee, to the side of the practice putting green. He looked fatigued and overwhelmed by it all. He had driven through the night to Augusta to witness a day that he had paved the way for. In 1975, Elder became the first Black golfer to play in the Masters.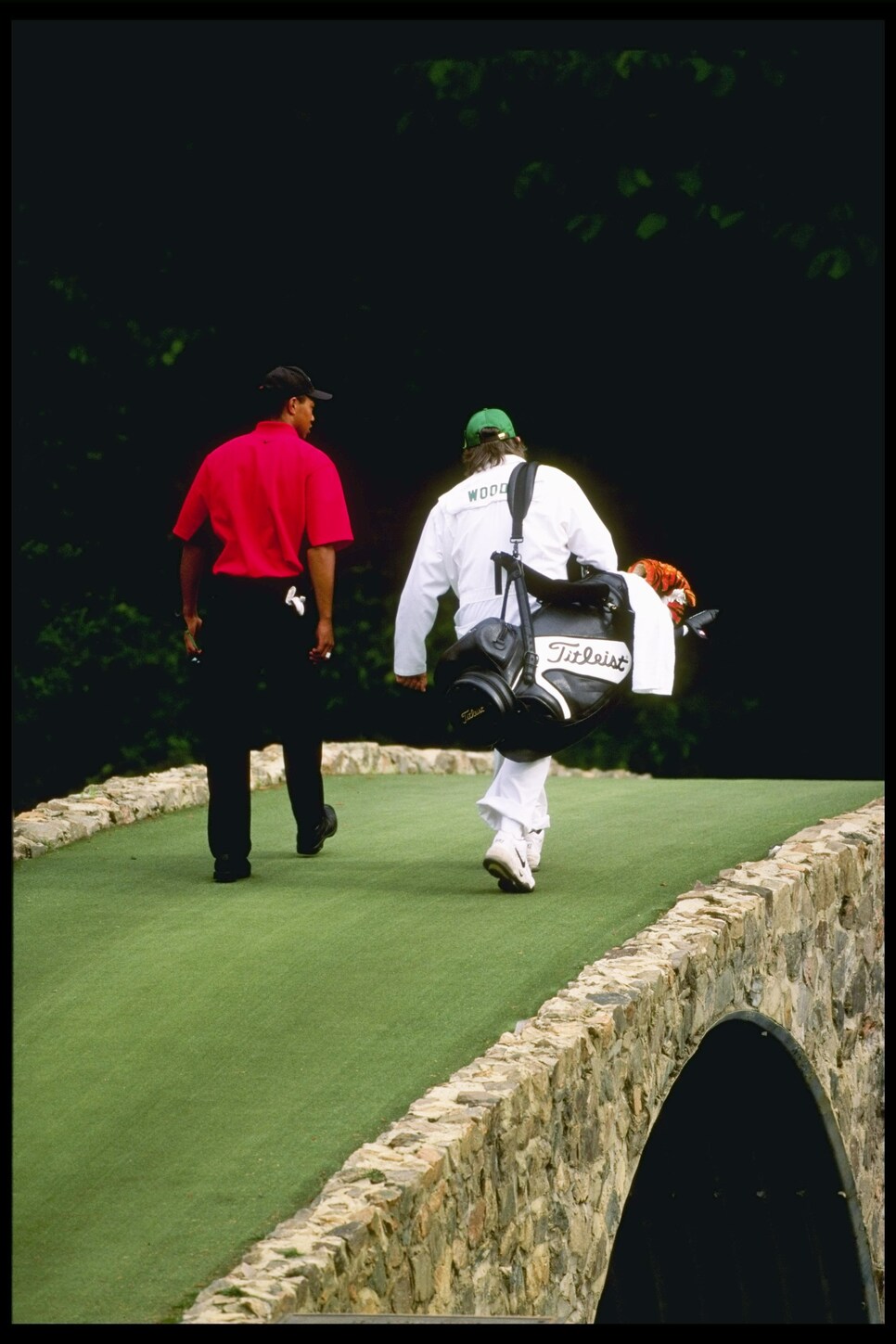 The fundamentals of youth have transformed into the Tiger of tomorrow... As Tiger played 18, we told the Jackie Robinson story and read Tiger's letter to Augusta National. Tens of thousands of patrons gravitated to 18 for a glimpse of history. On the course, dozens more stood beneath our CBS towers as camera operators Joe Ferlic at No. 15, Bob Wishnie at No. 16 and George Rothweiler at No. 17 turned their viewfinders around so patrons could see what was happening through a six-inch screen.
With a power and grace like the game has never seen before... Earl Woods had arrived behind the 18th green for the last hour of the round, just six weeks removed from heart-bypass surgery. He stood near our Bob Welsh, who was providing sweeping images from his crane-like jib camera. Bob thoughtfully turned his viewfinder into a program monitor to let Earl watch his son play the incoming holes.
Today all of Augusta's legendary records are in danger... As Tiger stood over his final putt for the Masters scoring record of 270, Ricky Blaine from the main camera tower had his shot framed to perfection, realizing it was a visual that would be played until the end of time. Davey Finch and Paul T. Sherwood provided the greenside shots of Tiger fist-pumping the air in triumph. Then, when Tiger hugged his father—one of the richest moments seen in sport—a CBS rookie, Eric Leidel, was there with his handheld camera to capture those precious seconds. Twenty-four years later, Leidel would be the one who provided another Masters classic—Hideki Matsuyama's caddie, Shota Hayafuji, bowing out of respect to Augusta.
As 21-year-old Tiger Woods is poised to make history in the final round of the Masters! At the Barbee house on Saturday night, there was a moment when Spencer, Packer and I sat silent and looked at each other, the gravity of the next day's broadcast hitting all of us at once. We knew the clip of Tiger's final stroke would be replayed a million times and outlive us all. We suspected it could be the most-watched golf broadcast in history, which it turned out being. For my part, the narrative that came with the clip would be one of the most important short sentences I would utter in my life. An announcer's final call is best when it is spontaneous and organic, but the inevitability of Tiger's victory—and its historical impact—I felt required more permanent framing.
As Tiger knocked in his final putt, the only way I knew to describe it was, "There it is, a win for the ages!" A quarter of a century later, Tiger's conquest at Augusta remains ageless, a gift to the sporting world that will be shared forever.