WGC-Dell Match Play
At 49, Richard Bland has already made Match Play history, with more potential feats on the horizon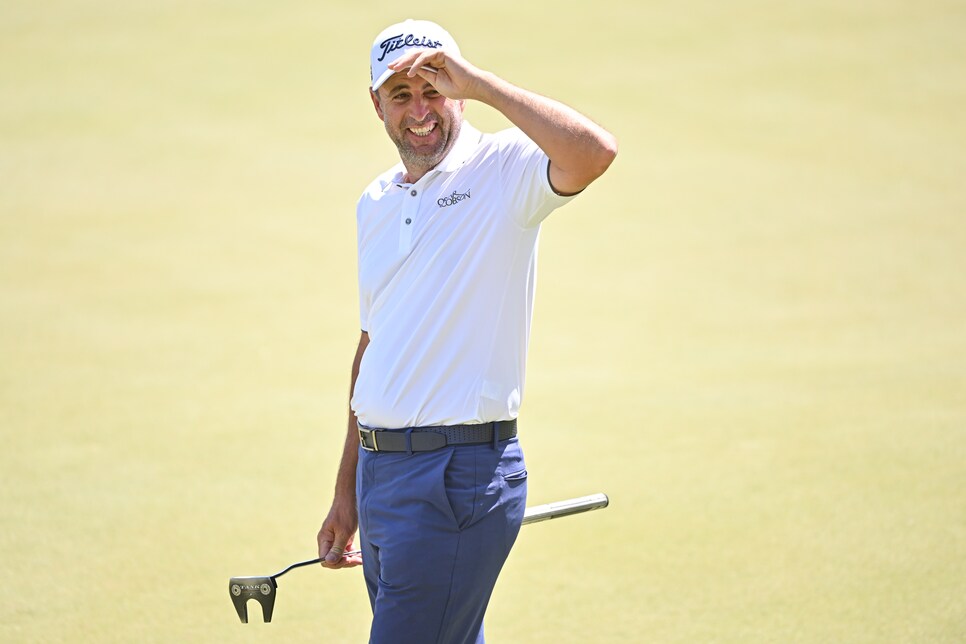 Richard Bland adjusts his hat on the 11th green during Round 3 of the World Golf Championships-Dell Technologies Match Play.
Ben Jared
AUSTIN—After Richard Bland finished tied for 54th in the DP World Tour's Ras Al Khaimah Classic in mid-February, he fell to 61st in the World Ranking, and with 64 players qualifying for the WGC-Dell Match Play, his inclusion seemed in jeopardy. Bland, the definition of a late bloomer, never had to worry about his world ranking before, so he turned for advice to an expert in how the system works.
That advice was strange: Don't play.
At least not until the week of the Players Championship, the World Ranking cutoff point for Austin. Bland wanted to play, and he didn't understand the math, but he listened, and it worked. In two weeks of inaction, Bland's ranking paradoxically rose from 61st to 55th, and when he finished T-28 in his final tournament before Austin, he was safe.
"I was kind of thinking, 'Well, if I don't play for the rest of the year, I might be World No. 1,'" he joked on Friday.
Bland was in the mood to laugh, as he had just come off a victory against fellow Englishman Lee Westwood that saw him win his group and advance to Saturday's knockout stage, where he'll face Dustin Johnson in the round of 16. At 49, Bland is the oldest man to make the round of 16 in the era of group play, beating the record set by Phil Mickelson, who was 46 in 2017.
Among all competitors in the field, or in the game of golf, Bland is resilience personified. This is someone who lost his European Tour card in 2018, had to return to the Challenge Tour at age 46, and still never doubted himself. There's an old quote sometimes attributed to Umberto Eco that says, "If you wait by the river long enough, the bodies of your enemies will float by," and though Bland doesn't seem like the kind of person with many enemies, he's certainly been on that river bank a long time, waiting for his moment. The definition of a journeyman, Bland didn't get his first European Tour win until May 2021 at the Betfred British Masters, when he triumphed in a playoff over Guido Migliozzi. A month later, he first got on Americans' radar by being the stunning 36-hole leader in the U.S. Open at Torrey Pines (he eventually tied for 50th). Since then, his unlikely ascent has continued, and he nearly pulled off a second win at this year's Dubai Desert Classic, only coming up short to Viktor Hovland in a playoff.
The thing is, Bland can't explain it.
"I've been asked that question a million times, and I'm not doing anything different," he said. "I'm not working on anything different with Tim [Barter, his coach] ... we haven't worked on anything new probably for 12 years, I would say, maybe even 15."
He compared himself to other athletes excelling past their alleged prime, such as Rafa Nadal, but the difference between people like Nadal or Tom Brady and Bland is that they've always been good, and Bland has come from nowhere.
"I guess probably someone at 49 shouldn't be doing this for the first time," he said. "But I guess there's always the exception to the rule, isn't there? It's quite nice to be the exception."
Bland started out his week by tying Bryson DeChambeau in a match he should have won, then defeated Talor Gooch 1 up on Thursday. Against Westwood (the second-oldest man in the field) on Friday, he established a 2-up lead at the turn, missed short birdie putts at 13 and 15 as Westwood crept to within 1 up, and then buried an eight-footer on 16 to take a 2-up lead that would ultimately be decisive.
"In all fairness," Bland said, "I actually thought I had holed the one at 13 and then the one at 15 ... and actually the one on 16, I thought I missed. I kind of felt like I pushed it maybe an inch and obviously it just grabbed enough of the right edge. I've been playing this game for 30-odd years. I still haven't figured it out."
The final margin was 2 and 1, and now two great opportunities await Bland. The first is in Austin itself, where he'll have the chance to advance deep into the Match Play and perhaps even secure the biggest win of his career. His other main goal will be working his way inside the top 50 of the World Ranking to secure his first-ever Masters berth. The math gets complicated. Nosferatu, Twitter's resident World Ranking expert, has him 51st in the projected rankings, which are volatile and dependent on other results. But it's likely Bland will need to beat Johnson to make the cutoff.
In fact, Bland was supposed to play Augusta National this week, just as he was supposed to play it in 2020 when he had to cancel due to the pandemic. That makes twice he's had to postpone, but he'll take those deferrals if it means the big prize is in play.
"I don't really watch a huge amount of golf at home," he said, "but the Masters I'm there from the first shot to the last putt. I don't move. It's just the best tournament to watch on TV and I can only assume it's a million times better to play in it."
Even if he fails to make it, Bland is serving as an inspiration to older athletes around the world. His phone is full of messages from the last year from those who have drawn energy and hope from Bland's surprise emergence at the top of the sport, and he still gets emotional when reading them. He said on Friday that even when he gets a new phone, he intends to keep every one of them.
At the same time, he maintains his humility and sense of self-deprecation—he's had them too long to let go now. When asked whether he had a celebrity lookalike (Bland somewhat resembles an older version of the comedian John Oliver), he laughed.
"No. No, I wouldn't wish that one on anyone,' Bland said. "If he looks like me, I feel sorry for him."