WGC-Dell Match Play
Tyrrell Hatton and his caddie comically brood and bicker in reaching Match Play's Round of 16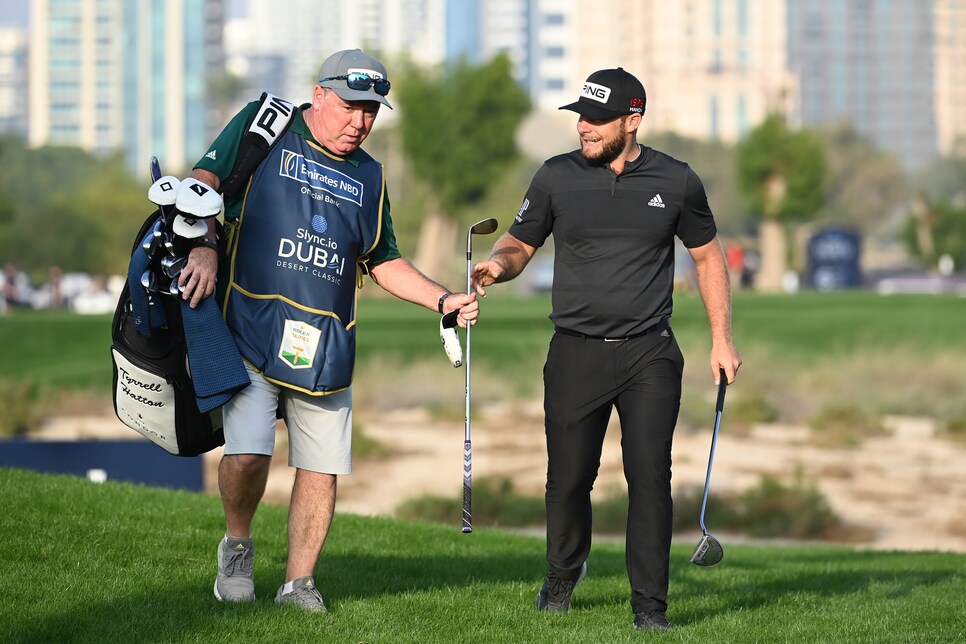 Tyrrell Hatton and caddie Mick Donaghy, showd in January in Dubai, often banter, but they're a fine match play team, having won the first three matches in the 2022 WGC-Dell Match Play.
Ross Kinnaird
AUSTIN—In a bunker to the right of the 12th fairway, Tyrrell Hatton stood on the left side of the sand and waited for his caddie, Mick Donaghy, red-faced and comical, and both older and heavier than your average looper, to cross the vast expanse of sand from the far side and give him his clubs. There were two balls in that particular hazard, the other belonging to Daniel Berger, Hatton's final group stage opponent at the WGC-Dell Match Play.
They were tied, and a tie would suit Hatton just fine, because at 2-0, he was set to win the group and advance to Saturday's knockout stage if they halved the match. He was standing next to his ball on the left side of the sand, but Donaghy thought that his ball was Berger's in the middle of the trap, and thus began the pantomime.
"I'm over here!" Donaghy yelled to his player. Hatton made the quite reasonable argument that the ball was closer to his side of the sand, but Donaghy, now leaning on the bag and chatting with journalists, wasn't having it.
"I've got a rake and everything, I'm all prepared," Donaghy protested.
In this battle of wills, Hatton caved first, and began the long walk around. Somehow, it was Donaghy who felt he was the aggrieved party.
"You wonder why I drink so much!" he said to two journalists, before complaining about his own group's pace of play. To be fair, they were very slow, to the point that Christian Bezuidenhout and Si Woo Kim would hit into them a hole later, leading to a long show of arms raised in anger.
Hatton eventually made his way to his ball and gestured ahead at members of the gallery who were the way of Hatton's flight path.
"There's people," he said, gesturing to the marshal to herd them back.
"I know there's people," Donaghy said, almost but not quite under his breath. "It's a golf tournament."
Hatton promptly hit the green at the wrong spot and watched his ball roll into the water. The gallery to his left, unaware at the result, clapped and cheered for him. Berger, with a big opportunity—if he won the match outright, he'd force his way into a playoff—didn't even bother with the green, yanking his own bunker shot far left into the drink.
"This is cutting into my drinking time," Donaghy said, as he trudged off toward the green.
Hatton, able to drop on the green, won that hole, split 13 after errant drives, and listened to a party boat in the Colorado River behind him blare the Ke$ha song "Die Young" as he took his putt. They were kind enough to shut the music off for Berger, who leveled the match with a 37-foot bomb. The shot improved nobody's mood.
"It's not my favorite song," Hatton said later, dry as can be.
Nevertheless, an impressive up-and-down saved him from going down on 15, and on the par-5 16th, straight into the wind, he hit his approach to the foot of the green and went up-and-down for birdie to retake the lead. A half on 17, and he'd win the group.
Trudging up the long hill to the tee, Donaghy looked up with dismay.
"Is there not a chairlift?"
When reminded that he might have to do this for 36 holes on Saturday, Donaghy's mind went back to Saturday at the Ryder Cup at Whistling Straits, when Hatton played both pairs sessions. Donaghy spat out the word "Harrington," his captain, with mock disgust.
"A disgrace," he said, "sending me back out there in the afternoon."
Hatton clinched the group with a standard par on 17, then won 18 to take the match 2 up and finished a 3-0 in group play. He'll play Seamus Power Saturday morning in the round of 16.
"I described our match as a good pillow fight," he said afterward. "My best golf was yesterday [when he beat Kim], I didn't drop a shot yesterday ... when I've gone through in the past I've lost on Saturday morning, so obviously I'm hoping to do better than that this year. I need to play a lot better than today, but tomorrow's a new day."