RBC Heritage
Jon Rahm had this sharp retort when asked about being tempted to take the weekend off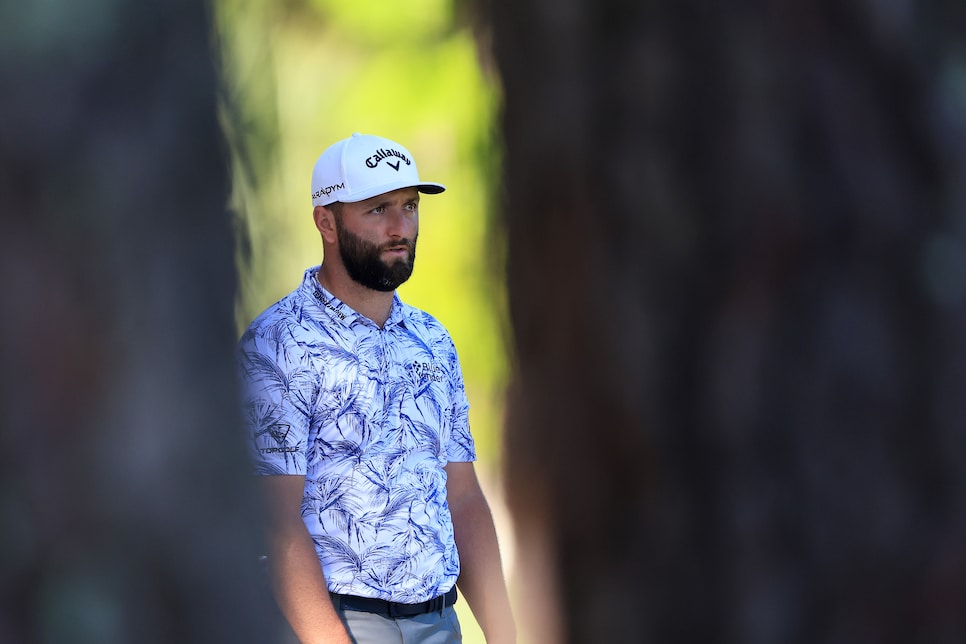 Jon Rahm waits on the 15th fairway during the second round of the RBC Heritage.
Sam Greenwood
HILTON HEAD ISLAND — Jon Rahm has a job. It pays well and comes with a really good retirement plan. There's lots of travel involved, and he works weekends a lot. But that's OK, because when he does, he gets paid even more.
Rahm takes that job very seriously. The Spaniard rarely calls in sick, nor does he mail it in.
If that wasn't clear from the bogey-free seven-under-par 64 he shot Friday at the RBC Heritage to get to six under after 36 holes, then the rather awkward exchange he had with a reporter in his post-round interview took care of that.
For context: Rahm won the Masters on Sunday, his fourth PGA Tour victory this year, after almost working a double shift. Because of weather delays, the World No. 1 played 30 holes at Augusta National on Sunday and then went through a parade of interviews, traditions, handshakes and photographs as the champion.
The 28-year-old then honored a commitment to play the RBC Heritage at Harbour Town Golf Links, which is now a $20 million designated event, despite being completely exhausted. That fatigue showed through nine holes of the first round when he sat two over par and ultimately scored one-over 72. Maybe some players would be tempted to roll over, miss the cut and truly enjoy the Masters victory.
Not Rahm, and that's why the line of questioning on Friday clearly annoyed him.
Was there ever a thought that maybe just take the weekend off?
"What, like throw it?" Rahm asked.
No, not throw it, but … see what happens?
"I don't understand what you mean right now," Rahm said.
You played poorly yesterday, and then you come out today and you're still tired. Why play good?
"It's my job, right?" he said. "People pay their hard-earned money to watch me perform. … They don't care if I slept good or bad, I feel good or bad. It doesn't matter, As a competitor, I'm not ducking anything in that sense. I'm going tout and try to shoot low."
Rahm's Friday post-round interview wasn't the only awkward exchange he's had at the Heritage.
On Thursday, Rahm was introduced on the first tee by the starter it what sounded like a script written for last year's Masters winner, Scottie Scheffler. Rahm stood waiting with his ball teed up as the starter said, "From Dallas, Texas, please welcome, the reigning Players Championship winner …"
"When I heard Dallas, I stepped aside because I thought they were introducing Jordan," Rahm said Friday, referring to his playing partner and Texas native Jordan Spieth. The starter then realized he was reading the same script from the previous three-ball, in which Scheffler, who won the Players last month, who was grouped with Webb Simpson and Cameron Young.
Rahm didn't feel like himself in the first nine holes on Thursday, either. He had three bogeys and a birdie but scratched out a 72 courtesy of a one-under back nine.
On Friday, he was still tired, but looked more like himself. He hit 15 greens and needed just 26 putts to be back in contention. The eight-stroke improvement—from 72 to 64—was the largest in Rahm's PGA Tour career.
"My intention is to try my hardest, and that was it. It helps when I start the way I did [today]," Rahm said of his four birdies in the first five holes. "Making that birdie on 11 [his second hole] and keep hitting good shots and hitting birdies got [me] in a competitive mode very, very quickly. Early in the round I had it going and thought I could put myself in a good situation, which I did."