PGA Tour
Fitzpatrick's roller coaster, Rory surges and the elephant in the room at the RBC Canadian Open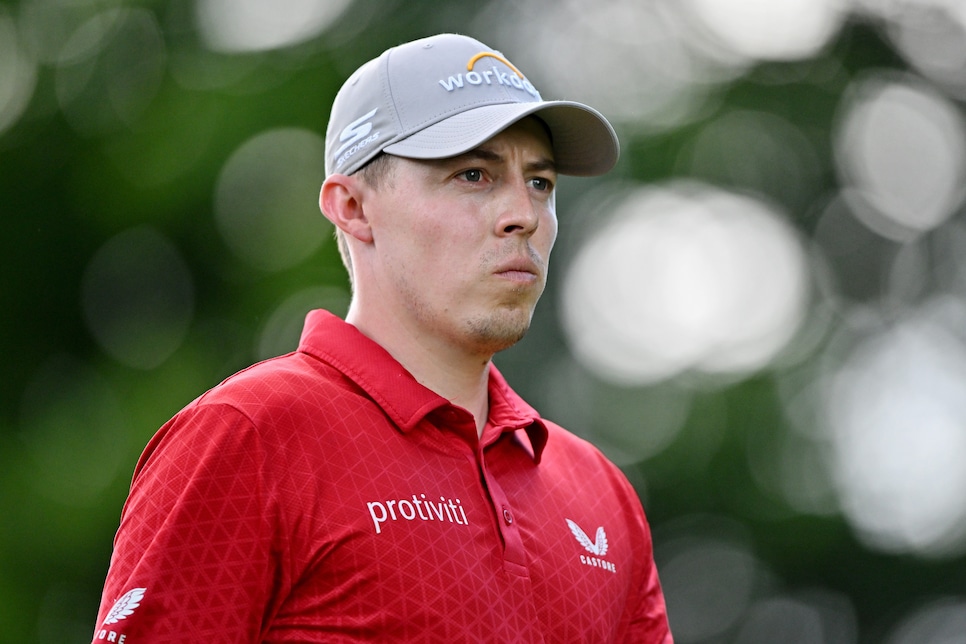 Matt Fitzpatrick looks on from the 11th tee during the second round of the RBC Canadian Open.
Minas Panagiotakis
Matt Fitzpatrick is probably the current holder of a title no one really wants: BPWAPGATW. That, of course, stands for best player without a PGA Tour win. The World No. 17 has seven wins on the DP World Tour but has yet to close the deal on this side of that pond. He's been one of the best players on tour this year—he's No. 1 in strokes gained overall—and had a great chance to make his first victory a major at last month's PGA Championship, only to have zero control of his ball during the final round at Southern Hills.
Fitzpatrick is close, and when he birdied the 11th at St. George's to get to 10 under par and grab a two-shot lead, you got the sense this would be the week. Oh, how foolish were we for thinking golf would ever be so straightforward. The 27-year-old Englishman double bogeyed 14 and bogeyed his final three holes to back into an even-par 70. At six under, he'll enter the weekend just one back of Wyndham Clark's lead—but, after the round, he (understandably) wasn't in the most chipper mood.
"Just a poor finish," he said after the round. Just didn't hole the putts I needed to on the last three. Just pathetic. Yeah, just pathetic finish really with the putter."
No one will ever accuse this man of sugar-coating anything. Here are three other takeaways from Friday of the RBC Canadaian Open.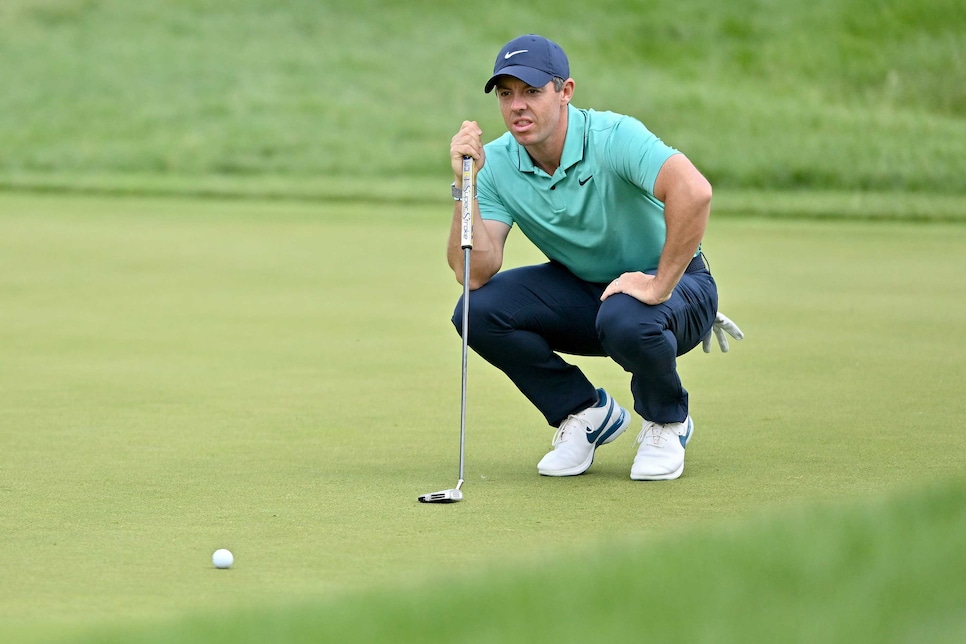 Rory McIlroy Ireland lines up a putt on the ninth green during the second round of the RBC Canadian Open.
Minas Panagiotakis
It's a very front-loaded field this week, heavy on star power but light on depth. The reasons for that: Canada's vaccine rules and that other tournament happening in London. (More on that in a second). Rory McIlroy is the biggest star of them all this week, and he's giving the fans—and tour Commissioner Jay Monahan—exactly what they wanted. He followed up an opening-round 66 with a very-solid 68 in tricky conditions, and he in excellent position to successfully defend his title from 2019, the last time this event happened north of the border. And he's doing so without his normal looper, Harry Diamond, who is back home in Northern Ireland expecting the birth of his second child.
McIlroy's game is in terrific shape heading into next week's U.S. Open, where he will be a fan favorite. Which is always the case. After the round, he was asked about a fan who yelled to tell Rory that he'd named his child after him.
"I guess I don't give it too much thought," McIlroy said. "I guess it's not the first time I've heard it. I guess, that's, in a way, a big responsibility. Hope they don't meet me and end up thinking I'm a jerk. But, yeah, I guess it's quite an honor to have that. I named my first dog after Ernie Els."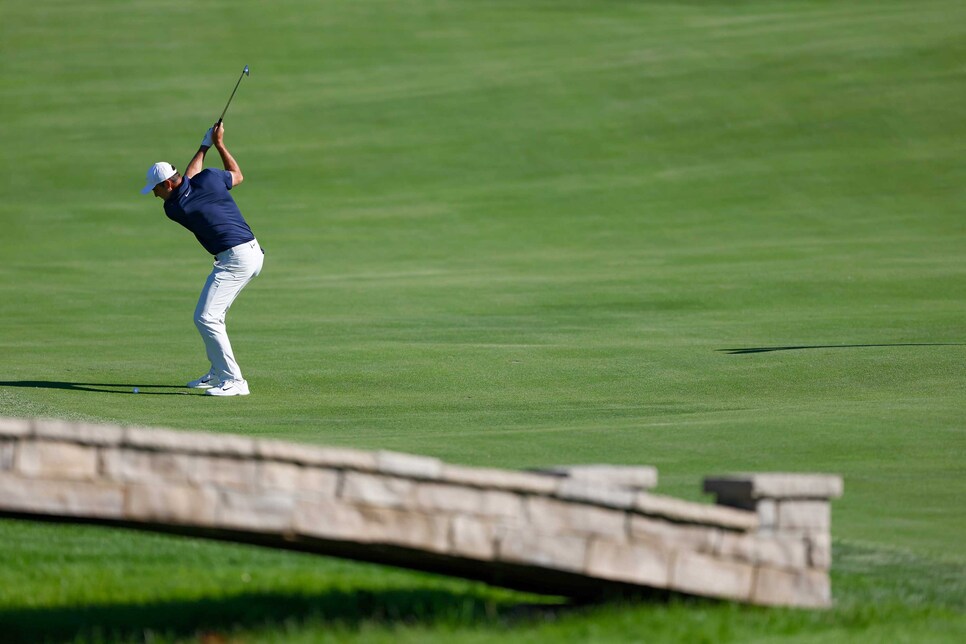 Scottie Scheffler plays his shot on the 14th hole during the second round of the RBC Canadian Open.
Vaughn Ridley
The event before the last major, the PGA Championship, couldn't have played any less similar to a major-championship layout. Seven days before Justin Thomas won at Southern Hills with a five-under total, K.H. Lee won at Craig Ranch at 26 under. Lee's final-round 63 looked an altogether different sport than the type of golf we saw the following week. This week, however, is much more of a tone-setter for next week's U.S. Open.
"The rough is up, these greens have a lot of pitch in them, so birdies are kind of hard to come by just because there's so much slope in the green," said World No. 1 Scottie Scheffler, who is three back in his quest for a fifth win on the season. "Even when you hit a really good shot you're kind of stuck in a position where you got a putt that has just a ton of movement. So it's definitely a challenging course."
Sam Burns, who beat Scheffler at Colonial for his third win of the year, is also at four under, and also saw value in playing a punishing test right before the toughest event of the year.
"I feel a little sore today after how many times I had to hit it out of the rough," Burns said. "But I think it's a great test. I mean, this week and next week, huge importance off the tee, getting the ball in the fairway and like I said, I need to do a little bit better of a job going forward."
This has obviously been a rather hectic week in the golf world, with the first LIV event and more big-name players making the jump. Friday, however, offered a bit of a reprieve—the novelty of the first LIV round wore off, no significant new defectors emerged … and no one talked about the rival tour. At least not to the media. Golf Digest isn't on-site in Canada this week, but we poured through the transcripts and did not see a single question nor answer discuss the activities in London or what the future might hold. For one day, at least, golf was the story. Cherish it, for these days will be few and far between in the coming months. More chaos awaits.