The Loop
Rare Grand Slam of Darts feat produces absolutely electric play-by-play call
I can safely say I had never watched darts highlights before today. I can also now safely say that darts highlights are the best highlights in sports.
On Wednesday, a clip of one dartsman(?)/darter(?)/dartlete(?) — um, let's just go with darts player — doing something really dartsy went viral. And although I couldn't for the life of me understand what was going on (Aren't you supposed to hit the bullseye?), the the call by the announcer (and the reaction of the crowd) was absolutely electric. Check it out:
"THAT IS A STUNNING MOMENT IN THE GRAND SLAM OF DARTS!" Gus Johnson, eat your heart out!
I conferred with co-worker and closet darts aficionado Chris Powers, who explained Dimitri Van den Bergh's "nine darter" or PERFECT LEG as follows:
"You start with 501 points (game is called 501). You hit the middle red, it's triple 20 (60x3=180). Then you do it again (180). Then you hit triple 20 (60), then triple 19 (57), then double 12 (24) ends the game. 180+180+60+57+24 = 501."
Hmm. . . Got it. . .Sort of. . . But again, what about the bullseye? Wouldn't that be a lot easier?
In any event, Chris also passed along what he described as "the greatest call in the history of sports, no debate." And after watching it, there will be no debate from me, because it's amazing. The clip involves a man named Phil Taylor, another crazy announcer (possibly the same play-by-play guy, because how many darts announcers can there possibly be?) and TWO nine darters. And I can't recommend it highly enough.
Apparently, Phil Taylor is the Tiger Woods of darts. Only, instead of being a fitness addict, he swills beer while he plays, and he doesn't try to cover up his balding head with a hat. But man, is he a marksman, and wow, is that video jam-packed with gold. But nothing tops one commentator saying, "You have joined in and shared a moment of sporting majesty and television history" while they show this slow-mo replay of Taylor celebrating: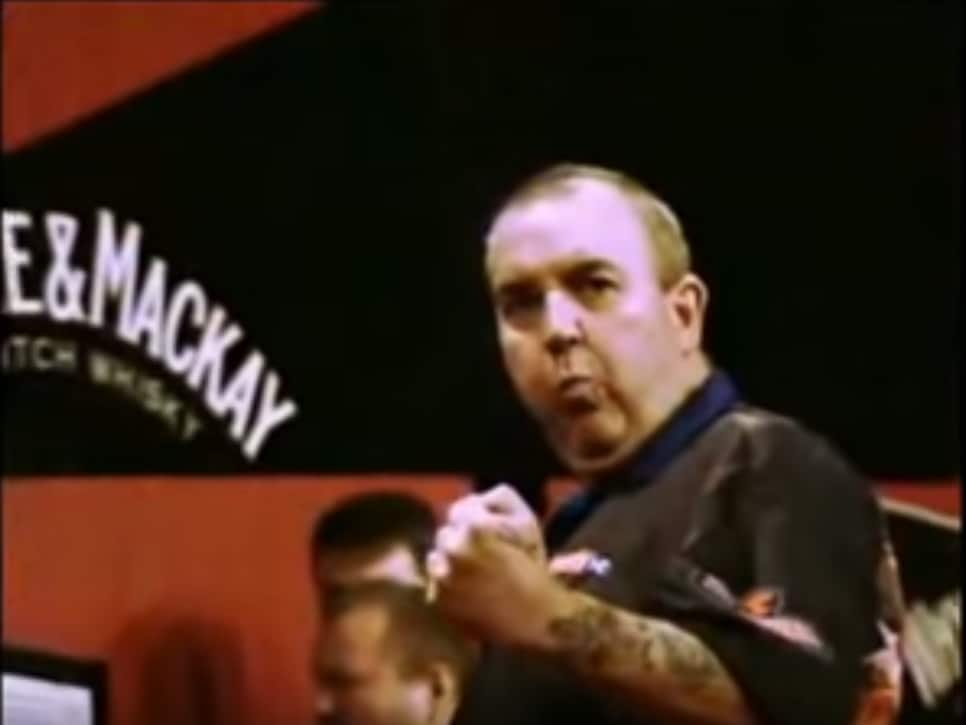 MAJESTY, indeed. Is the Grand Slam of Darts being televised here? I hope so, because I'm hooked.