Money Matters
R&A increases Women's British Open purse to a record $7.3 million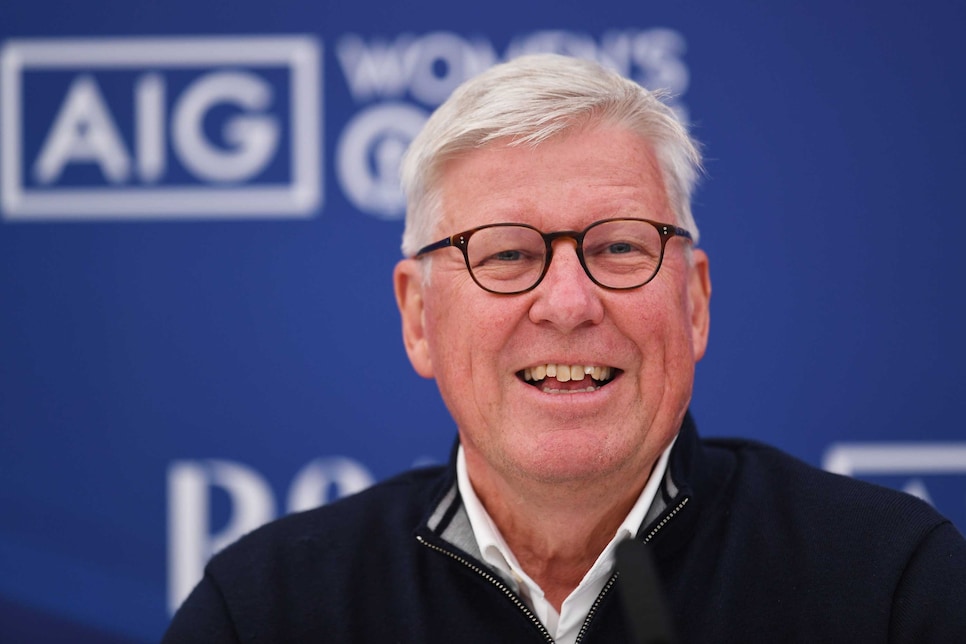 R&A chief executive Martin Slumbers announced a record prize money payout for the AIG Women's Open at Muirfield during a Wednesday press conference.
Alex Burstow/R&A
GULLANE, Scotland — The clue being in the title, the world of professional golf has always been about the money. Last month, Cameron Smith's victory in the Open Championship at St. Andrews was worth $2.5 million to the Australian, from a total prize money payout of $14 million. This week's AIG Women's Open at Muirfield isn't quite on that financial level, but things are definitely looking up for the game's best women players.
On Sunday evening the winner of the year's final major championship will be paid $1,095,000, which is $225,000 more than Anna Nordqvist earned for winning at Carnoustie 12 months ago. In all, $7.3 million in prize money (up from $5.8 million, or 26 percent) will be distributed among those players who play well enough to make the 36-hole cut, meaning all five women's majors lifted their paydays to record levels in 2022.
The boost in the overall purse at Muirfield is even more striking when zooming out to the last four years. The total prize money handed out in 2018 at Royal Lytham and St. Annes was $3.25 million, a year before the R&A partnered with AIG as a sponsor for the championship. In that time, then, the purse has increased 125 percent.
Those numbers were the centerpiece of a press conference given by R&A chief executive Martin Slumbers on the eve of what he called "a world-class championship."
"This is our opportunity to shine a light on the immense talent of the athletes that are competing here this week, as well as inspire the next generation of players," Slumbers said. "I'm hugely excited by what this week has to offer. We have to use this week to highlight the need for a broader engagement in women's golf."
Part of that mission, to the dismay of traditionalists, is the presence of not one but two pro-ams in the days leading up to the championship. Again, the answer to any and all questions is "money," a fact Slumbers was quick to acknowledge.
"Pro-ams are part of the commercial model of women's professional golf," he said. "I've not been shy in saying over the years that professional golf is a business and the pro-am is a key part of that in the women's game. But it's also a fantastic opportunity to invite people to see not only what we are doing together, what Muirfield is doing as a golf course, but for them to be able to say, 'do you know what, there's some really special stuff going on.' So there's commercial reality, and there's marketing."
Slumbers' often bold and sometimes inspiring words are especially significant because of where they were being spoken. Still in the early days of their foray into mixed membership, the Honourable Company of Edinburgh Golfers are well aware that the eyes of golfers everywhere are upon them. But were they forced to accept a Women's Open before being reintroduced to the Open Championship rota for what would be the first time since 2013?
"Absolutely not," Slumbers said. "Absolutely not. They are two very independent decisions. But let me just explain why we brought the championship here, because I think that's really important that people understand. We are absolutely focused on how do we get the best venues that we can get that mean the most to golf, and stage the championship there. And when you look at the history of our game, there is no more important course [than Muirfield], other than perhaps the Old Course, if you want to achieve that purpose. You only have to walk around and listen to some of the players and their views. This is something special."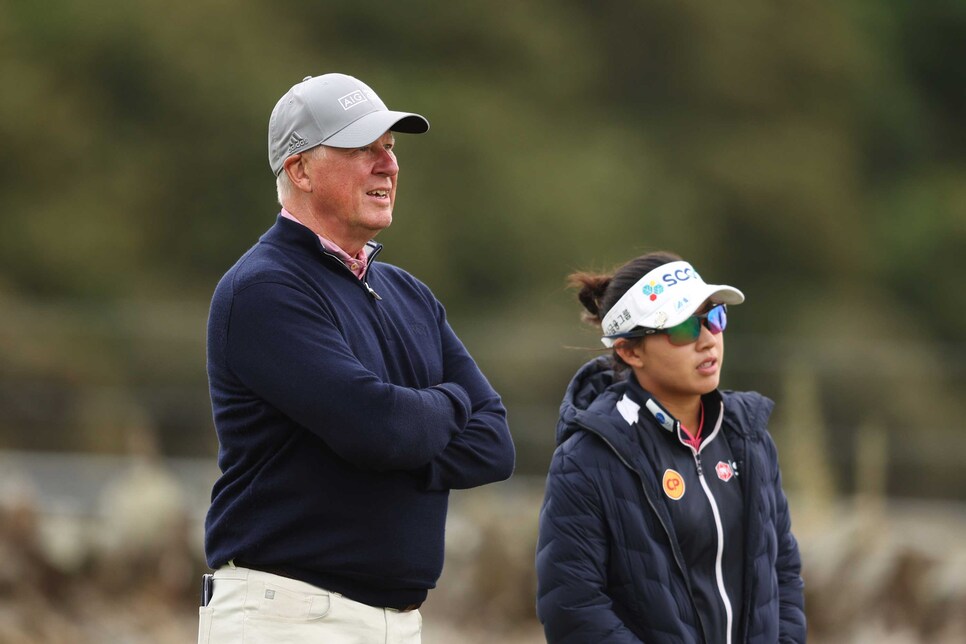 R&A chief executive Martin Slumbers plays with Thailand's Atthaya Thitikul during the Pro-Am prior to the AIG Women's Open.
Richard Heathcote/R&A
As for the contrast between the fear that the male players might destroy the Old Course last month and the contention expressed more than once this week that level par might be good enough to win, Slumbers was again dismissive. One day earlier he had played in the first pro-am of the week alongside Atthaya Thitikul, an LPGA rookie from Thailand who is sixth in the Rolex World Ranking. Thitikul, who insists that she "hates" links golf, played Muirfield's front-nine in 30, even after missing a short putt on the eighth green.
"This is a tough golf course at the best of times and there is a big difference playing for fun in a pro-am and putting a card in your hand," Slumbers said. "We are playing at just shy of 6,700 yards. We have three of the par 5s not far off the championship tees. The greens are running about the same as they were at St Andrews [last month]. This is going to be a strong test. We are forecast more wind, which will make some of the closing holes, 12 through 15, really challenging. I do think the players will find a way to score, but you need to play really well to shoot low around here."
Indeed. The battle will commence Thursday when 2009 champion (and local resident) Catriona Matthew hits the opening tee shot at 6:30 a.m. local time.