News
Radius control, predictive analysis and trash talk: What it's like to play with Bryson DeChambeau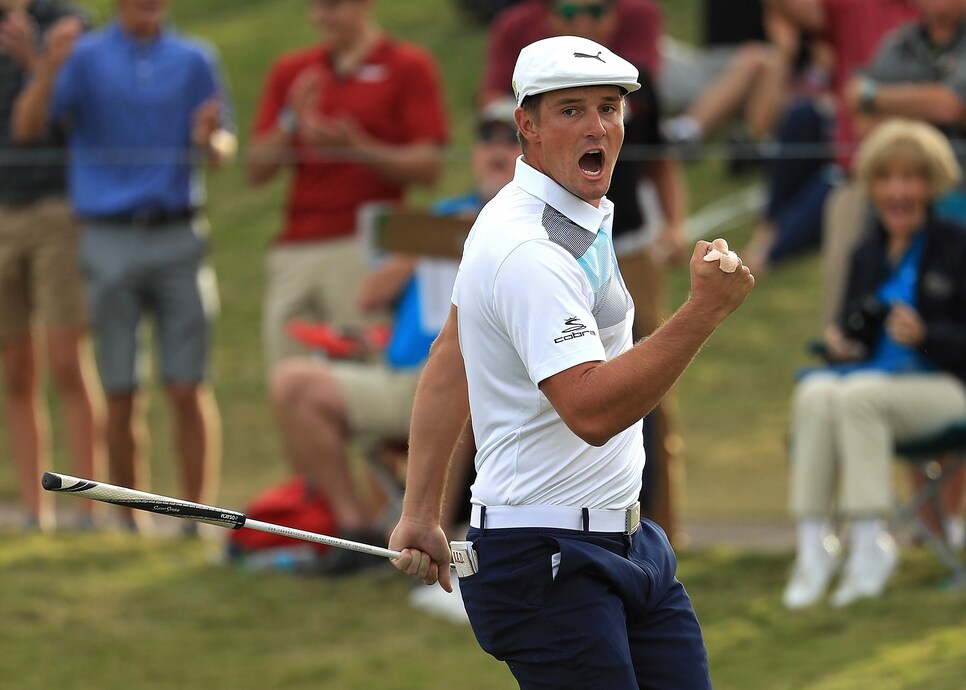 Modern sports have transformed into a spectacle both on and off the playing field, with athletes' personalities and personal lives just as important to the storyline as their performance. Sentiments that have made Bryson DeChambeau one of the more fascinating studies in golf.
Sure, his play of late—four wins in 2018, three coming in his last five events—is doing plenty of talking, but since DeChambeau rose to national prominence in 2016, his play is merely the conduit to his tale. There are one-length clubs, his devotion to analytics and quantum physics, a cerebral approach that begets experiments with compasses and side-saddle stances. Alas, while some view this yield as the work of an artist, others dismiss it as the stylings of a mad scientist. And we do mean "mad," as DeChambeau's outburst on a driving range, some less-than-stellar optics at the Porsche European Open and battles with the USGA haven't always painted the fledging star in a positive light.
However, while some view those extracurriculars as stunts, the last few months have underlined that DeChambeau is no circus act. With the 25-year-old here to stay for the foreseeable future, fans are starting to wonder, what's the former U.S. Amateur and NCAA champion really like?
According to his recent pro-am playing partners, DeChambeau's the real deal.
For a bit of context, PGA Tour players are accused of being somewhat remote and reserved during pro-am days, viewing the mandatory practice rounds like visits to the proctologist. Which, in their defense, is understandable: you don't see Steph Curry playing 1-on-1 with a CEO or Clayton Kershaw tossing BP to a banker before their respective games. Coupled with DeChambeau's public perception, his Shriners group believed they were in for a long day.
"Immediately at the pairings party our friends and other players started making comments about likely having very little interaction with (Bryson) during our upcoming round because of his 'extremely analytical approach' to the game, so I had low expectations as to what type of interaction we would have on our upcoming 5-hour round," said Patrick Ramsey, a casino gaming executive. "In fact, as I walked through the pro shop at 6:30 am, one of the staff members made a comment that it may be a good match because I have an economics degree from Harvard so he may want to discuss statistics with me. This just reinforced that fact that I was likely in for quite a dull round."
But what awaited Ramsey and company was far from that expectation.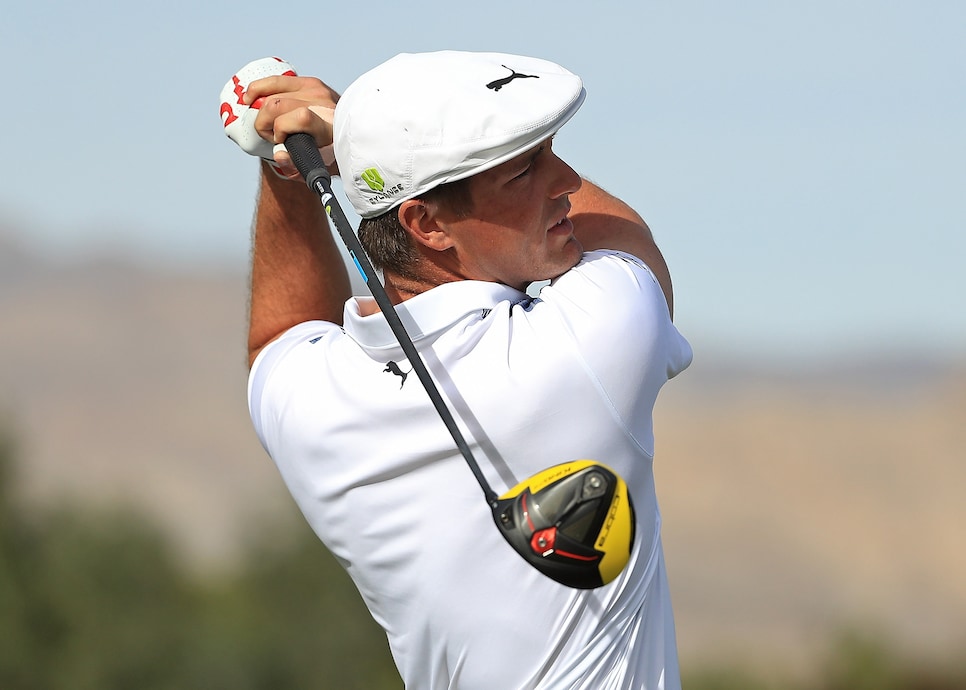 "Bryson gave us a big warm greeting and was opposite of aloof," said George Kaelin, an attorney and former owner of Full Swing Golf. "He remained engaging and interested in us. There was a ton of trash taking that was surprising. He told me he wasn't use to giving reads to a guy who had side spin on putt."
That outlooked was seconded by Ramsey.
"Upon meeting Bryson, I knew that there was a gap in the public perception of Bryson and the real Bryson," Ramsay said. "He was very warm, fun, and easy to engage with. I was clearly the worst golfer of our foursome, and he took time to help me with my swing. He said, 'It's all about your radius, so I want you to show me you can hit behind the ball.' When I did that, he remarked that he could see that I had 'radius control' so he taught me to tap the ground in front of the ball before every swing; I now do this every time as I feel it helps me create the right radius.
"I remarked, 'I never heard the term radius control but it seems to be important to you because it directly relates to what I have heard about your consistent club lengths, right?" He laughed and said, 'Exactly! I am the guy to fix your swing by the end of this round!'"
Echoed Kaelin: "Bryson's just a great kid."
DeChambeau's welcoming disposition certainly put the group at ease. That soon turned to awe once they got to see his cerebral preparation up close.
"Bryson is definitely a unique person as he brings terms like neurological, biomechanical, and gravity into the golf conversation," said Tom Breitling, a private investor and entrepreneur who also played with DeChambeau. "My dad was an airline pilot for 35 years and his profession was all about gravity, the execution of levelheadedness and smooth landings. Watching Bryson work was like sitting in the cockpit with my dad (which you used to be able to do) – data driven calculations, meticulous in his work, and doing everything possible to maximize success."
"Midway through the round, when we discussed my academic experience with decision science and statistics, he asked me what specialty I liked most. I told him I really loved predictive analytics – essentially using historical data to predict future outcomes. He remarked that his interest actually centers more around statistical theory," Ramsey said. "I was a little confused but I didn't ask him to clarify; it became clearer to me as I listened to him and watched him play. With Bryson's physical talent – combined with the brains to back it up – he really doesn't need to rely on historical data like me and many others who enjoy statistics. He actually has the ability and passion to create his own theories, and then test them and either trash them or use them to perfect his game.
"This is really impressive because the sky is the limit to what he can develop and master, and in my opinion, this is his key to truly being innovative for the game of golf."
To be fair, DeChambeau is far from the only engaging player on tour. Yet few at the moment can't match his firepower or potential. In today's celebrity, that's only half the equation for stardom. But, if his playing partners are to be believed, DeChambeau has the charisma and gusto to fulfill those requirements.
Or, as Breitling simplified, "Bryson said to me during the round, 'You're a businessman—don't you always look for an edge in your business? That's what I'm trying to do with my game—find an edge."
Unfortunately for the rest of the PGA Tour, it appears DeChambeau has found his.