News
Look past Bryson DeChambeau's eccentricity and start appreciating the art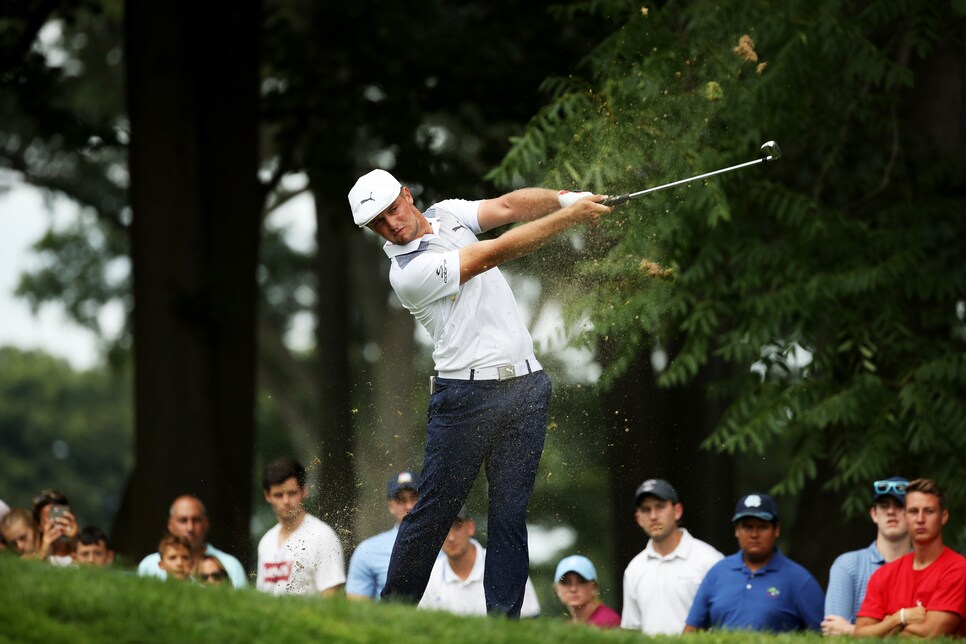 Photo By: Gregory Shamus/Getty Images
Bryson DeChambeau, in the parlance of fellow pro Pat Perez, "can ball." That seems obvious about someone who ran away with a playoff event by four shots, a performance that marks DeChambeau's third PGA Tour victory in 13 months—more tournaments than Jordan Spieth, Rory McIlroy and Rickie Fowler have won combined in that span—and a win that ostensibly locks up a Ryder Cup spot. Only Dustin Johnson and Justin Thomas have more top-10 finishes this season than DeChambeau's eight, and the 24-year-old ranks fifth in strokes gained and 14th in scoring. To translate Perez to the layman, Bryson's game is really, really good.
But with Bryson DeChambeau, it's never been about the game. It's about about how that game is conceptualized, executed, questioned, achieved. While those prisms should create a greater appreciation for the end product, it's done the opposite.
By now you know DeChambeau is a different duck. The Hogan cap, naming his clubs, writing his name backwards with his opposite hand, dabbling in stippling—not the usual repertoire of an aspiring tour pro. By themselves, they're each fun tidbits and ideal content for a player's media guide profile. Yet it's Bryson's drive that really separates him. And we do mean drive. While many golfers strive for perfection, DeChambeau's pursuit takes him down some peculiar avenues. One-length clubs, a slave to statistical analysis, battles with the USGA, a tryst with side-saddling putting. Coupled with the aforementioned oddities, he stands out in the tour's cookie-cutter crowd.
This backdrop is important when it comes to deciphering DeChambeau's perception, largely because there's a lack of individuality on the PGA Tour (somewhat interesting given golf is an individual sport). It's also problematic, as this sense of player sameness is one of the sport's most common complaints.
And yet, here comes DeChambeau, a blue duck in a sea of vanilla. And, on the whole, he's been ridiculed for being blue.
DeChambeau is known as the "L'Artiste" on social media, a name that's part satirical, part pejorative. His detractors, of which there are many, deem his divergent ways fit for a looney bin. DeChambeau's early woes on tour—in one stretch last season he missed 13 cuts in 16 tournaments—served as their schadenfreude. Golf is permeated with a conservative air, resistant to change. That it is unaccepting to someone who challenged everything about the game is not surprising.
A sentiment best summed up by former college All-American Maverick McNealy: "He takes flack sometimes because a lot of people don't understand or deal well with people who are different."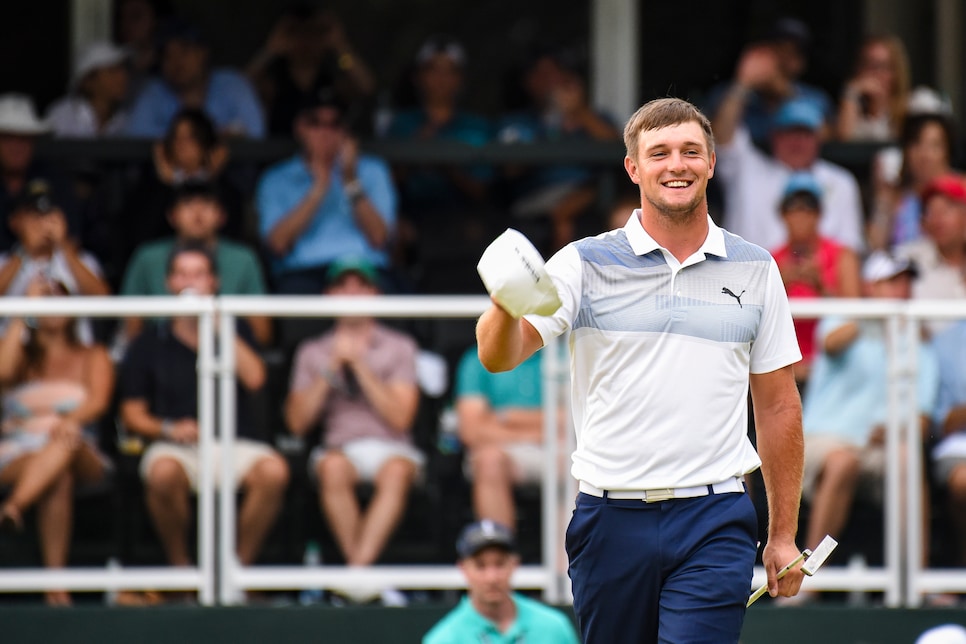 To be fair, some of DeChambeau's heat is self-inflicted. The tangential self-comparisons to George Washington and Albert Einstein, the melodramatic outburst at Carnoustie's range, an inadvertent handshake controversy. Although each can be explained, they can be damning in the aggregate.
To his credit, DeChambeau doesn't hide from those perceived faults. Far from it: he credited those missteps, perceived and actual, for Sunday's success.
"That struggle. Absolutely. That struggle is what led me to this point," DeChambeau said. "You know, that's the thing that people sometimes miss, is the fact that those moments when you're at your relatively speaking, lowest, are the times when you can learn the most.
"All that is a learning experience and got me to where I am today."
Perhaps the biggest mark against DeChambeau was the advocation of his unconventional methods before he achieved anything of professional substance. It's like when veteran Crash Davis was chastising Nuke LaLoosh in "Bull Durham" for his maverick approach. Be colorful when you're winning in the majors, people think you'll have character, Crash imparts. Until then, people view it—and you—as a joke.
Conversely, if those are DeChambeau's biggest sins, he qualifies as a saint in the modern athletic landscape. Moreover, he is winning now, first in the FedEx Cup standings with three postseason events remaining. He's one of the more fan-friendly players on tour—Tuesday and Wednesday at Ridgewood, he signed autographs at the driving range as long as anyone—and he has a crazy work ethic, one of the last to leave a range during tournament week. It's that enthusiasm that caught the eye of Tiger Woods, and why the two have been regular practice round partners this year.
"I feel a lot of the things that he says, but we articulate it completely differently," Woods said about DeChambeau. "It's a lot of fun to needle him and give him a hard time about it, but I definitely respect what he says because of the fact that he does a lot of research. I mean, he is very into what he's doing."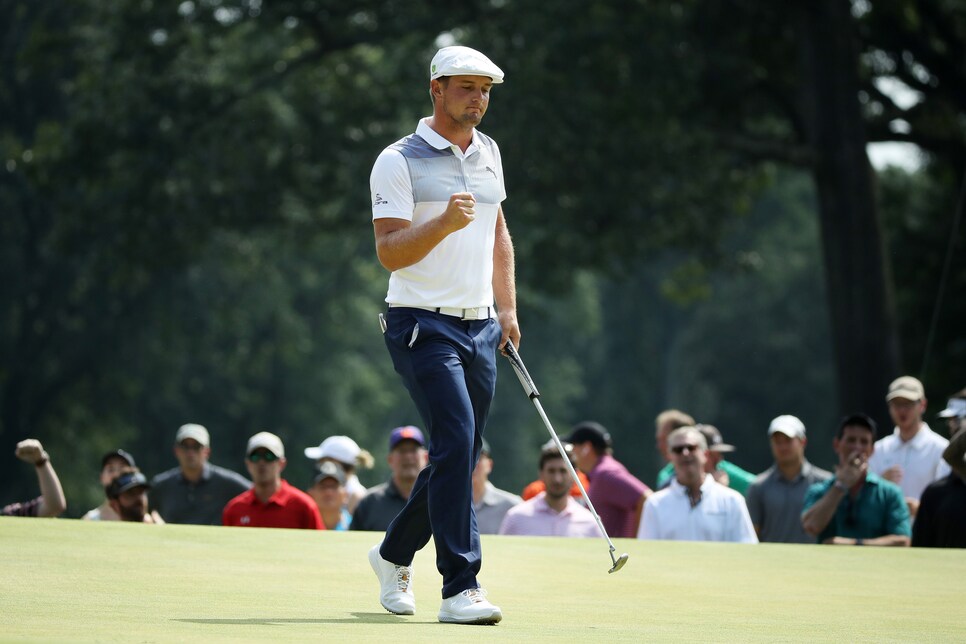 Gregory Shamus/Getty Images
Amusingly, one of the reasons fans have struggled to connect with Brooks Koepka is that Brooks, admittedly, is not really into golf. DeChambeau resides on the other end of that spectrum, devouring tomes like The Golfing Machine and Vector Putting as a kid. There's an unbridled enthusiasm when he talks about the game and finds joy in the work. Hell, he even flew himself to the 2016 Ryder Cup because he wanted to take it in as a spectator.
"I definitely wanted to have an experience of what it would be like," DeChambeau said on Sunday. "That was really fun, and I thoroughly enjoyed my time there. I hope I get the opportunity to do that here in the next few weeks."
Now that his game is living up to the hype, hopefully the game will start to embrace DeChambeau. Once you see his talent for what it is—tons of power, second-shot precision, an unmatched creativity and loads of determination—those idiosyncrasies are seen in a different light.
"I hope so," DeChambeau said about his public perception. "I mean, I've worked really hard to be a great golfer, and albeit I'm not great every week, I've got three wins under my belt, and I'm really proud of that and I appreciate all the support that's been around me."
A player with immense skills, spirit, and openness to reciprocate the love; isn't that exactly what fans want out of our athletes?
It is worth noting, moments before, DeChambeau discussed his grail quest of "controlling the wind" Sunday night. OK, maybe there's truth to the "L'Artiste" persona. In that case, it's time to start appreciating the virtuoso's work.