News
Quicken Loans National faces an uncertain future with a host, Tiger Woods, not fully engaged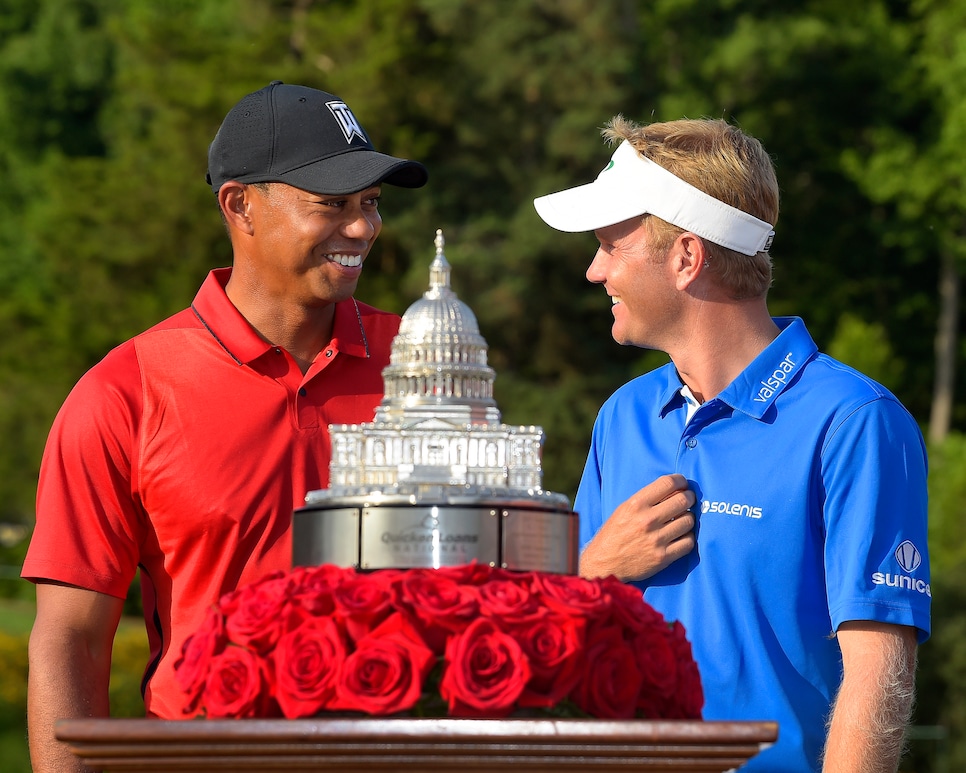 POTOMAC, Md. — Nearly 10 years ago—July 5, 2007 to be precise—that 120 players teed off in the first round of the inaugural AT&T National at Congressional Country Club. The buzz around the event was only slightly below what one might expect at a major championship. After all, the tournament host was Tiger Woods—the No. 1 player in the world who had already won 12 major championships at age 31. Congressional was a major-championship-caliber site, having held two U.S. Opens and a PGA Championship. And the Washington, D.C., market, which had been thirsting for a big-time event after years holding what locals perceived as a second tier (at best) PGA Tour stop, finally had the sort of tournament it believed it deserved. In turn, Congressional was overrun with fans, and sponsors couldn't sign up for corporate tents fast enough. A year after abandoning Washington, and the former Booz-Allen Classic, the PGA Tour came back to town, led by Woods on his white horse.
While Woods was certainly the major attraction, the quality of the invitational field was remarkable. Even Phil Mickelson, Woods' long-time rival and nemesis, came to play. In all, there were 13 major champions competing, and three others who would subsequently win majors. Even without Woods' 12 titles, the other 12 golfers had combined to win 18 majors to that point.
Flash forward to Thursday morning, June 29, 2017, when the 11th playing of the tournament with a different corporate sponsor (Quicken Loans) began. Woods was not only unable to play, after undergoing a fourth back surgery, but not even on site, dealing with the pain-killer issues that surfaced after his arrest for DUI over Memorial Day weekend.
The tournament site isn't Congressional, but rather TPC Potomac at Avenel Farm (a name most people say incorrectly), a revamped course that hosted the previous tour event for most of 20 years to decidedly mixed reviews. "It isn't as if Avenel is a bad golf course," Davis Love III once said. "It just doesn't look very good if you have to drive by Congressional to get to it."
In a twist, it was Love who was hired to renovate the golf course in 2006. Now, players like it much better. But not THAT much better.
The field that teed off for round one Thursday had four major champions in it: Geoff Ogilvy, Lucas Glover, Keegan Bradley and Jimmy Walker. The highest-ranked player among the 120 is Rickie Fowler (ninth), here at least in part because he's under contract to Quicken Loans. A week ago, the Travelers Championship outside Hartford drew 13 major winners, among them Rory McIlroy, Jason Day and the eventual winner at TPC River Highlands, Jordan Spieth.
"They do an amazing job of making the players feel welcome and special," said McIlroy, who played the Travelers for the first time. "They really work at it."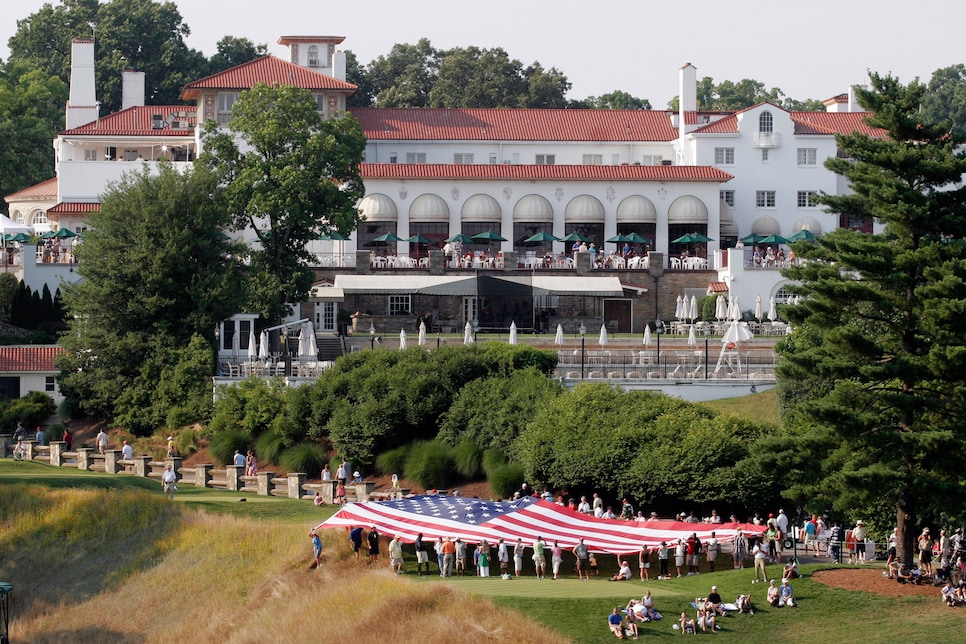 Which gets to the crux of the problem now impacting the event here in Washington. While Woods is the host for the tournament, and his foundation is a beneficiary, Tiger has never really performed any hostly duties. When players show up at the Memorial Tournament on Tuesday, they find Jack Nicklaus sitting in the players' dining area to greet them. He thanks each of them for being there, asks about their families and comments about their recent play. Arnold Palmer did almost exactly the same thing at Bay Hill.
When he was actively playing, Woods could be excused for not worrying too much about the other players. But when not playing — this is the third time in seven years he hasn't teed it up — the tournament needs him to be present and involved.
At the tournament's outset in 2007, Woods didn't have to ask the stars to come and play. His name, combined with the venue, made the tournament a must-play for most tour pros. Yet since Woods' fall from grace at the end of 2009, the quality of the field has gradually slipped.
Meanwhile, the tournament also managed to alienate much of Congressional's membership, which led to the club (of which I am a member) to almost decide not to pick up the three-year option to continue holding the tournament after 2014. The only reason the club membership agreed to a compromise extension was that the club's board of directors threatened members with an assessment for much-needed clubhouse repairs if the option wasn't picked up.
While the members agreed to the deal, it was only to host in alternating years — 2016, 2018 and 2020. And once that contract is up, the tournament won't return to Congressional. The board is now pursuing a U.S. Open, with USGA executive director Mike Davis telling it flatly that the association won't even consider the course unless the tour event goes away.
In the past three years, then, the tournament has been played at three different venues: Congressional in 2016, the Robert Trent Jones Golf Club in Manassas, Va., in 2015, and now TPC Potomac. The latter would be a perfectly acceptable site in the future, but the aura of Congressional, located about a mile away, will linger.
Despite all this, where the event will be held is a relatively minor problem. A more pressing issue lies with a title sponsor. Already fronting the money for the Pebble Beach PGA Tour stop, AT&T backed away from the D.C. event after 2013. Quicken Loans stepped in — just three months prior to the 2014 tournament — signing a four-year deal. With the contract up after this week's event, there has been no sign from Quicken Loans officials that it plans to renew. There also has been talk that company CEO Dan Gilbert wants to take his money to Michigan, where he lives, to bring the tour back to his home state, which hasn't had a tour event since the Buick Open outside Flint went away in 2009.
Ultimately, the future of the tournament in D.C. probably depends on Woods. It was his iconic status that brought golf back to the D.C. area after the tour left in 2006. Woods and his foundation, however, currently host three events: the one in Bethesda, the PGA Tour's Genesis Open outside Los Angeles and the 18-man Hero World Challenge exhibition event held each December in the Bahamas.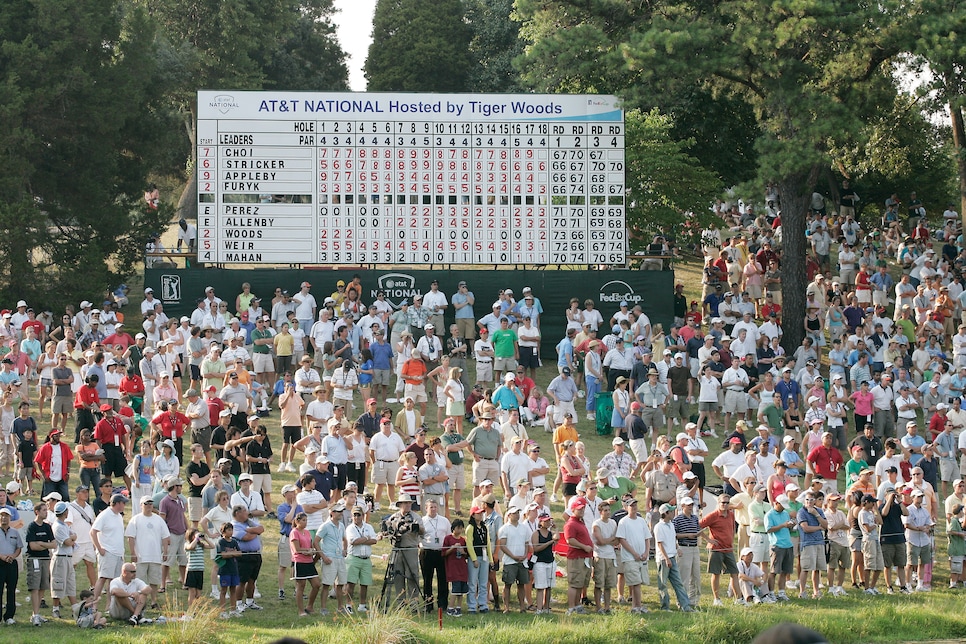 Los Angeles will always draw a good field because it is played at famed Riviera Country Club and has been an important West Coast stop for more than a half century. The Bahamas event is a lucrative tournament for top players, essentially becoming a well-paid vacation. Washington is the outlier: no real home; a not-great date on the calendar in the middle of major-championship season and with no firm agreement with a title sponsor.
So, the question is this: Does Woods want to do the work needed to keep the event alive?
One scene from a couple of years ago might be educational. The last time Woods played in the tournament was in 2015, the year it was held at the Robert Trent Jones Golf Club. For two days, Woods was in contention. After his Friday morning round, he went to eat in the players dining area. The room was packed with players who had just finished morning rounds. Woods sat alone at a table in the back of the room. When he finished, he got up and walked to the front door. He looked straight ahead, speaking to on one, except for the occasional nod when someone said, 'Nice playing, Tiger.' Clearly, he had little interest in any role as a "host." No hellos. No handshakes. No "thanks for coming."
That could always change. Woods dove head-first into his job as a vice-captain on last year's Ryder Cup team and players raved about how much he clearly cared about seeing the team win. That's different from the past. He has more good relationships with players today than ever before, when he could barely bring himself to speak to anyone.
Perhaps, when he truly embraces being an icon who is no longer trying to compete, he will embrace the role of host.
If the tournament he launched with so much fanfare in the nation's capital area is to survive, it probably needs that to happen sooner rather than later.